Novotel Lausanne Bussigny
Novotel Lausanne Bussigny 4 stars
Customer review rating (ALL Rating) 4.5/5
1,402 reviews
Hotel location
Novotel Lausanne Bussigny
35 Route de Condemine, BUSSIGNY
1030 LAUSANNE
Switzerland
GPS:46.555786, 6.561086
Access and transport
NOVOTEL
Bus stop
Access: 200 m / 0.13 mi
LAUSANNE CRISSIER
Highway exit
Access: 800 m / 0.5 mi
BUSSIGNY
Railway station
Access: 1 km / 0.62 mi
BLECHERETTE LAUSANNE
Helipad/aerodrome
Access: 6 km / 3.73 mi 8 min drive
LAUSANNE
Railway station
Access: 7 km / 4.38 mi
CHQLS : LAUSANNE
TRAIN + HOTEL GARE SNCF
Access: 7 km / 4.38 mi
GENEVA COINTRIN
Int. airport 1 - full name
Access: 60 km / 37.5 mi
GVA
Int. airport 1 - IATA code
Access: 60 km / 37.5 mi
LYON ST EXUPERY
Int. airport 3 - full name
Access: 200 km / 124.29 mi
LYS
Domestic airport 3 - IATA code
Access: 200 km / 124.29 mi
LYS
Int. airport 3 - IATA code
Access: 200 km / 124.27 mi
ZRH
Int. airport 2 - IATA code
Access: 210 km / 130.5 mi
ZURICH KLOTEN
Int. airport 2 - full name
Access: 225 km / 139.81 mi
Hotel services
Check-in from - Check out up to
In summary
On site
Swimming pool

Car park

Restaurant

Wheelchair accessible hotel

Well-being

Air conditioning

Wi-Fi

Breakfast

Bar

Meeting rooms
L'OXYGÈNE RESTAURANT
A simple, healthy and tasty cuisine that will satisfy all tastes-at any time of the day or night. Enjoy a relaxing time at the restaurant, bar, terrace or in your room. Restaurant closed on Sundays.
Your meetings and events
Meeting@Novotel, making your meetings a success. Whatever type of meeting you are organizing, you can optimize the chances of its success by benefiting from the Novotel network Our years of experience have let us build a great expertise in meetings organization.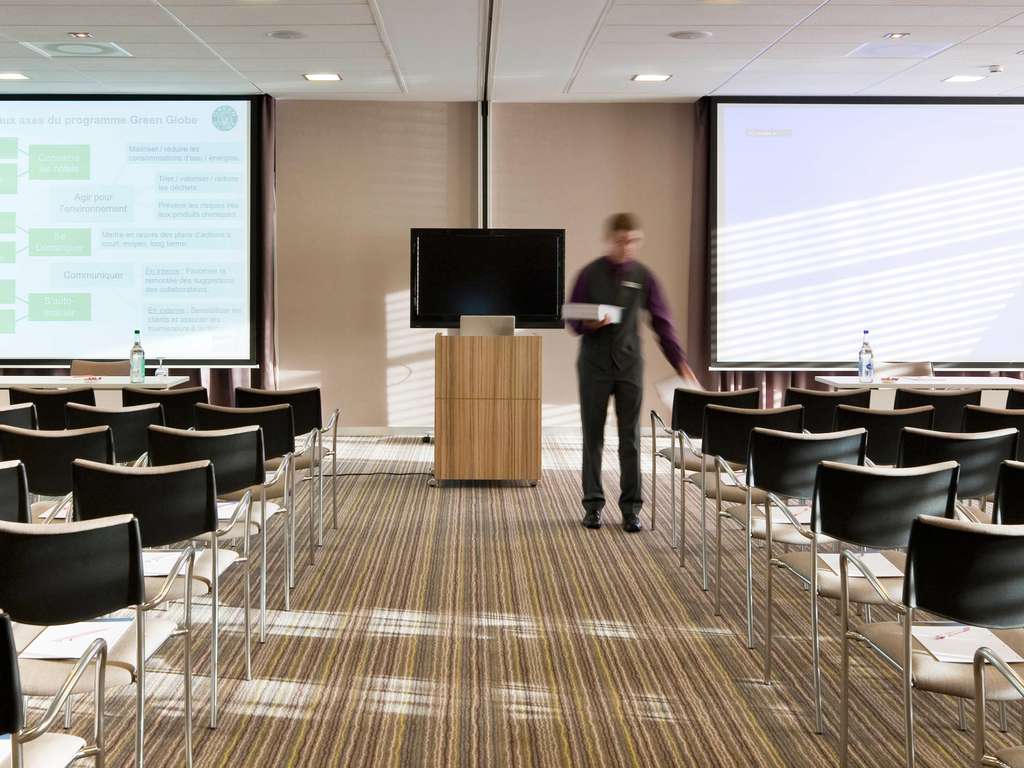 Room descriptions and layouts
Configuration is not available for these requirements
Unsure of the capacity needed for your event?

Convert different units of measurement and make organising your events easier.
Our accommodation(s)
Spacious, contemporary in design, and adaptable, the Novotel room is truly a place for living, perfect for all your needs.
Our guest reviews
Our guest reviews
100% genuine reviews from our guests
Find out more
Very hospitable and accommodating which made my stay with my toddler very easy.
Customer review rating 5.0/5
G S. Families - Confirmed reviews ALL
Very accommodating staff. Extremely helpful.
Dear GURJIT S., We very much appreciate your comments regarding your stay at the Novotel Lausanne Bussigny. It is always a pleasure to receive positive feedback. I will share your comments with our team. I am sure that this feedback will serve as an encouragement to all of our staff as we strive to continuously improve the quality of our services. Thank you again for sharing your experience, and we hope your next visit will be as pleasant as the previous one. Sincerely,
Efficient and convenient but see below
Customer review rating 4.5/5
Anonymous Families - Confirmed reviews ALL
Very good but no hot food available after 21.30. As no other local eateries in walking distance, this is a significant drawback. Surely on demand hot snacks should be available for late arrivals.
Dear Mr.H., Thank you for taking the time and trouble to complete a survey following your recent stay with us. We are delighted you enjoyed your stay with and very much look forward to warmly welcoming you again in the near future. We are very sorry that our restaurant was unavailable during your stay. Please note that we do have some home cooked snacks made by our Chef available in our Mini Market at the reception (Sandwiches, soups, cooked meals). Yours sincerely,
In transit
Customer review rating 4.0/5
C. Couples - Confirmed reviews ALL
We stay in Bussigny because halfway on our joutto France
Dear Mr. Donnelly, Thank you for the great review of our hotel! We are glad that you enjoyed your stay and hope to see you again very soon.
Scammers. Be aware
TripAdvisor rating 1.0/5
mart_nt954 Couples - TripAdvisor review
I stayed 12 days ago. Still did not receive my 400 dollars deposit back. Never trust such hotels. Just read other opinions, do not make the same mistake i did. Now i will have to denounce them to get the money back. A shame for Accor
too easy, no interest this style of comment in group ... I remain available, but always more easily in writing.
Cockroaches and spiders everywhere. Photos inside
TripAdvisor rating 1.0/5
colddish3 Families - TripAdvisor review
I have no words. Unbelievable in a 4 star hotel and 150 euros a night. I had many other problems, but COCKOACHES AND SPIDERS, were the top of them. No cleaning, the floor is carpeted, so i prefer not to imagine how many bugs are there. Be aware also, becuase they take a deposit from you, but then they do not use if you have breakfast (27 euros per peson) or dinner or lunch. They will use your card again. They just keep for themselves this deposit and will not give back, till who knows when. In my case, 6 days after they took my money, i still dont have it back. It is a shame that Accord allows this Hotel inside the chain, and it only shows management does not care a damn about customers. NEVER AGAIN THIS HOTEL. I WANT MY DEPOSIT BACK!!!!
too easy, no interest this style of comment in group ... I remain available, but always more easily in writing.
In partnership with TripAdvisor