Pullman Bordeaux Lac
Pullman Bordeaux Lac 4 stars
Customer review rating (ALL Rating) 4.4/5
1,865 reviews
Hotel location
Pullman Bordeaux Lac
Avenue Jean Gabriel Domergue
33300 BORDEAUX LE LAC
France
GPS:44.889686, -0.566151
Access and transport
LES HOTELS DU LAC
Bus stop
Access: 100 m / 0.06 mi
A 10 BORDEAUX LAC N0 4
Highway exit
Access: 1 km / 0.62 mi 5 min drive
FRBOJ : BORDEAUX
TRAIN + HOTEL GARE SNCF
Access: 8 km / 4.97 mi 15 min drive
BORDEAUX ST JEAN
Railway station
Access: 10 km / 6.21 mi 15 min drive
GARE ST JEAN
Railway station
Access: 10 km / 6.21 mi 45 min walk / 20 min drive
AÉROPORT MÉRIGNAC
Airport
Access: 12 km / 7.46 mi 15 min drive
BORDEAUX MERIGNAC
Int. airport 1 - full name
Access: 15 km / 9.38 mi 15 min drive
BOD
Int. airport 1 - IATA code
Access: 15 km / 9.38 mi 15 min drive
Hotel services
Check-in from - Check out up to
In summary
On site
Swimming pool

Car park

Restaurant

Wheelchair accessible hotel

Air conditioning

Wi-Fi

Bar

Meeting rooms
L'Aquitania
With its contemporary style and views of the lake, the L'Aquitania restaurant invites you to enjoy the chef's tasty specials which balance tradition and innovation.
Your meetings and events
If meetings are on the menu, there's no better place for them to happen than in the 2,000 square metres of modular space devoted to business gatherings. As many as 15 separate meeting rooms can accommodate between 10 and 700 participants. Flipcharts, overhead projectors, free Wi-Fi everywhere - nothing has been overlooked. Our dedicated Event Manager can help make sure your event has what it takes to become a success. Our IT Solutions Manager is ready to resolve any tech-related issues.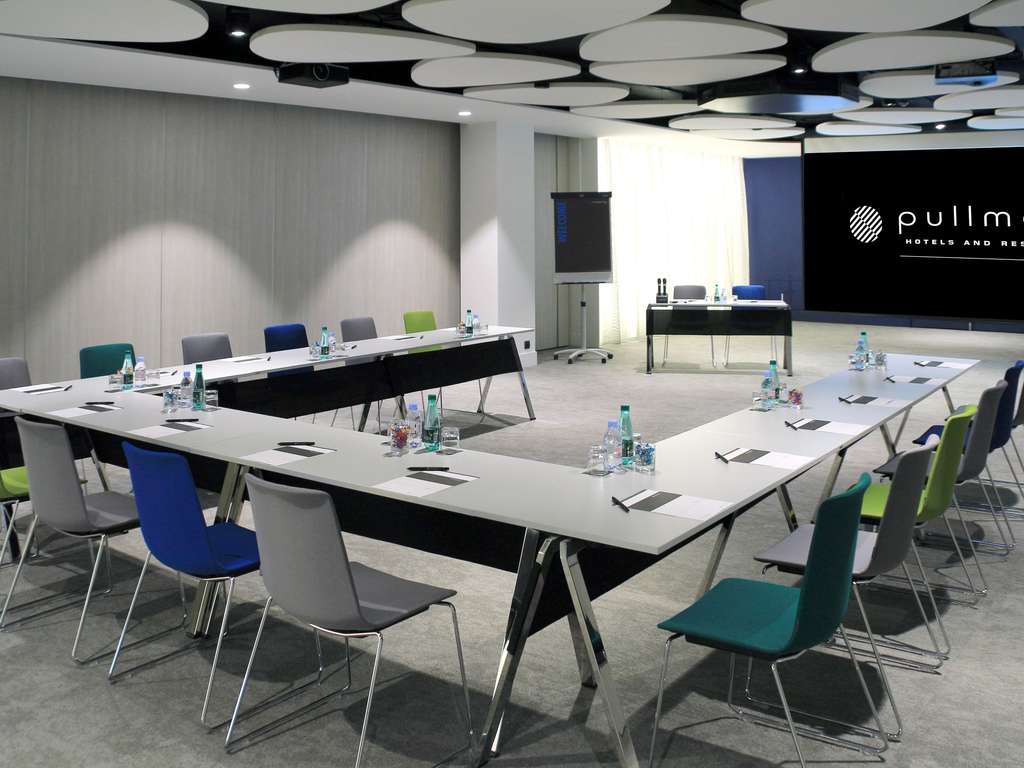 Room descriptions and layouts
Configuration is not available for these requirements
Unsure of the capacity needed for your event?

Convert different units of measurement and make organising your events easier.
Our accommodation(s)
166 rooms on three floors, including 19 suites. Two types of room decor: the Superior category, with a suave Pomerol blend of deep reds, and the Deluxe category with a sweet Sauternes harmony of delicate beige and gold.
Room
Deluxe Room, 1 double bed, lake view
Max. number of persons:

2

Area:

From

28

m² /

301

sq ft

Views:

Lake View
Wireless internet in your room
Coffee/tea making facilities
Shoe polisher
Automatic wake up call
Mini Bar
Our guest reviews
Our guest reviews
100% genuine reviews from our guests
Find out more
Customer review rating 4.5/5
C. S. Business - Confirmed reviews ALL
Everything was great
Customer review rating 5.0/5
Eloise Couples - Confirmed reviews ALL
Amazing. Would recommend x10
Lovely staff but we were bitten by bed bugs.
TripAdvisor rating 3.0/5
PaulTeresa TripAdvisor review
We arrived at the hotel after a 12 hour drive from Spain and had a great welcome from the staff. The hotel was bright and welcoming and the reception staff were helpful and friendly. The car park was secure and next to the hotel and it had green verges all round so that was perfect for walking our dog. The room was large and bright and had a good view of the lake. The evening meal was tasty (half board) and there were 2 choices for starter, main and dessert. The breakfast was fresh and plentiful. The negatives were that one if the lifts didn't work for floor 3, the window to the room opened completely which would be dangerous if children could open it to get out. The double glazing wasn't very effective as the noise from the trams snd road could be heard at night. The toilet design meant that we banged our elbows on the boxing in the corner each time we reached for the toilet paper! I went to plug my straighteners into the hair drying device on the wall snd the casing came away, revealing all the cables snd interior workings. There was no docket for the straighteners near a mirror. There were dirty trays in the hallway for the first couple of hours of the evening which looked like breakfast trays and our dog kept trying to eat from them each time we went past. Last but by no means least, we think there were bed bugs in our room (340) as the following day we both had bites over our bodies. We were itchy in bed and the bites have now all emerged. Someone was smoking in their room at 6:30 am so the fire alarms went off too - not a great start to the day. The staff here are wonderful but I would say to avoid the hotel until they have dealt with their bed bugs.
Correct
Customer review rating 3.5/5
Anonymous Couples - Confirmed reviews ALL
Bonjour Monsieur G., Nous sommes ravis de vous avoir accueilli au Pullman Bordeaux Lac et que vous ayez apprécié votre séjour ! Nous espérons vous accueillir à nouveau très bientôt, Bien à vous, Inès GABRIELLA Adjointe Chef de Réception
The Bedbug Hotel
TripAdvisor rating 1.0/5
sim0ngee Couples - TripAdvisor review
My wife and I stayed at this hotel in a lake view suite for one night on 27 October 2022. After going to bed at around 11pm, both my wife and I came up with bites. After another hour, we called down to reception and shortly after 1215am the on duty manager and a translator came to our room. They took pictures of an insect in the bedroom and then promptly offered us another room. Because of the hour, we accepted another room which we subsequently found out overlooked the dustbins and were awoken a few hours later with the noise of the bin lorries. To be clear I had arrived at the hotel after a 7 hour drive and had a further 6 hour drive the following day. We then came down to breakfast that we had prebooked at 9am to find almost nothing left. No scrabbled eggs and almost no plates or cerial bowls. When I asked about having some eggs, I was told that they had run out and what was out was all they had available. When I went to reception to check out, I was told that the hotel was prepared to offer us a discount on the room. That discount however did not reflect the seriousness of the incident, nor the drop in grade of the room or the lack of breakfast options. And by the way, I am a premium Accor member! I told them that they had no permission to charge my Amex without agreeing to a figure and I was told that was fine as someone would call me later in the day to resolve. That call never happened so I raised a complaint via Booking.com who made the booking on my behalf. To date the hotel has not responded to their calls or emails either. They have however kept me in the loop. This morning, whilst checking my Amex statement, I see the hotel has charged my credit card. It does reflect a discount but not an acceptable one and to date I have still not heard frpm the hotel ir received a statement of account either. So I write this review to warn other possible guests of the issues in this hotel. Stay here if you have to. Wear clothes in bed in case you experience the same issues as I have. If you have a problem with the hotel, don't expect them to resolve it. In my experience this stay has been a disaster.
In partnership with TripAdvisor