Mercure Hotel Den Haag Central
Mercure Hotel Den Haag Central 4 stars
Customer review rating (ALL Rating) 4.5/5
1,391 reviews
Hotel location
Mercure Hotel Den Haag Central
Spui 180
2511 BW DEN HAAG
Netherlands
GPS:52.076229, 4.317884
Access and transport
KALVERMARKT
Bus stop
Access: 100 m / 0.06 mi
SPUI
Bus stop
Access: 100 m / 0.06 mi
AMMUNITIEHAVEN
Bus stop
Access: 100 m / 0.06 mi
CENTRAL STATION
Railway station
Access: 500 m / 0.31 mi
HOLLANDS SPOOR
Railway station
Access: 1 km / 0.63 mi
NLAMS : AMSTERDAM
TRAIN + HOTEL GARE SNCF
Access: 1 km / 0.62 mi
2 P-Route ZUID
Highway exit
Access: 1 km / 0.63 mi
ROTTERDAM ZESTIENHOVEN
Int. airport 2 - full name
Access: 20 km / 12.5 mi
RTM
Int. airport 2 - IATA code
Access: 20 km / 12.5 mi
AMSTERDAM SCHIPHOL
Int. airport 1 - full name
Access: 35 km / 21.88 mi
AMS
Int. airport 1 - IATA code
Access: 35 km / 21.88 mi
Hotel services
Check-in from - Check out up to
In summary
On site
Restaurant

Wheelchair accessible hotel

Air conditioning

Wi-Fi

Breakfast

Bar

Meeting rooms
SPUI 180
We would love to welcome you to our restaurant SPUI 180, where you can enjoy a light meal or snack from our menu, which is regularly updated
Your meetings and events
Our spacious and comfortable meeting rooms can accommodate up to 120 people. The rooms are equipped with the latest technology, including Wi-Fi and ADSL. Our staff will be happy to prepare a tailored quotation.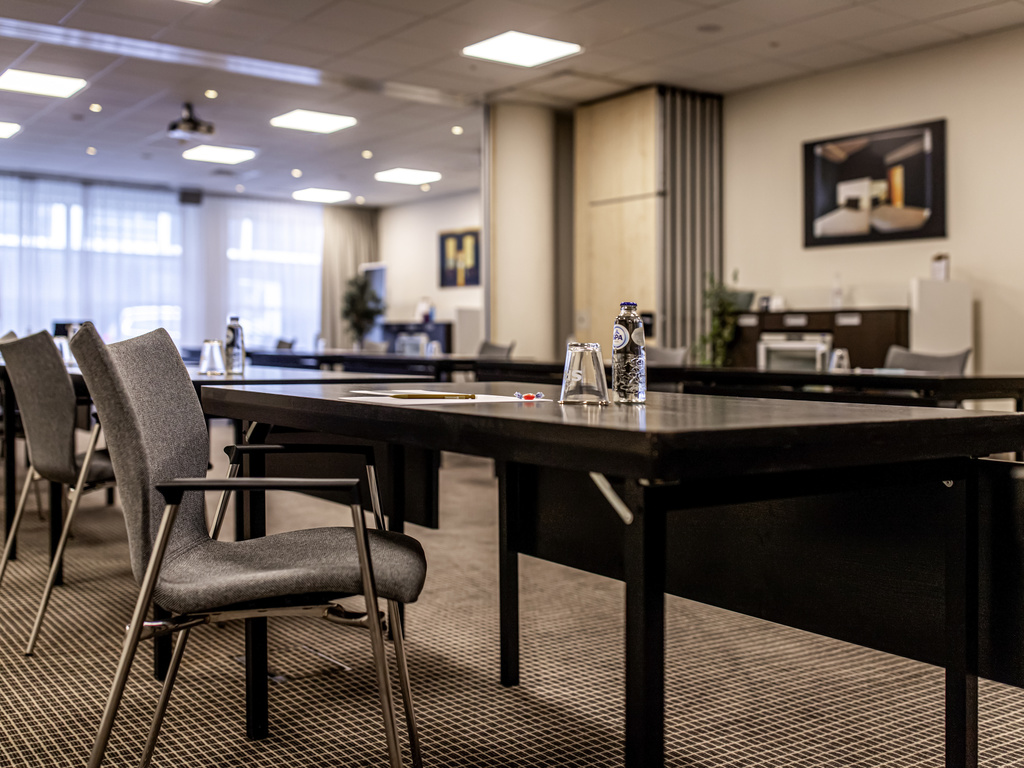 Room descriptions and layouts
Configuration is not available for these requirements
Unsure of the capacity needed for your event?

Convert different units of measurement and make organising your events easier.
Our accommodation(s)
Choose from our different types of rooms to suit your needs: a Standard room, a Superior room or our Suite with a magnificent view over The Hague.
Our guest reviews
Our guest reviews
100% genuine reviews from our guests
Find out more
All-round good stay
Customer review rating 4.5/5
Intrepid T. F. C. Solo - Confirmed reviews ALL
The staff are very helpful and keen to accommodate my needs. I am very pleased with my stay. A coffee machine would have been nice. Breakfast a little pricey.
Dear H., Thank you for your review. We appreciate that you chose to stay with us and are glad to know your experience was memorable. We understand how important a good night's rest is for our guests and are glad to have met your expectations. Our team appreciate your kind words as we work hard to deliver an exceptional guest experience and your positive feedback acts as motivation for our team members to continue providing excellent service. Our guests' opinions are very useful as they help us to identify areas in which we can improve; please know that we have noted your feedback. We hope to welcome you for an improved experience in the future. Best regards, Ryan Lala, F.O. Supervisor
Customer review rating 4.0/5
Anonymous Couples - Confirmed reviews ALL
Beste gast, Bedankt voor uw feedback. We zijn blij dat u een aangenaam verblijf had bij ons en dat het u onze locatie ideaal vond. Dat lezen we graag! Jammer dat u de uitleg over de parking als een minpunt heeft ervaren. We bespreken het met ons team om te bekijken hoe we dit kunnen verbeteren. Hartelijke groet en graag tot een volgende keer, Ryan Lala, F.O. Supervisor
Good location, bad soundproofing
Customer review rating 3.5/5
Ævar Business - Confirmed reviews ALL
Most of the stay was good. Great location, tidy rooms, good beds, good shower and very friendly staff. I have three complaints though: - The door of the room is very badly soundproof, you hear people talking outside like they are in your room. - The fact that the bathroom door does not close, there is a gap, is very weird and uncomfortable. - There were inconsistencies in what was replaced in our room when cleaning. After the first night, no cups were replaced and not the instant coffee, some of it was replaced after the second night, and after the third night we only got 1 shower towel (we were two staying).
Dear Aevar, Thank you for commenting on your stay. We are glad that you appreciated our convenient location. However, we are sorry that you were not completely satisfied with your room. Our maintenance will look at the gap and soundproofing for instance. Our housekeeping team has been alerted regarding the inconsistencies. We apologize for any inconvenience, and we have noted your comments in order to make the necessary improvements. It would be a pleasure to welcome you again. Best wishes, Ryan Lala, F.O. Supervisor
very good costumer service
Customer review rating 5.0/5
Eduardo A. Business - Confirmed reviews ALL
Great stay in this hotel, front desk employees so kind and caring, kudos to that!
Dear Eduardo, Thank you for your kind feedback. We are happy that everything was to your satisfaction; we always aim to meet and where possible exceed our guest's expectations. We appreciate your recognition of our team member's excellent service, Abood will be very pleased to learn of the impact he had on your experience. We hope to welcome you back. Best wishes, Ryan Lala, F.O. Supervisor
Great stay
Customer review rating 4.0/5
Nik Business - Confirmed reviews ALL
Short but very pleasant and comfortable stay
Dear Nikolaos, Thank you for your kind feedback. It is rewarding to know that you had a great stay with us. Our hotel aims to provide a memorable experience with our high standards and quality service and we are delighted that we were able to meet all your expectations. We hope to welcome you back in the future. Kind regards, Ryan Lala, F.O. Supervisor
In partnership with TripAdvisor