ibis Melbourne - Hotel & Apartments
ibis Melbourne - Hotel & Apartments 3 stars
Customer review rating (ALL Rating) 4.3/5
551 reviews
Hotel location
ibis Melbourne - Hotel & Apartments
15-21 Therry Street
3000 MELBOURNE
Australia
GPS:-37.806759, 144.961594
Access and transport
FRANKLIN STREET
Bus stop
Access: 20 m / 0.01 mi 2 min walk
ELIZABETH STREET
Nearest transport
Access: 160 m / 0.1 mi 1 min walk
MELBOURNE CENTRAL
Railway station
Access: 290 m / 0.18 mi 2 min walk
Taxi

5 AUD 5 AUD

Limousine

15 AUD 15 AUD
FLAGSTAFF STATION
Railway station
Access: 800 m / 0.5 mi 10 min walk / 4 min drive
Taxi

5 AUD 5 AUD

Limousine

15 AUD 15 AUD
FLINDERS STREET
Railway station
Access: 1.29 km / 0.8 mi 20 min walk / 10 min drive
Taxi

5 AUD 5 AUD

Limousine

15 AUD 15 AUD
SPENCER STREET
Railway station
Access: 1.4 km / 0.87 mi 20 min walk / 10 min drive
Taxi

10 AUD 10 AUD

Limousine

15 AUD 15 AUD
SPENCER STREET
Bus stop
Access: 1.4 km / 0.87 mi 10 min walk / 5 min drive
Taxi

8 AUD 8 AUD

Limousine

15 AUD 15 AUD
SOUTHERN CROSS
Railway station
Access: 1.4 km / 0.87 mi 15 min walk / 5 min drive
FLINDERS STREET
Ferries
Access: 1.5 km / 0.93 mi 20 min walk / 10 min drive
Taxi

10 AUD 10 AUD

Limousine

15 AUD 15 AUD
CITY LINK
Highway exit
Access: 2.41 km / 1.5 mi 15 min drive
Taxi

10 AUD 10 AUD

Limousine

25 AUD 25 AUD
EASTERN FREEWAY
Highway exit
Access: 3.7 km / 2.3 mi 15 min drive
Taxi

10 AUD 10 AUD

Limousine

25 AUD 25 AUD
PORT MELBOURNE
Ferries
Access: 4.83 km / 3 mi 15 min drive
Taxi

20 AUD 20 AUD

Limousine

25 AUD 25 AUD
NEPEAN HIGHWAY
Highway exit
Access: 9.98 km / 6.2 mi 20 min drive
Taxi

20 AUD 20 AUD

Limousine

25 AUD 25 AUD
MEL
Domestic airport 1 - IATA code
Access: 20.11 km / 12.5 mi 30 min drive
Taxi

35 AUD 35 AUD

Limousine

54 AUD 54 AUD
TULLAMARINE
Domestic airport 1 - full name
Access: 20.11 km / 12.5 mi 30 min drive
Taxi

35 AUD 35 AUD

Limousine

54 AUD 54 AUD
MEL
Int. airport 1 - IATA code
Access: 20.11 km / 12.5 mi 30 min drive
Taxi

35 AUD 35 AUD

Limousine

54 AUD 54 AUD
TULLAMARINE
Int. airport 1 - full name
Access: 20.11 km / 12.5 mi 30 min drive
Taxi

35 AUD 35 AUD

Limousine

54 AUD 54 AUD
AVALON
Domestic airport 1 - full name
Access: 60 km / 37.29 mi 50 min drive
AVV
Domestic airport 1 - IATA code
Access: 60 km / 37.29 mi 50 min drive
Hotel services
Check-in from - Check out up to
In summary
On site
Car park

Restaurant

Wheelchair accessible hotel

Air conditioning

Wi-Fi

Breakfast

Bar

Meeting rooms
IBIS KITCHEN RESTAURANT
ibis Kitchen offers continental to a full buffet breakfast, and a menu designed to share with your friends or family. Our Executive Chef creates simple dishes using fresh locally sourced seasonal produce. Children's menu available.
Your meetings and events
From small boardroom meetings and seminars to large conferences for up to 300 delegates, the excellent event facilities at ibis Melbourne make this hotel the ideal choice for events in Melbourne. The hotel features three flexible conference rooms, each wi th a variety of layout configurations available, including theatre style, U-shape, boardroom, classroom and banquet style. Each room varies in size, with the smallest accommodating up to 40 guests and the largest accommodating up to 300 guests. As the lar gest event space, The Victoria Room features plenty of natural light and a private pre-function space. Guests organising an event at the hotel can choose from a range of day delegate packages, each of which can be tailored to suit individual needs.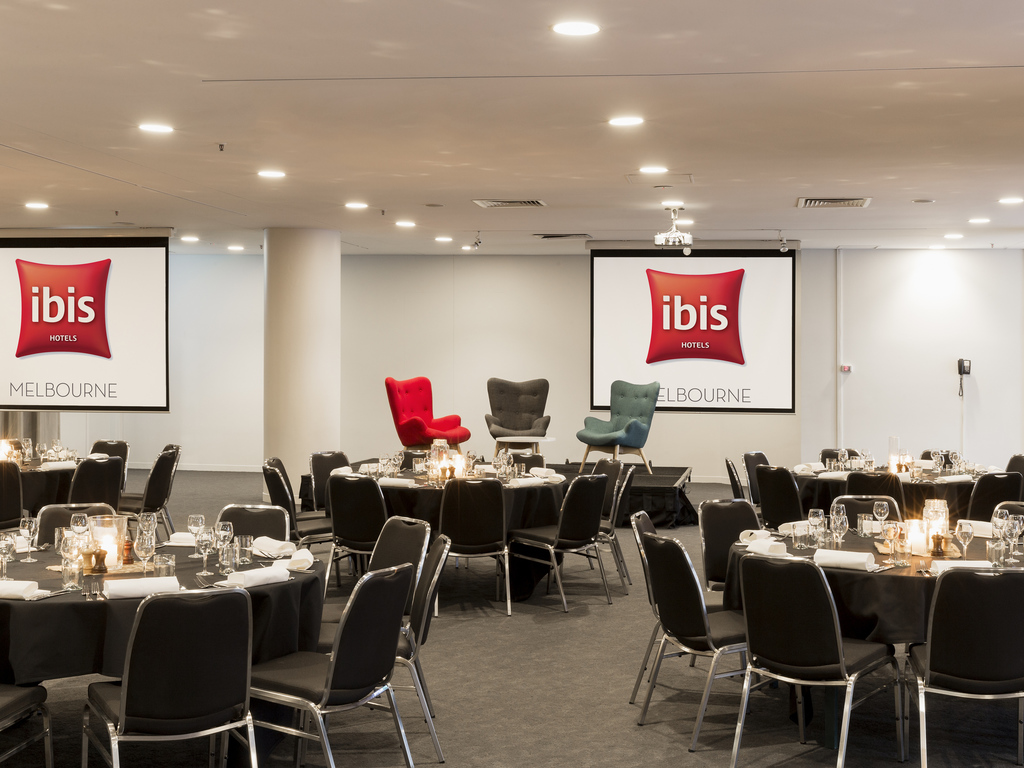 Room descriptions and layouts
Configuration is not available for these requirements
Unsure of the capacity needed for your event?

Convert different units of measurement and make organising your events easier.
Our accommodation(s)
Stylish and comfortable, guest rooms and apartments at ibis Melbourne Hotel and Apartments provide the perfect place to retire to. Each room is tastefully appointed, modern, and includes an ibis Sweet Bed, an LCD TV, an iPod docking station, and basics su ch as tea and coffee making facilities, iron, hair dryer, safe and fridge. This Melbourne hotel also features spacious one and two bedroom apartments, complete with kitchenettes and separate lounge areas for guests who need more space.
Room
Standard Room 1 Double and 1 Single Bed
Max. number of persons:

3

Area:

From

22

m² /

236

sq ft
Wireless internet in your room
Wireless internet in your room
High speed internet
Coffee/tea making facilities
Business Desk(...)
Our guest reviews
Our guest reviews
100% genuine reviews from our guests
Find out more
Never lets you down
TripAdvisor rating 5.0/5
XPJF Solo travel - TripAdvisor review
Superb team providing five star service. Every contact I had from reception, restaurant, housekeeping was superb. Apartment was clean and very quiet. The bed was so comfortable. Special mention to Angela who gave me my coffee fix in the superbly run restaurant. Perfect location.
Consistent and comfortable
Customer review rating 4.0/5
Andrew Couples - Confirmed reviews ALL
We have stayed at Ibis Melbourne many times and it was good to return to a familiar and comfortable location. The one-bedroom apartment is a little dated compared to standard rooms, but the bed was super-comfortable. Prices are up, but that is expected at this time. Overall, our stay was very good.
Good Stay and Well located
Customer review rating 3.5/5
Mike Families - Confirmed reviews ALL
Great and good condition apartment room for my family but we experienced that the washing machines available only at 5th floor and always occupied. The other 11th and 2nd floor had not been opened for use. The kitchen should provide the dish washing liquid but nowhere found in the apartment. The Wifi connection is limited and reception is weak. I hope Ibis can improve these areas before I have another chance to visit Melbourne again.
reasonable apartment size
Customer review rating 2.5/5
Anonymous Families - Confirmed reviews ALL
Front counter staff lacked experience in providing clarity to issues of concern
well located good stay
Customer review rating 3.5/5
Elaine Couples - Confirmed reviews ALL
we stayed in room 1020 and the room was good except the bathroom fan ran all the time and was very annoying
In partnership with TripAdvisor