Mercure Hotel Hamburg am Volkspark
Mercure Hotel Hamburg am Volkspark 4 stars
Customer review rating (ALL Rating) 4.4/5
27 reviews
Hotel location
Mercure Hotel Hamburg am Volkspark
Albert Einstein Ring 2
22761 HAMBURG
Germany
GPS:53.574836, 9.889451
Access and transport
LURUPER CHAUSSEE DESY
Bus stop
Access: 100 m / 0.06 mi 2 min walk
BAHRENFELD, TRABRENNBAHN
Bus stop
Access: 100 m / 0.06 mi 2 min walk
BAHRENFELD
Highway exit
Access: 2 km / 1.25 mi
OTHMARSCHEN
Railway station
Access: 2 km / 1.25 mi 8 min drive
ALTONA
Railway station
Access: 4 km / 2.5 mi 15 min drive
DEHAL: HAMBOURG
TRAIN + HOTEL GARE SNCF
Access: 4 km / 2.49 mi
ALTONA
Railway station
Access: 5 km / 3.13 mi 15 min drive
MAIN STATION
Railway station
Access: 8 km / 5 mi 20 min drive
HAM
Int. airport 1 - IATA code
Access: 15 km / 9.38 mi 30 min drive
HAMBURG FUHLSBUETTEL
Int. airport 1 - full name
Access: 15 km / 9.38 mi 30 min drive
HAJ
Int. airport 2 - IATA code
Access: 150 km / 93.21 mi 1 hrs 30 min drive
HANNOVER
Int. airport 2 - full name
Access: 150 km / 93.75 mi 1 hrs 30 min drive
Hotel services
Check-in from - Check out up to
In summary
On site
Car park

Restaurant

Wheelchair accessible hotel

Air conditioning

Wi-Fi

Breakfast

Bar

Meeting rooms
LE JARDIN
- Currently closed - Our ARENA hotel bar is open daily from 5 pm and guests can enjoy dishes from our small menu from 6 to 9 pm.
Veranstaltungen im Le Jardin
Non contractual photo
Special events – from baptisms, coming of age ceremonies, communions and confirmations to birthdays and anniversary celebrations, family reunions and funerals, we can make your day unforgettable.
Your meetings and events
You can rely on us if you are planning a business event or private function. The events area at the Mercure Hotel Hamburg am Volkspark is an ideal venue for large meetings and events for up to 120 people. We offer three air-conditioned rooms benefiting from natural light, the latest events technology and WIFI. Leave the organization and running of your event to our professional We are happy to accommodate any special requirements, and can offer exciting and attractive ideas for your incentive activities and social events.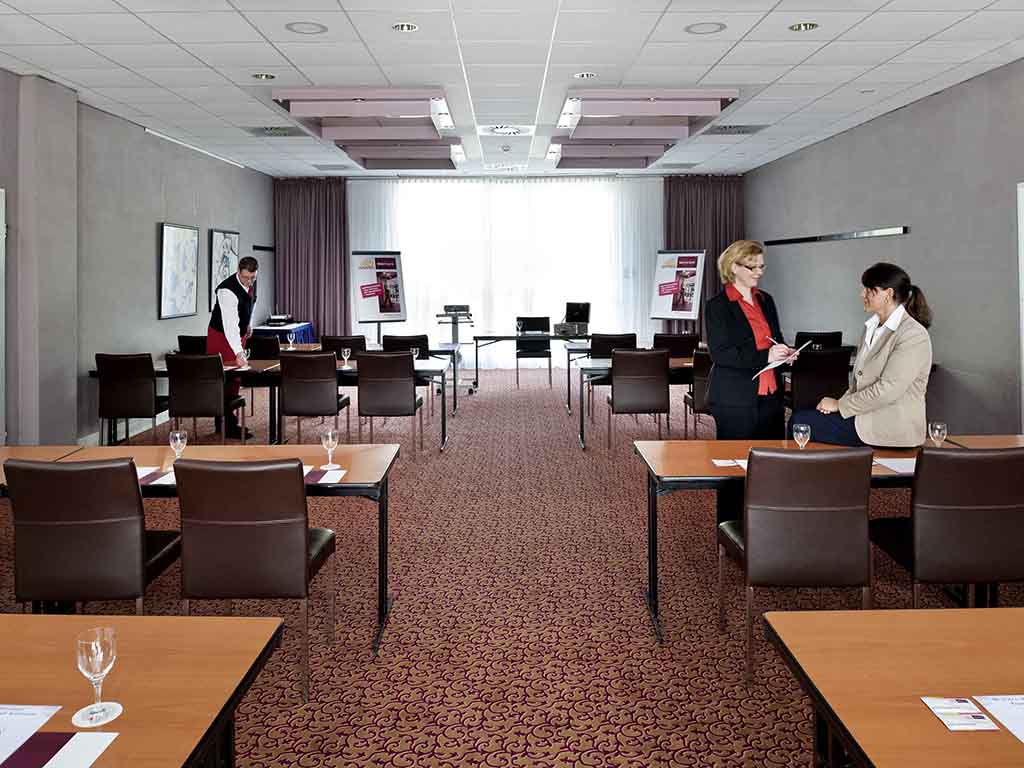 Room descriptions and layouts
Configuration is not available for these requirements
Unsure of the capacity needed for your event?

Convert different units of measurement and make organising your events easier.
Our accommodation(s)
For a comfortable stay at the fully air-conditioned 4-star Mercure Hotel Hamburg am Volkspark, we offer 128 Standard Rooms. We also have 12 spacious Privilege Suites available to satisfy greater requirements, which we especially recommend for family stays. One child aged up to 16 years may stay overnight free of charge (including breakfast) in his parents' room. Pets are welcome upon request at a charge of EUR 15/night, depending on availability. All rooms have free WIFI.
Room
Standard Room with a double bed and a sofa
Max. number of persons:

3

Area:

From

22

m² /

236

sq ft
Wireless internet in your room
Coffee/tea making facilities
Satellite/cable colour TV
Business Desk
Bathroom products(...)
Room
Comfort room with double bed facing quiet courtyard
Max. number of persons:

2

Area:

From

22

m² /

236

sq ft

Views:

Courtyard View
Wireless internet in your room
Free in Room Mineral Water
Coffee/tea making facilities
Satellite/cable colour TV
Business Desk(...)
Our guest reviews
Our guest reviews
100% genuine reviews from our guests
Find out more
nice place with excellent food
TripAdvisor rating 5.0/5
SarahWZ Business - TripAdvisor review
The hotel was quiet and clean, the staff was polite. But the breakfast buffet was suburb and the bar menu was quite good. It is a short walk to DESY. There are not many restaurants nearby, but as I said the hotel food was much better than average. It seemed to have many guests even this last week of November.
Not really a 4-star hotel
TripAdvisor rating 3.0/5
WorldExplorer_1111 Business - TripAdvisor review
The quality of the hotel does not represent a 4-star hotel. The bathroom was kind of dirty. Same issue with curtains. The doors from the room were damaged and unrepaired. I could spot a bunch of small low-cost unprofessional "bricolage" repairs in various places of the bathroom. A side board mounted above the bathtube was leaking when using a shower. The ventilation in the bathroom did not work and it was not posible to open the window completely, which resulted in dense air both in the bathroom and in the room. But the breakfast was good and internet worked quite well.
Dear WorldDiscoverer_1111, thank you for taking the time to write to us after your stay at our hotel, and we deeply regret that the services offered did not meet your expectations. We sincerely apologize for the inconvenience caused. MERCURE brand hotels do their utmost to provide you with the best quality of service during each of your stays. Therefore, your opinion is of the utmost interest to us. Moreover, we can assure you that we will take the necessary measures to improve the quality of the above-mentioned services in a sustainable way. We are glad that you enjoyed our delicious breakfast so much and that we could give you a good start into the day. Thank you again for your comment. We hope to regain your trust at one of your next overnight stays and look forward to welcoming you back soon. With kind regards Your hostess Cornelia Spiller Hotel Director
Accor membership means nothing here
TripAdvisor rating 1.0/5
AtCheshire Business - TripAdvisor review
As a Platinum member we would normally be upgraded to the best available room. On check-in we were told upgraded to a comfort room, however the comfort rooms are meant to be overlooking the inside courtyard and therefore quiet. The room we were allocated was in my opinion a standard room at the front of the hotel, all we can hear is traffic and other doors slamming. As a platinum member we are also supposed to get a welcome gift, when I queried this, the guy on reception checked his list and asked when we made the booking, which was the previous day, he said the list was printed at 08:32 today and we weren't on it. Told he would sort it, on return to the room later in the evening, still no welcome gift in the room. Also on check-in when asked about the upgrade, we were told the privilege rooms were fully booked, yet on the Accor app they were still available to book, despite this he still said we had the best room available. Sorry to say that we will not book this hotel ever again as they have no regard to regular Accor frequent travellers.
Dear AtCheshire, it is with great regret that I read your feedback about our hotel and services. I would like to formally apologize to you. I will review this incident internally in the next few days and send you further feedback and compensation. To do so, please contact us at our hotel address H1659-fo1@accor.com Until then, I remain with kind regards from Hamburg Your hostess Cornelia Spiller Hotel Director
A bit tired in places
TripAdvisor rating 3.0/5
Orpenitin Business - TripAdvisor review
A nice buffet breakfast with a good selection and comfy enough beds. Overall though all feels a little bit tired and the main road next to it is very noisy all the time. Room decor is pretty dated and the towels very very thin. Staff friendly enough
Not my last stay there
TripAdvisor rating 4.0/5
LeTeuton Business - TripAdvisor review
Wasn't my first either. The hotel is well placed (for me, not for Hamburg sightseeing), clean, with comfortable beds and friendly staff. Breakfast too expensive, as is often the case at Mercure. Only criticism: Doors noisy when not closed gently, and cleaning women chatting loudly in the hallway, from one end to the other, when I for once had the time to stay in bed a bit longer.... Mentioned this to the receptionist upon check out, but I don't think he would mention this to management.
In partnership with TripAdvisor