Novotel London Waterloo
Novotel London Waterloo 4 stars
Customer review rating (ALL Rating) 4.3/5
1,516 reviews
Hotel location
Novotel London Waterloo
113 Lambeth road
SE1 7LS LONDON
United Kingdom
GPS:51.494861, -0.118287
Access and transport
WATERLOO INTERNATIONAL
Railway station
Access: 1 km / 0.62 mi 15 min walk / 5 min drive
WATERLOO
Railway station
Access: 1.5 km / 0.93 mi 10 min walk / 5 min drive
LONDON ST PANCRAS
Railway station
Access: 2.8 km / 1.74 mi 12 min drive
GBSPX : ST PANCRAS
TRAIN + HOTEL GARE SNCF
Access: 5 km / 3.11 mi
LONDON CITY AIRPORT
Int. airport 1 - full name
Access: 15 km / 9.32 mi 30 min drive
LCY
Int. airport 1 - IATA code
Access: 15 km / 9.32 mi 30 min drive
LONDON HEATHROW AIRPORT
Int. airport 2 - full name
Access: 30 km / 18.64 mi 45 min drive
LHR
Int. airport 2 - IATA code
Access: 30 km / 18.64 mi 45 min drive
LONDON GATWICK AIRPORT
Int. airport 3 - full name
Access: 43 km / 26.72 mi 1 hrs drive
LGW
Int. airport 3 - IATA code
Access: 43 km / 26.72 mi 1 hrs drive
Hotel services
Check-in from - Check out up to
In summary
On site
Car park

Restaurant

Wheelchair accessible hotel

Well-being

Air conditioning

Wi-Fi

Breakfast

Bar

Meeting rooms
ELEMENTS RESTAURANT
Entertain your palate at Novotel. Enjoy a range of local and international cuisine, simple yet authentic, in a casual setting.Whether you want to eat or simply have a drink, our restaurant has that extra something you can only find at Novotel.
Your meetings and events
Meeting@Novotel, making your meetings a success. Whatever type of meeting you are organizing, you can optimize the chances of its success by benefiting from the Novotel network The hotel features 6 meeting rooms to host meetings up to 50 guests. Enjoy natural daylight in rooms entirely renovated with all facilities, and a dedicated breakout area.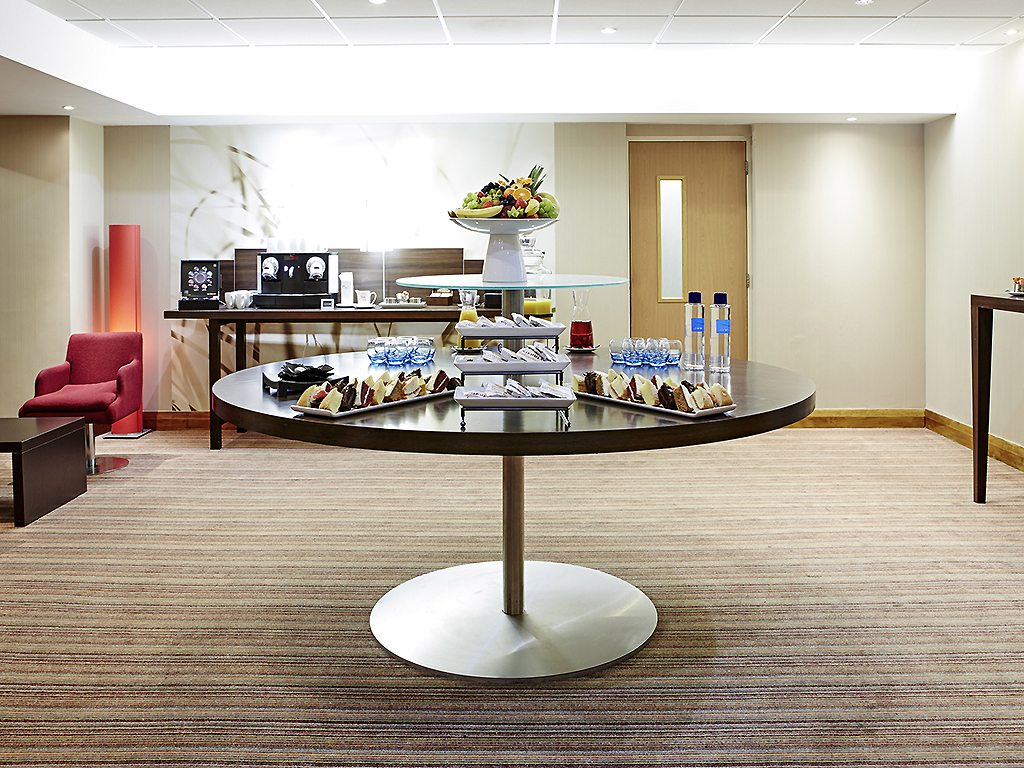 Room descriptions and layouts
Configuration is not available for these requirements
Unsure of the capacity needed for your event?

Convert different units of measurement and make organising your events easier.
Our accommodation(s)
Spacious, contemporary design and adaptable, the Novotel room is truly a place for living. Perfect for all your needs.
Our guest reviews
Our guest reviews
100% genuine reviews from our guests
Find out more
Great hotel, but it if only for the parking
TripAdvisor rating 5.0/5
Stacey B Families - TripAdvisor review
Excellent hotel. Great reception staff, nothing was too much trouble. We didn't eat in the restaurant but had Breakfast brought to our room, food and service was excellent. Highly recommend this hotel and the parking is extremely convenient for London.
No gym facilities and staff continue to lie!
TripAdvisor rating 1.0/5
ROYALWREN Solo travel - TripAdvisor review
Booked for a 1 month stay for my work in London. Initially I had good service for the first week and it has subsequently gone downhill rapidly. No gym facilities at all and when staff have been made aware of this, they have fobbed me off and repeatedly told lies about it. I have emailed the manager with a very poor response, and the time frame keeps being extended. Additionally, my room has not always replenished or cleaned and staff in general have a poor attitude. I am hoping to shorten my stay and change hotel due to the poor service and attitude.
Well located.
Customer review rating 3.5/5
Anonymous Friends - Confirmed reviews ALL
Well located. Very good but for minor details - accessories part of deal stay only brought on request (one of dressing gowns), front reception made us wait to see if 'room was ready' (on arrival at 6.30) when we were so tired we could have done without it, delivered a hair dryer at 8 am not asked for and thus woke earlier than desired. Very nice room of course and excellent view from window of Parliament & London Eye over Lambeth Palace.
Good location in Waterloo!
Customer review rating 4.0/5
Gerald L. Solo - Confirmed reviews ALL
My stay was nice...some friendly staff and nice atmosphere. Room was spacious and well equipped. House keeping left the corridors messy during turn over and my water wasn't replenished, other than that, was a good stay.
good stay
Customer review rating 3.5/5
Witold Friends - Confirmed reviews ALL
I was there several times. Good and pleasant place. There are many Novotel's hotels in London that one is one of the best.
In partnership with TripAdvisor