Mercure Paris Centre Eiffel Tower Hotel
Mercure Paris Centre Eiffel Tower Hotel 4 stars
Customer review rating (ALL Rating) 3.9/5
1,944 reviews
Hotel location
Mercure Paris Centre Eiffel Tower Hotel
20 rue Jean Rey
75015 PARIS
France
GPS:48.855381, 2.291969
Access and transport
BIR HAKEIM
Railway station
Access: 200 m / 0.12 mi 2 min walk
FRPMO:MONTPARNASSE
TRAIN + HOTEL GARE SNCF
Access: 2 km / 1.24 mi
PARIS MONTPARNASSE 1 ET 2
Railway station
Access: 2 km / 1.25 mi 20 min walk / 15 min drive
VOIE EXPRESS RIVE DROITE
Highway exit
Access: 4 km / 2.5 mi
ISSY LES MOULINEAUX PARIS SEVRES
Helipad/aerodrome
Access: 4 km / 2.5 mi 25 min walk / 10 min drive
PERIPHERIQUE PORTE DE VERSAILLES
Highway exit
Access: 4.83 km / 3 mi 10 min drive
PERIPHERIQUE PORTE DE SEVRES
Highway exit
Access: 6.44 km / 4 mi 45 min walk / 20 min drive
PARIS GARE DE LYON
Railway station
Access: 8.05 km / 5 mi 1 hrs walk / 25 min drive
PARIS NORD EUROSTAR THALYS
Railway station
Access: 9.66 km / 6 mi 1 hrs walk / 35 min drive
PARIS ORLY
Int. airport 2 - full name
Access: 16.09 km / 10 mi 30 min drive
Taxi

35 EUR 35 EUR

Limousine

70 EUR 70 EUR
ORY
Int. airport 2 - IATA code
Access: 16.09 km / 10 mi 30 min drive
Taxi

30 EUR 30 EUR

Limousine

70 EUR 70 EUR
LBG
Domestic airport 1 - IATA code
Access: 20 km / 12.5 mi 35 min drive
Taxi

35 EUR 35 EUR

Limousine

100 EUR 100 EUR
PARIS ROISSY CDG
Int. airport 1 - full name
Access: 35.4 km / 22 mi 45 min drive
Taxi

50 EUR 50 EUR

Limousine

100 EUR 100 EUR
CDG
Int. airport 1 - IATA code
Access: 35.4 km / 22 mi 45 min drive
Taxi

45 EUR 45 EUR

Limousine

100 EUR 100 EUR
Hotel services
Check-in from - Check out up to
In summary
On site
Car park

Wheelchair accessible hotel

Air conditioning

Wi-Fi

Breakfast

Bar

Meeting rooms
BAR LOUNGE
Our Lounge Bar welcomes you throughout the day for business meetings, some downtime and the chance to sample some local beers, all within a stone's throw from the Eiffel Tower.
Your meetings and events
With 8 completely renovated meeting facilities located on the same level, free WiFi and natural sunlight, the Mercure Paris Centre Tour Eiffel hotel will successfully host your next seminars for up to 306 people. Our catering services can be tailored to your needs (e.g. themed breaks, buffet lunch, dinner with wine organized by our sommelier, cookery class with our chef), giving you complete freedom of choice. Why not take advantage of our garden and enjoy your breaks and meals in the open air at the heart of Paris!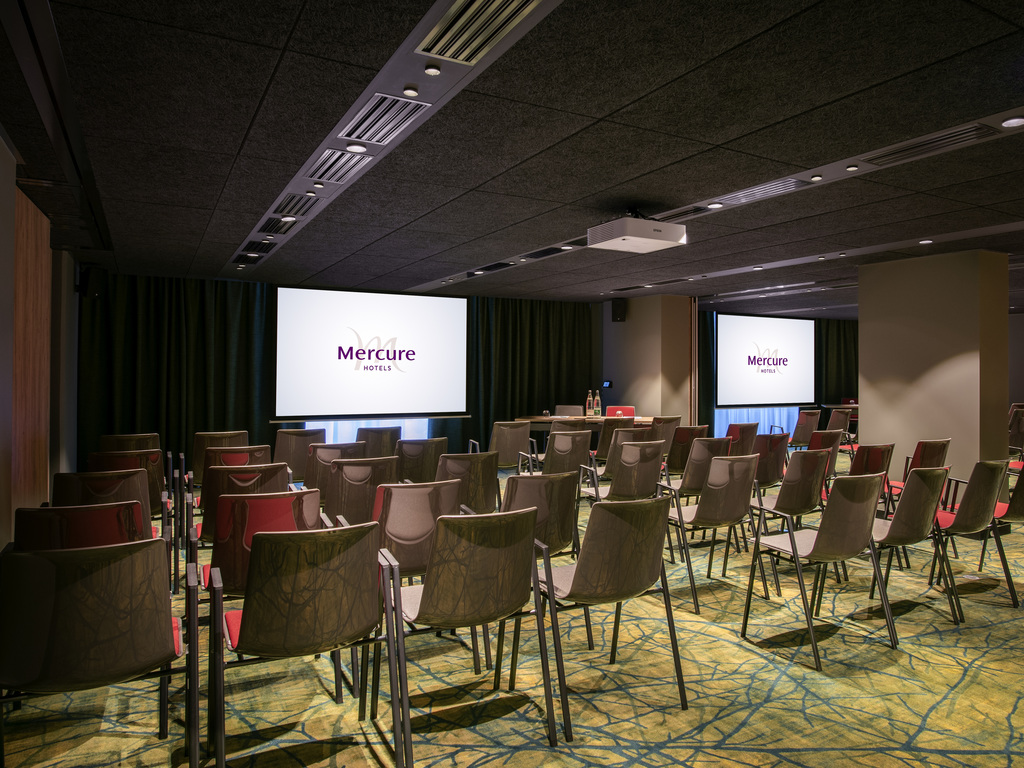 Room descriptions and layouts
Configuration is not available for these requirements
Unsure of the capacity needed for your event?

Convert different units of measurement and make organising your events easier.
Our accommodation(s)
Fully renovated, the hotel offers contemporary and functional rooms with free WIFI access. The hotel offers Standard and Privilege Rooms and Junior Suites, including some with views of the Eiffel Tower for business trips or a leisure stay with your partner or family in central Paris.
Our guest reviews
Our guest reviews
100% genuine reviews from our guests
Find out more
Incredible location, but that's about it
TripAdvisor rating 3.0/5
pyronical Business - TripAdvisor review
Started with me arriving and them letting me know being ALL Gold, that they have upgraded my room - great! Got to the room, it was not upgraded, no problem but why say that? The good: Location is unbeatable, close to everything. Bed was excellent, very comfortable, nice pillows. Internet was included and very fast. Room was clean. The bad: The room is very small, some renovations, large TV but without streaming. The toilet and bathroom were very pokey, unusually small. I am travelling for work, I need a desk - this was the worst desk I've ever come across - see photos. The room had a connecting door, I could hear every step, conversation, everything from the other room. The service: The staff were very slow, the number of items I had to wait while someone finished what they were doing was frustrating. I stood at the desk to buy a drink from the shop, they left for 15mins+ left me standing there till they finally served me and then they moved at a snail's pace. I didn't include the breakfast with my room because I tend to skip breakfast, but this time I decided to go get and it just add it to the room. Something you'd imagine would be very simple - but they made me stand for another 15mins while they worked out how to do that... didn't even offer to let me go ahead and begin eating while they sort it out. Atrocious service. It's an ok hotel, 3 star at best. I only stayed one night, so it was ok, feels sub-par for a Mecure - wouldn't want to stay here longer than that.
Very Good Hotel
Customer review rating 4.0/5
George N. Business - Confirmed reviews ALL
A very well situated venue with large rooms. The staff are friendly and speak English. The rooms are modern and clean. The area is a tourists attraction point, so you will have restaurants and bars open till midnight and after. Taxis are always available just outside the hotel.
Unorganised
Customer review rating 0.5/5
Anonymous Families - Confirmed reviews ALL
Room 931 Silver Member stay in Accor Group of hotels in Germany, Switzerland nice stay Hotel Mercure really poor stay Spoke to the hotel person one day before all arrange and she say I can come early 12:00 Noon but when I arrive nothing arrange to wait for 2 hrs give me the wrong room, free coffee ask the restaurant they say call reception poor service morning breakfast poor quality and less variety bathroom and room bad smelly, not happy with this stay Hotel reception staff need more training
Extremely poor
Customer review rating 0.5/5
Rahul B. Couples - Confirmed reviews ALL
We only stayed for a day because our experience was so bad. The bed was extremely uncomfortable; the reception asked if we want a king or two queens we asked for one king and they had put us in a room with two twin beds joined together. The spring in the bed was worn out which caused severe back pain to me and my wife. The bathroom was not clean along with the water drain issue for the bathtub. I just cannot stop writing of how much dissatisfied we are.
Very close to Eiffel Tower
Customer review rating 5.0/5
Marisa D. O. Couples - Confirmed reviews ALL
The hotel is very well located. Rooms are small but comfortable. Breakfast is great!
In partnership with TripAdvisor