Sofitel Zhengzhou International
Sofitel Zhengzhou International 5 stars
Customer review rating (ALL Rating) 4.8/5
775 reviews
Hotel location
Sofitel Zhengzhou International
No 115 Jinshui Road, Henan Province
450003 ZHENGZHOU
China
GPS:34.761949, 113.692725
Access and transport
JING SAN ROAD
Bus stop
Access: 50 m / 0.03 mi
PSB PROVINCE BUREAU
Bus stop
Access: 100 m / 0.06 mi
ZHENGZHOU
Railway station
Access: 12 km / 7.46 mi 15 min drive
CGO
Int. airport 1 - IATA code
Access: 40 km / 25 mi
ZHENGZHOU
Int. airport 1 - full name
Access: 40 km / 25 mi
Shuttle

Additional charge
Hotel services
Check-in from - Check out up to
In summary
On site
Swimming pool

Car park

Shuttle

Restaurant

Wheelchair accessible hotel

Well-being

Air conditioning

Wi-Fi

Breakfast

Bar

Meeting rooms
CANTON GARDEN RESTAURANT
This Chinese restaurant serves exquisite and high-class Cantonese cuisine for lunch and dinner. The popular Hong Kong dim sum is available for lunch, on weekends and holidays. There are nine beautiful VIP rooms serving tempting signatures dishes.
DOME BRASSERIE
This contemporary up-market East meets West brasserie has an exclusive al fresco atmosphere. It features a varied mix of dishes including local favorites and traditional brasserie specialities.
Your meetings and events
Rising up in the heart of the city with French-inspired architecture iconic venues gracious 5-star service and deluxe accommodation Sofitel Zhengzhou International enjoys its role as preferred choice for high-impact meetings and events in Henan. Sofitels InspiredMeeting Concierges dedicate themselves to the success of each event. The hotels 7 multi-function meeting rooms range in size from the 54 sqm Amber Hall to 288 sqm Jasper Hall. Larger events find a stately home in the 448 sqm Ballroom. For the most lavish banquets and gatherings the Sofitels impressive Atrium hosts up to 2000 guests amidst a spectacle of design making any event there an occasion to remember.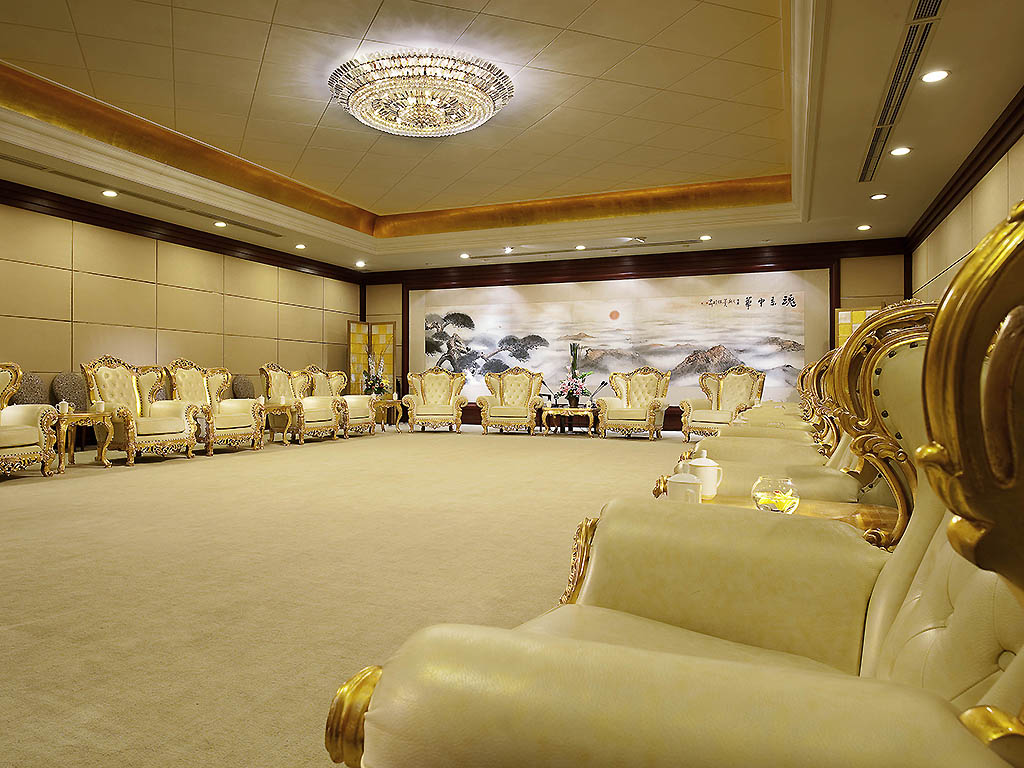 Room descriptions and layouts
Configuration is not available for these requirements
Unsure of the capacity needed for your event?

Convert different units of measurement and make organising your events easier.
Our accommodation(s)
Sofitel Zhengzhou is a deluxe five-star hotel with 220 guest rooms and suites. Room facilities include electronic door locks, satellite TV, broadband internet access, a personal electronic safe and minibar.
Our guest reviews
Our guest reviews
100% genuine reviews from our guests
Find out more
Good stay
Customer review rating 3.5/5
Churn H. C. Solo - Confirmed reviews ALL
Old but nice hotel with great service, everything was up to expectation except the aircond not work well, very hot in the room.
Dear Churn Huai C., Thank you very much for taking the time to share your previous stay experience at Sofitel Zhengzhou. It is a pleasure to see you felt the sense of our hotel history through our team service skills. We always strive to provide the best services possible in order to exceed our guests' expectations. Thank you also for mentioning the air-condition issue you faced in your room, we are very sorry if the temperature affected the comfort of your stay. We have already shared this information to the related department and we will make sure it will not occur next time you stay with us. Please do not hesitate to contact us before you plan another trip to Zhengzhou, it would be our pleasure to prepare the suitable room to perfect your stay experience. Best regards, Camille Pors, Guest Experience Manager
good stay
Customer review rating 5.0/5
Walley Families - Confirmed reviews ALL
Nice Hotel with Good Service
Customer review rating 4.5/5
Shyl Business - Confirmed reviews ALL
It is an excellent hotel to satisfy the need of a business traveler. Also with my special appreciation towards Amanda Wang, who has delivered a lot of help during my stay within Zhengzhou.
Dear shyl, Thank you very much for taking the time to share this great feedback regarding your previous stay with us! We are happy to see that our hotel suits your needs as a business traveler, and it is such a pleasure to read your appreciation towards Amanda's helpfulness. We have already conveyed your kind words to her and the rest of the team, and we are convinced everyone will be motivated to continue providing the best experience possible to our customers. We are looking forward to welcoming you again soon. Best regards, Camille Pors, Guest Experience Manager
Well located, Nearby a park, Nice room and Good stay (位置好,附近有公园,房间干净,住的舒服)
Customer review rating 5.0/5
Leo Business - Confirmed reviews ALL
I am very fortunate to be able to stay at the Sofitel Hotel in Zhengzhou during this special period, and I am very grateful to the hotel staff (MiaoMiao) for her help, allowing me to stay in the hotel smoothly. The location of the hotel is very good, the surrounding environment is also good, the style of the room is also good, and the bed is very comfortable, making people feel at home. Sofitel is my first choice to stay in a hotel in Zhengzhou next time.非常庆幸这次在特殊时期在郑州能够下榻索菲特酒店,也非常感谢酒店员工喵喵的帮助,让我可以顺利地入住酒店。酒店的位置很好,周围环境也不错,房间的风格也好,床也很舒服,让人有宾至如归的感觉。下次到郑州住酒店首选还是索菲特。
Dear Leo, Best wishes from Zhengzhou, Thank you for leaving such an amazing review regarding your recent stay with us. It is so kind of you to recognize the work of our staff. Miao Miao is very inspired from your acknowledgement. There is so much happiness in hearing back from our happy and satisfied guests. It indeed boost us to march forward and strive for the best. Again, thank you so much for sharing your experience. It was a pleasure having you here and we eagerly look forward to welcoming you soon in the near future. Take care! Sincerely, Samantha Yu General Manager
Wonderful experience, as always
Customer review rating 5.0/5
Peter Couples - Confirmed reviews ALL
Good food, excellent room, superb service from the staff.
Dear Peter, Thank you for sharing your experience with us, it is such a pleasure to read your words. I am happy to see you appreciated the overall service, your room and experience in our restaurant. I have already shared your feedback to our team and every one is looking forward to welcoming you again soon! Best regards, Camille Pors, Guest Experience Manager
In partnership with TripAdvisor