hotelF1 Metz Centre Devant les Ponts Hotel
Customer review rating 2.7/5
1,051 reviews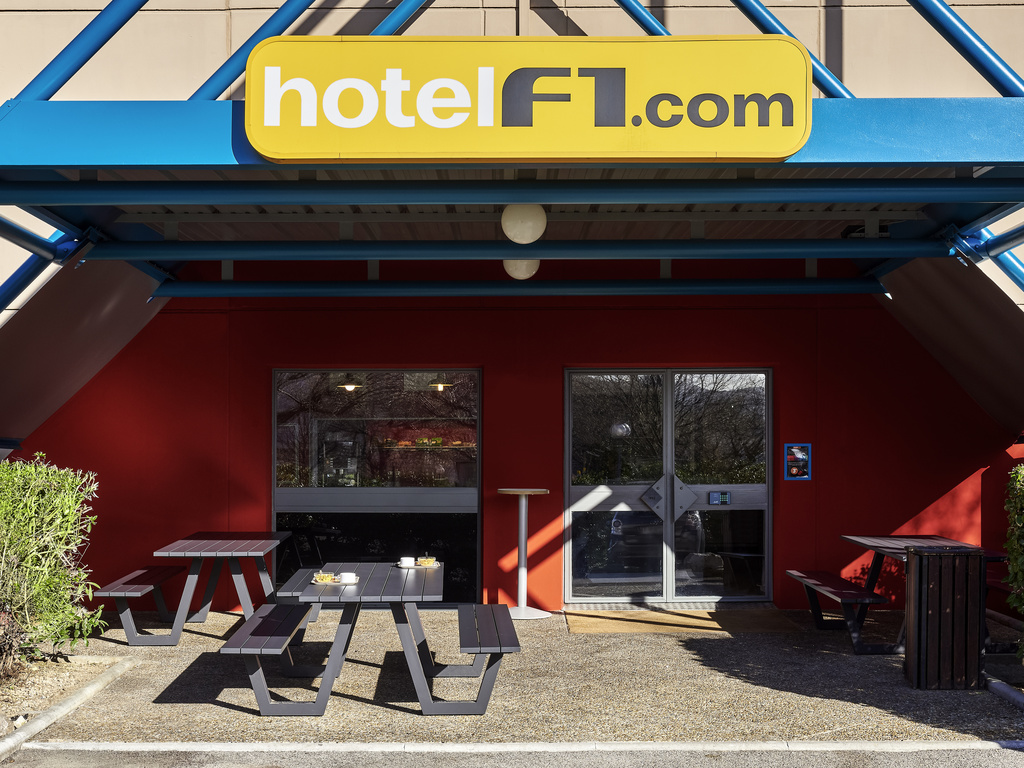 Services in the hotel and nearby
Hotel location
hotelF1 Metz Centre Devant les Ponts
9 Rue Périgot
57050
metz
france
Tel:
+33891705317
Fax: (+33)387342446
Contact email :
H2320@accor.com
By plane

NANCY METZ At 23km / 14 miles

By train

GARE DE METZ At 4km / 2 miles
GPS :49.129227, 6.161357
Our accommodation(s)
TRIO room for a maximum of three people. Ideal for families, couples or friends.
Max. number of persons:

3
Duo Room for a maximum of two people. Ideal for a working trip, couples or friends.
Max. number of persons:

2
Rooms
Our guest reviews for
hotelF1 Metz Centre Devant les Ponts
100% genuine reviews from our guests
Find out more
Dirty
Customer review rating 2.7/5
Tamas Friends - 26/02/2020 Confirmed reviews ALL
Agreeable and cheap, but very dirty room and ugly toilets.
Customer review rating 2.7/5
Thomas W. Families - 28/09/2019 Confirmed reviews ALL
Easy booking, well working entrance late at night with no crew in the hotel, very dirty floor in hotel room, you shouldn't leave anything on the floor, toilet rooms really need renewal, nice crew next morning. And the most important: Very fair prices.
Horribly dirty (rooms and sanitary services), really bad experience
Customer review rating 2.7/5
Lara Solo - 22/09/2019 Confirmed reviews ALL
My recommendation as a low budget traveler: Do not go there! Even though it's cheap – rooms and sanitary facilities are just horribly dirty and it's really worth paying more for having a clean room somewhere else. Furthermore, such a bad service should not be supported at all. Here's my story: I am used to not have much comfort and I haven't expected a lot from this hotel due to the bad reviews. But this was too much! I arrived and checked in at the self-check-in machine. No hotel staff was there. The machine printed two receipts. I stored my luggage at the room that was indicated at one of the receipts and left to explore Metz. When I came back, I realized that on the second receipt another room number and door code was indicated. I asked the reception if I had to change the room tomorrow. She could not speak English (only a few words) and explained to me (in French) that I was in the wrong room, the room would belong to another guest. I was confused and ask, why then the machine had printed this receipt (including door code), if it was not my room. No answer... so I changed the room. (I still had the door code of the other guest's room and hoped that at least I was the only one with the door code for my room). Then I realized how dirty my room was. It's not such a big deal for me, that the walls weren't white anymore, but I really have a problem with horribly dirty bed sheets (bed sheets were full of tabacco, crumbs, and other dirt). I complained. The receptionist wiped away some crumps with her hand and was like: "now it's clean". I was like: "No it's not. It's still dirty everywhere. I don't think that the bed sheets are fresh". She was like: "There are fresh". After a short discussion, she finally gave me new bed sheets. Still I had the feeling, that no one had cleaned the room after the last guest, and I felt disgusted and uncomfortable in this room. Then I went to the toilets: incredible dirty. Everywhere used toilet paper. Like dirty highway service station toilets. And the showers were dirty as well. I tried not to touch anything and felt disgusted. I warmed my food in the microwave (which was dirty as well of cause) and wanted to eat outside. But it was very dirty outside and there were many mice. The next day, I wanted to go exploring the city again – but the receptionist called me back. She said I had not paid yet. I told her that I had paid for both nights at the self-check-in machine. But she maintained her view and told me I either should leave my room or pay now (another guest translated this in English for me, so I was sure that this was really what she had said). I tried to explain her again (in French) that I had paid and even showed her the payments in my banking app. I phoned my bank and they confirmed the payments. After 1 hour! she suddenly said: ok, it's ok. I was surprised and asked her if there is now no problem anymore. She was like: No. Then she even lied at me and said that she just had mistaken me and thought, I wanted to complain that I paid for one nights twice (again: she was the one who had called me back and told me I had to leave my room if I don't pay…). At least, she said sorry.
Deception
Customer review rating 2.7/5
S. Couples - 13/09/2019 Confirmed reviews ALL
Hotel sale. personnel antipathique. Delabre.
I am satisfied for the service
Customer review rating 2.7/5
Jeraldine Friends - 25/08/2019 Confirmed reviews ALL
I had good stay during the night to have my rest and I wish you could offer fresh fruits for breakfast .Very nice receptionist and approachable one.Merci beaucoup.
Our most recent 20 reviews