hotelF1 Perpignan Sud (renovated) Hotel
Customer review rating 3.4/5
2,424 reviews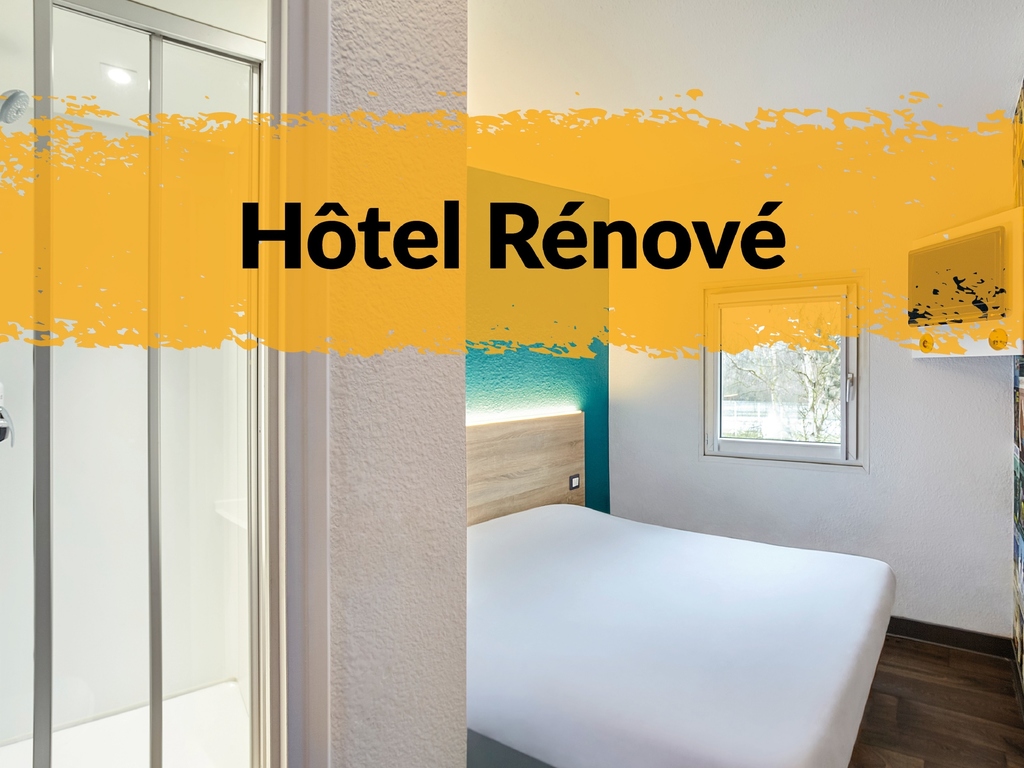 Services in the hotel and nearby
Hotel location
hotelF1 Perpignan Sud (renovated)
16, rue Benoît Fourneyron
66000
perpignan
france
Tel:
+33891705354
Fax: (+33)468549106
Contact email :
H2457@accor.com
By plane

PERPIGNANRIVESALTE At 9km / 5 miles

By car

SORTIE A9 N° 42 At 2km / 1 miles

By train

TGV BARCELONE At 2km / 1 miles
GPS :42.685467, 2.863705
Our accommodation(s)
Side-Car Room for 2 travelers maximum - #ontheroad basics
Max. number of persons:

2

Area:

From 9 m² / 97 sq ft
Tandem Room for 2 travelers maximum. #ontheroad basics
Max. number of persons:

2

Area:

From 9 m² / 97 sq ft
Cabrio Room with private bathroom - New to #ontheroad
Max. number of persons:

2

Area:

From 9 m² / 97 sq ft
Break Room for 3 travelers maximum - #ontheroad basics
Max. number of persons:

3

Area:

From 9 m² / 97 sq ft
Family Combi room for up to 5 travelers-new #ontheroad
Max. number of persons:

5
Rooms
Our guest reviews for
hotelF1 Perpignan Sud (renovated)
100% genuine reviews from our guests
Find out more
Guter AufenthaltVery conven
Customer review rating 3.4/5
Anonymous Couples - 08/03/2020 Confirmed reviews ALL
very convenient. only 3 km from the motorway
Dissastisfied
Customer review rating 3.4/5
Anonymous Couples - 19/01/2020 Confirmed reviews ALL
Disappointing, to say it gently. Staff not informed, not helpful, extracharges for basics (soap, towels,..) door stuck because of humidity, ... for 5 € extra we had excellent accomodation on the italian riviera the next day, including far more than basics,
Monsieur R., C'est avec une attention particulière que nous avons pris connaissance de vos commentaires à la suite de votre séjour à hotelF1 Perpignan Sud. Nous vous présentons nos excuses pour l'inconvénient rencontré et nous vous remercions d'avoir pris le temps de nous écrire, Nous sommes très soucieux d'offrir des services de qualité à nos clients, pour les améliorer vos commentaires nous sont très précieux. La Direction de l'hôtel a été immédiatement informée de vos remarques. Elle a sensibilisé l'ensemble de son équipe afin d'éviter que la situation ne se reproduise. Malgré cet incident, nous espérons garder votre confiance et restons à votre écoute. Dans l'attente de vous accueillir prochainement dans un hôtel Hotel F1, nous vous prions de croire, Monsieur, en l'expression de nos sentiments les meilleurs.
Stay
Customer review rating 3.4/5
Debra B. Couples - 08/01/2020 Confirmed reviews ALL
Web site say English spoken was not then given a room that hadn't been cleaned staff wasn't helpful at all it was like we were an inconvenience as we arrived earlier than 5pm
Problems with the check in
Customer review rating 3.4/5
Cornel Solo - 03/01/2020 Confirmed reviews ALL
The check in person was not finding my reservation. I had it printed with a check in made. I had it on my Accor APP, money taken from the bank, all the evidence. Even so, she insisted that I don't have a reservation. It was awful. I lost my temper because I lost 1h negotiating with this lady. Then she finally gives me a room but the entry code was not working. I went there on holiday but I lost all my good mood that day. She kept saying it was my fault! Anyway, horrible experience. I stayed there also on 31->01 and the check-in was fine and rapid, but the first code also failed to work. Then at 7:15 in the morning the fire alarm got engaged and everybody got out. After that I just packed and left. I'm not sure if the alarm was even real. I can say it was the worst hotel experience ever. I have to say though, the room, the bed, the bathroom was correct, as expected. In the second night I had no remote control. The WiFi worked good. The hotel is in a good location just outside the A9, and I would have used it more frequently but now I have serious doubts, because the check in was a nightmare, even though I did an online check in and I expected to receive the key and that's it.
Dear CORNEL H., Thank you for taking the time to tell us about your experience at the hotelF1 Perpignan Sud. I am sorry that your experience did not meet your expectations; allow me to express my sincerest apologies. Please note that this problem was a true exception to our normal practices. Rest assured that we are taking the appropriate measures to address the problem. All our efforts are concentrated in preventing future occurrences. I would like to reiterate our commitment to high quality standards, and I personally would like to make sure you will experience it during your next stay with us. We are looking forward to welcoming you again at Hotel F1. Please do not hesitate to contact me during your next visit. Sincerely,
Total dissatisfaction
Customer review rating 3.4/5
Sònia Families - 15/12/2019 Confirmed reviews ALL
A disaster, we asked for a triple room, we wanted a double bed and a separate bed and they gave us a bunk bed for three. The beds were not made. Horrible. Then we had included breakfast and because they didn't add us to their list they said they didn't give it to us. We had to prove he was paid. Total outrage.
Our most recent 20 reviews