Novotel Zurich City-West
Novotel Zurich City-West 4 stars
Customer review rating (ALL Rating) 4.2/5
1,508 reviews
Hotel location
Novotel Zurich City-West
Schiffbaustrasse 13, Am Turbinenplatz
8005 ZURICH
Switzerland
GPS:47.38923, 8.51656
Access and transport
Escher Wyss Square
Tramway
Access: 300 m / 0.19 mi 5 min walk / 1 min drive
CHZRH : ZURICH
TRAIN + HOTEL GARE SNCF
Access: 2 km / 1.24 mi
ZURICH/ZUERICH
Railway station
Access: 2 km / 1.24 mi
ZRH
Int. airport 1 - IATA code
Access: 8 km / 4.97 mi
ZURICH
Int. airport 1 - full name
Access: 8 km / 4.97 mi
Hotel services
Check-in from - Check out up to
In summary
On site
Swimming pool

Car park

Restaurant

Wheelchair accessible hotel

Well-being

Air conditioning

Wi-Fi

Breakfast

Bar

Meeting rooms
GOURMETBAR
Enjoy our range of international dishes in the GourmetBar restaurant and bar. We offer classic dishes, vegetarian options and vegan specialties - something for every taste.
Your meetings and events
Meeting@Novotel, making your meetings a success. Whatever type of meeting you are organizing, you can optimize the chances of its success by benefiting from the Novotel network Our years of experience have let us build a great expertise in meetings organization.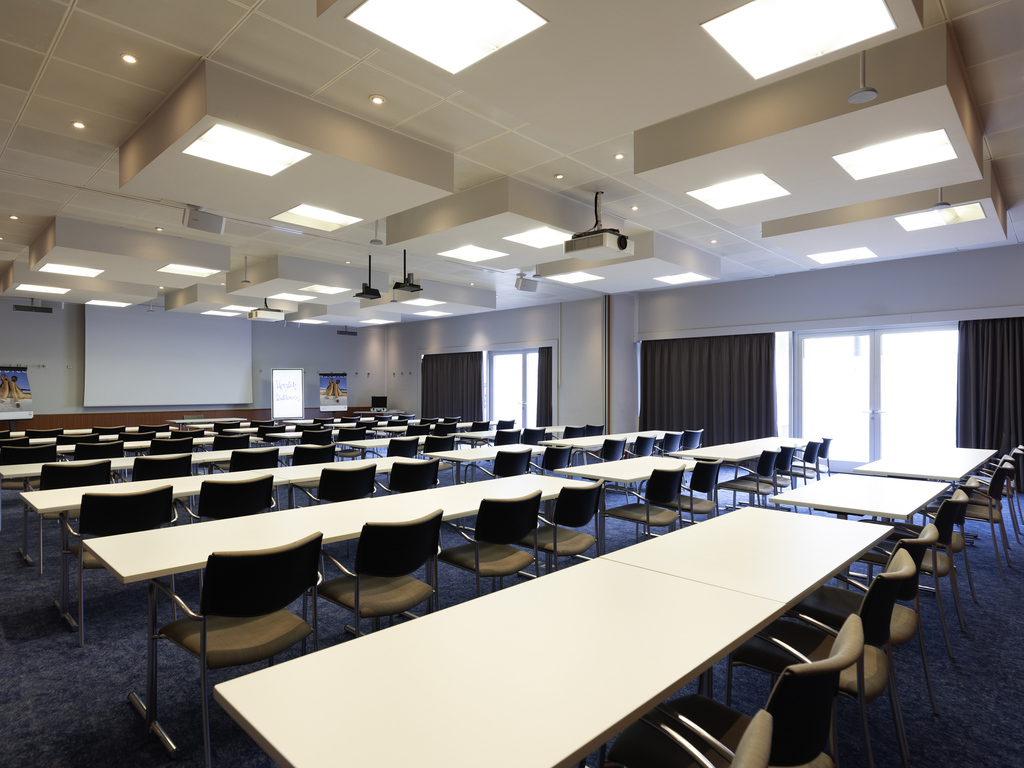 Room descriptions and layouts
Configuration is not available for these requirements
Unsure of the capacity needed for your event?

Convert different units of measurement and make organising your events easier.
Our accommodation(s)
Enjoy restful sleep and a Scandinavian ambiance in our Live N Dream rooms. 2 children up to 16 years stay free of charge with their parents or grandparents. Luxurious Rituals toiletries and WIFI included.
Our guest reviews
Our guest reviews
100% genuine reviews from our guests
Find out more
Very good location and cozy room
Customer review rating 4.0/5
Dmitry Business - Confirmed reviews ALL
Was amazing stay, rooms are rather spacious, the window can be fully opened for fresh air (important to me, though air condition is in place even with the window shut), nice bad. Good Wi-Fi. Very nice breakfast as well. Gym and pool not visited, but nice to know that they're available for the future visit.
Comfortable stay
Customer review rating 3.5/5
Alexey G. Business - Confirmed reviews ALL
Hotel is comfortable in a good and quiet area of Zurich, not far from many activities (about 20 min walking). Service of the hotel is good.
Customer review rating 1.0/5
David S. Business - Confirmed reviews ALL
From: David S. Sent: 23 November 2022 20:39 To: H2… Subject: Re: Your invoice at Novotel Zurich City-West / Fast check-out Dear Sir / Madam. Re My stay at the Novotel Zurich City West (Room 402) complaint As you can see below, I stayed at this hotel for two nights from November 21 - 23. However, I wanted to register how deeply unsatisfied I was with my room. Your night team will have a record of a call I made to reception as I was forced to make this at 01.50 this morning to complain about the noisy air conditioning unit in room 402. Not only did I get zero hours sleep on the night of Nov 21 / 22, I was also kept awake on the night on Nov 22/23, due again to the perpetually overly noisy AC system in room 402. In total I believe I only managed to get 4.5 hours sleep in that room over the 48 hour period. In addition, can I also highlight two other faults with room 402: 1. The bathroom steam extractor fan does not work and 2. The bathroom mirror, which we believe has a de-mist feature also didn't work throughout my stay. As my company is now contracted to Hitachi Zosen Inova, my staff will be travelling / staying in Zurich on a regular basis. As such, this being our first trip to Zurich and this Novotel hotel, we are in the process of assessing which local hotels we might set up a corporate account relationship with. This Novotel is one accommodation option being considered. However, after mu recent stay, we may now reconsider this. As Managing Director of a service-based company, I hope you will treat this complaint honestly, quickly and responsibly. We look forward to hearing from the Novotel Zurich West at your earliest convenience. Yours sincerely David David S. Managing Director Sterling Communications T: +4… 555 E: da…
Does the job and well located
Customer review rating 3.5/5
Cj24 Business - Confirmed reviews ALL
As I was working within a few minutes from the hotel the location was perfect. Everything worked well enough . My only disappointment with this brand has been the loyalty program. Even after becoming Silver now Gold I didn't get offered the advertised free drink on arrival and had to push for late check out.
Very nice room
Customer review rating 5.0/5
Carole Business - Confirmed reviews ALL
Dear Mrs. F, Thank you for taking the time to review your stay at Novotel Zürich City-West. We highly appreciate and value positive feedback such as yours and consider it a highlight in our daily routine as hosts. On behalf of our staff and management, we are very pleased that you gave us the highest ratings in almost all categories. We will gladly pass along these top reviews and positive remarks on our services to the respective staff members and employees. Your satisfaction both validates our team's dedicated daily efforts and highly motivates us to keep striving for excellent services in the future Best regards, Valentin R Front Office Supervisor
In partnership with TripAdvisor