Sofitel Jinan Silver Plaza Hotel
5 stars
Customer review rating 4.6/5
3,232 reviews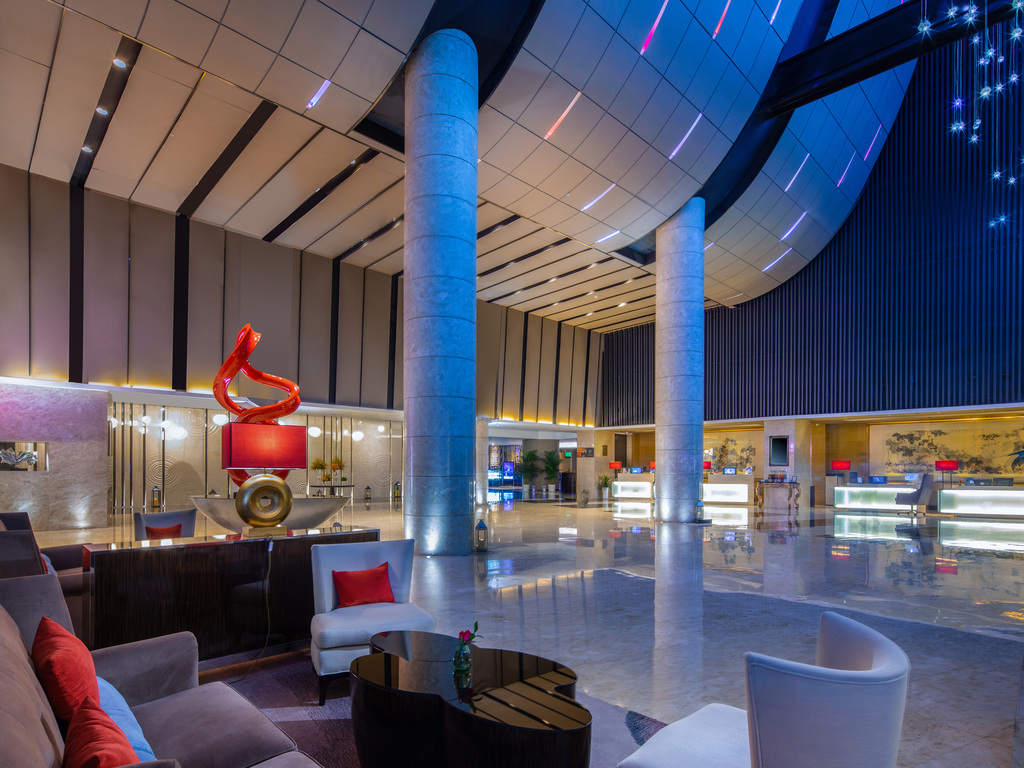 Hotel extras
Walking distance to Baotu Spring and Thousand Buddha, only 10-minutes by taxi to Daming Lake.

Located in the heart of the Jinan's Central Business District, close to a shopping mall.

356 spacious guest rooms offering Western and oriental traditions with nice mountain/lake view

49/F Silver Sky is the highest restaurant in the city offering great city views.

Conference space with touches of French elegance to customize according to business needs.
This hotel participates to Planet 21 and is acting in favour of Positive Hospitality.
Services in the hotel and nearby
Hotel location
Sofitel Jinan Silver Plaza
66 Luoyuan Avenue
Shandong Province
250063
jinan
china
Tel:
+8653186068888
Fax: (+86)531/86066666
Contact email :
rsvr@sofiteljinan.com
CONSTRUCTION BUREAU-HE PING MALL : 102 SILVER PLAZA

NEW WORLD SCHOOL-DA GUANYUAN : 49 SILVER PLAZA
By plane

JINAN At 38km / 23 miles

By train

JINAN At 7km / 4.35 miles

By train

Jinan Railway Station At 4km / 2.5 miles
GPS :36.660097, 117.029339
Your meetings and events
1,950 sqm of meeting and function space with 13 function rooms, the ballroom caters up to 850 guests.Our InspiredMeetingsTM Concierge will be entirely dedicated to your event from the beginning to the end.Latest conference technology, video and teleconferencing facilities, high speed broadband Internet access, high speed wireless Internet, advanced audio-visual and conference equipment are set up.The hotel is also proud to maintain the 1118 sqm pillarless ballroom hosting up to 850 guests.

Unsure of the capacity needed for your event?

Convert different units of measurement and make organising your events easier.
Our accommodations
426 rooms and suites located on 11-46 floor, personalized design, free broadband access; all club rooms equipped with WiFi and broadband, L'Occitane/Hermes amenities and Sofitel "Mybed". Non smoking floors available.
SUPERIOR ROOM, 1 King Bed, City View
Max. number of persons:

3

Area:

From 40 m² / 431 sq ft

Views:

City side *
* Subject to availability
Wireless internet in your room
High speed internet
Coffee/tea making facilities
Mini Bar
SUPERIOR ROOM, 2 Single Beds, City View
Max. number of persons:

3

Area:

From 40 m² / 431 sq ft

Views:

City side, Mountain view *
* Subject to availability
Wireless internet in your room
High speed internet
Coffee/tea making facilities
Mini Bar
LUXURY FAMILY ROOM, 1 King Bed and 1 Sofa Bed, High Floor
Max. number of persons:

4

Area:

From 55 m² / 592 sq ft

Views:

City side *
* Subject to availability
Wireless internet in your room
High speed internet
Bathrobe
Slippers
Mini Bar
LUXURY ROOM, 1 King Bed, Mountain / Lake View
Max. number of persons:

3

Area:

From 45 m² / 484 sq ft

Views:

City side *
* Subject to availability
Wireless internet in your room
High speed internet
Coffee/tea making facilities
Mini Bar
LUXURY ROOM, 2 Single Beds, Mountain / Lake View
Max. number of persons:

3

Area:

From 45 m² / 484 sq ft

Views:

City side *
* Subject to availability
Wireless internet in your room
High speed internet
Coffee/tea making facilities
Mini Bar
SUPERIOR ROOM, Club Millésime Access, 1 King Bed, Mountain View / Lake View
Max. number of persons:

3

Area:

From 45 m² / 484 sq ft

Views:

Lake side, Mountain view *
* Subject to availability
Wireless internet in your room
High speed internet
Coffee/tea making facilities
Mini Bar
LUXURY ROOM, Club Millésime Access, 1 King Bed, Mountain View / Lake View
Max. number of persons:

3

Area:

From 55 m² / 592 sq ft

Views:

Lake side, Mountain view *
* Subject to availability
Wireless internet in your room
High speed internet
Coffee/tea making facilities
Mini Bar
Rooms
Our guest reviews for
Sofitel Jinan Silver Plaza
100% genuine reviews from our guests
Find out more
宾客关系是索菲特服务理念的核心——济南索菲特银座大饭店入住体验

TripAdvisor rating 5.0/5

lukejin0223 Solo travel - 21/07/2020 TripAdvisor review

Guest relations are the heart of Sofitel's vision. 宾客关系是索菲特服务理念的核心。 We believe tomorrow's luxury is more about experience. 我们相信未来的奢华已超越体验。 ——Sofitel Jinan Sliver Plaza 济南索菲特银座大饭店 1999年,济南索菲特银座大饭店开业。2013年,伴随索菲特品牌完成重新定位,酒店亦完成全面升级,成为泉城首家国际奢华品牌酒店。 济南索菲特银座大饭店位于历下区泺源大街66号,紧邻城市中心地标——泉城广场,距济南遥墙国际机场约38km,车程40分钟。 一、行前沟通 出行前,邮件询问酒店设施开放情况,并请求礼宾部代收快递。 预订部工作人员Jean及Linda答复及时得体,符合品牌服务标准。 二、抵达酒店 15日15时抵达酒店,入住期间,于不同时段多次乘车出入酒店,入口处均有工作人员值守,服务热情得体,特殊时期,尤为可贵。 步入大堂,完成测温后,工作人员将主动上前询问是否需要行李服务,值得肯定。 前台工作人员Mia Zhang办理入住手续规范高效,且鉴于疫情防控期间行政酒廊暂停开放,特在介绍行政礼遇替代方案之余,主动提供多张欢迎饮料赠券以作饮品补偿,考虑细致周全,非常感谢。 三、客房 客房由普通套房升级至尊享套房,面积70平方米,空间开阔,布局合理。 经翻修后,设施现代化程度较高,电动窗帘、智能马桶兼备。同时,电源设置充足,使用便利。 迷你吧及客用备品配置亦相对充足,illy胶囊咖啡、Lanvin洗护用品皆符合品牌定位。行政酒廊暂停开放期间,宾客每日可免费享用迷你吧内软饮2听。略为遗憾的是,地产饮用水及川宁茶饮于该房型而言,品质感稍逊。 此外,作为"ALLSAFE 安心悦界"计划认可成员,酒店客房备有计划介绍卡,同时,宾客也可通过电视收看计划宣传片。 景观方面,得益于优越的地理位置及高楼层,宾客可于客房内欣赏泉城市景。美中不足的是,玻璃清洁度有待加强。 入住一段时间后,适才收到欢迎礼,就会员等级而言,配置颇具诚意。 四、设施与服务 酒店康乐设施齐全,健身房与泳池兼备。 服务方面,酒店服务团队整体呈现卓越,餐饮部门表现尤为亮眼,下文将单独叙述。除此之外,其余部门亦不逊色。 具体来说: 15日下午约16时于礼宾台领取先前请酒店代收的快递,请工作人员代为拆箱后,对方随即主动提供手提袋,服务热情周到; 17日下午16时离店,礼宾部工作人员热情相送,主动为我安放行李,非常感谢。 略为遗憾的是,入住期间,客房并未进行夜床整理,与品牌标准不符。疫情防控期间,如若无法提供此项服务,亦应预先声明。同时,客用备品补充存在遗漏,入住次日,未补充拖鞋、浴擦及浴缸处洗护用品,此方面成本控制未免稍显严苛。 五、餐饮 BAR 66 大堂吧: 目前,行政酒廊仍未开放,行政客房下午茶需于大堂吧使用。同时,会员欢迎饮料亦于此处兑换。 餐品方面,行政客房下午茶配置为一款自选甜点&咖啡/茶/冻果汁,甜点出品水准尚可,整体无功无过。 会员欢迎饮料设置则稍欠诚意,仅有常规碳酸饮料可选,显然与索菲特品牌定位不符。 幸而,卓越的服务在一定程度上弥补了餐品方面的缺失。 入住首日,Tina Liu查询到入住信息后,即全程以姓氏相称。在我点选红茶后,热情询问是否需搭配鲜奶或柠檬片,值得肯定。 次日当值的男士,服务同样优秀,不仅熟知我的下午茶饮品偏好,做事亦细致周全。在我选择于享用下午茶时兑换欢迎饮料的情况下,主动询问欢迎饮品是否需要装袋。 由此不难看出,酒店交接工作与培训工作的到位。 百花园 中餐厅: 百花园中餐厅位于酒店20层,自高楼层客房前往需于首层或6层换乘电梯,略有不便。 餐品方面,出品尚可,食材新鲜度较好,于雅高A佳会员而言,性价比不俗。然而,论烹饪风格,个人更偏爱同城美爵酒店的乐轩华中餐厅。 与大堂吧相同,服务亦可作为加分项,为我点餐的女士,同空乘一般,采用蹲姿与我交流,令我印象深刻。用餐完毕后,电梯间亦有工作人员询问用餐感受,餐厅整体服务水准颇高。 银顶 旋转餐厅: 银顶旋转餐厅为酒店全日制餐厅,各时段呈现水准参差不齐,需分时段评价。 早餐时段: 餐品出品尚可,但服务欠佳,连续2日皆无人领位,欢迎茶/咖啡亦需自行索要。且餐具配置存在一定主观随意性。个人认为,早餐时段综合呈现远低于酒店整体水准,无法契合品牌定位。 午餐时段: 午餐时段,餐厅整体呈现极佳,与早餐时段对比鲜明。 首先,餐品准备颇为丰盛,除受限于疫情影响未能提供刺身外,小龙虾、马卡龙、鸡尾酒一应俱全,另有限量炖盅附送,配置不输部分同档酒店晚餐。 其次,服务细致周到。例如,工作人员发觉我在擦拭餐刀后,当即上前询问是否需要更换;先前于中餐厅为我点餐的女士,见面后,主动上前问候并询问用餐感受。凡此种种,皆令我印象深刻。 Happy Hour时段: 行政酒廊暂停开放期间,"欢乐时光"晚间鸡尾酒会以套餐形式呈现,由全日制餐厅负责送至客房。首日套餐较次日更为丰盛(图为首日套餐,次日无中式凉菜品牌及橙汁),除无饮品可选外,配置诚意尚可。 六、周边玩乐 酒店地理位置极为优越,紧邻城市中心地标——泉城广场,宾客可轻松前往市内各处。 此外,大堂与银座购物中心相通,餐饮购物选择丰富。 七、整体评价 整体而言,酒店位置优越,设施便利,服务更堪称卓越。 虽受疫情影响与成本控制需要所限,呈现尚称不上尽善尽美,却已足够令我满意。 以上文提及的工作人员为代表的服务团队充分诠释了索菲特服务的核心,如此细致周全的人性化服务,也正是索菲特品牌的核心魅力所在。 在我看来,酒店无愧于泉城首家国际奢华品牌酒店之名,值得作为到访济南的首选。

尊敬的lukejin先生/ 女士: 您好!感谢您下榻济南索菲特银座大饭店。 索菲特是雅高集团的奢华品牌,也是济南市场上第一家五星级国际联号酒店,在济南有着久远的历史,也是济南的地标建筑。索菲特的品牌特质之一就是独特的选址,充分为商务和休闲客人提供出行便利。每一位索菲特大使都努力秉承着追求卓越的精神,传递快乐精髓,用心为每一位索菲特客人创造定制化服务。 我们非常荣幸收到像您这样宾客给予认真细致专业的反馈,我们也将您提及的问题和建议反馈至管理层,大饭店管理层非常重视您的反馈,并在相关会议上展开了细致的研讨。在您的评论中,我们看到您对预定员工,前台员工,中餐厅员工及大堂吧员工印象非常深刻,并给予了高度的认可,用心的服务得到客人的赞许是酒店人的荣幸,我们将继续保证高质量的服务态度,严格遵循索菲特品牌标准。 你在评论中也提及到您在入住的期间,未享受到夜床服务,我们深表歉意,未带给您关于夜床服务百分百满意的体验,我已将此问题反馈至客房部,我们将加强员工培训和夜床服务质量的监督和检查。 此外,您也提及关于早餐菜品及服务的问题,我们将您的反馈传达至餐饮部门,并制定出详细的改进计划,我们将加强员工的培训和员工服务的专业度,餐饮部门也会相应增加早餐食品的种类,并配合当地的季节特色及气候特色,为您搭配健康有机的食物。 根据疫情的好转,大饭店也会陆续开放更多的客用设施,欢迎您下次入住时前来体验。 感谢您花费您宝贵的时间给予我们的反馈,正是由于您的鞭策,大饭店才会越来越好。我们将继续保持索菲特标准,取其精华,去其糟粕。很荣幸与您邂逅在城市的中心区,我们不会停下努力的脚步, 努力让每位宾客的旅途尽善尽美。我们将继续提高服务质量和产品质量,我们始终竭尽全力践行完善的待客之道,让你物超所值的体验到更加完美的体验,您的期望就是我们用心的方向。尽管美中有不足,我们努力改进,依然期待您再次光临,看到大饭店的进步和蜕变。祝您生活顺心。

Good stay

Customer review rating 4.6/5

Ting Business - 02/07/2020 Confirmed reviews ALL

Room is tidy, the food for breakfast is not so fresh

Dear Ting, Thank you for staying with us and giving your valuable review. At Sofitel we are always measure guest satisfaction by service quality, we will certainly do our best to update the food quality as soon as we can. Next time you visit us please let me know, I wish I would have the opportunity to look after your stay myself. Regards, Sherry, Guest Experience Officer

Good stay in a great location

Customer review rating 4.6/5

Dennis Solo - 24/01/2020 Confirmed reviews ALL

Hotel is close to malls, bars and sights. Special mention to Icey Zhu and Vivian Yuan for having a great checkin experience!

Dear M., Thank you for staying in Sofitel Jinan Silver Plaza! We appreciate for your kindly recognition on our staff's service. It's also an honor for us to show French luxury services to our guests. Your comments will be shared within our team. We will continually provide professional and warm services to all our guests. Wish everything goes well for you, and welcome to Sofitel again. Sincerely Hotel Management Team

Close to main tourist locations

Customer review rating 4.6/5

Anonymous Families - 22/01/2020 Confirmed reviews ALL

Helpful English speaking staff. Breakfast in revolving restaurant is a lovely experience. We also had dinner there one night to celebrate an event. the Hotel is within walking distance to the Springs and Daming Lake, Scientific Museum and Shopping areas. Luxury Family room was large enough to live in.

Dear guest, Thank you for staying in Sofitel Jinan Silver Plaza! We appreciate for your kindly recognition on our staff's service. It's also an honor for us to show French luxury services to our guests. Your comments will be shared within our team. We will continually provide professional and warm services to all our guests. Wish everything goes well for you, and welcome to Sofitel again. Sincerely Hotel Management Team

Absolutely Great Hotel

Customer review rating 4.6/5

Tj Business - 30/12/2019 Confirmed reviews ALL

I have stayed in this hotel for two nights and have absolutely enjoyed my stay here. The location of this hotel is very convenient, close to local restaurants and fruit shops. In the same building of this hotel, there is a big department store. The front desk staff is very courteous; the concierge is very eager to help. The rooms are very spacious and comfortable. It is quiet, clean and has all the amenities. I must say that this hotel is very well managed. Given a chance, I would love to stay in this hotel again.

Dear L., Thank you for staying in Sofitel Jinan Silver Plaza! We appreciate for your kindly recognition on our staff's service. It's also an honor for us to show French luxury services to our guests. Your comments will be shared within our team. We will continually provide professional and warm services to all our guests. Wish everything goes well for you, and welcome to Sofitel again. Sincerely Hotel Management Team

Our most recent 20 reviews

In partnership with TripAdvisor