Sofitel Shanghai Sheshan Oriental
Sofitel Shanghai Sheshan Oriental 5 stars
Customer review rating (ALL Rating) 4.9/5
83 reviews
Hotel location
Sofitel Shanghai Sheshan Oriental
3388 Sichen Road, Sijing Town, Songjiang District
201601 SHANGHAI
China
GPS:31.114018, 121.224421
Access and transport
HONGQIAO
Airport
Access: 20 km / 12.43 mi 20 min drive
PVG
Int. airport 1 - IATA code
Access: 67.5 km / 41.95 mi 1 hrs 10 min drive
PUDONG INTL AIRPORT
Int. airport 1 - full name
Access: 67.51 km / 41.95 mi 1 hrs 10 min drive
Hotel services
Check-in from - Check out up to
In summary
On site
Swimming pool

Car park

Restaurant

Wheelchair accessible hotel

Well-being

Air conditioning

Wi-Fi

Breakfast

Bar

Meeting rooms
M MEDITERRANEAN RESTAURANT
Unique M Mediterranean restaurant features cuisines from countries around the Mediterranean Sea, innovative and trendy concept, offering a luxury Mediterranean dining experience, complimented with worldwide renowned premium selected wines.
VIE ALL DAY DINING
Facing tranquil lagoons, VIE restaurant features fresh seafood and international cuisines, show-cooking and luxurious surroundings, offering a unique dining experience.
CHINESE RESTAURANT
This refined Cantonese restaurant with its 16 luxury-décor private dining rooms specializes in abalone, shark fin, seafood and authentic regional cuisine.
FUKAMI JAPANESE RESTAURANT
This authentic Japanese restaurant offering creative cooking style, using organic and the freshest ingredients: live seafood, grain-fed beef, freshly-made sushi and interactive cooking of Tappanyaki, served with Japanese traditional Sake and Soju.
Your meetings and events
2,100 sqm of meeting and function facilities with 12 function rooms, the ballroom caters up to 1200 guests, this is an ideal and exclusive Shanghai meeting venue. Sofitel Shanghai Sheshan Oriental is an ideal event hotel taking advantage of an inspirational setting and complementing it with 2500 sqm of meeting and function facilities. Event venues include 14 meeting rooms a ballroom catering for up to 1200 guests and a variety of creative outdoor spaces. Inspired Meeting Planners assist in making each event extraordinary.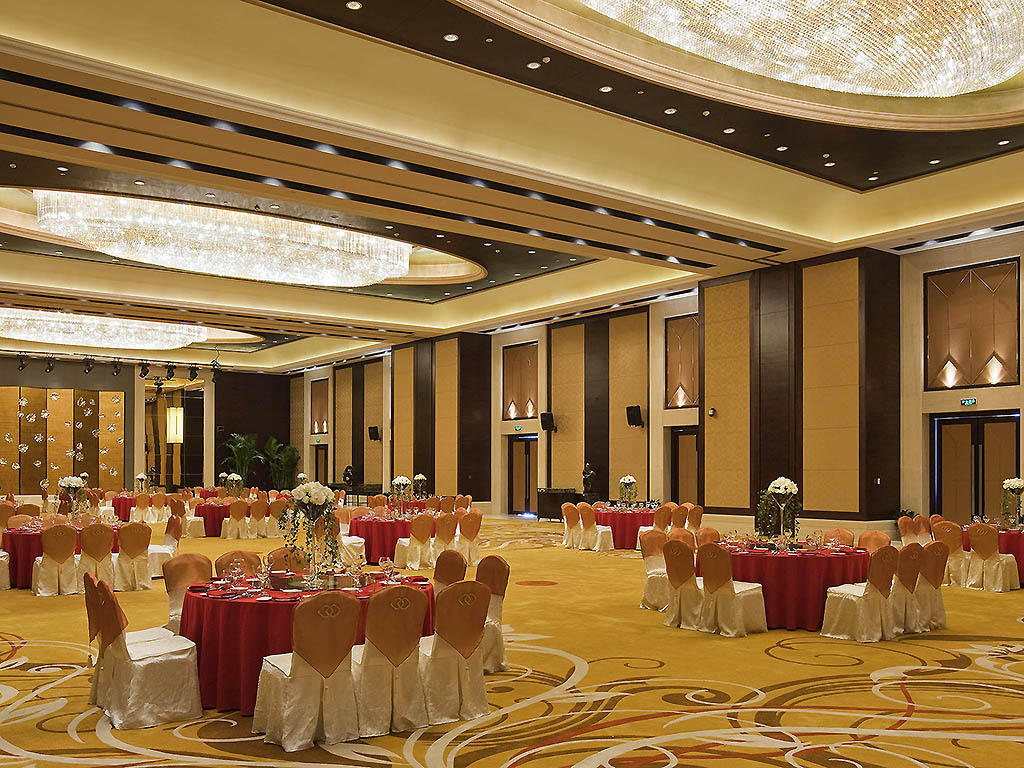 Room descriptions and layouts
From 1 to 1,200
attendees
Configuration is not available for these requirements
Unsure of the capacity needed for your event?

Convert different units of measurement and make organising your events easier.
Our accommodation(s)
The hotel offers 368 rooms including 53 Luxury Suites and 7 exclusive Villas. The rooms are inspired by three decor styles: Mediterranean, Chinese and Southeast Asian, and all have private balconies.
Our guest reviews
Our guest reviews
100% genuine reviews from our guests
Find out more
would be nice if not very serious food poisoning
TripAdvisor rating 1.0/5
ma_gorzatam983 Families - TripAdvisor review
I was I sofitel for five days with my family. we enjoyed the time but everything was ruined after last evening meal at members lounge! after this meal I've spend last night having diarrhea and have been vomiting. it's fifth day and I am still sick so it wasn't just regular stomach flu. there was something wrong with food for sure! I am very disappointed because I trusted the sofitel brand and was eating at hotel without a fear about food being such a bad quality, having toxins inside!
Dear guest: Thank you very much for staying at Sofitel Shanghai Sheshan Oriental Hotel. We have read your feedback carefully, and we apologize for your unsatisfactory staying experience this time. Please believe that ensuring food safety is the bottom line of our service. If you have any matters that need our assistance, or further comments and suggestions, you are welcome to contact us by phone or email at any time. We sincerely hope that we can have it in the near future. Opportunity to make up for this shortcoming and provide you and your family with better services!
Poor service, run down facility
Customer review rating 2.0/5
Tuan M. C. Families - Confirmed reviews ALL
We last visited 9 years ago and had a great experience. We went yesterday with a lot to look forward to. Unfortunately we found out that your hotel's service standard has dropped significantly. Your facility also need some urgent upgrade and maintenance. You seem to be having many stay rules that are unnecessary and your staff do not know how to handle when we do not agree with those rules. None of these issues are major, but when too many small issues occurred regularly, it shows that you have not trained your staff well and you also have not maintained your facility up to the expected standard. Our visit to your hotel yesterday was the fifth family holiday hotel stays we had in Shanghai and Suzhou during the last one month and unfortunately, it was also the poorest experience we had. We are happy to provide you with the details if you are interested to improve the experience for your other guests in the future.
Dear Tuan Miang C., Thank you for taking the time to tell us about your experience at the Sofitel Shanghai Sheshan Oriental. I am sorry that your experience did not meet your expectations; please allow me to express my sincerest apologies. At Sofitel Hotels & Resorts, we strive to provide a superior service experience for every customer; therefore your feedback is very important to us. Please rest assured that we are taking the appropriate measures to address the problem and prevent future occurrence. We appreciate your sharing your concerns, and it is our hope that you will give us the opportunity to better serve you in the near future. Sincerely, Sarah Huang Sofitel Shanghai Sheshan Oriental
Fantastic experience, highly recommended Shanghai getaway!
TripAdvisor rating 5.0/5
tgdg2021 Solo travel - TripAdvisor review
Really impressed, it had been recommended by several friends over the last few years. The pool is an absolute blast and the staff are all professional and willing to go the extra mile / Even the lifeguards and pool guys were super friendly! I had a first floor room / beautiful design and layout that backed onto the pool… Will definitely return.
Dear guest, thank you very much for taking the time out of your busy schedule to leave us your valuable comments. Sofitel Sheshan has 4400 square meters of large outdoor surrounding swimming pool and tropical beach. It only takes a short drive to get away from the hustle and bustle of the city. Your affirmation and support will make us more confident to provide the best quality service. Thank you for your stay and hope that your next stay will be as pleasant as this time!
very nice hotel facilities and friendly staff
Customer review rating 5.0/5
Anonymous Friends - Confirmed reviews ALL
Thanks to Shawn at the front office big and beautiful pool very good dinner buffet
Dear Jacopo B., We very much appreciate your comments regarding your stay at the Sofitel Shanghai Sheshan Oriental. It is always a pleasure to receive positive feedback. I will share your comments with our team. I am sure that this feedback will serve as an encouragement to all of our staff as we strive to continuously improve the quality of our services. Thank you again for sharing your experience, and we hope your next visit will be as pleasant as the previous one. Sincerely, Sarah Huang Sofitel Shanghai Sheshan Oriental
Travel
TripAdvisor rating 5.0/5
Ccccheng Families - TripAdvisor review
When I came to Sofitel in Sheshan, the most intuitive feeling was that the environment was superior. Although the room was a little old, it didn't affect my check-in experience. It was a wonderful trip.
Dear Guest: Thank you very much for taking the time out of your busy schedule to leave us your valuable comment. Sofitel Sheshan has a 4,400-square-meter outdoor wrap-around swimming pool and a tropical beach, just a short drive away from the hustle and bustle of the city. Thank you for your stay and hope your next stay will be as enjoyable as this one!
In partnership with TripAdvisor