Sofitel Dubai The Palm
Sofitel Dubai The Palm 5 stars
Customer review rating (ALL Rating) 4.7/5
1,276 reviews
Hotel location
Sofitel Dubai The Palm
The Palm Jumeirah, East Crescent road
55558 DUBAI
United Arab Emirates
GPS:25.14025, 55.13242
Access and transport
DUBAI INTL AIRPORT
Int. airport 1 - full name
Access: 43.9 km / 27.28 mi 41 min drive
Shuttle

Additional charge

Shuttle on call
DXB
Int. airport 1 - IATA code
Access: 43.9 km / 27.28 mi 41 min drive
Shuttle

Additional charge

Shuttle on call
Hotel services
Check-in from - Check out up to
In summary
On site
Swimming pool

Car park

Shuttle

Restaurant

Wheelchair accessible hotel

Well-being

Air conditioning

Wi-Fi

Breakfast

Bar

Meeting rooms
Manava
This cheery, family-friendly restaurant fully lives up to its name, which means "welcome" in Tahitian. Manava invites you to indulge in a lavish buffet of regional and international favorites.
Porterhouse Steaks & Grills
One of the most popular steakhouses on Palm Jumeirah Dubai, Porterhouse imports prime cuts of meat from celebrated producers around the world.
Book
The World Eatery
When everyone in your group wants something different to eat, come to The World Eatery. Here the specialties of the house are favorites from the four corners of the globe - often in generous portions made to share.
Moana Seafood Restaurant
This pagoda-style restaurant, blending indoor and outdoor dining areas, brings out the best of fresh catches with Asian and European culinary techniques.
Book
Maui Beach Restaurant & Bar
Whether dining indoors or at the water's edge, this restaurant and bar brings the ambiance and flavor of the tropics to your table or lounge chair. By night Maui transforms into an Indian cuisine restaurant with delicacies from all four corners of India
Your meetings and events
Hold Magnifique events and incentives in Dubai's newest conference facility. Sofitel The Palm's sparkling ballroom is ideal for weddings, meetings and multi-day conferences for up to 900. Incentive trips may involve water sports or team buildings Dedicated InspiredMeetings planners focus on making your event in Dubai a success, whether it's a conference, a wedding banquet with live music and dancing, a glamorous fashion show or an intimate board meeting for high-level executives or diplomats. Enjoy specially designed menus, state-of-the art lighting and sound systems, a full-service business center and Wi-Fi in this brand new Dubai resort, where French savoir-faire helps turn business into pleasure.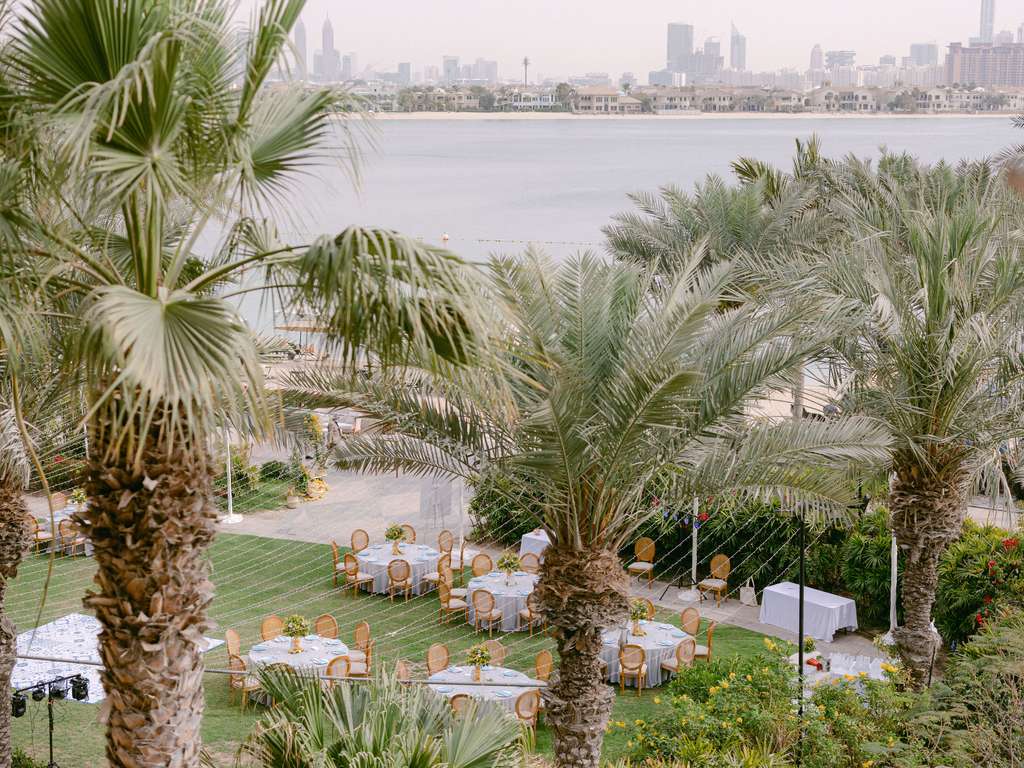 Room descriptions and layouts
Configuration is not available for these requirements
Unsure of the capacity needed for your event?

Convert different units of measurement and make organising your events easier.
Our guest reviews
Our guest reviews
100% genuine reviews from our guests
Find out more
Truly magical
TripAdvisor rating 5.0/5
Waqarr A TripAdvisor review
The country was beautiful and The hotel made it that special. All of the staff were extremely helpful and very very polite a true credit to the Sofitel brand. The facilities here are unbelievable and cater for every age group and are very family orientated. The in house restaurants are world class. I will definitely be returning! I would like to give particular credit to one of the staff who truly went above and beyond, Salman. He was always eager to help providing buggy shuttles to our room and always making sure me and my family were happy.
Excellent Service
TripAdvisor rating 5.0/5
daddiemarto Solo travel - TripAdvisor review
Inquisitive Service providers, Sarath was great help. And the breakfast layout, amazing!! First time in Dubai and it feels so familiar already 🤗🤗. Definitely recommending Sofitel at the palm to anyone around here
amazing experience 10/10!
TripAdvisor rating 5.0/5
Brettcamera Couples - TripAdvisor review
Our experience at the Sofitel could not have been better. Firstly on arrival we had exceptional service from Glynelle who upgraded our rooms when finding out we had just recently got engaged a few weeks before. The whole stay was fantastic and to top it off everyday we came back to our rooms to some towel art and balloons by the housekeeping (Rama/Aniket). nothing was too much of a problem constantly restocking drinks and whatever we needed. The food at the hotel was fantastic as well. In particular the Porterhouse steak restaurant was great. French onion soup, amazing! Would recommend to anyone and will most definitely be back.
Dear Valued Guest, We would like to thank you for your very kind comment regarding your recent stay at Sofitel Dubai The Palm. Comments like yours make us proud and encourage us to keep delivering excellent services to our guests. Glynelle, Rama, Aniket and all our Heartists at Sofitel Dubai The Palm are looking forward for your next visit. Please Feel Welcome to contact us directly on H6541-qm1@sofitel.com prior to your arrival. We will be so happy to take care of you again. Kind Regards, Guest Experience Team Sofitel Dubai the Palm
Beautiful on the outside, not so good inside
TripAdvisor rating 3.0/5
isabela982 Couples - TripAdvisor review
Beautiful hotel on the outside , not so good inside . Situated in the Palm , Dubai,this hotel is in a situation that is only good if you stay at the Palm . It has a reasonable beach and the bar Laguna is quite nice . Far from all the attractions ( expect something like 45min from everything ) is also good for someone traveling with children ( not my case ) . The rooms are not well decorated,although housekeeping is quite good . Breakfast is a disaster ! Bad quality, bad service and terrible ambiance. Concierge services are quite reliable and the Head Concierge, Stephen is really good!! The Cofee Shop at Lobby level is quite nice . In my opinion, the hotel is not worth the price !
Excellent service by chef and waiter
TripAdvisor rating 5.0/5
Tour10321636625 TripAdvisor review
I am very happy with food and service. And it was really excellent experience. I will recommend to come to manava restaurant. Our chef Ashafaq was really kind person and he recommend me some food apart from the buffet as well. Even our waiter was very kind mr. Arka. Thanks to all
Dear Valued Guest, We would like to thank you for your very kind comment regarding your recent stay at Sofitel Dubai The Palm. Comments like yours make us proud and encourage us to keep delivering excellent services to our guests. Ashafaq, Arka and all our Heartists at Sofitel Dubai The Palm are looking forward for your next visit. We will be so happy to take care of you again. Kind Regards, Guest Experience Team Sofitel Dubai the Palm
In partnership with TripAdvisor