Novotel Suites Dubai Mall of the Emirates Hotel

3 stars
Customer review rating
4.3/5
7,281 reviews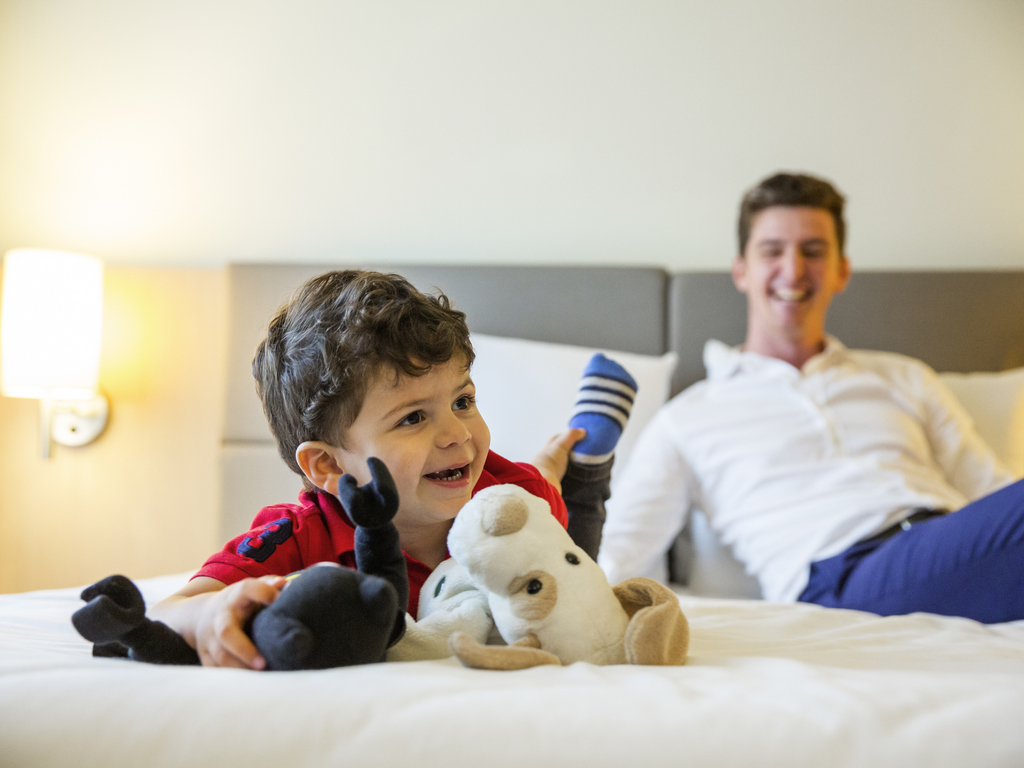 Hotel extras
Rooftop swimming pool

Free daily shuttle to Kite Beach

Few minutes' walk from Mall of the Emirates

Free WiFi access, Private Indoor Car Park, 24-hour Fitness Centre

Few minutes' away from Dubai Metro Station
Services in the hotel and nearby
Information message
Due to the current situation, services levels and trading hours may be altered in our hotel (including the bar, pool, and fitness centre). We apologize for any inconvenience.
Hotel location
Novotel Suites Dubai Mall of the Emirates
2A Street, Al Barsha
Opposite Mall o f the Emirates
P.O. Box 283825

dubai
united arab emirates
Dubai metro : Red Mall of Emirates
By plane

DUBAI INTL AIRPORT At 20km / 12.43 miles
GPS :25.116528, 55.196111
Our accommodations
Enjoy sleek comfort and spaciousness in a stylish suites designed to meet all your needs - a premium bed and special touches that makes the difference. Relax, get some work done and take full advantage of your stay.
Suite 2 adults & 1 child
Max. number of persons:

3

Area:

From 31m²
Wireless internet in your room
High speed internet
Free in Room Mineral Water
Coffee/tea making facilities
Satellite/cable colour TV(...)
Suite With 2 Single Beds 2 adults & 1 child
Max. number of persons:

3

Area:

From 31m²
Wireless internet in your room
High speed internet
Free in Room Mineral Water
Coffee/tea making facilities
Satellite/cable colour TV(...)
Family Suite 3 adults & 2 children
Max. number of persons:

5

Area:

From 48m²
Wireless internet in your room
High speed internet
Free in Room Mineral Water
Coffee/tea making facilities
Satellite/cable colour TV(...)
Our guest reviews for
Novotel Suites Dubai Mall of the Emirates
100% genuine reviews from our guests

Find out more

Great location, staff and Nandos in the lobby!

Customer review rating 4.3/5

Jo Couples - 26/03/2020 Confirmed reviews ALL

The room was big and clean. The staff were nice throughout the stay. Having Nandos in the lobby was a very nice surprise and the staff there were great. The location was great. Just a 5min walk to the mall and train station. Definitely will come back to this hotel.

Dear valued guest, We very much appreciate your comments regarding your stay at the Novotel Suites Dubai Mall of the Emirates. It is always a pleasure to receive positive feedback. I will share your comments with our team. I am sure that this feedback will serve as an encouragement to all of our staff as we strive to continuously improve the quality of our services. Thank you again for sharing your experience, and we hope your next visit will be as pleasant as the previous one. Sincerely, Tyrone Lodder General Manager Novotel Suites & IBIS Mall of the Emirates

OK Stay

Customer review rating 4.3/5

Anonymous Couples - 26/03/2020 Confirmed reviews ALL

My room leaked in the bathroom from the ceiling and I informed the front desk they sent someone to check it and it was because of heavy rain, he cleaned the water up but 10 minutes later it started again all night dripping. In the future when a guest has a leak over to change their room, 1 you are no longer liable for the safety hazard from a wet floor 2. your guest will be happy

Dear valued guest, Thank you for taking the time to tell us about your experience at the Novotel Suites Dubai Mall of the Emirates. I am sorry that your experience did not meet your expectations; please allow me to express my sincerest apologies. At Novotel Suites, we strive to provide a superior service experience for every customer; therefore your feedback is very important to us. Please rest assured that we are taking the appropriate measures to address the problem and prevent future occurrence. We appreciate your sharing your concerns, and it is our hope that you will give us the opportunity to better serve you in the near future. Sincerely, Tyrone Lodder General Manager Novotel Suites & IBIS Mall of the Emirates

Well located

Customer review rating 4.3/5

Stewart L. Couples - 25/03/2020 Confirmed reviews ALL

Just to advise you of the issues we had at the hotel when booking in etc. in Novotel Mall of the Emirates The customer service person was unable to find this reservation on our arrival, then said something about a booking for 2 nights, No 5 nights. Apparently the first booking for 2 nights was in a different name, maybe Loretta, sorry couldn't understand them. That was finally all sorted. Then on Wednesday we had been out and returned to our room which hadn't been cleaned, we waited another hour and then I rang reception to be told – you are checking out today, this was about 3pm, oh NO we are not we are booked for another 3 nights, no you are checking out today. Then I was informed that they needed to check and would ring me back. I took the paperwork to reception immediately and she was still unable to find our booking. She then asked if she could take a copy of the booking (just as well we had printed a copy). Its OK Mam she said, I will send an email and let you know, I have no idea who too. When they finally rang back they said, we have received the email, ok Mam, byeeee. Not happy with their customer service at all as I found these two ladies regarding the second booking to be quite rude.

Dear valued guest, Thank you for taking the time to tell us about your experience at the Novotel Suites Dubai Mall of the Emirates. I am sorry that your experience did not meet your expectations; please allow me to express my sincerest apologies. At Novotel Suites, we strive to provide a superior service experience for every customer; therefore your feedback is very important to us. Please rest assured that we are taking the appropriate measures to address the problem and prevent future occurrence. We appreciate your sharing your concerns, and it is our hope that you will give us the opportunity to better serve you in the near future. Sincerely, Tyrone Lodder General Manager Novotel Suites & IBIS Mall of the Emirates

Welcoming staff

Customer review rating 4.3/5

Kelamanaths Solo - 25/03/2020 Confirmed reviews ALL

Welcoming staff upon check in Jefferson and suno friendly attentive all out question regarding sanitation in the hotel .

Dear valued guest, We very much appreciate your comments regarding your stay at the Novotel Suites Dubai Mall of the Emirates. It is always a pleasure to receive positive feedback. I will share your comments with our team. I am sure that this feedback will serve as an encouragement to all of our staff as we strive to continuously improve the quality of our services. Thank you again for sharing your experience, and we hope your next visit will be as pleasant as the previous one. Sincerely, Tyrone Lodder General Manager Novotel Suites & IBIS Mall of the Emirates

Good stay

Customer review rating 4.3/5

Rifqua Couples - 25/03/2020 Confirmed reviews ALL

Giving as the opportunity to move from the Ibis hotel to Novotel suites with no charge was an amazing experience.

Dear valued guest, We very much appreciate your comments regarding your stay at the Novotel Suites Dubai Mall of the Emirates. It is always a pleasure to receive positive feedback. I will share your comments with our team. I am sure that this feedback will serve as an encouragement to all of our staff as we strive to continuously improve the quality of our services. Thank you again for sharing your experience, and we hope your next visit will be as pleasant as the previous one. Sincerely, Tyrone Lodder General Manager Novotel Suites & IBIS Mall of the Emirates

Our most recent 20 reviews

In partnership with TripAdvisor