Aparthotel Adagio Porte de Versailles
Aparthotel Adagio Porte de Versailles 4 stars
Customer review rating (ALL Rating) 4.0/5
514 reviews
Hotel location
Aparthotel Adagio Porte de Versailles
16 rue Eliane Jeannin Garreau
92130 ISSY LES MOULINEAUX
France
GPS:48.831451, 2.281439
Access and transport
GARE MONTPARNASSE
Railway station
Access: 4.5 km / 2.8 mi 13 min drive
FRPMO: MONTPARNASSE
TRAIN + HOTEL GARE SNCF
Access: 4.5 km / 2.8 mi 13 min drive
ORY
Int. airport 1 - IATA code
Access: 15 km / 9.32 mi 30 min drive
PARIS ORLY
Int. airport 1 - full name
Access: 15 km / 9.32 mi 30 min drive
ROISSY CDG
Int. airport 2 - full name
Access: 35 km / 21.75 mi 55 min drive
CDG
Int. airport 2 - IATA code
Access: 35 km / 21.75 mi 55 min drive
Hotel services
Check-in from - Check out up to
In summary
On site
Car park

Wheelchair accessible hotel

Wi-Fi

Breakfast

Meeting rooms
Your meetings and events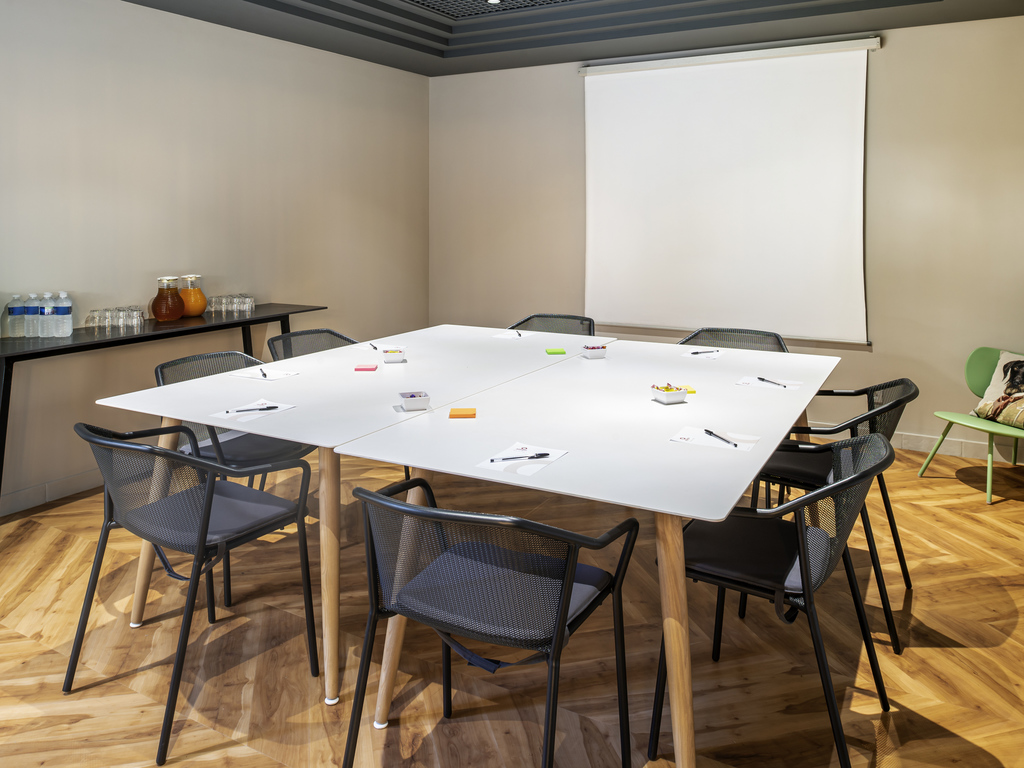 Room descriptions and layouts
Configuration is not available for these requirements
Unsure of the capacity needed for your event?

Convert different units of measurement and make organising your events easier.
Our guest reviews
Our guest reviews
100% genuine reviews from our guests
Find out more
I should've read the reviews BEFORE booking this location.
TripAdvisor rating 1.0/5
SharonB2274 Families - TripAdvisor review
I give this location a rating of 2. The only reason I don't give this place a one (1) was the little guy in the breakfast area making sure that the breakfast meal and area were appealing. However, as a frequent traveler, I will NOT recommend this location and I trust that this is NOT a reflection on the Adagio Hotel chain. I should've known it was a problem when I didn't provide identification for my reservation. The toilet smelled like raw sewage. The maintenance guy said that he didn't smell anything. He suggested that I get some room spray. When I mentioned the problem again, the front desk blamed housekeeping for not cleaning well after the last customer. If this is a reflection on the quality of the leadership at the facility, corporate should fire all of them and replace them with professionals who embody the corporate values and philosophy.
Great location
Customer review rating 4.5/5
Juan A. Business - Confirmed reviews ALL
Very good access to public transportation. There are many supermarkets that is walking distance from the hotel.
Horrible security measures
Customer review rating 1.0/5
Jasmine S. Business - Confirmed reviews ALL
Horrible security measures: The reception checked two other guests into my room which was only booked for one, and she gave me a copy of the card key to go to the room myself to see if it's occupied. I travelled to Paris for business. As I presented my passport and reservation email sent by the client to check in, the reception asked me if I was travelling with a companion, if this was my first night staying there, and if I had already checked in or left my luggage earlier that day. After phoning my client and double-checking the reservation email, I was sure that the room was booked under my name correctly and for one single person. The reception said another colleague already checked two people in that room already, but she gave me a card key to go to that room to check if it's occupied. She did not bother to phone the room in advance. I went up to the room, knocked and got no answer, and opened the door with the key. It was clearly occupied with personal belongings everywhere in the room and two laptops lying on the table. I went back down and eventually got a new room. Two major issues here: 1. The morning receptionist checked two people into a room that was booked for one and didn't check the personal IDs (at least not well enough). 2. They give out keys of rooms that are occupied to a third person so easily. I'll not recommend this place at all. The room was not particularly clean either. There was a black mark on the sheet, a piece of scourer left under the tap, and a broom and a bag of I don't know what left in the closet.
Located 40 min by metro from the centre
Customer review rating 2.5/5
Anonymous Families - Confirmed reviews ALL
There was no power in the shower, difficult to adjust water temperature in the shower , no shampoo provided…
Well located
Customer review rating 4.0/5
Betsy C. A. J. L. C. Business - Confirmed reviews ALL
The hotel has everything we needed. Just the pre authorization was held for a long time regardless of my request. The staff Abudulai and Wessam were very attentive and nice to us. Thanks
In partnership with TripAdvisor