Sofitel Casablanca Tour Blanche
Sofitel Casablanca Tour Blanche 5 stars
Customer review rating (ALL Rating) 4.4/5
587 reviews
Hotel location
Sofitel Casablanca Tour Blanche
Rue Sidi Belyout
20000 CASABLANCA
Morocco
GPS:33.597748, -7.614201
Access and transport
PORT DE CASABLANCA
Marine terminal
Access: 100 m / 0.06 mi 3 min walk / 3 min drive
GARE CASA PORT
Railway station
Access: 500 m / 0.31 mi 5 min walk
Shuttle

Shuttle on call, Shuttle scheduled
MOHAMMED V
Int. airport 1 - full name
Access: 25.8 km / 16.03 mi 41 min drive
Shuttle

Additional charge

Shuttle on call
CMN
Int. airport 1 - IATA code
Access: 25.8 km / 16.03 mi 41 min drive
Shuttle

Additional charge

Shuttle on call
Hotel services
Check-in from - Check out up to
In summary
On site
Swimming pool

Car park

Shuttle

Restaurant

Wheelchair accessible hotel

Well-being

Air conditioning

Wi-Fi

Breakfast

Bar

Meeting rooms
BRASSERIE LA TOUR
The Brasserie La Tour restaurant serves traditional French brasserie classics all day. The chef offers a new menu every week and his special is available at lunch and dinner. Make sure to try the delightful breakfast.
L'ATELIER ORIENTAL
Every evening at the Atelier Oriental restaurant, the chef showcases exquisite oriental cuisine inspired by the finest Moroccan and Lebanese.
Your meetings and events
Host your events or celebrate your marriage in Casablanca in one of our elegant rooms. The meeting rooms in the Galerie 01 display the work of local artists and add a real sense of personality to this unique function area.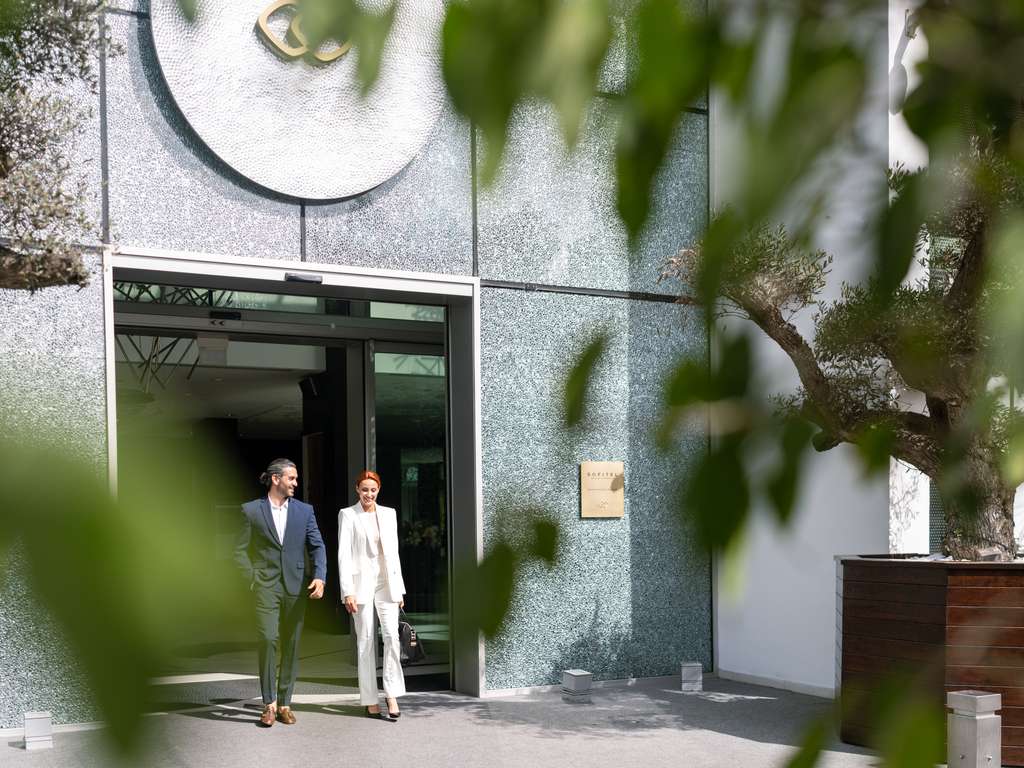 Room descriptions and layouts
From 1 to 1,326
attendees
Configuration is not available for these requirements
Unsure of the capacity needed for your event?

Convert different units of measurement and make organising your events easier.
Our accommodation(s)
Experience life inside the rooms and suites where feminine colors work alongside the finest materials to create a level of comfort that can only be defined as contemporary luxury. The views of the city, the ocean or the great mosque are amazing and unique The spacious, comfortable and high-tech suites tower above the city of Casablanca with views that will take your breath away. Each suite offers a butler service for a truly bespoke service experience.
Our guest reviews
Our guest reviews
100% genuine reviews from our guests
Find out more
It's not often service delights...
TripAdvisor rating 5.0/5
AstridandGary Business - TripAdvisor review
Staff go proactively out of their way to give you a good experience, without you having to ask. I was wow-ed by the breakfast staff but even more so by the lady in the spa. Samira, who also manages the place, provided an unforgettable hammam and massage experience, just what I needed after an intense week at work. Others have commented that the WiFi was not great, but I had no issues whatsoever.
Excellent View - Superb Staff
TripAdvisor rating 5.0/5
Whitema16 Families - TripAdvisor review
We had a long layover sue to cancellations, and booked at the Sofitel for its central location and beautiful photos. The walkability is outstanding, and more importantly, the staff recognized out situation immediately and took amazing care of my wife, daughter, and me.
Contemplating life
TripAdvisor rating 1.0/5
Chloe H TripAdvisor review
Absolutely disgusting. Im currently sitting at a desk with scratches engraved into what seems like cheap plastic made to look like wood. The room smells odd, like a carcass was bleached in here. The room itself has an odd setup (walls of deterioating mirror) and is poorly cleaned. My poor grandmother wanted to take a bath but was offput by yellow stains in the tub. She went into the shower only to find something that looked like dried vomit on the floor. Private club on the first floor definatly raises some questions as well. Im scared to sleep in the beds because without a doubt they were washing heavily in febreeze before my stay. Pray i make it though the night (the hallway lighting is spotty at best. feels like im in the modern conjuring but club hotel version).
Pool closed, beautiful view
TripAdvisor rating 2.0/5
Photostravellers TripAdvisor review
For our last night in Morocco we chose this hotel because it had a swimming pool and we wanted to relax in it, but once there we found it closed that day. When we asked about when it would reopen, we were told that "it will be for the next time". Too bad, there won't be a next time. If you are interested in the swimming pool ask for info before booking. The view from the room towards the mosque and the city from above was outstanding. Very varied and abundant breakfast buffet.
Was not satisfied
Customer review rating 1.5/5
L. Couples - Confirmed reviews ALL
We found the hotel to be dirty and dated. The elevators did not work well and were all filthy as well. Twice we had to ride in the service elevator. Only the "24th" floor was open for food and drinks which was a joke as everything is on the first floor. It took 49 minutes to get a drink. We were so upset we left. Our room smelled and the bathroom was not clean.
Dear Mrs l., Thank you for taking the time to tell us about your experience at the Sofitel Casablanca Tour Blanche. I am sorry that your experience did not meet your expectations; please allow me to express my sincerest apologies. At Sofitel Hotels & Resorts, we strive to provide a superior service experience for every customer; therefore your feedback is very important to us. Please rest assured that we are taking the appropriate measures to address the problem and prevent future occurrence. We appreciate your sharing your concerns, and it is our hope that you will give us the opportunity to better serve you in the near future. Sincerely, Imane El Amri Guest Experience Manager
In partnership with TripAdvisor