Mercure Rimini Artis
Mercure Rimini Artis 4 stars
Customer review rating (ALL Rating) 4.7/5
218 reviews
Hotel location
Mercure Rimini Artis
Viale Vespucci 38, RN Emilia Romagna
47921 RIMINI
Italy
GPS:44.066326, 12.582511
Access and transport
RIMINI
Railway station
Access: 2 km / 1.24 mi 15 min walk / 7 min drive
ITRMI : RIMINI
TRAIN + HOTEL GARE SNCF
Access: 2 km / 1.24 mi 15 min walk / 7 min drive
RMI
Int. airport 1 - IATA code
Access: 4 km / 2.49 mi 10 min drive
RIMINI SUD A14
Highway exit
Access: 4 km / 2.49 mi 15 min drive
FEDERICO FELLINI
Int. airport 1 - full name
Access: 4 km / 2.49 mi 10 min drive
Shuttle

Additional charge
RMI
Int. airport 2 - IATA code
Access: 6.44 km / 4 mi 10 min drive
Hotel services
Check-in from - Check out up to
In summary
On site
Swimming pool

Car park

Shuttle

Wheelchair accessible hotel

Well-being

Air conditioning

Wi-Fi

Breakfast

Bar

Meeting rooms
LOBBY BAR
Welcome to the elegant and exclusive lobby bar, boasting simple, minimalist furnishings and huge windows overlooking the stunning outdoor pool. Why not relax and sample one of our barman's impressive creations?
Your meetings and events
Let the Mercure Artis hotel take care of organizing your company event: it'll be a resounding success! We have 2 meeting rooms accommodating 10 to 80 people, with natural light and equipped with state-of-the-art technology. In addition, we offer an experienced support service and numerous suggestions for team building events and post-conference activities.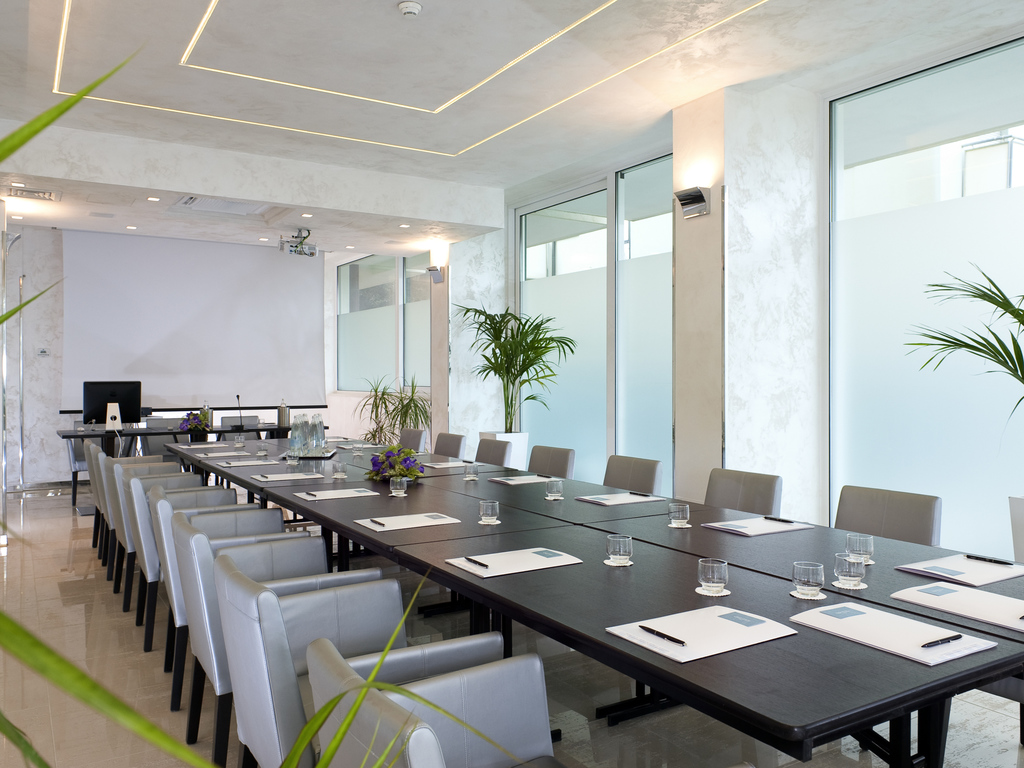 Room descriptions and layouts
Configuration is not available for these requirements
Unsure of the capacity needed for your event?

Convert different units of measurement and make organising your events easier.
Our accommodation(s)
Bright, spacious rooms, each with a balcony with direct or indirect sea views. Comfortably equipped, soundproofed, air-conditioned, electronic card access. Twin, double, triple and quadruple rooms available.
Our guest reviews
Our guest reviews
100% genuine reviews from our guests
Find out more
Warm and welcoming stay
Customer review rating 4.5/5
Anonymous Solo - Confirmed reviews ALL
Check in easy and helpful. Receptionist very professional and sincere.
Dear Mr. c., thank you very much for your time spent to review our Mercure Rimini Artis! It's a pleasure to read that our services and our staff were appreciated; we work hard to improve every day and to make our Guests feel at home. We hope to welcome you again to spend another relaxing and beautiful stay as the previuous one! Thank you again for your nice words about our staff. Best regards, Teo Lima - General Manager Mercure Rimini Artis
Excellent hotel
TripAdvisor rating 5.0/5
brandyjo7 TripAdvisor review
We visited in the off season, however this would be awesome in summer. Hotel was very clean and nice room. Staff was very helpful and enjoyable. Pool area was very nice, clean and easy to access. Bar and Breakfast were great. Would definitely stay here again. Parking was good and secure and we enjoyed our stay very much.
Dearest brandyjo7, Thank you for your wonderful review for our Mercure Rimini Artis. We are glad you have enjoyed your stay, especially the pool and staff. We hope to welcome you again soon (maybe in Summer) in Rimini, Kindest Regards, Teo Lima - General Manager
Well located hotel, with excellent staff
Customer review rating 4.5/5
Rob S. Solo - Confirmed reviews ALL
My room was just what I wanted, and exceeded my expectations. Clean and well presented, I did however have two separate problems with my keycard as it wouldn't operate the lights. The staff solved both issues in minutes, by issuing a new card; though I feel the control unit in my room may have been the issue. The hotel itself was excellent as well, great breakfast selection, and a well attended bar. Every member of staff I dealt with were attentive and happy to help, I would definitely recommend this hotel to any type of traveller.
Dear Robert S., We very much appreciate your comments regarding your stay at the Mercure Rimini Artis. We are very glad that the hotel and its staff exceeded your expectations. We are sorry that the wifi was not good for your stay! We will ask our IT company to take a look into whether there has been some issues during the dates of your stay. Thank you again for sharing your experience, and we hope your next visit will be as pleasant as the previous one. Sincerely, Teo Lima - General Manager
Excellent location for a great get away.
TripAdvisor rating 4.0/5
robship78 Solo travel - TripAdvisor review
I stayed for three nights at this wonderful hotel, its position is perfect on the seafront. The staff were all very friendly and I couldn't fault the service they provided. I did have a couple of niggles with my keycard not operating the lights, but both times the issue was resolved straight away. I would recommend this hotel to any traveller, and if/when I return to Rimini I will look here first for a room.
Dear robship78, We thank you for your wonderful review. We are pleased to hear that you enjoyed your stay with us and found our staff to be attentive. We are sorry to hear you had some issues with the keycards, but happy that they were swiftly resolved. We hope to welcome you again in Rimini soon, Teo Lima - General Manager
Customer review rating 3.0/5
Newton M. Business - Confirmed reviews ALL
The hotel and all employees are very kind but I was disappointed regarding the my room toilet. The odor in coming from bathroom was very unpleasant. I informed twice the front but nothing was done, not even swap room was suggested.
Dear Mr m., Thank you for taking the time to tell us about your experience at the Mercure Rimini Artis. I am sorry that your experience did not meet your expectations; please allow me to express my sincerest apologies. We unfortunately could not offer a room change, as we were fully booked during your stay - for this we apologise. Once yo ureported the issue, we did re-clean the bathroom, and our cleaning staff tried to alleviate the issue as much as possible. We are sorry if this did not alleviate the smell. We can see that you pointed out you were not offered a drink voucher, however, I can see that your drink vouchers were actually registered as used in our bar count - since you had multiple rooms, is it possibile someone else from your party used it on your behalf? We are sorry if it was not made clear to you that it was indeed one voucher, but you all had the right to use it (even as one voucher, it is for one drink for each person). We appreciate your sharing your concerns, and it is our hope that you will give us the opportunity to better serve you in the near future. Sincerely, Teo Lima - General Manager
In partnership with TripAdvisor