ibis Styles London Croydon Hotel

3 stars
Customer review rating 3.9/5
2,489 reviews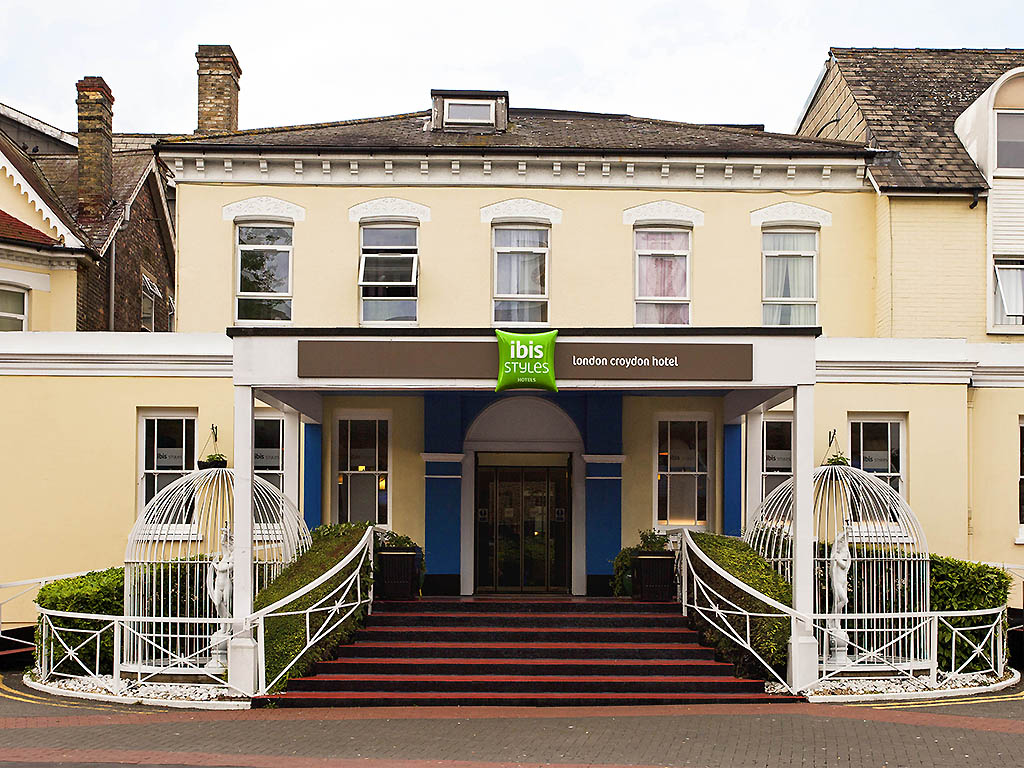 This hotel is Planet 21 Silver
This hotel participates to Planet 21 and is acting in favour of Positive Hospitality.
Services in the hotel and nearby
Hotel location
ibis Styles London Croydon
585 589 London Road
Thornton Heath
London
CR7 6AY
london
united kingdom
Tel:
+442086898989
Fax: (+44)208/6890335
Contact email :
h8088@accor.com
THORNTON HEATH : 198 250 DUNHEVED ROAD

BALHAM : RAILWAY LINE THORTON HEATH

WEST CROYDON : NATIONAL RAIL WEST CROYDON
By plane

GATWICK AIRPORT At 32.3km / 20.07 miles

By plane

HEATHROW AIRPORT At 40.5km / 25.17 miles

By train

THORNTON HEATH At 1km / 0 miles
GPS :51.389782, -0.112049
Our accommodations
Inviting, modern and cosy, with a comfortable bed and a functional bathroom. The room has got everything you need for a pleasant stay. Hotel 100% non smoking.
The Solo
Max. number of persons:

1

Area:

From 12 m² / 129 sq ft
Wireless internet in your room
The Queen
Max. number of persons:

2

Area:

From 16 m² / 172 sq ft
Wireless internet in your room
The Duet
Max. number of persons:

2

Area:

From 16 m² / 172 sq ft
Wireless internet in your room
The Family for Three
Max. number of persons:

3

Area:

From 18 m² / 194 sq ft
Wireless internet in your room
The Family for Four
Max. number of persons:

4

Area:

From 21 m² / 226 sq ft
Wireless internet in your room
Rooms
Our guest reviews for
ibis Styles London Croydon
100% genuine reviews from our guests

Find out more

Very disappointing, standards at this hotel are definitely slipping.

Customer review rating 3.9/5

Paul R. Solo - 25/03/2020 Confirmed reviews ALL

I stayed for two nights, this is a hotel that I have used very frequently over the last ten years. This hotel used to have very helpful and attentive staff, some of whom even used to recognise me and greet me by name. I honestly don't think the current staff would notice me if I stayed every night. Owing to both events I was meant to be attending being cancelled, I thought I would have a quiet drink and relax in the bar reading my book. But on the Saturday without warning, behind my back they closed the bar at 9:30! Without asking if I wanted another drink or bothering to tell me that the bar was closing, which as someone who works in the hospitality industry I find this disgusting and rude! Then on the Sunday evening didn't even bother to open the bar, so I had to go outside to the nearest pub! At breakfast, I helped myself to what was labelled as normal cornflakes, but when I started to eat them, found they had nuts in them! Not only sloppy service, but could end up in a court case if someone with a nut allergy had eaten them! Then to cap it off, I was sat in my room Saturday evening after the bar shut early, and water started pouring through the light fitting in my shower. I phoned reception, concerned that obviously there must be a flooding issue in the room above, after hearing nothing after 20 minutes, during which time the water had continued to come through, but was now slowing, I phoned reception again, and they still hadn't bothered to send anyone at this point (lucky it wasn't a fire if this is their response to a potentially serious situation), this time, someone finally came to my room I told them the problem and that they need to check the room above, and that is the last I heard of it! No one bothered to check my light fitting for safety after water pouring through it, no one gave me any update on what actually happened, and even though I enquired twice the next day at reception, no one could give me any information, nor did they seem to be bothered or care! I've never had such appalling service in all the years I've stayed at hotels!

Dear PAUL R., Thank you for taking the time to tell us about your experience at the ibis Styles London Croydon. I am sorry that your experience did not meet your expectations; please allow me to express my sincerest apologies. At Ibis Styles, we strive to provide a superior service experience for every customer; therefore your feedback is very important to us. Please rest assured that we are taking the appropriate measures to address the problem and prevent future occurrence. We appreciate your sharing your concerns, and it is our hope that you will give us the opportunity to better serve you in the near future. Sincerely, Leo Johnson, Hotel Manager

Calm and comfortable stay. Very helpful staff

Customer review rating 3.9/5

Olivia W. Solo - 25/03/2020 Confirmed reviews ALL

Dear OLIVIA W., We very much appreciate your comments regarding your stay at the ibis Styles London Croydon. It is always a pleasure to receive positive feedback. I will share your comments with our team. I am sure that this feedback will serve as an encouragement to all of our staff as we strive to continuously improve the quality of our services. Thank you again for sharing your experience, and we hope your next visit will be as pleasant as the previous one. Sincerely, Leo Johnson, Hotel Manager

good stay and well located

Customer review rating 3.9/5

Louis Families - 22/03/2020 Confirmed reviews ALL

Dear LOUIS G., We very much appreciate your comments regarding your stay at the ibis Styles London Croydon. It is always a pleasure to receive positive feedback. I will share your comments with our team. I am sure that this feedback will serve as an encouragement to all of our staff as we strive to continuously improve the quality of our services. Thank you again for sharing your experience, and we hope your next visit will be as pleasant as the previous one. Sincerely, Leo Johnson, Hotel Manager

adequete, and low cost.

Customer review rating 3.9/5

No N. N. Business - 19/03/2020 Confirmed reviews ALL

small room-not a issue. study firm bed. room not too hot-good thing. after arriving at 10.30pm, found shower to be useless with no pressure, and very little luke warm water to tap. thus i was denied a shower before bed. had very poor slow shower in morning ,taking much longer than expected. the room price is irelevant if the basic premise of washing and rest is not delivered. on reporting to the desk the next morning, i felt the staff member did fully understand the failure of the shower, my inconveniance , or the choice denied me. No refund or benefit was offered for use immediately or in future.

Dear RICHARD W., Thank you for taking the time to tell us about your experience at the ibis Styles London Croydon. I am sorry that your experience did not meet your expectations; please allow me to express my sincerest apologies. At Ibis Styles, we strive to provide a superior service experience for every customer; therefore your feedback is very important to us. Please rest assured that we are taking the appropriate measures to address the problem and prevent future occurrence. We appreciate your sharing your concerns, and it is our hope that you will give us the opportunity to better serve you in the near future. Sincerely, Leo Johnson, Hotel Manager

Comfortable.

Customer review rating 3.9/5

Cynthia B. Solo - 15/03/2020 Confirmed reviews ALL

I always enjoy my stay at the Ibis, it is also a very good location for me when visiting family and friends in London.

Dear CYNTHIA B., We very much appreciate your comments regarding your stay at the ibis Styles London Croydon. It is always a pleasure to receive positive feedback. I will share your comments with our team. I am sure that this feedback will serve as an encouragement to all of our staff as we strive to continuously improve the quality of our services. Thank you again for sharing your experience, and we hope your next visit will be as pleasant as the previous one. Sincerely, Leo Johnson, Hotel Manager

Our most recent 20 reviews

In partnership with TripAdvisor