Mercure Glasgow City Hotel
Mercure Glasgow City Hotel 3 stars
Customer review rating (ALL Rating) 4.0/5
829 reviews
Hotel location
Mercure Glasgow City Hotel
201 Ingram Street
G1 1DQ GLASGOW
United Kingdom
GPS:55.860086, -4.249992
Access and transport
GLASGOW CENTRAL
Railway station
Access: 800 m / 0.5 mi 5 min walk
GLASGOW
Int. airport 1 - full name
Access: 16.25 km / 10.1 mi 25 min drive
GLA
Int. airport 1 - IATA code
Access: 16.25 km / 10.1 mi 25 min drive
Hotel services
Check-in from - Check out up to
In summary
On site
Restaurant

Wheelchair accessible hotel

Wi-Fi

Breakfast

Bar

Meeting rooms
Ingram Street Café Brasserie
Non contractual photo
Ingram Street Café offers a variety of light meals and snacks. For a full evening meal, you are spoiled for choice by a broad selection of restaurants and cuisines just seconds from the hotel. For a lighter meal, room service is available 24 hours a day.
Your meetings and events
Our 6 flexible meeting rooms with complimentary high-speed WiFi access can cater for up to 80 delegates. Your dedicated conference host will arrange everything you need, from audio visual equipment to laptops. The Conference Team can serve breakfast, lunch or afternoon tea in the room or in the adjoining breakout area. Finish up a productive stay by falling into bed in one of the Mercure Glasgow City hotel's 91 guest rooms.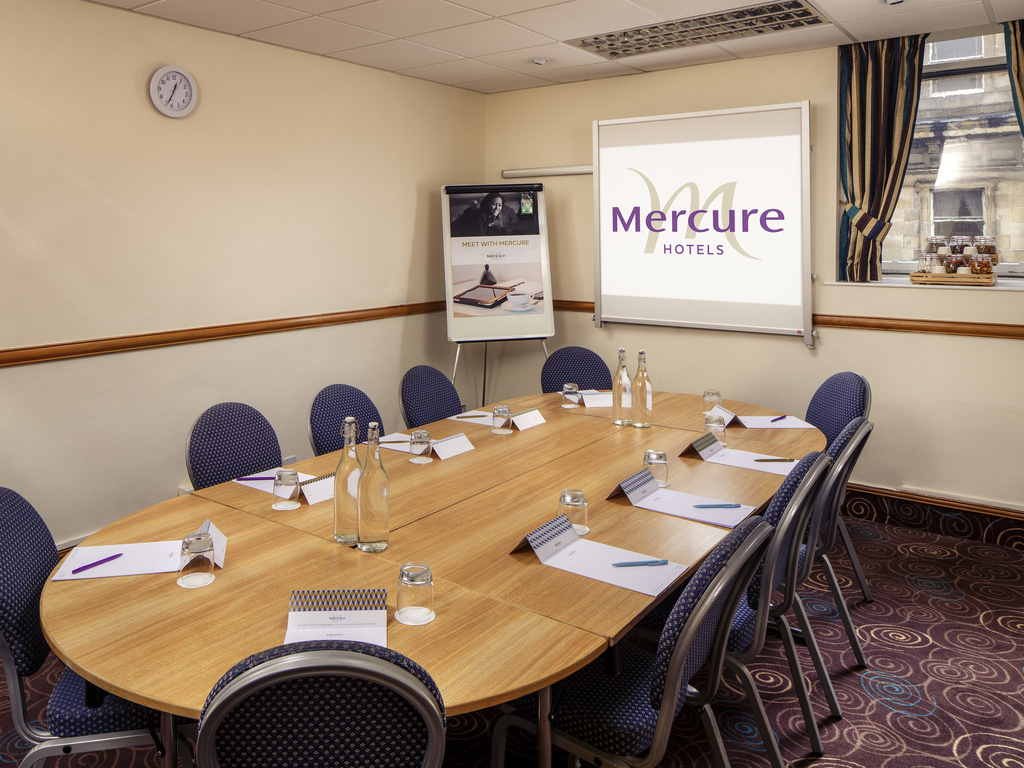 Room descriptions and layouts
Configuration is not available for these requirements
Unsure of the capacity needed for your event?

Convert different units of measurement and make organising your events easier.
Our accommodation(s)
All bedrooms feature a flat-screen TV and complimentary high speed WiFi. In privilege and superior rooms you'll enjoy a Nespresso coffee machine, newspaper, robe and slippers. Upgrade to our superior room with views of Ingram Street and a four-poste r bed.
Our guest reviews
Our guest reviews
100% genuine reviews from our guests
Find out more
Yikes
TripAdvisor rating 2.0/5
Oliviam589 TripAdvisor review
So, as a student, I really REALLY know what it's like to live in some questionable places, and therefore can happily say my standards of living are probably lower than most peoples. But this hotel really set the bar low. We arrived and checked in-the staff were incredibly sweet and helpful. We then proceeded to go to the elevators to go to our room-but neither worked? We were waiting for 15 mins to find out they were not working and had to climb a good few flights of stairs. I'm not averse to exercise, but after feeling travel sick on the way to Glasgow, I was just not in the mood for this. Then we arrived at the room. Noticed that all the doors to rooms are tightly packed together? Was hoping that the inside of the room would be bigger than what we were expecting but no. The room was small, which is fine since we were only staying a night, however would have been a problem if we were staying for longer. Then comes the cleanliness. Like I said, my standards for cleanliness, as a student, are not the highest, but this was bad. There were questionable liquid marks on the glass top drawers; wax(?) droplets on the bathroom floor; mould on the back of the toilet; and then some suspicious looking hairs and ~stains~on the bed (photo inserted). After discovering this, we were so fed up that we booked an alternative hotel (motel one-so nice and clean) and went to get a refund. Staff were helpful as always at the mercure, however I did not want to stay there after the whole palava. We had to go through hotels.com to get a refund, but after the whole debacle we finally got a nice place to stay. This whole hotel needs renovating and the cleaning staff need to do a better job.
Dear Olivia, Thank you for taking the time to leave us a review of your stay. Firstly I would like to sincerely apologise for your experience with us. I can assure you that the cleanliness you experienced is not our standards at all, as our housekeeping staff pride themselves on their cleanliness and as you can see by other reviews how people have commented on how clean their room was. I will certainly be approaching the housekeeping manager about this as I am shocked just as much as you are. I can confirm that we had 1 lift out of order where we are waiting on the company to supply a new one to us but unfortunately this out of our hands until we can receive notification from the company. In relation to the renovating, we are going through room upgrades, but due to a delay in supplies, this has caused a knock on effect for our completion. We have just had new carpets laid throughout the hotel, so the work has started to enhance our guests stay. Lovely to hear that you were welcomed by our sweet helpful staff at reception as you put it, as they always get great reviews on their customer service. Thank you again and it is our hope that you will give us the chance to better serve you again one day. Kind regards, Nick (Guest Service Manager)
Ver disdapointed
TripAdvisor rating 1.0/5
Fionaloretz TripAdvisor review
Bathroom not cleaned properly hair on the floor and in bath. Everyrine someone flushed it made a noise in the room. We were promised not to be disturbed by new carpets being laid well we were woken up with a racket outside the door of the work men. Stayed here before but this time the standards have dropped dramatically.
Dear Fionaloretz, Thank you for taking the time to leave a review of your stay with us. I would like to apologise for the the noise from our carpet fitters, we had notices all round the hotel advising our guests that we apologise for the inconvenience during our new carpets being fitted. You should not have been promised anything as we all know that carpet fitters have to rip up the old carpets and using a hammer to place the runners between the room and the hallway. We were replacing our carpets to enhance our guests experience and hoping that you will come visit us again one day. Kind regards, Nick (Guest Service Manager)
Well located
Customer review rating 3.5/5
Anonymous Business - Confirmed reviews ALL
Hotel is in a good location, upon arrival only one lift was operational and when located on floor 5 with luggage stairs aren't the best option, so resulted in delays due to the lack of lifts but also the small size. There is no way 8 adults could fit in at once! Rooms were ok, but along with the remainder of the hotel has clearly been left to dilapidate and needs a serious renovation to bring it into 2022 and up to a good standard of finish. Breakfast had a good choice and the staff were very welcoming and helpful.
Dear Danielle R., Thankyou for taking the time to review our hotel and stay. i'm glad you enjoyed our breakfast and found our staff welcoming and helpful. I would like to apologies for any disruption caused with our lift being out of order, this is something that is out of our control. Our hotel is going through some refurbishment right now with new carpets fitted throughout just yesterday and our bathrooms getting updated. Sincerely, Erica Coventry Front Office Manager
Good Stay
Customer review rating 3.5/5
Vijay Business - Confirmed reviews ALL
Good clean hotel right in heart of city. Only issue I have faced was hotel internet too slow.
Dear Vijay Singh C., Thankyou for taking the time to review your stay, it's great to hear you enjoyed your time with us, The wifi is something we ae looking in to however, if you are returning please ask for a 1st floor room, this is where are server is situated. Sincerely, Erica Coventry Front Office Manager
Accommodation has to be nice to enjoy a nice stay
Customer review rating 3.0/5
Cathy C. Couples - Confirmed reviews ALL
Well located for everything we wanted to do during our stay. Staff friendly and very helpful. The room was small but very clean and cosy, perfect for our needs. Then came the biggest disappointment for us, the bathroom. The basin had no plug, didn't plan to wash in running water, the bath enamel was chipped around the plug hole a breeding ground for bacteria, the wall tiles where chipped in placed or the grout looked loose or falling out, not pleasant.
Dear Catherine C., Thankyou for taking the time to leave your thoughts regarding your stay. Firstly I would like to offer my sincere apologies regarding the bathroom, we would have moved you if we had know, I have however informed our maintenance department. I'm delighted however, that you found the staff friendly and helpful, the room cosy and enjoyed our central location. Sincerely, Erica Coventry Front Office Manager
In partnership with TripAdvisor