ibis Styles Wroclaw Centrum
ibis Styles Wroclaw Centrum 3 stars
Customer review rating (ALL Rating) 4.7/5
1,539 reviews
Hotel location
ibis Styles Wroclaw Centrum
Pl Konstytucji 3 Maja 3
50 083 WROCLAW
Poland
GPS:51.099744, 17.040412
Access and transport
PKP
Railway station
Access: 100 m / 0.06 mi 1 min walk
Shuttle

Additional charge

Shuttle on call
WROCLAW AIRPORT
Int. airport 1 - full name
Access: 10 km / 6.21 mi
WRO
Int. airport 1 - IATA code
Access: 10 km / 6.21 mi
Hotel services
Check-in from - Check out up to
In summary
On site
Car park

Restaurant

Wheelchair accessible hotel

Air conditioning

Wi-Fi

Breakfast

Bar

Meeting rooms
CZARYMARY RESTAURANT
Welcome to the world of delicious tastes and unforgettable dishes full of flavors, colors and scents. Be tempted by meals made with fresh, natural ingredients and an original composition.
Your meetings and events
ibis Styles Wroclaw Centrum has eight meeting rooms of 8611 sq. ft. (800 sq. m). The largest room is 4845 sq. ft. (450 sq. m) with the ceiling height of 4m and can accommodate over 400 people in a theatre style. Thanks to soundproofed panoramic windows all the rooms are bright and provide isolation from outside noises. Each room boasts state of the art conferencing equipment, such as multimedia projectors, pull-down screens, flipcharts, microphones, touch control panels and high-speed WIFI.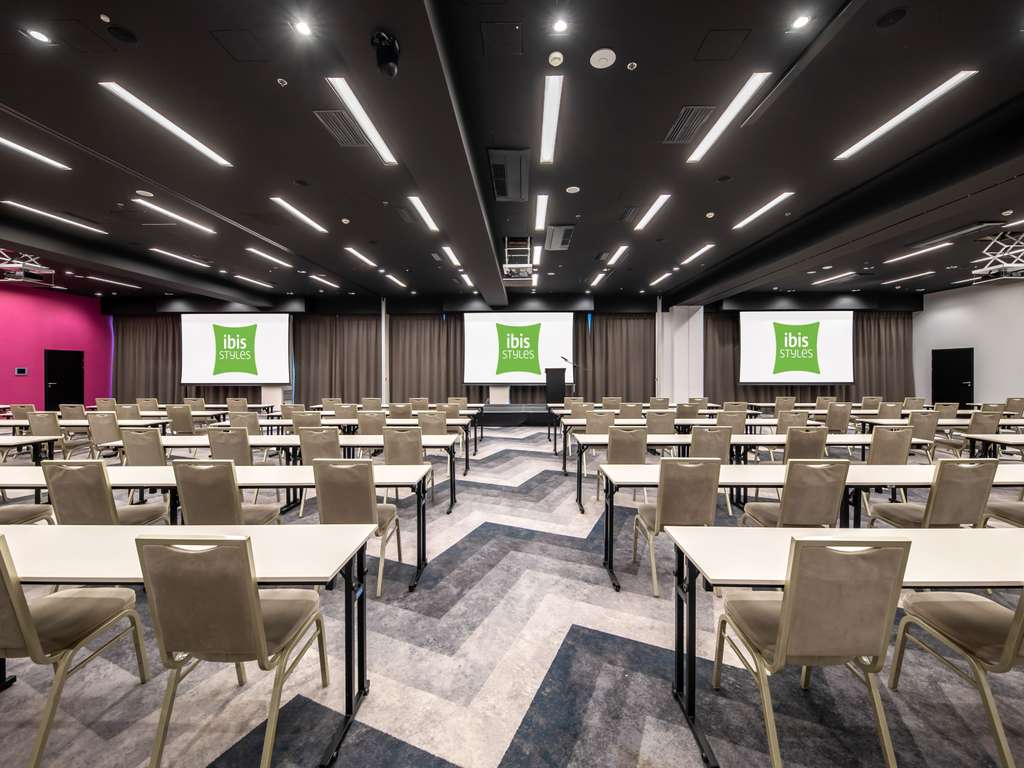 Room descriptions and layouts
Configuration is not available for these requirements
Unsure of the capacity needed for your event?

Convert different units of measurement and make organising your events easier.
Our accommodation(s)
Warm, welcoming and modern, with a comfortable bed and a practical bathroom, our rooms offer everything you need for an enjoyable stay.
Our guest reviews
Our guest reviews
100% genuine reviews from our guests
Find out more
Both: well located (close to train station) and good stay (no issues, tasty breakfast).
Customer review rating 4.0/5
Anonymous Solo - Confirmed reviews ALL
No significant experience. If I recall well, just one time in Bratislava, two times in Krakow. Also no issues there except my wife remembers squacking floor in IBIS Bratislava:).
good stay
Customer review rating 5.0/5
Greg Business - Confirmed reviews ALL
Szanowny Panie Grzegorzu, Dziękujemy za pozostawienie opinii. Jest nam niezmiernie miło, że nasze starania by poczuł się Pan u nas komfortowo przekładają się na Pana pozytywne wrażenia. Zapraszamy ponownie i do zobaczenia! Wioleta Koziej Front Office and Reservation Deputy Manager
Good location
Customer review rating 3.5/5
Slawomir Couples - Confirmed reviews ALL
Was OK but I have received voucher only for one person even though room was booked for two and cannot get late check out......
Szanowny Panie Sławomirze, Dziękujemy za wybór naszego hotelu oraz za pozostawienie tak wysokiej oceny. Wszelkie uwagi odnośnie kwestii które moglibyśmy poprawić trafią do odpowiednich za nie działów. Proszę przyjąć najszczersze przeprosiny, iż nie spełniliśmy Pana oczekiwań. Mamy nadzieję że zaszczyci Pan nas jeszcze swoja obecnością w przyszłości i da nam szansę na miłą rekompensatę przy następnym pobycie. Z poważaniem, Wioleta Koziej Front Office and Reservation Deputy Manager
Well located, affordable
Customer review rating 2.5/5
Jacob S. Solo - Confirmed reviews ALL
The AC did not properly work. Either it was very cold or too hot. 2 out of 4 nights the room temperature felt like 28 degrees and despite complaining at the reception the issue was reoccurring. Also, my attempt to contact the reception by phone several times during the night to address the issue did not work. No one picked up the phone... No compensation was offered. This is the second time I stayed at Wroclaw Ibis style and surely the last time.
Dear Jacob, We appreciate your comments regarding your stay at the ibis Styles Wroclaw Centrum. We continuously improve our services therefore your opinion is really important. I am very sorry for every inconvenience, I will share your remarks with our staff. As a compensation I charged your ALL account with 1000 extra points, you can use them in any Accor hotel. We would be honored to host you again if you give us a chance. Sincerely, Wioleta Koziej Front Office and Reservation Deputy Manager
Well located, room was clean, however bed was not that comfortable
Customer review rating 3.5/5
Jana Couples - Confirmed reviews ALL
Dear Jana, It is always a pleasure to receive positive feedback. Thank you! Sincerely, Wioleta Koziej Front Office and Reservation Deputy Manager
In partnership with TripAdvisor