Pullman Cayo Coco
Hotel location
Pullman Cayo Coco
Playas Las Coloradas, Cayo Coco, Cuba
67210 CIEGO DE AVILA
Cuba
GPS:22.532951, -78.348546
Access and transport
JARDINES DEL REY
Int. airport 1 - full name
Access: 12 km / 7.46 mi 10 min drive
CCC
Int. airport 1 - IATA code
Access: 12 km / 7.46 mi 10 min drive
Hotel services
Check-in from - Check out up to
In summary
On site
Swimming pool

Car park

Restaurant

Wheelchair accessible hotel

Well-being

Air conditioning

Wi-Fi

Breakfast

Bar

Meeting rooms
LAS COLORADAS
Buffet. Mix of international and local specialties. Located at pool level, this restaurant is divided in various sections including 2 large open air patios with fountains and covered terrace facing the pool and the sea
EL CAREY
International cuisine, open-air restaurant located between the beach and the pool. At night becomes a theme restaurant with different themes that change every night.
TOCORORO
Typical Italian Food. À la carte menu, reservation required, formal dress code required.
COBO
Fixed menu located at pool level. Sushi bar and teppanyaki tables, reservation required, formal dress code required.
LA PERLA
International cuisine, À la carte menu, reservation required, formal dress code required.
EL GOURMET
Fine dining French cuisine restaurant. Reserved only to the guests of The Collection by Pullman area. Other guests may book in advance upon availability and supplement formal dress code reservation required.
EL MONTE CARLO
Restaurant Snack Bar reserved for guests of The Collection by Pullman area located near the pool.
Your meetings and events
Pullman is introducing a fresh approach to the planning of upscale meetings, conventions, seminars and incentive events. Extensively equipped rooms, innovative break activities, the support and coaching of an Event Manager and "A-la-carte Coaches" are all available to help make your event a success.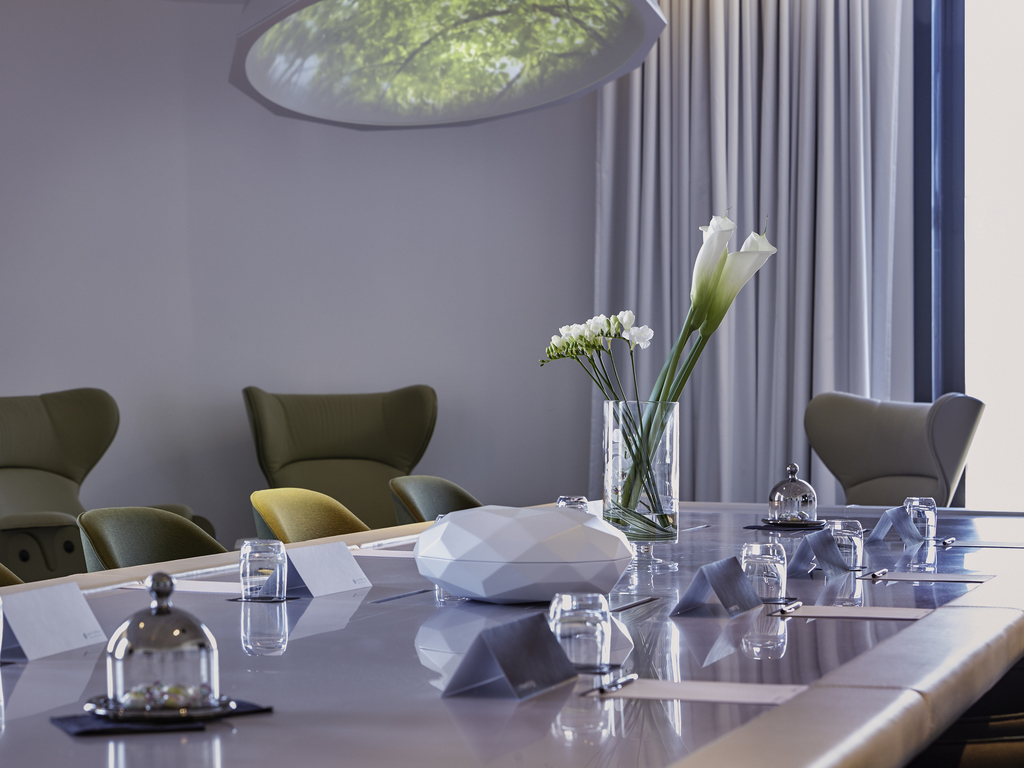 Room descriptions and layouts
Configuration is not available for these requirements
Unsure of the capacity needed for your event?

Convert different units of measurement and make organising your events easier.
Our accommodation(s)
The resort offers 2 separate areas: the main hotel area featuring 522 deluxe rooms and The Collection by Pullman adult only area offering junior suites, full suites and private Golden Villa.
Our guest reviews
Our guest reviews
100% genuine reviews from our guests
Find out more
The amazing Pullman.
TripAdvisor rating 5.0/5
Bigwave2016 TripAdvisor review
What is Cuba? The most beautiful people, some of the most beautiful beaches, and the most incredible music. We have been fortunate enough to visit Cuba 3 times in the past year, and over the past few years it has been our destination of choice for a beach vacation. We have stayed at a number of different places around Cuba and only after staying at the Pullman the first time did we find a resort that we loved so much that we to go back. We were fortunate enough to have stayed at the Pullman 3 times this year. It has become like home. If you decide to go to Cuba, go with an open mind. It is a country struggling in so many ways. YET as hard as it is for the wonderful people of Cuba, they are the warmest of people who greet you with an "Ola" and a smile each day, and try their hardest to make sure your vacation is as amazing as can be. This is no more evident than at the Pullman. They have most amazing staff. From Raidany and Lianna at the front desk, Yasmany and the rest of the bartenders and servers in the lobby bar, the servers in the buffets and restaurants, Wilbur the bartender at the beach bar that will dazzle you with his tricks; Carlos and Willie that will find you seats on the beach; and Kyner and Keyler and the rest of the entertainers. The food, it is as good as can be considering all the obstacles Cuba faces to have enough food to feed a itself. You will definitely not go hungry. The drinks, the Cuban espresso, the cigars .... amazing. The Pullman beach is beautiful. Plenty of palapas and beds to not feel crowded. The beach stretches for a few kms to the left where there are a few other resorts spread along it, and to the right is nothing but beach for a couple of kms. The water is shallow and the sand white and as fine as powder. If you love live music the Pullman has the most incredible salsa groups that play in the lobby and the buffet restaurants. If you decide to visit Pullman, here are a couple of tips: 1) If you plan on tipping, take a mix of US bills - the bartenders are usually able to break the larger ones. 2) There is no longer Cuban Covertible Pesso. They accept Canadian and euro and US. Only convert a small amount to Cuban pesso if you really have to. 3) Take anything you can as gifts/tips. The Cuban people need everything including food, clothing, and medication.
Looking forward for the next vacation!
TripAdvisor rating 4.0/5
Dan B TripAdvisor review
A great destination for a vacation. Cayo Coco has beautiful beaches and clear weather. (Recommend snorkeling!! ) Pullman hotel is clean and the staff is very welcoming, like all over Cuba. :) This hotel even has internet access in the room and on the beach(for people who need to stay connected). The only downside is the shortage of some food items. But, this issue is a broader one and not caused by the management of the hotel. They do their best whit the limited resources they have! Overall, the people and the place are the best experiences!
Long time since Covid!!!
TripAdvisor rating 4.0/5
clowdywonaceman TripAdvisor review
We arrived Nov 13 for a family wedding. Resort is amazing, food excellent, staff amazing, Beach and weather top notch. Cuba is struggling like everyone. The little things are missing, fresh fruit, fresh juices , white wine. We did experience no water (due to water main break) for 48hours. (But this could happen in Canada, heck we Survived No power from Fiona for 7days). All In all being your smiles , your presents , patience and enjoy!!!
4th trip, will continue to return
TripAdvisor rating 4.0/5
J S Couples - TripAdvisor review
4th visit to Pullman, and even with the worsening struggles in Cuba, they continue to do a great job. The staff is fantastic, coffee and drinks were great, and always lots to eat, even for a picky eater/seafood averse person like myself. Not sure how people can complain about lack of variety/repetitive foods, when there is still an abundance. Definitely didn't go hungry! Was excited to receive an invitation to the Sunset Cocktail reception in the Collection side, and it was really nice. My only suggestion would be more umbrellas or some kind of fabric shade on the pergolas around the pool, as they don't actually provide shade as they are, which is no good for my fair skin, lol. But not a big deal for me as I prfer the beach anyway, and lots of great shade palapas out there. 4 great trips to Pullman since 2019, and I would still return again!
2nd time at Pullman since 2018
TripAdvisor rating 4.0/5
Raquelita_11 TripAdvisor review
My husband & I re-vacationed at Pullman and this time brought 2 other couples to join us for the week of Oct 30, 2022. From the get go we were all treated very well & were given the room locations as requested & pre-booked our restaurant reservations to be dining all together. They even arranged 60th birthday celebrations for our friends & hubby and I were showered with some extra treats. This was all made possible by Antonio Sabate and his outstanding team at Pullman. I would like to give recognition to the staff that stood out to us: Aileen Perez Verde, Vivianna at front desk, and staff in the buffet: Geisy, Alejandro, Armando Robert, Bernado & our singing bar waitress Yanella. We also had a reunion with the animation team: Richard, Julia & Keyler & Keyner (twins) that we previously met in 2018. And hola to our new friend: Choco ! We dined at La Perla (French), Il Piacere (Italian) & Cobo (Japanese). Our favorites were French & Italian. I recommend trying the Cuban restaurant if you can get a reservation. The drinks at the lobby bar were inconsistent (depending on the bartender) but our morning coffees, lattes & cappuccinos on the patio were outstanding. We were a bit anxious due to the looming weather forecast but it turned out to be sunny & windy all week so did not encounter any mosquitos. However we did get some seaweed washed up on the beach a few mornings. Nonetheless, the ocean was warm & swimmable all week. We did not do any excursions but did walk to the lagoon 3 times to get our fill of fresh coconut water from Yuseman. We enjoyed getting to know him & learning about his life in Cuba. There were some noticeable differences from 2018 but did not affect out week whatsoever. There were shortages on white wine, fruits & vegetables. The caliber of entertainment also changed (had a more varied group of singers & musicians in 2018). However I do understand that Covid dramatically impacted the hotel industry. Due to the economic situation that the Cuban people have to endure on a daily basis you will not find a more humble & sincere people on the island. We (Canadians) are fortunate to have the ability to visit their beautiful country so treat them with kindness and respect. Accor who currently manages Pullman Cayo Coco will no longer be doing so in 2023. Hopefully things do not change too drastically as I currently recommend this resort for the following reasons: weather, white sand beach & Cuban people. This was our first friends' post-Covid vacation which was enjoyed by all and we hope to be back in the near future.
In partnership with TripAdvisor