Fairmont Le Manoir Richelieu
Fairmont Le Manoir Richelieu 5 stars
Customer review rating (ALL Rating) 4.3/5
4,420 reviews
Hotel location
Fairmont Le Manoir Richelieu
181 rue Richelieu
G5A 1X7 CHARLEVOIX
Canada
GPS:47.623469, -70.14308
Access and transport
QUEBEC JEAN LESAGE INTL APT
Int. airport 1 - full name
Access: 149 km / 92.58 mi
YQB
Int. airport 1 - IATA code
Access: 149 km / 92.58 mi
MTL / P ELLIOTT TRUDEAU INTL APT
Int. airport 2 - full name
Access: 405 km / 251.66 mi
YUL
Int. airport 2 - IATA code
Access: 405 km / 251.66 mi
Hotel services
Check-in from - Check out up to
In summary
On site
Swimming pool

Car park

Restaurant

Well-being

Air conditioning

Wi-Fi

Breakfast

Bar

Meeting rooms
LE RESTAURANT LE BELLERIVE
A relaxed atmosphere and a luminous decor await you at our Bellerive restaurant for breakfast and lunch. Every day, enjoy our local treats and you surely will adore our lovely outdoor terrace during the summer season.
LE POINT CARDINAL RESTAURANT
Le Point Cardinal, our Charlevoix golf clubhouse restaurant, offers a great option for enjoying a meal or a drink after a round of golf. The breathtaking view will leave you speechless! Open during golf season only.
LE SAINT-LAURENT
Enjoy revisited regional flavours by our culinary team and discover our à la carte menu, 2 or 3 courses table d'hôte in a casual atmosphere where the views on the majestic Saint-Lawrence river are always breathtaking.
Your meetings and events
Behind the majestic walls of Fairmont Le Manoir Richelieu is a collection of conference venues beyond compare in the Charlevoix region. With 24,000 square feet of meeting and banquet space, we have the perfect venue for your next event. Our grand ballroom can be transformed to accommodate any occasion. For a fairytale wedding or an important business seminar, invite up to 1,000 people for an event they'll remember forever. More intimate meeting spaces, equipped with every modern convenience and state-of-the-art equipment, are also available within our chateau walls.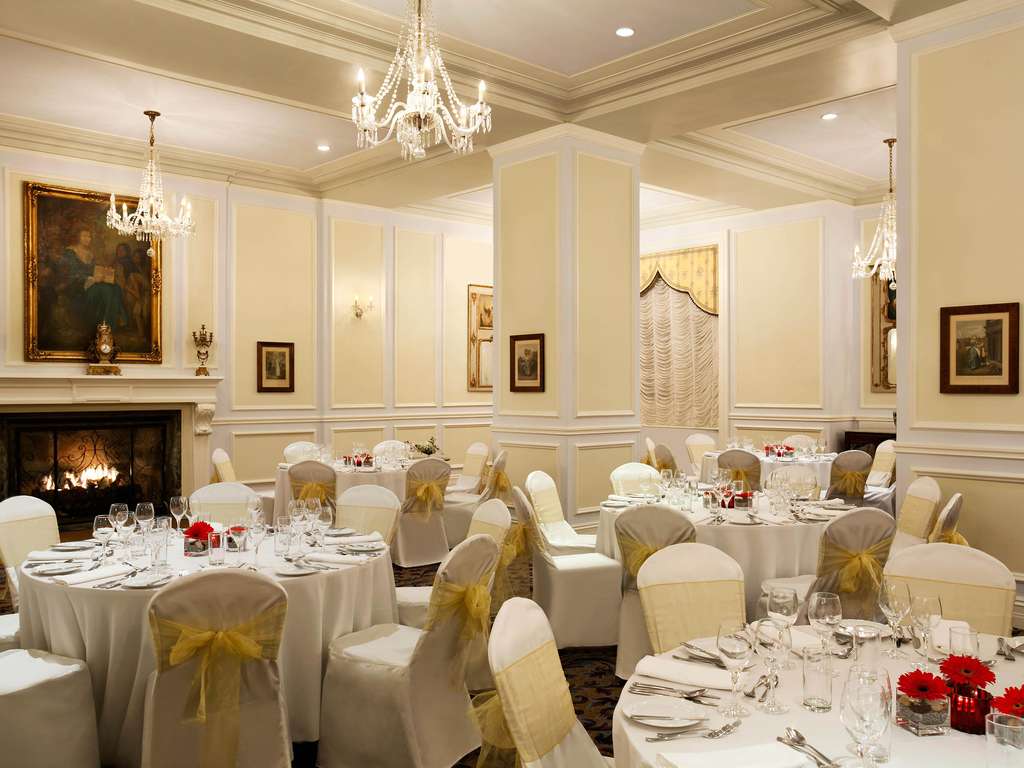 Room descriptions and layouts
From 1 to 1,050
attendees
Configuration is not available for these requirements
Unsure of the capacity needed for your event?

Convert different units of measurement and make organising your events easier.
Our accommodation(s)
Refined elegance reigns in every luxurious room and suite at Fairmont Le Manoir Richelieu. For a romantic getaway, a solo adventure or a family holiday on the slopes of Mont Grand-Fonds, our castle on the hill has the perfect accommodations for you. Spacious room offering the luxury and elegance. Suites: 1 room, 2 rooms or Presidential, all suites offer a luxurious bedroom and a relaxing, spacious salon area. The Presidential Suite also includes an elegantly appointed, private dining room.
Our guest reviews
Our guest reviews
100% genuine reviews from our guests
Find out more
Gorgeous 5 🌟
TripAdvisor rating 5.0/5
Hombdy Families - TripAdvisor review
I received an offer for a 2 night stay from my casino privileges card, for Fairmont Le Manoir Richelieu, Charlevoix. I looked it up, asked my Mom and Son if they would like to go, of course they did! Every single detail of our trip was top shelf! Amazing decor, for Christmas, which I love ❤️ Outstanding service from all Staff. Honestly, it's like we were Family! Special shout out to James and Laura, at St Laurent Restaurant. Laura, Manager, welcomed us and made sure we knew shewas available for any questions or concerns. We had James as a Server, both at the Restaurant and for room service the evening prior. We shared great conversations and he was quite impressive, knowing exactly how to interact with my Son with autism 💙 I actually had happy tears while talking to my Mom about how glad I was that I accepted the offer, because I wouldn't otherwise know such beauty 😍 Then, almost cried real tears when it was time to check out... I've never seen this level of service or decor anywhere else. Thank you SO much to everyone at Fairmont Le Manoir Richelieu. My goal is to make it back for a snowmobile package 🙏 - Cindy, Justin, and Doreen
Gorgeous property
Customer review rating 3.0/5
Kristin Business - Confirmed reviews ALL
I want to start by saying I love Accor hotels and fairmonts in particular. But this experience wasn't the best. My room had garbage in it upon check in. The cleaning service left dirty glasses in my room. And one day actually left a pile of dirty sheets in the middle of my room. But didn't change my sheets. Which means they were someone else's dirty sheets. Plus they didn't refill the sugar or creamer and when I called room service I was on hold both times for 10mins and finally gave up.
Great location.
Customer review rating 5.0/5
Blair R. Business - Confirmed reviews ALL
Dear Blair R., We very much appreciate your comments regarding your stay at the Fairmont Le Manoir Richelieu. It is always a pleasure to receive positive feedback. I will share your comments with our team. I am sure that this feedback will serve as an encouragement to all of our staff as we strive to continuously improve the quality of our services. Thank you again for sharing your experience, and we hope your next visit will be as pleasant as the previous one. Sincerely, Karim Ikrimah General Manager Fairmont Le Manoir Richelieu 181, Rue Richelieu La Malbaie, Québec Canada G5A 1X7 Tél. +1… Fax +1… Ka…
Nice view but not much else
TripAdvisor rating 2.0/5
007MrPaul Couples - TripAdvisor review
With hindsight we should have stayed in one of the small but nice auberges (inns) in town. This hotel is lacking any soul, there are very few dining options and the bar service is shocking. The rooms are clean but small and generic with not enough sound proofing. We booked a Fairmont view room which did have a good view of the river. The hotel is a reasonable walk from the town where there are some nice bars and restaurants so unless you want to be next door to the casino I'd say you're better off staying in town. Being next door to the casino has the added "benefit" of casino guests coming back to the hotel at 1am/2am in the morning celebrating or commiserating down the corridor's. Unless you want a night at the casino and an attached hotel I'd say best avoid.
Half of what it used to be before COVID.
Customer review rating 3.0/5
J. H. Couples - Confirmed reviews ALL
Room was hot and the temperature could not be lowered because the air conditioning had been turned off. Opening all the windows did not help. Limited choice of restaurants in the evening and the only one left open was not very good.
Dear James H., Thank you for taking the time to tell us about your experience at the Fairmont Le Manoir Richelieu. I am sorry that your experience did not meet your expectations; please allow me to express my sincerest apologies. At Fairmont, we strive to provide a superior service experience for every customer; therefore your feedback is very important to us. Please rest assured that we are taking the appropriate measures to address the problem and prevent future occurrence. We appreciate your sharing your concerns, and it is our hope that you will give us the opportunity to better serve you in the near future. Do not hesitate to contact me before your next stay and I will make sure everything is perfect. Sincerely, Francois Lachance Directeur de l'hébergement Director, Rooms Division fr…
In partnership with TripAdvisor