Fairmont Hotel Macdonald

4 stars
Customer review rating 4.5/5
4,840 reviews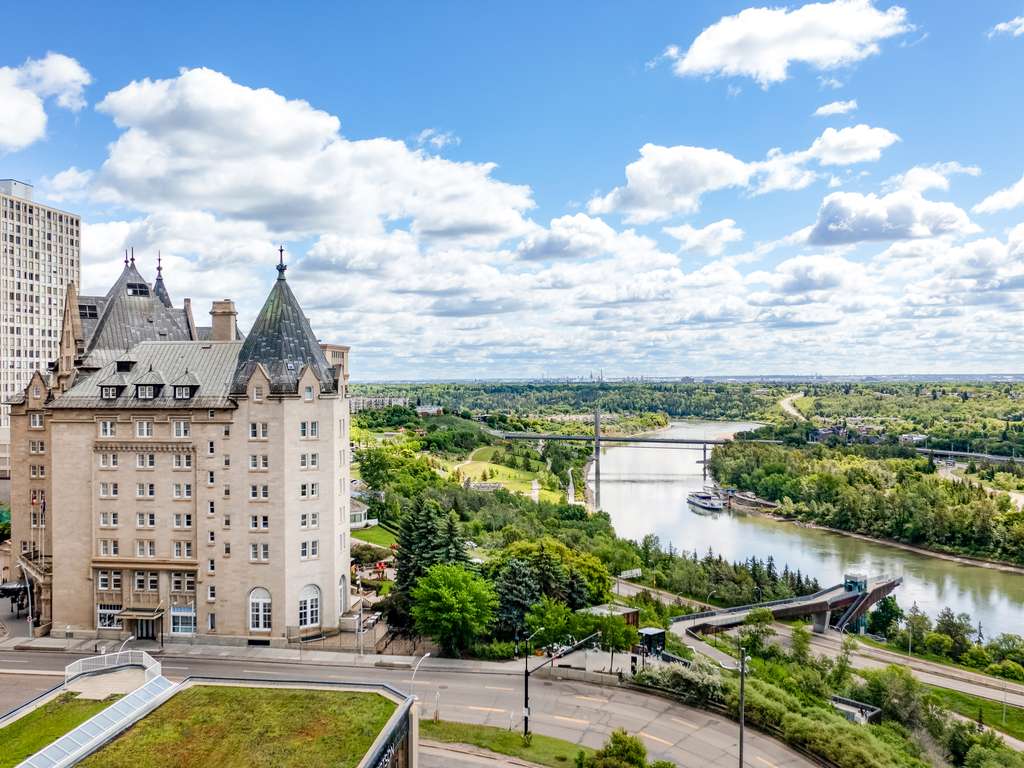 Hotel extras
Majestically perched on the banks overlooking the river valley. Old world grandeur, new world technology. Our intimate size allows us to provide personalized and attentive service to each of our guests. Two large banquet rooms
Services in the hotel and nearby
Hotel location
Fairmont Hotel Macdonald
10065 100th Street
T5J 0N6
edmonton
canada
Tel:
+17804245181
Fax: (+1)7804296481
Contact email :
hotelmacdonald@fairmont.com
By plane

EDMONTON INTERNATIONAL AIRPORT At 29km / 18.02 miles
GPS :53.540393, -113.489659
Your meetings and events
All Meeting rooms are elegant in decor, have natural lighting, feature permanent walls and are unimpeded by pillars.

Unsure of the capacity needed for your event?

Convert different units of measurement and make organising your events easier.
Our accommodations
Each of the hotel's 198 classically-designed guestrooms, including specialty suites are tastefully adorned with the finest amenities expected of a 4 star luxury hotel. Guestrooms offer various views of the city or North Saskatchewan River Valley, and are well-appointed with a premium-stocked mini fridge, LCD TV, a bath or walk-in shower, two terrycloth bathrobes, and individual air conditioning.
Fairmont King
Max. number of persons:

3

Area:

From 28 m² / 301 sq ft
Bathrobe
Coffee/tea making facilities
Mini Bar
Fairmont Queen
Max. number of persons:

2

Area:

From 28 m² / 301 sq ft
Bathrobe
Coffee/tea making facilities
Mini Bar
Fairmont View King
Max. number of persons:

3

Area:

From 28 m² / 301 sq ft
Bathrobe
Coffee/tea making facilities
Mini Bar
Deluxe King
Max. number of persons:

3

Area:

From 35 m² / 377 sq ft
Bathrobe
Coffee/tea making facilities
Mini Bar
Deluxe 2 Doubles
Max. number of persons:

4

Area:

From 35 m² / 377 sq ft
Bathrobe
Coffee/tea making facilities
Mini Bar
Deluxe View King
Max. number of persons:

3

Area:

From 35 m² / 377 sq ft
Bathrobe
Coffee/tea making facilities
Mini Bar
Deluxe View 2 Doubles
Max. number of persons:

4

Area:

From 35 m² / 377 sq ft
Bathrobe
Coffee/tea making facilities
Mini Bar
Grand Deluxe View 2 Queen
Max. number of persons:

4

Area:

From 42 m² / 452 sq ft
Bathrobe
Coffee/tea making facilities
Mini Bar
Signature King
Max. number of persons:

3

Area:

From 35 m² / 377 sq ft
Bathrobe
Coffee/tea making facilities
Mini Bar
Charles Melville Hays King
Max. number of persons:

2

Area:

From 38 m² / 409 sq ft
Bathrobe
Coffee/tea making facilities
King George VI Suite
Max. number of persons:

3

Area:

From 68 m² / 732 sq ft
Bathrobe
Coffee/tea making facilities
Lois Hole Suite
Max. number of persons:

3

Area:

From 56 m² / 603 sq ft
Bathrobe
Coffee/tea making facilities
Sir Winston Churchill Suite
Max. number of persons:

3

Area:

From 125 m² / 1346 sq ft
Bathrobe
Coffee/tea making facilities
King Edward VIII Suite
Max. number of persons:

3

Area:

From 125 m² / 1346 sq ft
Bathrobe
Coffee/tea making facilities
Queen Elizabeth II Suite
Max. number of persons:

4

Area:

From 223 m² / 2400 sq ft
Bathrobe
Coffee/tea making facilities
Fairmont View 2 Doubles
Max. number of persons:

4

Area:

From 28 m² / 301 sq ft
Bathrobe
Coffee/tea making facilities
Fairmont 2 Doubles
Max. number of persons:

4

Area:

From 28 m² / 301 sq ft
Bathrobe
Coffee/tea making facilities
Fairmont Gold King
Max. number of persons:

2

Area:

From 28 m² / 301 sq ft
Bathrobe
Coffee/tea making facilities
Fairmont Gold King View
Max. number of persons:

2

Area:

From 28 m² / 301 sq ft
Bathrobe
Coffee/tea making facilities
Signature 2 Doubles
Max. number of persons:

4

Area:

From 43 m² / 463 sq ft
Bathrobe
Coffee/tea making facilities
Fairmont Gold 2 Queen Beds
Max. number of persons:

4

Area:

From 28 m² / 301 sq ft
Bathrobe
Coffee/tea making facilities
Two Bedroom Suite
Max. number of persons:

7

Area:

From 120 m² / 1292 sq ft
Bathrobe
Coffee/tea making facilities
Rooms
Our guest reviews for
Fairmont Hotel Macdonald
100% genuine reviews from our guests

Find out more

Customer review rating 4.5/5

C. C. Couples - 11/03/2020 Confirmed reviews ALL

36th Anniversary. The champagne and strawberries were very nice. Dinner at the Harvest room was good. Would have liked to have had USB outlets. Foldout couch in 538 was a bit worn and the living area not well furnished. It is easy to be a critic. Liked your discounted last minute rate. Caused me to upgrade.

Dear Mr. C., Thank you for choosing Fairmont Hotel Macdonald and for taking the time to leave us a review. It is always a pleasure to receive positive feedback. I am so happy we could turn a special moment into a memory for you anniversary celebration! I will be share your comments with our team. I am sure that this feedback will serve as an encouragement to all of our staff as we strive to continuously improve the quality of our services. Thank you again for sharing your experience, and we hope your next visit will be as pleasant as the previous one. We are looking forward to warmly welcoming you to our Chateau on the River; your home away from home. Sincerely, Asia Johnson Executive Assistant

Very nice, good stay

Customer review rating 4.5/5

Barb M. Couples - 08/03/2020 Confirmed reviews ALL

Entire staff was amazing and treated us great. Our stay wasn't as expected but not due to hotel or staff. I got the flu at 1am in the morning so our 'romantic' night wasn't the greatest :(

Dear Ms. M., Thank you for taking the time to complete a survey following your recent stay at Fairmont Hotel Macdonald. It is always a pleasure to receive positive feedback and we will share with our team. I am sure that it will serve as an encouragement to all of our staff as we strive to continuously improve the quality of our services. At the same time, I am sorry to hear that your experience was not the same due to the flu! Thank you again for sharing your experience, and we hope your next visit will be more pleasant than the previous one! Sincerely, Asia Johnson Executive Assistant

Customer review rating 4.5/5

Anonymous Business - 07/03/2020 Confirmed reviews ALL

Great view, loved the car charger( Tesla) but neighbouring room's tv an annoyance after midnight

Dear Mr. P., Thank you for taking the time to complete a survey following your recent stay at Fairmont Hotel Macdonald. It is always a pleasure to receive positive feedback and we will share with our team. I am sure that it will serve as an encouragement to all of our staff as we strive to continuously improve the quality of our services. At the same time, I noticed your comments regarding noise disturbance. Please know that our staff are committed to addressing noise concerns to the best of our ability and are always willing to assist with addressing neighboring noise or providing a room move. I apologize that this may have affected your level of comfort. I will be sure to share your feedback with our Executive Team. Thank you again for sharing your experience, and we hope your next visit will be more pleasant than the previous one. Sincerely, Asia Johnson Executive Assistant

Consistently great service in a comfortable environment.

Customer review rating 4.5/5

Karen B. Business - 07/03/2020 Confirmed reviews ALL

We stay at the hotel often and usually eat one or two meals in the lounge. Michelle and Gwen are very attentive, polite and engaging. They always remember us and take time to say hello. Menu is a nice variety and lovely cozy setting. One of our favourite hang outs!

Dear Ms. M., Thank you so much for taking the time to complete a survey and your kind comments following your stay at Fairmont Hotel Macdonald. We are delighted you enjoyed your stay with us and very much look forward to warmly welcoming you again to our Chateau on the River; your home away from home in the near future. Sincerely, Asia Johnson Executive Office

Excellent service during stay.

Customer review rating 4.5/5

Brandy Business - 22/02/2020 Confirmed reviews ALL

All of the staff were exceptionally welcoming, helpful and professional. The room was fantastic and it was quiet! An excellent stay. Can't wait to come back!

Dear Ms. H., We truly appreciate your comments regarding your stay at Fairmont Hotel Macdonald. It is our genuine hope to provide exceptional service to each and every one of our valued guests. It is always a pleasure to receive positive feedback. I will be sure to share your comments with our team. I am sure that this feedback will serve as an encouragement to all of our staff as we strive to continuously improve the quality of our services. Thank you again for sharing your experience, and we hope your next visit will be as pleasant as the previous one. Sincerely, Asia Johnson Executive Assistant

Our most recent 20 reviews