Fairmont Le Château Montebello
4 stars
Customer review rating 4.4/5
7,789 reviews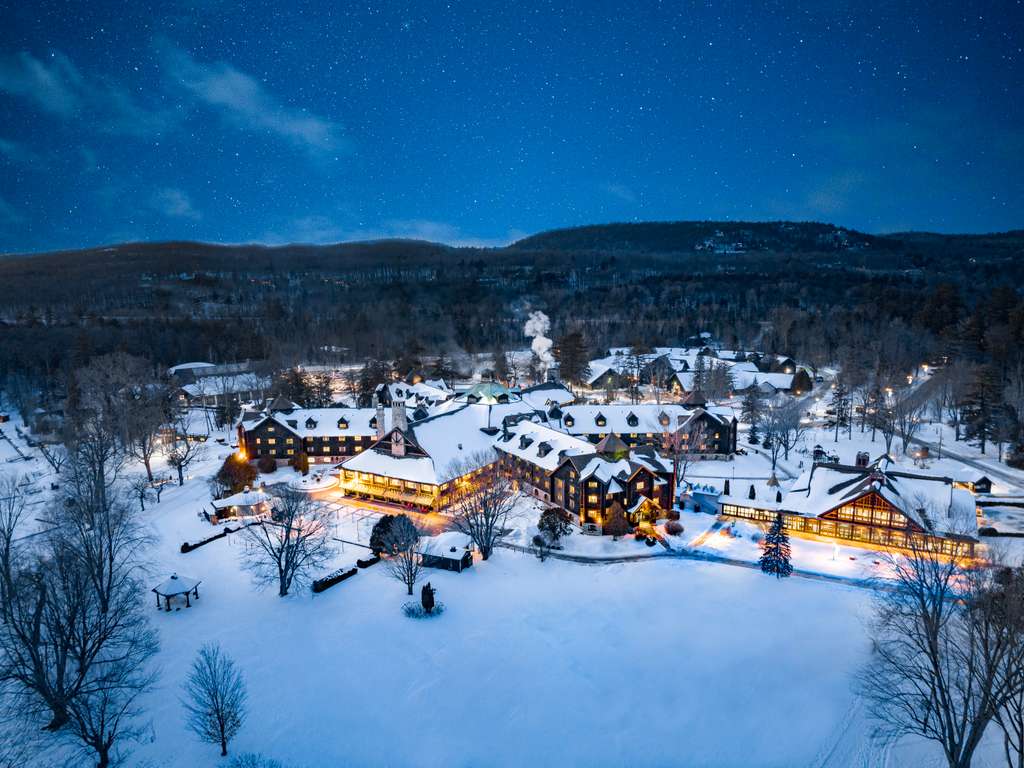 Hotel extras
World-class resort located on the shores of the Ottawa River. Ideal for families.
This hotel participates to Planet 21 and is acting in favour of Positive Hospitality.
Services in the hotel and nearby
Hotel location
Fairmont Le Château Montebello
392 Notre Dame
J0V 1L0
montebello
canada
Tel:
+18194236341
Fax: (+1)8194231133
Contact email :
chateaumontebello@fairmont.com
By plane

LA MACAZA / MTL-TREMBL INTL INC  At 85km / 52.82 miles

By plane

MTL / P ELLIO TRUDEAU INTL APT  At 124km / 77.05 miles

By plane

OTTAWA MACDONALD-CART INTL APT  At 97km / 60.27 miles
GPS :45.649998, -74.949409
Your meetings and events
With their rustic cachet and relaxing natural lighting - Fairmont Le Château Montebello's 20 meeting rooms totalizing 17 000 sq. ft. and banquet halls are the perfect venue for high performance meetings.Reflecting the expectations of a world-class capital city, Fairmont Le Château Montebello is proud to offer professional meeting facilities supported by a comprehensive array of professional and state-of-the-art services.There are also endless opportunities for team-building exercises just a few steps from the resort, including hiking, kayaking, snowmobiling, hunting, and fishing.

Unsure of the capacity needed for your event?

Convert different units of measurement and make organising your events easier.
Our accommodations
Fairmont Le Château Montebello offers a total of 210 luxury hotel accommodations, including 50 newly renovated rooms. The rustic elegance and warmth of the wilderness comes alive in the chalet-inspired decor. Each guest room is well-appointed to offer the perfect indoor spot for relaxation. Couples and families will find the perfect guest room to suit their needs. Connecting rooms can be guaranteed by the hotel for a fee of $50.00 per room per stay.
Fairmont Dbl Dbl
Max. number of persons:

4

Area:

From 20 m² / 215 sq ft

Views:

Garden side *
* Subject to availability
High speed internet
Bathrobe
Coffee/tea making facilities
Ironing board and flat-iron
Fairmont King
Max. number of persons:

3

Area:

From 20 m² / 215 sq ft

Views:

Garden side *
* Subject to availability
High speed internet
Bathrobe
Coffee/tea making facilities
Ironing board and flat-iron
Fairmont Luxury Dbl Dbl
Max. number of persons:

4

Area:

From 20 m² / 215 sq ft

Views:

Garden side *
* Subject to availability
High speed internet
Bathrobe
Coffee/tea making facilities
Ironing board and flat-iron
Fairmont Luxury King
Max. number of persons:

3

Area:

From 20 m² / 215 sq ft

Views:

Garden side *
* Subject to availability
High speed internet
Bathrobe
Coffee/tea making facilities
Ironing board and flat-iron
Fairmont Riverview Queen
Max. number of persons:

3

Area:

From 20 m² / 215 sq ft

Views:

River side *
* Subject to availability
High speed internet
Bathrobe
Coffee/tea making facilities
Ironing board and flat-iron
Fairmont Luxury View Queen
Max. number of persons:

3

Area:

From 20 m² / 215 sq ft

Views:

River side *
* Subject to availability
High speed internet
Bathrobe
Coffee/tea making facilities
Ironing board and flat-iron
Deluxe King
Max. number of persons:

5

Area:

From 28 m² / 301 sq ft

Views:

Garden side *
* Subject to availability
High speed internet
Bathrobe
Coffee/tea making facilities
Ironing board and flat-iron
Deluxe Luxury King
Max. number of persons:

5

Area:

From 28 m² / 301 sq ft

Views:

Garden side *
* Subject to availability
High speed internet
Bathrobe
Coffee/tea making facilities
Ironing board and flat-iron
Signature King
Max. number of persons:

3

Area:

From 28 m² / 301 sq ft

Views:

Garden side *

Most of the accommodation:

CORNER_ROOM *
* Subject to availability
High speed internet
Bathrobe
Coffee/tea making facilities
Ironing board and flat-iron
Fairmont Riverview Dbl Dbl
Max. number of persons:

4

Area:

From 19 m² / 205 sq ft

Views:

River side *
* Subject to availability
High speed internet
Bathrobe
Coffee/tea making facilities
Ironing board and flat-iron
Fairmont Riverview King
Max. number of persons:

3

Area:

From 19 m² / 205 sq ft

Views:

River side *
* Subject to availability
High speed internet
Bathrobe
Coffee/tea making facilities
Ironing board and flat-iron
Deluxe Queen Queen
Max. number of persons:

6

Area:

From 28 m² / 301 sq ft

Views:

Garden side *
* Subject to availability
High speed internet
Bathrobe
Coffee/tea making facilities
Ironing board and flat-iron
Deluxe Riverview King
Max. number of persons:

5

Area:

From 28 m² / 301 sq ft

Views:

River side *
* Subject to availability
High speed internet
Bathrobe
Coffee/tea making facilities
Ironing board and flat-iron
Fairmont Queen
Max. number of persons:

3

Area:

From 20 m² / 215 sq ft

Views:

Garden side *
* Subject to availability
High speed internet
Bathrobe
Coffee/tea making facilities
Ironing board and flat-iron
Deluxe riverview Qn/Qn
Max. number of persons:

6

Area:

From 28 m² / 301 sq ft

Views:

River side *
* Subject to availability
High speed internet
Bathrobe
Coffee/tea making facilities
Ironing board and flat-iron
Moderate Double
Max. number of persons:

2

Area:

From 18 m² / 194 sq ft

Views:

Garden side *
* Subject to availability
High speed internet
Bathrobe
Coffee/tea making facilities
Ironing board and flat-iron
Fairmont Luxury Queen
Max. number of persons:

3

Area:

From 20 m² / 215 sq ft

Views:

Garden side *
* Subject to availability
High speed internet
Bathrobe
Coffee/tea making facilities
Ironing board and flat-iron
Deluxe Luxury Qn/Qn
Max. number of persons:

6

Area:

From 28 m² / 301 sq ft

Views:

Garden side *
* Subject to availability
High speed internet
Bathrobe
Coffee/tea making facilities
Ironing board and flat-iron
Signature Riverview King
Max. number of persons:

3

Area:

From 28 m² / 301 sq ft

Views:

River side *

Most of the accommodation:

CORNER_ROOM *
* Subject to availability
High speed internet
Bathrobe
Coffee/tea making facilities
Ironing board and flat-iron
One bedroom Suite View
Max. number of persons:

4

Area:

From 65 m² / 700 sq ft

Views:

River side *
* Subject to availability
High speed internet
Bathrobe
Coffee/tea making facilities
Ironing board and flat-iron
Deluxe Luxury View Kg
Max. number of persons:

3

Area:

From 28 m² / 301 sq ft

Views:

River side *
* Subject to availability
High speed internet
Bathrobe
Coffee/tea making facilities
Ironing board and flat-iron
Deluxe Luxury View Qn/Qn
Max. number of persons:

6

Area:

From 28 m² / 301 sq ft

Views:

River side *
* Subject to availability
High speed internet
Bathrobe
Coffee/tea making facilities
Ironing board and flat-iron
Fairmont Luxury View Dbl/Dbl
Max. number of persons:

4

Area:

From 20 m² / 215 sq ft

Views:

River side *
* Subject to availability
High speed internet
Bathrobe
Coffee/tea making facilities
Ironing board and flat-iron
Fairmont Luxury View King
Max. number of persons:

3

Area:

From 20 m² / 215 sq ft

Views:

River side *
* Subject to availability
High speed internet
Bathrobe
Coffee/tea making facilities
Ironing board and flat-iron
Rooms
Our guest reviews for
Fairmont Le Château Montebello
100% genuine reviews from our guests

Find out more

Unusual stay due to Coronavirus

Customer review rating 4.4/5

Anonymous Families - 07/04/2020 Confirmed reviews ALL

We arrived just as coronavirus measures were being implemented. Unfortunately, through no fault of the hotel, we were not able to enjoy all the facilities as we normally would have. We chose to leave one day ahead of our scheduled departure.

Short drive from the city

Customer review rating 4.4/5

Anonymous Couples - 25/03/2020 Confirmed reviews ALL

New renovated rooms are nice. Bathroom is nice but the lack of a door between the shower and the rest if the bathroom is unfortunate. Water splashing from shower onto bathroom floor is a big negative.

Dear Karen W., Thank you for your comment and taking the time to fill the survey regarding your stay at Fairmont Le Château Montebello. It is always a pleasure to receive feedback from our guests I am glad to see that you have enjoyed our renovated room and I appreciate your honnest feedback on the shower and size of room. Thank you again and we hope to have a chance to work with you again. Sincerely, GENEVIEVE DUMAS, MBA General Manager Fairmont Le Château Montebello T + 1 … 5665 ge…

Good Stay

Customer review rating 4.4/5

Ingrid Families - 25/03/2020 Confirmed reviews ALL

We had a good time; facility was sparse as things were beginning to get more quiet with COVID 19 starting. We enjoyed our stay. Curling was great. Skating rink was too soft (even though refrigerated?).

Dear Ingrid D., We very much appreciate your comments regarding your stay at the Fairmont Le Château Montebello. It is always a pleasure to receive feedback. I am glad you enjoyed your stay overall, despite the reduction in our services, which are now completely closed. The skating rink does becomes softer towards the end of the season. Thank you again for sharing your experience, and we hope your next visit will be as pleasant as the previous one. Sincerely, GENEVIEVE DUMAS, MBA General Manager Fairmont Le Château Montebello T + 1 … 5665 ge…

Relaxing

Customer review rating 4.4/5

H.s. Families - 21/03/2020 Confirmed reviews ALL

After having to cancel our beach vacation to Coco Beach Florida at the very last minute because of the nasty virus, our daughter found this location on-line and we decided to go. We were impressed driving up to the Hotel, even more impressed when we walked in, Very beautiful! The rustic architecture, the immense fireplace, all the space around the fireplace, We had a very relaxing 3 days. The room was large enough for the 6 of us, very nice and comfortable. The food, the service, the staff was all great.

Dear Helen S., We very much appreciate your comments regarding your stay at the Fairmont Le Château Montebello. It is always a pleasure to receive positive feedback, especially durint this challenging period. I will share your comments with our team. I am sure that this feedback will serve as an encouragement to all of our staff as we strive to continuously improve the quality of our services. Thank you again for sharing your experience, and we hope your next visit will be as pleasant as the previous one. Sincerely,

excellent friendly staff good value and location

Customer review rating 4.4/5

Geoffrey D. Couples - 21/03/2020 Confirmed reviews ALL

lovely location and excellent well trained staff food is expensive

Dear geoffrey d., We very much appreciate your comments regarding your stay at the Fairmont Le Château Montebello, and also your honnest feedback regarding the pricing and overall Food & Beverage experience.. It is always a pleasure to receive feedback from our guests. I will share your comments with our team. I am sure that this feedback will serve as an encouragement to all of our staff as well as constructive feedback for our food & beverage operations. Thank you again for sharing your experience, and we hope your next visit will be as pleasant as the previous one. Sincerely,

Our most recent 20 reviews