Fairmont Le Château Frontenac

5 stars
Customer review rating 4.6/5
13,709 reviews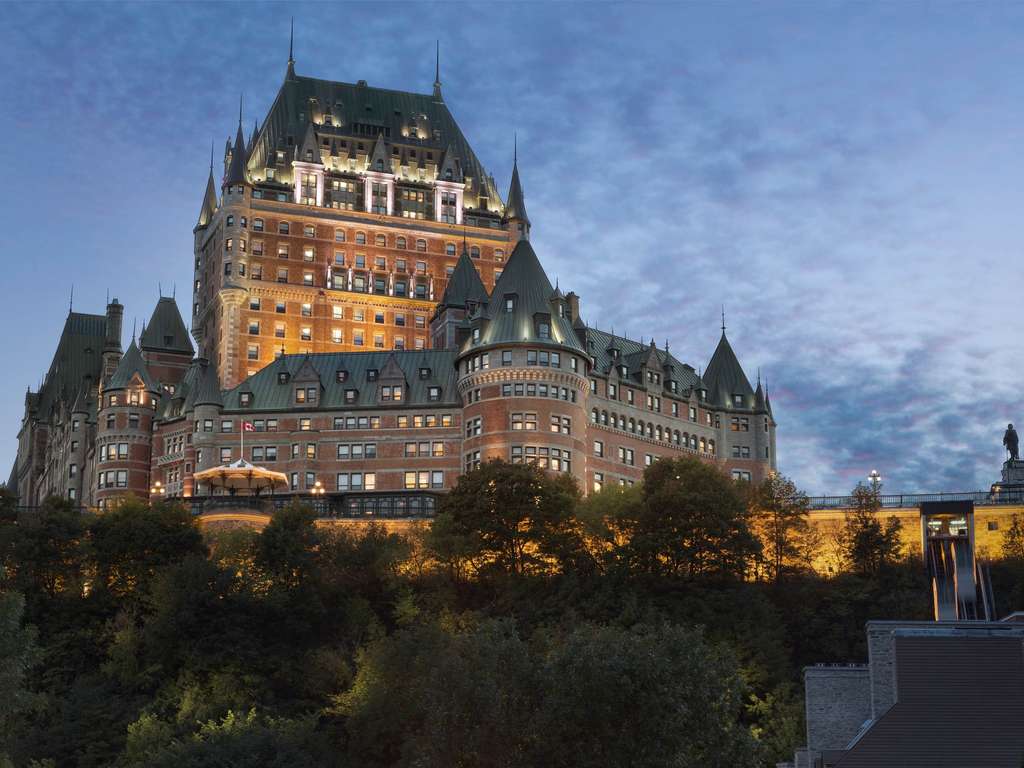 Hotel extras
This heritage urban resort will seduce you with its breathtaking views of the St. Lawrence River and the architecture of the Old fortified City, designated a UNESCO World Heritage Site.
Services in the hotel and nearby
Information message
Caring for our valued guests and employees is our top priority and we are open for reservations. To learn more about the extensive measures we are taking to safeguard, protect and care for you, visit ALLStayWell.com.
Hotel location
Fairmont Le Château Frontenac
1 rue des Carrières
CITQ No. 040703
G1R 4P5
quebec city
canada
By plane

MTL / P ELLIO TRUDEAU INTL APT  At 268km / 166.53 miles

By plane

QUEBEC JEAN LESAGE INTL APT  At 18km / 11.18 miles
GPS :46.811864, -71.20626
Your meetings and events
23 meeting-banquet rooms for a total of 40000 sq. ft. on two floors including the Chateau sumptuous ballroom with its authentic crystal chandeliers.Hotel can accommodate up to 1000 people that have ready access to a business center and a state-of-the-art audio-visual equipment rental PSAV, both on site.All the meeting rooms are equipped with the latest technology including high-speed Internet connections and have large windows overlooking the St-Lawrence River and the Old Quebec

Unsure of the capacity needed for your event?

Convert different units of measurement and make organising your events easier.
Our accommodations
Discover the best view of the St-Lawrence River or the architecture of Old Quebec City. Fairmont Le Chateau Frontenac is Canada's most beloved hotel. In any one of our beautifully furnished accommodations including 611 guestrooms and suites, you will feel an elegant touch of historic Europe. Our accommodations offer an unparalleled level of luxury and service.
Fairmont One King Bed
Max. number of persons:

2

Area:

From 16 m² / 172 sq ft
Coffee/tea making facilities
Mini Bar
Fairmont Two Double Beds
Max. number of persons:

4

Area:

From 16 m² / 172 sq ft
Coffee/tea making facilities
Mini Bar
Fairmont One King City View
Max. number of persons:

4

Area:

From 16 m² / 172 sq ft
Coffee/tea making facilities
Mini Bar
Fairmont Two Double Riverview
Max. number of persons:

4

Area:

From 20 m² / 215 sq ft
Deluxe One King Bed
Max. number of persons:

2

Area:

From 16 m² / 172 sq ft
Coffee/tea making facilities
Mini Bar
Deluxe Two Double Beds
Max. number of persons:

4

Area:

From 16 m² / 172 sq ft
Coffee/tea making facilities
Mini Bar
Deluxe One King City View
Max. number of persons:

2

Area:

From 16 m² / 172 sq ft
Coffee/tea making facilities
Mini Bar
Deluxe One King Riverview
Max. number of persons:

2

Area:

From 16 m² / 172 sq ft
Coffee/tea making facilities
Mini Bar
Fairmont Gold One King City View
Max. number of persons:

2

Area:

From 28 m² / 301 sq ft
Coffee/tea making facilities
Mini Bar
Fairmont Queen
Max. number of persons:

2

Area:

From 20 m² / 215 sq ft
Coffee/tea making facilities
Mini Bar
Fairmont City View Queen
Max. number of persons:

2

Area:

From 20 m² / 215 sq ft
Coffee/tea making facilities
Mini Bar
Fairmont Gold City View Dbl Dbl
Max. number of persons:

4

Area:

From 20 m² / 215 sq ft
Coffee/tea making facilities
Mini Bar
Deluxe Queen
Max. number of persons:

2

Area:

From 20 m² / 215 sq ft
Coffee/tea making facilities
Mini Bar
Deluxe City View Queen
Max. number of persons:

2

Area:

From 20 m² / 215 sq ft
Coffee/tea making facilities
Mini Bar
Deluxe City View Dbl Dbl
Max. number of persons:

4

Area:

From 20 m² / 215 sq ft
Coffee/tea making facilities
Mini Bar
Deluxe River View Queen
Max. number of persons:

2

Area:

From 20 m² / 215 sq ft
Coffee/tea making facilities
Mini Bar
Deluxe Riverview Dbl Dbl
Max. number of persons:

4

Area:

From 20 m² / 215 sq ft
Coffee/tea making facilities
Mini Bar
Signature King
Max. number of persons:

2

Area:

From 33 m² / 355 sq ft
Coffee/tea making facilities
Mini Bar
Fairmont Gold City Dbl Dbl
Max. number of persons:

4

Area:

From 28 m² / 301 sq ft
Coffee/tea making facilities
Mini Bar
Fairmont Gold Riverview Queen
Max. number of persons:

2

Area:

From 28 m² / 301 sq ft
Coffee/tea making facilities
Mini Bar
Fairmont Gold Riverview King
Max. number of persons:

2

Area:

From 28 m² / 301 sq ft
Coffee/tea making facilities
Mini Bar
Fairmont Gold Signature King
Max. number of persons:

2

Area:

From 28 m² / 301 sq ft
Coffee/tea making facilities
Mini Bar
Fairmont Gold Signature Dbl Dbl
Max. number of persons:

4

Area:

From 30 m² / 323 sq ft
Coffee/tea making facilities
Mini Bar
Moderate Double
Max. number of persons:

2

Area:

From 15 m² / 161 sq ft
Coffee/tea making facilities
Mini Bar
Rooms
Our guest reviews for
Fairmont Le Château Frontenac
100% genuine reviews from our guests

Find out more

Customer review rating 4.6/5

Shawn B. Couples - 05/04/2020 Confirmed reviews ALL

Was great just bad timing with the covid 19 everything was shutdown couldn't use any of the hotel facilities

Dear Shawn b., We very much appreciate your comments regarding your stay at the Fairmont Le Château Frontenac. It is always a pleasure to receive positive feedback, especially through difficult times. I will share your comments with our team. I am sure that this feedback will serve as an encouragement to all of our staff as we strive to continuously improve the quality of our services. Thank you again for sharing your experience, and we hope your next visit will be as pleasant as the previous one. Sincerely, SIMON BOVOLI ASSISTANT MANAGER FRONT DESK Fairmont Le Château Frontenac 1, rue des Carrières Québec, Québec Canada G1R 4P5 T + 1 … 2181 F + 1 … 3743 si… fairmont.com

Wonderful experience

Customer review rating 4.6/5

Anonymous Families - 29/03/2020 Confirmed reviews ALL

We stayed at the Chateau Frontenac for my daughter's 8th birthday. Of course it was beautiful but on top of that, I was so impressed by the staff. So helpful, kind and friendly! We didn't want to leave.

Dear Madeleine T., We very much appreciate your comments regarding your stay at the Fairmont Le Château Frontenac. It is always a pleasure to receive positive feedback. I will share your comments with our team. I am sure that this feedback will serve as an encouragement to all of our staff as we strive to continuously improve the quality of our services. Thank you again for sharing your experience, and we hope your next visit will be as pleasant as the previous one. Sincerely, SIMON BOVOLI ASSISTANT FRONT DESK MANAGER NATIONAL SECRETARY, LES CLEFS D'OR CANADA Fairmont Le Château Frontenac 1, rue des Carrières Québec, Québec Canada G1R 4P5 T + 1 … 2181 F + 1 … 3743 si… fairmont.com

We have always loved staying here and will continue to do so.

Customer review rating 4.6/5

Karleen Families - 29/03/2020 Confirmed reviews ALL

Unfortunately do to the current situation at the time of our stay we didn't have the same stay the we usually do. We understand that the circumstance at the time limited our opportunity to full fill the events that we had planned, it was just unfortunate and hope that our next visit will not be faced with any unforeseen circurmstance.

Dear Karleen P., We very much appreciate your comments regarding your stay at the Fairmont Le Château Frontenac. It is always a pleasure to receive positive feedback especially during difficult times. I will share your comments with our team. I am sure that this feedback will serve as an encouragement to all of our staff as we strive to continuously improve the quality of our services. Thank you again for sharing your experience, and we hope your next visit will be as pleasant as the previous one. Sincerely, SIMON BOVOLI ASSISTANT FRONT DESK MANAGER Fairmont Le Château Frontenac 1, rue des Carrières Québec, Québec Canada G1R 4P5 T + 1 … 2181 F + 1 … 3743 si… fairmont.com

Mystical/beautiful setting/historical

Customer review rating 4.6/5

Rosalie B. Couples - 25/03/2020 Confirmed reviews ALL

Superb service/warm friendly staff/delicious food/clean/gorgeous view/overall a wonderful place to visit. Thanks

Dear Ms B. We very much appreciate your comments regarding your recent stay at Fairmont Le Château Frontenac. It is always a pleasure to receive positive feedback, we are always delighted to know how much you appreciate it. We will share your comments with our team as we are sure that this feedback will serve as an encouragement to all of our staff member as we strive to continuously improve the quality of our services. Thank you again for sharing your experience and we hope your next visit will be as incredible as the previous one. Sincerely, ESTHER FORTIN GUEST EXPERIENCE AND SUSTAINABLE DEVELOPMENT MANAGER/ ALL champion Fairmont Le Château Frontenac 1 rue des Carrières Québec, Québec Canada G1R 4P5 es… fairmont.com https://www.facebook.com/FairmontChateauFrontenac

Amazing Stay

Customer review rating 4.6/5

Roxanne T. Families - 25/03/2020 Confirmed reviews ALL

Amazing experience with customer service! All of the restaurant staff was wonderfully attentive and housekeeping was stellar. Front desk and Concierge were always willing to help! Will definitely be back with the entire family!

Dear Ms T. We very much appreciate your comments regarding your recent stay at Fairmont Le Château Frontenac. It is always a pleasure to receive positive feedback, we are always delighted to know how much you appreciate it. We will share your comments with our team as we are sure that this feedback will serve as an encouragement to all of our staff member as we strive to continuously improve the quality of our services. Thank you again for sharing your experience and we hope your next visit will be as incredible as the previous one. Sincerely, ESTHER FORTIN GUEST EXPERIENCE AND SUSTAINABLE DEVELOPMENT MANAGER/ ALL champion Fairmont Le Château Frontenac 1 rue des Carrières Québec, Québec Canada G1R 4P5 es… fairmont.com https://www.facebook.com/FairmontChateauFrontenac

Our most recent 20 reviews