Fairmont San Francisco

4 stars
Customer review rating 4.4/5
9,778 reviews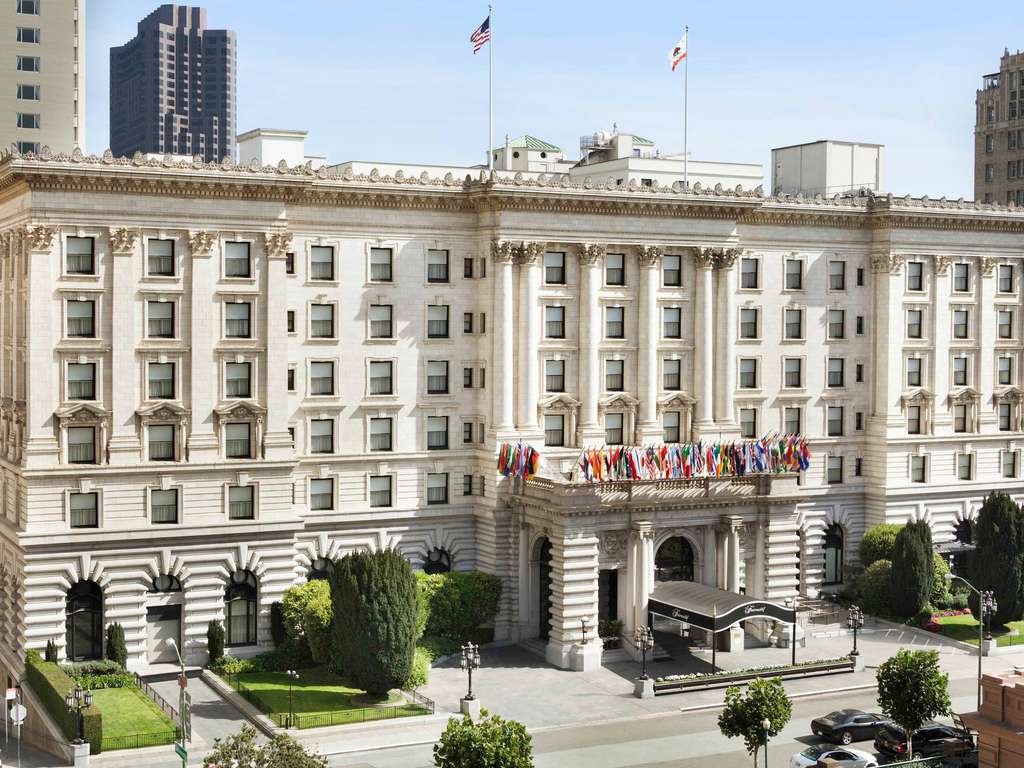 Hotel extras
Located in the heart of San Francisco, atop the illustrious Nob Hill Neighborhood. It is located just 4 blocks from the shopping of Union Square and Maiden Lane, and 3 blocks from Financial Disctrict and Chinatown.
Services in the hotel and nearby
Hotel location
Fairmont San Francisco
950 Mason Street
94108
san francisco
united states
Tel:
+14157725000
Fax: (+1)4157725013
Contact email :
sanfrancisco@fairmont.com
By plane

METROPOLITAN OAKLAND INTL APT  At 32.19km / 20 miles

By plane

SAN FRANCISCO INTERNATIONAL APT At 22.53km / 14 miles
GPS :37.792581, -122.410513
Your meetings and events
Our expert staff and state-of-the-art meeting facilities at The Fairmont San Francisco help create the perfect venue for conference and events ranging from a Board of Directors Meeting to the Grandest of Galas.San Francisco is well known for its World-class shopping, fabulous restaurants and incredible architecture. And The Fairmont San Francisco Hotel is set right in the middle of it all.

Unsure of the capacity needed for your event?

Convert different units of measurement and make organising your events easier.
Our accommodations
Fairmont San Francisco hotel provides accommodations that are a testament to luxury with 591 individually furnished and decorated guest rooms. The 62 elegant suites offer impressive views of the City and Bay. The Fairmont hotel in San Francisco, CA, is an ideal escape. Built in 1907- the hotel combines a classic ambiance with modern amenities.
Fairmont Exterior King NS
Max. number of persons:

3

Area:

From 39 m² / 420 sq ft
Bathrobe
Coffee/tea making facilities
Mini Bar
Fairmont Exterior Queen / Queen NS
Max. number of persons:

5

Area:

From 39 m² / 420 sq ft
Bathrobe
Coffee/tea making facilities
Mini Bar
Deluxe King NS Tower
Max. number of persons:

3

Area:

From 34 m² / 366 sq ft
Bathrobe
Coffee/tea making facilities
Mini Bar
Fairmont Queen NS Main Building
Max. number of persons:

2

Area:

From 30 m² / 323 sq ft
Bathrobe
Coffee/tea making facilities
Mini Bar
Signature King NS Tower
Max. number of persons:

3

Area:

From 34 m² / 366 sq ft
Bathrobe
Coffee/tea making facilities
Mini Bar
Signature Queen / Queen NS Tower
Max. number of persons:

4

Area:

From 34 m² / 366 sq ft
Bathrobe
Coffee/tea making facilities
Mini Bar
Tower Suite NS
Max. number of persons:

5

Area:

From 59 m² / 635 sq ft
Bathrobe
Coffee/tea making facilities
Mini Bar
Signature Golden Gate Suite
Max. number of persons:

5

Area:

From 59 m² / 635 sq ft
Bathrobe
Coffee/tea making facilities
Mini Bar
Diplomat Suite
Max. number of persons:

3

Area:

From 104 m² / 1119 sq ft
Bathrobe
Coffee/tea making facilities
Mini Bar
Fairmont Suite
Max. number of persons:

3

Area:

From 134 m² / 1442 sq ft
Bathrobe
Coffee/tea making facilities
Mini Bar
Penthouse Suite
Max. number of persons:

6

Area:

From 557 m² / 5996 sq ft
Bathrobe
Coffee/tea making facilities
Mini Bar
Fairmont Queen ADA Roll in Shower
Max. number of persons:

2

Area:

From 30 m² / 323 sq ft
Bathrobe
Coffee/tea making facilities
Mini Bar
Fairmont Qn/Qn ADA Grab Bar
Max. number of persons:

5

Area:

From 39 m² / 420 sq ft
Bathrobe
Coffee/tea making facilities
Mini Bar
Fairmont King ADA Grab Bar
Max. number of persons:

3

Area:

From 39 m² / 420 sq ft
Bathrobe
Coffee/tea making facilities
Mini Bar
Fairmont King ADA Hearing Impaired
Max. number of persons:

3

Area:

From 39 m² / 420 sq ft
Bathrobe
Coffee/tea making facilities
Mini Bar
Fairmont Qn/Qn ADA Roll In Shower
Max. number of persons:

5

Area:

From 39 m² / 420 sq ft
Bathrobe
Coffee/tea making facilities
Mini Bar
Fairmont Qn/Qn ADA Hearing Impaired
Max. number of persons:

5

Area:

From 39 m² / 420 sq ft
Bathrobe
Coffee/tea making facilities
Mini Bar
Deluxe King ADA Grab Bar
Max. number of persons:

3

Area:

From 34 m² / 366 sq ft
Bathrobe
Coffee/tea making facilities
Mini Bar
Deluxe Qn/Qn ADA Roll In
Max. number of persons:

4

Area:

From 34 m² / 366 sq ft
Bathrobe
Coffee/tea making facilities
Mini Bar
Deluxe Qn/Qn ADA Hearing Impaired
Max. number of persons:

4

Area:

From 34 m² / 366 sq ft
Bathrobe
Coffee/tea making facilities
Mini Bar
Signature King ADA Roll In
Max. number of persons:

3

Area:

From 34 m² / 366 sq ft
Bathrobe
Coffee/tea making facilities
Mini Bar
Signature Qn/Qn ADA Hearing Impaired
Max. number of persons:

4

Area:

From 34 m² / 366 sq ft
Bathrobe
Coffee/tea making facilities
Mini Bar
Signature Qn/Qn ADA Grab Bar
Max. number of persons:

4

Area:

From 34 m² / 366 sq ft
Bathrobe
Coffee/tea making facilities
Tower Suite ADA Grab Bar
Max. number of persons:

5

Area:

From 59 m² / 635 sq ft
Bathrobe
Coffee/tea making facilities
Mini Bar
Fairmont Qn Qn NS Sofabed
Max. number of persons:

6

Area:

From 51 m² / 549 sq ft
Bathrobe
Coffee/tea making facilities
Mini Bar
Deluxe Queen Queen NS Tower
Max. number of persons:

4

Area:

From 34 m² / 366 sq ft
Bathrobe
Coffee/tea making facilities
Mini Bar
Moderate 1 Dbl NS Main Bldg
Max. number of persons:

1

Area:

From 26 m² / 280 sq ft
Bathrobe
Coffee/tea making facilities
Mini Bar
Fairmont King NS Sofabed
Max. number of persons:

4

Area:

From 39 m² / 420 sq ft
Bathrobe
Coffee/tea making facilities
Mini Bar
Cambridge Suite
Max. number of persons:

4

Area:

From 109 m² / 1173 sq ft
Bathrobe
Coffee/tea making facilities
Mini Bar
Buckingham Suite
Max. number of persons:

3

Area:

From 74 m² / 797 sq ft
Bathrobe
Coffee/tea making facilities
Mini Bar
Main Building Corner Suite
Max. number of persons:

5

Area:

From 81 m² / 872 sq ft
Bathrobe
Coffee/tea making facilities
Mini Bar
Napoleon Two Bedroom Suite
Max. number of persons:

6

Area:

From 139 m² / 1496 sq ft
Bathrobe
Coffee/tea making facilities
Mini Bar
Junior Family Suite
Max. number of persons:

6

Area:

From 51 m² / 549 sq ft
Bathrobe
Coffee/tea making facilities
Mini Bar
Junior Suite with Sofabed
Max. number of persons:

4

Area:

From 51 m² / 549 sq ft
Bathrobe
Coffee/tea making facilities
Mini Bar
Rooms
Our guest reviews for
Fairmont San Francisco
100% genuine reviews from our guests

Find out more

Great stay

Customer review rating 4.4/5

Victoria Couples - 20/02/2020 Confirmed reviews ALL

Lobby was beautiful, staff was great.

Dear Victoria S., We very much appreciate your comments regarding your stay at the Fairmont San Francisco. It is always a pleasure to receive positive feedback. I will share your comments with our team. I am sure that this feedback will serve as an encouragement to all of our staff as we strive to continuously improve the quality of our services. Thank you again for sharing your experience, and we hope your next visit will be as pleasant as the previous one. Sincerely, Syed Ali Shan Guest Experience Manager

Beautiful Place!

Customer review rating 4.4/5

Mark Couples - 15/02/2020 Confirmed reviews ALL

Loved the history, location and service.

Dear Mark T., We very much appreciate your comments regarding your stay at the Fairmont San Francisco. It is always a pleasure to receive positive feedback. I will share your comments with our team. I am sure that this feedback will serve as an encouragement to all of our staff as we strive to continuously improve the quality of our services. Thank you again for sharing your experience, and we hope your next visit will be as pleasant as the previous one. Sincerely, Syed Ali Shan Guest Experience Manager

Dream hotel!

Customer review rating 4.4/5

Maria M. Friends - 14/02/2020 Confirmed reviews ALL

We can't rate this hotel, or it's service highly enough. Personal attention and VIP service from Mr Stephen Rogers was over and above any expectation. This hotel is opulent, the rooms spacious and so comfortable we could have spent the entire stay indoors! If we had been to San Francisco before we possibly would have!! Will definitely return.

Dear Maria M., We very much appreciate your comments regarding your stay at the Fairmont San Francisco. It is always a pleasure to receive positive feedback. I am so thrilled that hear that you enjoyed your stay with us. I will share your comments with our team and Specially with Stephen Rogers. I am sure that this feedback will serve as an encouragement to all of our staff as we strive to continuously improve the quality of our services. Thank you again for sharing your experience, and we hope your next visit will be as pleasant as the previous one. Sincerely, Syed Ali Shan Guest Experience Manager

Fabulous 180 view, great amenities, wonderful staff

Customer review rating 4.4/5

Professor L. Couples - 14/02/2020 Confirmed reviews ALL

We loved our stay at the Fairmont SFO. The room met every expectation and we are very particular. Welcomed warmly, room ready early after our 14 hour flight from Auckland, fabulous room as promised with view, super romantic, great bathroom, loved the wine and cheese hour, loved the neighborhood and able to walk to everything.

Dear Linda D., We very much appreciate your comments regarding your stay at the Fairmont San Francisco. It is always a pleasure to receive positive feedback. I will share your comments with our team. I am sure that this feedback will serve as an encouragement to all of our staff as we strive to continuously improve the quality of our services. Thank you again for sharing your experience, and we hope your next visit will be as pleasant as the previous one. Sincerely, Syed Ali Shan Guest Experience Manager

Great room, fantastic staff

Customer review rating 4.4/5

Scott I. Business - 13/02/2020 Confirmed reviews ALL

As usual, staff was friendly, appreciative of my loyalty and a fantastic room in the tower. Room was great, the fruit amenity is always appreciated as a traveler who often arrives a little hungry. There's a reason this is my favorite Fairmont property

Dear Scott I., We very much appreciate your comments regarding your stay at the Fairmont San Francisco. It is always a pleasure to receive positive feedback. I am glad that you enjoyed your stay and fruit amenity. I will share your comments with our team. I am sure that this feedback will serve as an encouragement to all of our staff as we strive to continuously improve the quality of our services. Thank you again for sharing your experience, and we hope your next visit will be as pleasant as the previous one. Sincerely, Syed Ali Shan Guest Experience Manager

Our most recent 20 reviews
Our other hotels nearby