Fairmont Winnipeg

4 stars
Customer review rating 4.4/5
5,396 reviews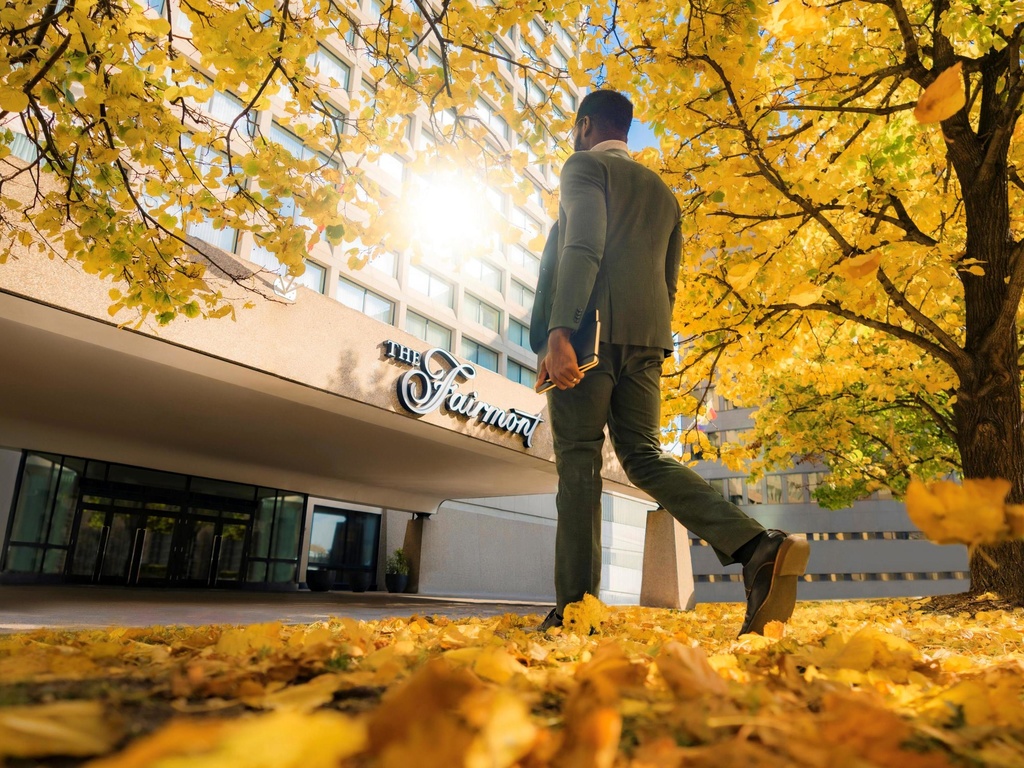 Hotel extras
Located in the downtown of Winnipeg

Free high-speed WiFi

Awarding-winning restauarnt

Indoor salt-water pool in 21st floor and 24 hours gym

10 mins. walk to BellMTS and The Forks
Services in the hotel and nearby
Hotel location
Fairmont Winnipeg
2 Lombard Place
R3B0Y3
winnipeg
canada
Tel:
+12049571350
Fax: (+1)2049561791
Contact email :
winnipeg@fairmont.com
By plane

WINNIPEG / J ARMS RICH. INTL APT At 12km / 7 miles
GPS :49.895766, -97.137109
Your meetings and events
Main meeting floor located on Mezzanine Level featuring Winnipeg Ballroom and 8 Breakout rooms on same level.

Unsure of the capacity needed for your event?

Convert different units of measurement and make organising your events easier.
Our accommodations
The Fairmont Winnipeg features 340 well-appointed guest rooms and suites- each of which greet guests with elegant decor and comfortable accommodations. Large windows in all the rooms provide guests with stunning views of the historic Exchange District- the famous corner of Portage and Main or the intersection of the Red and Assiniboine Rivers- known as The Forks National Park-
Fairmont King NS
Max. number of persons:

2

Area:

From 27 m² / 291 sq ft
Bathrobe
Coffee/tea making facilities
Mini Bar
Fairmont Dbl / Dbl NS
Max. number of persons:

4

Area:

From 27 m² / 291 sq ft
Bathrobe
Coffee/tea making facilities
Mini Bar
Fairmont Corner King NS
Max. number of persons:

2

Area:

From 29 m² / 312 sq ft
Bathrobe
Coffee/tea making facilities
Mini Bar
Fairmont Corner Dbl/Dbl NS
Max. number of persons:

4

Area:

From 29 m² / 312 sq ft
Bathrobe
Coffee/tea making facilities
Mini Bar
Fairmont High Floor Queen NS
Max. number of persons:

2

Area:

From 27 m² / 291 sq ft
Bathrobe
Coffee/tea making facilities
Mini Bar
Fairmont Gold King NS
Max. number of persons:

2

Area:

From 28 m² / 301 sq ft
Bathrobe
Coffee/tea making facilities
Mini Bar
Fairmont Gold Corner King NS
Max. number of persons:

3

Area:

From 29 m² / 312 sq ft
Bathrobe
Coffee/tea making facilities
Mini Bar
Fairmont High Floor Ste Bedroom
Max. number of persons:

2

Area:

From 27 m² / 291 sq ft
Bathrobe
Coffee/tea making facilities
Mini Bar
Fairmont Queen NS
Max. number of persons:

2

Area:

From 27 m² / 291 sq ft
Bathrobe
Coffee/tea making facilities
Mini Bar
Fairmont Queen Accessible NS
Max. number of persons:

2

Area:

From 26 m² / 280 sq ft
Bathrobe
Coffee/tea making facilities
Mini Bar
Fairmont High Floor King NS
Max. number of persons:

3

Area:

From 27 m² / 291 sq ft
Bathrobe
Coffee/tea making facilities
Mini Bar
Fairmont High Floor Dbl/Dbl NS
Max. number of persons:

4

Area:

From 27 m² / 291 sq ft
Bathrobe
Coffee/tea making facilities
Mini Bar
Fairmont Gold Dbl / Dbl NS
Max. number of persons:

4

Area:

From 28 m² / 301 sq ft
Bathrobe
Coffee/tea making facilities
Mini Bar
Countess of Dufferin Suite
Max. number of persons:

2

Area:

From 90 m² / 969 sq ft
Bathrobe
Coffee/tea making facilities
Mini Bar
Royal Alexandra Suite
Max. number of persons:

3

Area:

From 117 m² / 1259 sq ft
Bathrobe
Coffee/tea making facilities
Mini Bar
Fairmont Dbl / Dbl NS Suite Bedroom
Max. number of persons:

2

Area:

From 27 m² / 291 sq ft
Bathrobe
Coffee/tea making facilities
Mini Bar
Fairmont King NS Suite Bedroom
Max. number of persons:

2

Area:

From 27 m² / 291 sq ft
Bathrobe
Coffee/tea making facilities
Mini Bar
Rooms
Our guest reviews for
Fairmont Winnipeg
100% genuine reviews from our guests

Find out more

Amazing

Customer review rating 4.4/5

Danika Couples - 29/03/2020 Confirmed reviews ALL

Everyone was so nice and friendly

Good morning Ms. F.. I wanted to take this opportunity to personally thank you for taking the time and the effort to complete the on-line survey conducted by TrustYou Analytics on behalf of the Fairmont Winnipeg. Our guest feedback is imperative to our process of improving our service delivery and it allows us to identify where we are successful and where improvements can be made. Ms. F., I was delighted to see that you had such an enjoyable stay on your recent visit. It is always a pleasure to receive such positive feedback. We are indeed very fortunate to have such exceptional and talented ambassadors on our team, and I am delighted you were able to experience their signature service first hand. I will be sure to share your comments with them as I know this feedback will serve as an encouragement to all of our staff as we strive to continuously improve the quality of our services and offerings, and it will also surely serve as a reminder that all of their passion and dedication does not go unnoticed. Thank you for choosing the Fairmont Winnipeg to be your home away from home, and we hope that we will have the pleasure of welcoming you again soon. Until then, wishing you a wonderful day ahead - stay safe, and keep well. Kind regards, Kyla Stewart Guest Relations Manager

Room is in desperate need of renovation

Customer review rating 4.4/5

Anonymous Business - 23/03/2020 Confirmed reviews ALL

I expected a far better room for the price paid. The room was very poor quality

Good evening Mr. O., I wanted to take this opportunity to personally thank you for taking the time and the effort to complete the on-line survey conducted by TrustYou Analytics on behalf of the Fairmont Winnipeg and to apologize for our delayed response - please rest assured that this in no way detracts from what was shared. Our guest feedback is imperative to our process of improving our service delivery and it allows us to identify where we are successful and where improvements can be made. Mr. O., in reading your survey I can see that we did not meet your expectations during your recent visit. We all take great pride in providing our guests with the highest standards of service and most memorable experiences, therefore I am very sorry to learn that we missed our mark on this particular occasion; please allow me to express my sincere apologies. I will be sure to share your comments with our entire team as this feedback will serve as an encouragement to all of our staff as we strive to continuously improve the quality of our service and offerings. We appreciate you sharing your feedback, and it is our hope that we will have the opportunity to welcome you back to the Fairmont Winnipeg again to show you the experience you have come to expect from us. Though we cannot undo what has been done, should your travels bring you back to our wonderful city, it would be my pleasure to offer you a complimentary upgrade to one of our Fairmont Gold rooms as a small means to regain your confidence in us, where you have my assurance that you will be most comfortable. I would be pleased to make all the necessary arrangements, so please do not hesitate to reach out to me directly, as it would be my pleasure to assist however I can to ensure this stay is one you will remember for all the right reasons. Until then, wishing you a wonderful week ahead - stay safe and keep well. Kind regards, Kyla Stewart Guest Relations Manager

Pleasant

Customer review rating 4.4/5

Jeff O. Families - 20/03/2020 Confirmed reviews ALL

No complaints. Staff was very friendly and courteous. Location worked out great for us.

Good evening Mr. O., I wanted to take this opportunity to personally thank you for taking the time and the effort to complete the on-line survey conducted by TrustYou Analytics on behalf of the Fairmont Winnipeg. Our guest feedback is imperative to our process of improving our service delivery and it allows us to identify where we are successful and where improvements can be made. Mr. O., I was delighted to see that you had such an enjoyable stay on your recent visit to Winnipeg. It is always a pleasure to receive such positive feedback. We are indeed very fortunate to have such exceptional and talented ambassadors on our team, and I am delighted you were able to experience their signature service first hand. I will be sure to share your comments with them as I know this feedback will serve as an encouragement to all of our staff as we strive to continuously improve the quality of our services and offerings, and it will also surely serve as a reminder that all of their passion and dedication does not go unnoticed. Thank you for choosing the Fairmont Winnipeg to be your home away from home while in our wonderful city, and we hope that we will have the pleasure of welcoming you again soon. Until then, wishing you a wonderful week ahead. Kind regards, Kyla Stewart Guest Relations Manager

Great stay

Customer review rating 4.4/5

Danna Business - 19/03/2020 Confirmed reviews ALL

Quiet and clean rooms, comfortable beds, amazing friendly staff

Good evening Ms. S., I wanted to take this opportunity to personally thank you for taking the time and the effort to complete the on-line survey conducted by TrustYou Analytics on behalf of the Fairmont Winnipeg. Our guest feedback is imperative to our process of improving our service delivery and it allows us to identify where we are successful and where improvements can be made. Ms. S., I was delighted to see that you had such an enjoyable stay on your recent visit. It is always a pleasure to receive such positive feedback, especially from our loyal guests. We are indeed very fortunate to have such exceptional and talented ambassadors on our team, and I am delighted you were able to experience their signature service first hand. I will be sure to share your comments with them as I know this feedback will serve as an encouragement to all of our staff as we strive to continuously improve the quality of our services and offerings, and it will also surely serve as a reminder that all of their passion and dedication does not go unnoticed. Thank you for choosing the Fairmont Winnipeg to be your home away from home while in our wonderful city, and we hope that we will have the pleasure of welcoming you again soon. Until then, wishing you a wonderful week ahead - stay safe, and keep well. Kind regards, Kyla Stewart Guest Relations Manager

good stay

Customer review rating 4.4/5

Anonymous Families - 18/03/2020 Confirmed reviews ALL

Staff pleasant and helpful

Good evening Ms. C., I wanted to take this opportunity to personally thank you for taking the time and the effort to complete the on-line survey conducted by TrustYou Analytics on behalf of the Fairmont Winnipeg. Our guest feedback is imperative to our process of improving our service delivery and it allows us to identify where we are successful and where improvements can be made. Ms. C., I was delighted to see that you had such an enjoyable stay on your recent visit. It is always a pleasure to receive such positive feedback. We are indeed very fortunate to have such exceptional and talented ambassadors on our team, and I am delighted you were able to experience their signature service first hand. I will be sure to share your comments with them as I know this feedback will serve as an encouragement to all of our staff as we strive to continuously improve the quality of our services and offerings, and it will also surely serve as a reminder that all of their passion and dedication does not go unnoticed. Thank you for choosing the Fairmont Winnipeg to be your home away from home while in our wonderful city, and we hope that we will have the pleasure of welcoming you again soon. Until then, wishing you a wonderful week ahead - stay safe and keep well. Kind regards, Kyla Stewart Guest Relations Manager

Our most recent 20 reviews