Fairmont Hotel Vier Jahreszeiten

5 stars
Customer review rating 4.7/5
5,111 reviews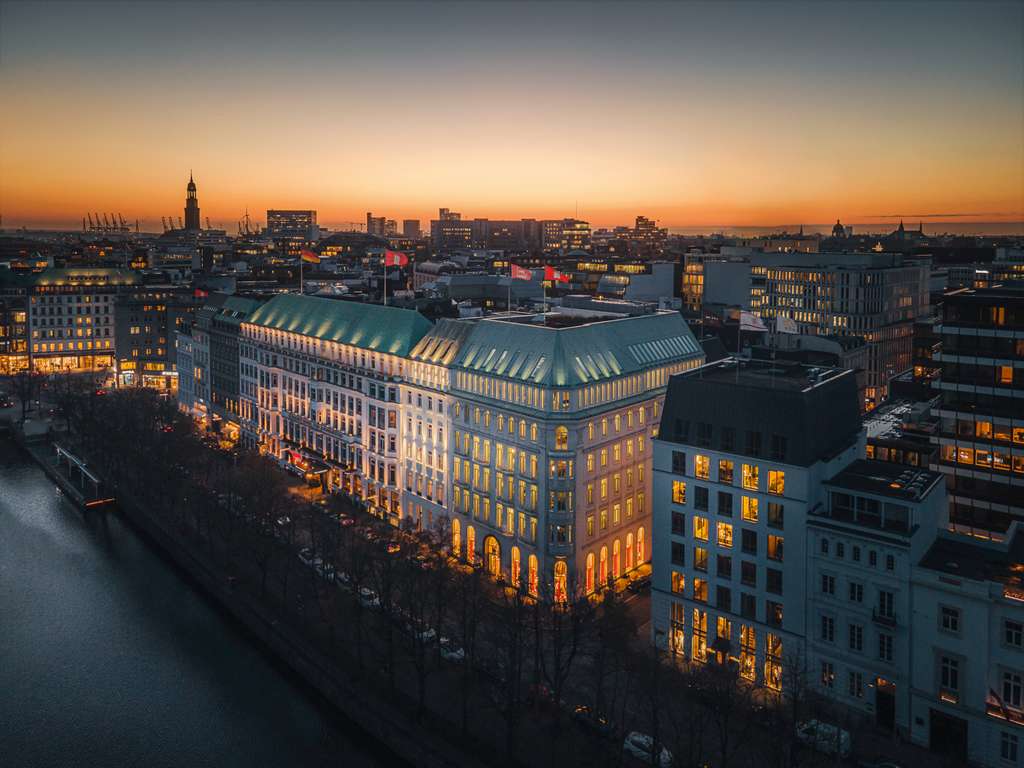 Hotel extras
Fairmont Hotel Vier Jahreszeiten is an unrivalled experience: from the unique culinary diversity with 9 restaurants and bars to the Vier Jahreszeiten Spa, offering more than different massages and treatments.
Services in the hotel and nearby
Hotel location
Fairmont Hotel Vier Jahreszeiten
Neuer Jungfernstieg 9 14
20354
hamburg
germany
Tel:
+49004034943151
Fax: (+49)4034942600
Contact email :
hamburg@fairmont.com
By plane

HAMBURG AIRPORT At 12km / 7.46 miles
GPS :53.555603, 9.991689
Your meetings and events
Nine rooms for conferences - banquets and private functions tastefully decorated. Maximum capacity: Dinners - up to 200 persons, receptions - up to 900 persons, and conferences - up to 150 persons.One of the rooms is exclusively located on the fourth floor overlooking the Alster Lake.

Unsure of the capacity needed for your event?

Convert different units of measurement and make organising your events easier.
Our accommodations
All 156 rooms and suites as well as all bathrooms have been thoughtfully renovated and air-conditioned in 2015 with great attention to detail- designed to meet the highest and most demanding standards. The new guest rooms present themselves in a new and contemporary spirit with impeccable richness- delicate grace and refined elegance. Many of our Hamburg accomodations offer a breathtaking view over the Inner Alster Lake.
Fairmont Single Room
Max. number of persons:

1

Area:

From 25 m² / 269 sq ft
Ironing board and flat-iron
Deluxe Double Room Courtyard
Max. number of persons:

3

Area:

From 32 m² / 344 sq ft

Views:

Courtyard side *
* Subject to availability
Ironing board and flat-iron
Deluxe Twin Room Courtyard
Max. number of persons:

2

Area:

From 35 m² / 377 sq ft

Views:

Courtyard side *
* Subject to availability
Ironing board and flat-iron
Deluxe Single Room Lake View
Max. number of persons:

1

Area:

From 25 m² / 269 sq ft

Views:

Lake side *
* Subject to availability
Ironing board and flat-iron
Deluxe Double Room Lake View
Max. number of persons:

3

Area:

From 32 m² / 344 sq ft

Views:

Lake side *
* Subject to availability
Ironing board and flat-iron
Deluxe Twin Room Lake View
Max. number of persons:

2

Area:

From 32 m² / 344 sq ft

Views:

Lake side *
* Subject to availability
Ironing board and flat-iron
Deluxe Single Room with Balcony
Max. number of persons:

1

Area:

From 22 m² / 237 sq ft

Views:

Lake side *
* Subject to availability
Ironing board and flat-iron
Deluxe Double Room with Balcony
Max. number of persons:

3

Area:

From 35 m² / 377 sq ft

Views:

Lake side *
* Subject to availability
Ironing board and flat-iron
Signature Room with Balcony
Max. number of persons:

2

Area:

From 42 m² / 452 sq ft

Views:

Lake side *
* Subject to availability
Ironing board and flat-iron
Junior Suite Courtyard
Max. number of persons:

3

Area:

From 45 m² / 484 sq ft

Views:

Courtyard side *
* Subject to availability
Ironing board and flat-iron
Junior Suite Courtyard Twin
Max. number of persons:

2

Area:

From 45 m² / 484 sq ft

Views:

Courtyard side *
* Subject to availability
Ironing board and flat-iron
Junior Suite Lake View
Max. number of persons:

3

Area:

From 45 m² / 484 sq ft

Views:

Lake side *
* Subject to availability
Ironing board and flat-iron
Senator Suite
Max. number of persons:

3

Area:

From 90 m² / 969 sq ft

Views:

Lake side *
* Subject to availability
Ironing board and flat-iron
Fairmont View Lake Q SK
Max. number of persons:

1

Area:

From 25 m² / 269 sq ft

Views:

Lake side *
* Subject to availability
Ironing board and flat-iron
Deluxe Lakefront Twin SK
Max. number of persons:

2

Area:

From 32 m² / 344 sq ft

Views:

Lake side *
* Subject to availability
Ironing board and flat-iron
Deluxe Courtyard Twin SK
Max. number of persons:

2

Area:

From 35 m² / 377 sq ft
Ironing board and flat-iron
Junior Courtyard King SK
Max. number of persons:

3

Area:

From 45 m² / 484 sq ft
Ironing board and flat-iron
Deluxe Lakefront King SK
Max. number of persons:

3

Area:

From 32 m² / 344 sq ft

Views:

Lake side *
* Subject to availability
Pillow Menu
Ironing board and flat-iron
Fairmont Queen SK
Max. number of persons:

1

Area:

From 25 m² / 269 sq ft
Ironing board and flat-iron
Deluxe Courtyard King NS
Max. number of persons:

3

Area:

From 32 m² / 344 sq ft

Views:

Courtyard side *
* Subject to availability
Ironing board and flat-iron
Rooms
Our guest reviews for
Fairmont Hotel Vier Jahreszeiten
100% genuine reviews from our guests

Find out more

Customer review rating 4.7/5

Christian C. Business - 21/02/2020 Confirmed reviews ALL

Beautiful located in Hamburg , as well as a beautiful tee room vita super service. Super service at arrival, your car is parked your bags are taken care of and so forth. Nice massage, but miss hot bath and swimming pool. Nice grill restaurant a little cool, super vin cart. We have been staying several times, and will keep coming back enjoying this time pocket of old fashion good service.

Dear Mr. C., We very much appreciate your comments regarding your stay at the Fairmont Hotel Vier Jahreszeiten. It is always a pleasure to receive positive feedback. I will share your comments with our team. I am sure that this feedback will serve as an encouragement to all of our staff as we strive to continuously improve the quality of our services. Thank you again for sharing your experience, and we hope your next visit will be as pleasant as the previous one. Sincerely, Leonie Weber Director of Marketing and Communications

Toll

Customer review rating 4.7/5

K. Business - 18/02/2020 Confirmed reviews ALL

Sehr geehrter Herr K., wir danken Ihnen vielmals für Ihre Anmerkungen zu Ihrem Aufenthalt im Fairmont Hotel Vier Jahreszeiten. Ihre positiven Würdigungen werden wir selbstverständlich gerne an die betreffenden Mitarbeiter weiterleiten. Ihre Zufriedenheit ist für unsere Mitarbeiter, die Tag für Tag daran arbeiten, Ihnen einen einwandfreien Service zu bieten, die schönste Belohnung. Wir hoffen, Sie schon bald wieder bei uns begrüßen zu dürfen. Mit herzlichen Grüßen Leonie Weber Director of Marketing and Communications

Good Stay

Customer review rating 4.7/5

Ca… Families - 16/02/2020 Confirmed reviews ALL

The staff are very helpful, Eileen and Alexandra are very attentive - thank you all!

Dear Mr. B., We very much appreciate your comments regarding your stay at the Fairmont Hotel Vier Jahreszeiten. It is always a pleasure to receive positive feedback. I will share your comments with our team and especially with Eileen and Alexandra. I am sure that this feedback will serve as an encouragement to all of our staff as we strive to continuously improve the quality of our services. Thank you again for sharing your experience, and we hope your next visit will be as pleasant as the previous one. Sincerely, Leonie Weber Director of Marketing and Communications

Perfect service

Customer review rating 4.7/5

Klaus H. Business - 12/02/2020 Confirmed reviews ALL

very consistent at the highest level and in all areas of service

Dear Mr. H., We very much appreciate your comments regarding your stay at the Fairmont Hotel Vier Jahreszeiten. It is always a pleasure to receive positive feedback. I will share your comments with our team. I am sure that this feedback will serve as an encouragement to all of our staff as we strive to continuously improve the quality of our services. Thank you again for sharing your experience, and we hope your next visit will be as pleasant as the previous one. Sincerely, Leonie Weber Director of Marketing and Communications

Customer review rating 4.7/5

Joana Couples - 20/01/2020 Confirmed reviews ALL

not overly impressed, for this stunt of money I believe you can get better value elsewhere. It feels that a significant portion of the price is paying for the brand rather than actual service etc.

Dear Mrs. W., Thank you for taking the time to tell us about your experience at the Fairmont Hotel Vier Jahreszeiten. I am sorry that your experience did not meet your expectations; please allow me to express my sincerest apologies. At Fairmont, we strive to provide a superior service experience for every customer; therefore your feedback is very important to us. Please rest assured that we are taking the appropriate measures to address the problem regarding the space for our guests to have a drink and prevent future occurrence. Of course we will forward your comments regarding the service in our lobby restaurant to the team and will try our best to achieve a longlasting improvement. We appreciate your sharing your concerns, and it is our hope that you will give us the opportunity to better serve you in the near future. Sincerely, Leonie Weber Dircetor of Marketing & Communications

Our most recent 20 reviews