Swissôtel Ankara
5 stars
Customer review rating 4.5/5
1,417 reviews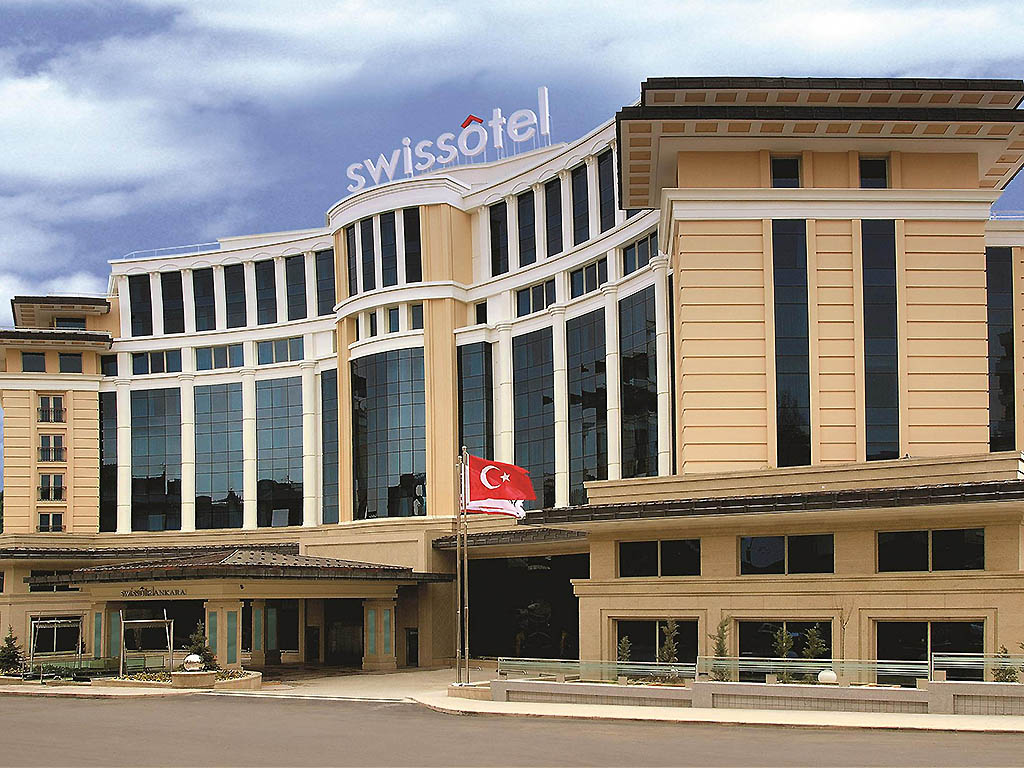 Hotel extras
New building with superbly appointed rooms and suites suitable for today's discerning traveller. One of the largest Presidential Suite in Ankara. 3000m2 Spa and Wellness center - complimentary access for all of our guest.
Services in the hotel and nearby
Hotel location
Swissôtel Ankara
Yildizevler Mahallesi
Jose Marti Caddesi No 2
6550
ankara
turkey
Tel:
+90312 4093000
Fax: (+90)312 4093399
Contact email :
ankara@swissotel.com
By plane

ESENBOGA AIRPORT At 45km / 27.96 miles

By plane

ETIMESGUT AIR BASE AIRPORT At 45km / 27.96 miles
GPS :39.877796, 32.859142
Your meetings and events
Dedicated Swiss Meeting Specialists are there to help you with every aspect of event planning. They will advise which meeting rooms to book-which set-ups to choose-which wine to have with your menu and how to dress the room.You will then be introduced to our Swiss Meeting Concierge who will look after you and your guests on the day.Facilities include: Nine multi-functional meeting rooms State-of-the-art equipments Wired and wireless Internet access Swissôffice Capacity: 1200

From 1 to 1,200
attendees
Unsure of the capacity needed for your event?

Convert different units of measurement and make organising your events easier.
Our accommodations
Swissôtel Ankara offers 8 floors of luxury and elegance with 150 rooms including suites and Executive rooms. Spacious and comfortable-all rooms-either smoking rooms or non-smoking rooms. Executive Room Benefits: Lounge Usage with Breakfast Happy Hour with Alcoholic and Soft Drinks All Day Snacks Laundry service 1 item 20% discount Pürovel Spa & Sports and The Ambassador Bar Turndown Service Vip Setup Meeting room for 2 hours (1-10 guests)
Swiss Business Advantage Double
Max. number of persons:

3

Area:

From 25 m² / 269 sq ft
High speed internet
Slippers
Coffee/tea making facilities
Direct dial telephone
Mini Bar
Swiss Business Advantage Room King
Max. number of persons:

3

Area:

From 25 m² / 269 sq ft
High speed internet
Slippers
Coffee/tea making facilities
Direct dial telephone
Swiss Business Advantage Room Twin
Max. number of persons:

3

Area:

From 25 m² / 269 sq ft
High speed internet
Slippers
Coffee/tea making facilities
Direct dial telephone
Swiss Business Advantage Corner
Max. number of persons:

3

Area:

From 25 m² / 269 sq ft

Most of the accommodation:

CORNER_ROOM *
* Subject to availability
High speed internet
Slippers
Coffee/tea making facilities
Direct dial telephone
Swiss Business Executive Room Double
Max. number of persons:

3

Area:

From 28 m² / 301 sq ft
High speed internet
Slippers
Coffee/tea making facilities
Direct dial telephone
Swiss Business Executive Room King
Max. number of persons:

3

Area:

From 28 m² / 301 sq ft
High speed internet
Slippers
Coffee/tea making facilities
Direct dial telephone
Swiss Business Executive Twin
Max. number of persons:

3

Area:

From 28 m² / 301 sq ft
High speed internet
Slippers
Coffee/tea making facilities
Direct dial telephone
Rooms
Our guest reviews for
Swissôtel Ankara
100% genuine reviews from our guests

Find out more

Very well

Customer review rating 4.5/5

Emine E. Couples - 23/02/2020 Confirmed reviews ALL

Sayın Emine E., Swissôtel Ankara 'da gerçekleşen konaklamanız ile ilgili görüşlerinizi paylaştığınız için teşekkür ederiz. Siz misafirlerimizin olumlu görüşlerinizi bilmek, bizler için her zaman büyük önem taşımaktadır. Hizmetlerimiz ile ilgili güzel yorumlarınızı, ekibimiz ile paylaşacağımızı belirtmek isteriz. Misafir memnuniyetini en üst seviyeye taşımayı hedeflediğimiz hizmetlerimiz ile ilgili, siz misafirlerimizin olumlu görüşlerini bilmek, bizleri, yeni girişimler için her zaman cesaretlendirmektedir. Hizmetlerimiz ile ilgili görüşlerinizi bizlerle paylaştığınız için bir kez daha teşekkür eder, bir başka seyahatinizde size tekrar hizmet vermekten mutluluk duyacağımızı belirtmek isteriz. Saygılarımızla, Mertcan Küçükdağılkan Ön Büro Müdür Yardımcısı

Good stay

Customer review rating 4.5/5

M Couples - 10/02/2020 Confirmed reviews ALL

We liked the hotel. It is great. Perfect breakfast

Sayın Murat I., Swissôtel Ankara 'da gerçekleşen konaklamanız ile ilgili görüşlerinizi paylaştığınız için teşekkür ederiz. Siz misafirlerimizin olumlu görüşlerinizi bilmek, bizler için her zaman büyük önem taşımaktadır. Hizmetlerimiz ile ilgili güzel yorumlarınızı, ekibimiz ile paylaşacağımızı belirtmek isteriz. Misafir memnuniyetini en üst seviyeye taşımayı hedeflediğimiz hizmetlerimiz ile ilgili, siz misafirlerimizin olumlu görüşlerini bilmek, bizleri, yeni girişimler için her zaman cesaretlendirmektedir. Hizmetlerimiz ile ilgili görüşlerinizi bizlerle paylaştığınız için bir kez daha teşekkür eder, bir başka seyahatinizde size tekrar hizmet vermekten mutluluk duyacağımızı belirtmek isteriz. Saygılarımızla, Mertcan Küçükdağılkan Ön Büro Müdür Yardımcısı

Excellent hotel and very friendly staff

Customer review rating 4.5/5

Helmut Business - 10/02/2020 Confirmed reviews ALL

Excellent experience, as usual. When I am in Ankara I always choose this hotel, if rooms are available. Perfect service from check-in to check-out. If there is a problem (for example Internet access) it is quickly resolved. Rooms are very clean and functional. The bed is very comfortable. And the food and service in the restaurant is of very good quality. Much appreciated also the 'street food' menu. Thanks for everything

Dear Helmut Z., We very much appreciate your comments regarding your stay at the Swissôtel Ankara. It is always a pleasure to receive positive feedback. I will share your comments with our team. I am sure that this feedback will serve as an encouragement to all of our staff as we strive to continuously improve the quality of our services. Thank you again for sharing your experience, and we hope your next visit will be as pleasant as the previous one. Sincerely, Mertcan Kucukdagilkan Asst. Front Office Manager

Very Good stay

Customer review rating 4.5/5

Nilay Business - 08/02/2020 Confirmed reviews ALL

We were very well accomodated with problem solving and very much satisfactory environment. Especially Mr. Kar Cabuk and Mr. Ali Coklu were very helpfull and kind.

Dear Nilay A., We very much appreciate your comments regarding your stay at the Swissôtel Ankara. It is always a pleasure to receive positive feedback. I will share your comments with our team. I am sure that this feedback will serve as an encouragement to all of our staff as we strive to continuously improve the quality of our services. Thank you again for sharing your experience, and we hope your next visit will be as pleasant as the previous one. Sincerely, Mertcan Kucukdagilkan Asst. Front Office Manager

Customer review rating 4.5/5

Selim Business - 04/02/2020 Confirmed reviews ALL

Sayın Selim O., Swissôtel Ankara 'da gerçekleşen konaklamanız ile ilgili görüşlerinizi paylaştığınız için teşekkür ederiz. Siz misafirlerimizin olumlu görüşlerinizi bilmek, bizler için her zaman büyük önem taşımaktadır. Hizmetlerimiz ile ilgili güzel yorumlarınızı, ekibimiz ile paylaşacağımızı belirtmek isteriz. Misafir memnuniyetini en üst seviyeye taşımayı hedeflediğimiz hizmetlerimiz ile ilgili, siz misafirlerimizin olumlu görüşlerini bilmek, bizleri, yeni girişimler için her zaman cesaretlendirmektedir. Hizmetlerimiz ile ilgili görüşlerinizi bizlerle paylaştığınız için bir kez daha teşekkür eder, bir başka seyahatinizde size tekrar hizmet vermekten mutluluk duyacağımızı belirtmek isteriz. Saygılarımızla, Mertcan Küçükdağılkan Ön Büro Müdür Yardımcısı

Our most recent 20 reviews
Our other hotels nearby