Swissôtel Büyük Efes

5 stars
Customer review rating 4.5/5
5,605 reviews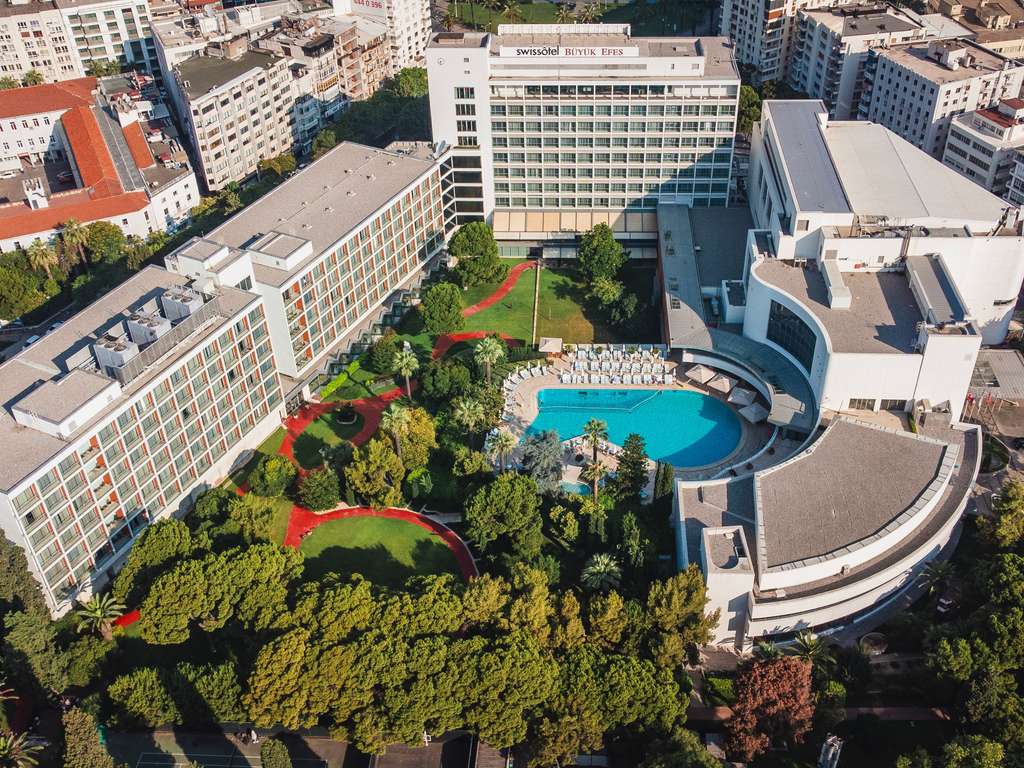 Hotel extras
Located at the heart of the city of Izmir

Discover a living, breathing gallery of more than 800 masterpieces from around the world.

Pürovel Spa & Sport facili,es over 5.500m² with an outdoor & indoor pool.

Büyük Efes Convention Center includes 19 meeting and conference rooms.

Three restaurants & two bars present a selection of traditional and contemporary cuisines.
This hotel participates to Planet 21 and is acting in favour of Positive Hospitality.
Services in the hotel and nearby
Hotel location
Swissôtel Büyük Efes
Gaziosmanpasa Bulvari No 1
35210
alsancak
turkey
Tel:
+90002324140000
Fax: (+90)002324141010
Contact email :
izmir@swissotel.com
By plane

ADNAN MENDERES INTERNATIONAL APT At 18km / 11 miles
GPS :38.4278764, 27.1339936
Your meetings and events
Meeting facilities include Barcovision Laptop DVD and VCD Player CD Player Video Recorder Head Set Flip Charts Overhead Projector Fax Machine Copier Mobile Audio System Wireless Microphone Lectern Microphone Wireless Internet

Unsure of the capacity needed for your event?

Convert different units of measurement and make organising your events easier.
Our accommodations
All 402 guest rooms feature contemporary and elegant design and offer state-of-the-art technology. In addition the hotel has 74 Swiss Executive Rooms providing guests with exclusive privileges such as access to the Swiss Executive Club Lounge. The hotels well-appointed guest rooms and suites offer spectacular views over Izmir and the sea. 55 elegantly decorated suites offer the ultimate in style and comfort with spacious living areas and a full line of luxury amenities and services.
Classic Room City King
Max. number of persons:

2

Area:

From 27 m² / 291 sq ft

Views:

City side *
* Subject to availability
Bathrobe
Slippers
Pillow Menu
Coffee/tea making facilities
Shoe polisher(...)
Classic Room Garden King
Max. number of persons:

2

Area:

From 27 m² / 291 sq ft

Views:

Garden side *
* Subject to availability
Bathrobe
Slippers
Pillow Menu
Coffee/tea making facilities
Swiss Advantage Room City King
Max. number of persons:

2

Area:

From 27 m² / 291 sq ft

Views:

City side *
* Subject to availability
Slippers
Pillow Menu
Coffee/tea making facilities
Shoe polisher
Swiss Advantage Room Garden King
Max. number of persons:

2

Area:

From 27 m² / 291 sq ft

Views:

Garden side *

Most of the accommodation:

Balcony *
* Subject to availability
Slippers
Pillow Menu
Coffee/tea making facilities
Shoe polisher
Swiss Executive Room City King
Max. number of persons:

2

Area:

From 27 m² / 291 sq ft

Views:

City side *
* Subject to availability
Bathrobe
Slippers
Pillow Menu
Coffee/tea making facilities
Shoe polisher
Swiss Executive Room King
Max. number of persons:

2

Area:

From 27 m² / 291 sq ft

Views:

Garden side *
* Subject to availability
Bathrobe
Slippers
Pillow Menu
Coffee/tea making facilities
Shoe polisher
Swiss Executive Room Sea King
Max. number of persons:

2

Area:

From 27 m² / 291 sq ft

Views:

Sea side *
* Subject to availability
Bathrobe
Slippers
Pillow Menu
Coffee/tea making facilities
Shoe polisher
Classic Room City Twin
Max. number of persons:

2

Area:

From 27 m² / 291 sq ft

Views:

City side *
* Subject to availability
Bathrobe
Slippers
Pillow Menu
Coffee/tea making facilities
Shoe polisher
Classic Room Garden Twin
Max. number of persons:

2

Area:

From 27 m² / 291 sq ft

Views:

Garden side *
* Subject to availability
Bathrobe
Slippers
Pillow Menu
Coffee/tea making facilities
Shoe polisher
Swiss Advantage Room City Twin
Max. number of persons:

2

Area:

From 27 m² / 291 sq ft

Views:

City side *
* Subject to availability
Bathrobe
Slippers
Pillow Menu
Coffee/tea making facilities
Shoe polisher
Swiss Advantage Room Garden Twin
Max. number of persons:

2

Area:

From 27 m² / 291 sq ft

Views:

Garden side *
* Subject to availability
Bathrobe
Slippers
Pillow Menu
Coffee/tea making facilities
Shoe polisher
Swiss Executive Room Twin
Max. number of persons:

2

Area:

From 27 m² / 291 sq ft

Views:

Garden side *
* Subject to availability
Bathrobe
Slippers
Pillow Menu
Coffee/tea making facilities
Shoe polisher
Swiss Executive Room Sea Twin
Max. number of persons:

2

Area:

From 27 m² / 291 sq ft

Views:

Sea side *
* Subject to availability
Bathrobe
Slippers
Pillow Menu
Coffee/tea making facilities
Shoe polisher
Rooms
Our guest reviews for
Swissôtel Büyük Efes
100% genuine reviews from our guests

Find out more

The 10 days that I stayed at the Swiss was horrible. The staff were cleaning during weird hours during the day and constantly slamming on doors.

Customer review rating 4.5/5

Joy Business - 24/02/2020 Confirmed reviews ALL

The Swiss management needs to address personal hygiene within their staff. The cleaning crew had very bad odor and it was unacceptable. They need to take a shower everyday. Next, the front desk called every night if I needed anything which was an inconvenient time for me. Your staff needs to be aware of other people's sleeping schedule and should not be calling at all. If a guest needs a service, he/she will call. There is no need for unnecessary phone call at all. I have told them over and over (3 times) to not call because my sleep is being disrupted and nothing was done. Then, there is no policy for quiet hours within the hotel, kids and families are running in the hallway as if it was a playground. The noise is bothersome. I would recommend putting up signs in the hallway to respect other guests privacy and to keep the noise down. Lastly, advise the cleaning crew not to slam doors. The Swiss doors are poorly made because they make too much noise and even more noisier if the person slams it. Overall, I do not recommend the Swiss for other people to stay at if they have sensitivity to noise.

Dear De Encel Joy Toben T., Thank you for taking the time to tell us about your experience at the Swissôtel Büyük Efes. We strive to provide a superior service experience for every customer, therefore I am very sorry to learn that we failed to meet your expectations on this occasion; please allow me to express my sincere apologies. Rest assured that we are taking the appropriate measures to address the problem. All our efforts are concentrated in preventing future occurrences. I would like to inform you that all your comment has been shared with related departments.Please rest assure they will investigate them and get right actions. Also I would love to give you another information about daily phone call.When guest doesn't move DND card from the room, we call guest for their safety. That's why our colleagues called you daily, I do apologize for inconvenience if they called you late. As we would not wish you to be left with a poor impression of your time with us, I would like to invite you to enjoy our Brunch ( for 2 person ) with our compliments. When you have a date in mind, please contact me directly on by email or phone so that I can personally oversee the arrangements. Thank you again for bringing these important issues to our attention, and it is our hope that you will give us the opportunity to better serve you in the near future. We are looking forward to welcoming you again at Swissôtel. Please do not hesitate to contact me during your next visit. Sincerely, Öznur GÜMÜŞKAYA Guest Relations Manager Swissôtel Büyük Efes, Izmir Gaziosmanpasa Bulvari No:1 | Alsancak, 35210 Izmir | Turkey Tel : +90(0….5176 | Mob : +90(0….1326 | Fax :+90(0….1010 E-mail:oz…

Good stay but why contact in Arabic language?

Customer review rating 4.5/5

Bora Business - 17/02/2020 Confirmed reviews ALL

I stayed several times and really enjoyed in your hotel. But when I received this email, I feel bad. Why main language in this email is Arabic? I am Turkish citizen who stayed in a hotel in Turkey. If you don't know nationality or language preference of your customers, just use English. I dont want to be contacted in Arabic language in my country.

Sayın Bora C., Otelimizde almış olduğunuz hizmet ile ilgili anketimizi cevaplamak üzere zaman ayırdığınız ve görüşlerinizi bizlerle paylaştığınız için teşekkür ederiz. Konaklamanızdan memnun ayrılmış olmanıza çok sevindik. Misafir memnuniyetini en üst seviyeye taşımayı hedeflediğimiz hizmetlerimiz ile ilgili, siz değerli misafirlerimizin görüşlerini bilmek bizler için çok önemlidir. Anketinizin farklı bir dilde gelmiş olmasından dolayı üzüntümüzü belirtmek isteriz. Tüm anketlerimiz, misafirlerimizin kimlik ve pasaport bilgilerindeki ülkeye uygun dilde gitmektedir. Sizin profilinizde, anketinizin Arapça gitmesine neden olacak hiçbir bilgi görünmemekte olup, sistemsel bir hata olduğunu düşündüğümüz bu durumu IT departmanımız halen araştırmaktadır. Sizi en yakın zamanda otelimizde yeniden ağırlamaktan memnuniyet duyarız. Saygılarımızla, Sinem Onuk Misafir Ilişkileri Yetkilisi Guest Relations Executive Swissôtel Buyuk Efes, Izmir Gaziosmanpasa Bulvari No:1 | Alsancak, 35210 Izmir | Turkey Tel: +90(0….5176 | Mob: +90(0….1331 | Fax: +90(0….1010 E-mail: si… | www.swissotel.com/izmir

Clean,well located,green garden,excellent beds,polite caring staff,not old decoration

Customer review rating 4.5/5

Dina J. Couples - 14/02/2020 Confirmed reviews ALL

After staying in Istanbul branch I decided to stay in Swissôtel everywhere i go.well located,green garden,nice smell,beautiful decorations,amd the best part is the comfortable beds and pillows,i liked big windows with nice view,and especially kind polite caring staff,the lobby is beautiful,the security is great,so safe.it was just near the sea.the breakfast is so delicious,diverse and is served in a beautiful place.

Dear Dina j., We very much appreciate your evaluation regarding your recent stay at Swissotel Buyuk Efes İzmir. It is always a pleasure to receive such positive feedback and I will be delighted to share your kind comments and compliments with all our colleagues. Thank you for sharing your experience and we look forward to warmly welcome you back in the near future. Yours cordially, Sinem Onuk Misafir Ilişkileri Yetkilisi Guest Relations Executive Swissôtel Buyuk Efes, Izmir Gaziosmanpasa Bulvari No:1 | Alsancak, 35210 Izmir | Turkey Tel: +90(0….5176 | Mob: +90(0….1331 | Fax: +90(0….1010 E-mail: si… | www.swissotel.com/izmir

Customer review rating 4.5/5

Mahrous Business - 13/02/2020 Confirmed reviews ALL

Dear Khaled Z., Thank you for taking your time to complete our survey and share your experience of us. We are pleased to hear that you have enjoyed your stay. As we always aim to improve our service quality, your feedback is very important for us. We always try to give proper ugrades to all of our valuable guests only upon availability of the rooms and when there isn't enough avaliability, we offer the upgrade with the best rate available to our guests in case they want to change their rooms. We hope to welcome you back to Swissotel Büyük Efes İzmir for your future İzmir visits. Yours cordially, Sinem Onuk Guest Relations Executive Swissôtel Buyuk Efes, Izmir Gaziosmanpasa Bulvari No:1 | Alsancak, 35210 Izmir | Turkey Tel: +90(0….5176 | Mob: +90(0….1331 | Fax: +90(0….1010 E-mail: si… | www.swissotel.com/izmir

Disappointed

Customer review rating 4.5/5

S.perry Families - 06/02/2020 Confirmed reviews ALL

I checked out 29th of January you still haven't put the deposits and extra night (??) charge back in my credit card. It has been 10 days. You are still holding my money. I will never stay at a Swissôtel again.

Dear Sezen P., Thank you for taking the time to tell us about your experience at the Swissôtel Büyük Efes. We strive to provide a superior service experience for every customer; therefore each feedback is very important to us. Firstly i would like to say ,although this issue is related with bank we tried to help you. Let me inform you about deposit procedure to make the topic clear. Whenever guest check out, the deposit cancellation has been apply by receptionist directly. After that all process is on bank side. Unfortunately we can not control Turkish or İnternational bank process. But we called Turkish bank to do their best. Please contact your bank to follow the situation. If I can be of any assistance to you in the meantime, please do not hesitate to contact me directly on (0…76) We are looking forward to welcoming you again at Swissôtel. Please do not hesitate to contact me during your next visit. Sincerely, Öznur GÜMÜŞKAYA Guest Relations Manager Swissôtel Büyük Efes, Izmir Gaziosmanpasa Bulvari No:1 | Alsancak, 35210 Izmir | Turkey Tel : +90(0….5176 | Mob : +90(0….1326 | Fax :+90(0….1010 E-mail:oz…

Our most recent 20 reviews
Our other hotels nearby