Swissôtel Nankai Osaka
Swissôtel Nankai Osaka 5 stars
Customer review rating (ALL Rating) 4.3/5
871 reviews
Hotel location
Swissôtel Nankai Osaka
5 1 60 Namba Chuo ku
542 0076 OSAKA
Japan
GPS:34.664095, 135.501397
Access and transport
OSAKA INTERNATIONAL AIRPORT
Int. airport 2 - full name
Access: 17.7 km / 11 mi 22 min drive
ITM
Int. airport 2 - IATA code
Access: 17.7 km / 11 mi 22 min drive
KANSAI INTERNATIONAL AIRPORT
Int. airport 1 - full name
Access: 43.3 km / 26.91 mi 48 min drive
KIX
Int. airport 1 - IATA code
Access: 43.3 km / 26.91 mi 48 min drive
Hotel services
Check-in from - Check out up to
In summary
On site
Swimming pool

Car park

Restaurant

Wheelchair accessible hotel

Well-being

Air conditioning

Wi-Fi

Breakfast

Bar

Meeting rooms
EMPRESS ROOM CHINESE RESTAURANT
This elegant restaurant serves a selection of savoury Cantonese favorites as well as our famous "Dim Sum Order Lunch Buffet".
HANA-GOYOMI JAPANESE RESTAURANT
Hana-Goyomi offers traditional Japanese cuisine, such as a Kaiseki style dining experience, combining an appreciation for the changing seasons with unparalleled culinary craftsmanship.
MINAMI TEPPANYAKI RESTAURANT
Our skilled Teppanyaki chefs prepare only the finest Japanese beef and freshest seafood in front of your eyes. Watch them work their magic while enjoying wine from our collection, sourced from leading wineries around the world.
SH'UN WINE AND DINE
"Kushiage" - Osaka's traditional deep fried skewer is SH'UN's specialty, which can be enjoyed from a selection of seasonal course menus or from the a la carte menu.
SWISS GOURMET
Swiss Gourmet offers freshly brewed coffee and daily baked homemade breads, cakes, sweets and savouries as well as a selection of Swiss chocolate. All these original hotel items are available for grab and go.
TABLE36
Table36 sits at the hotel's topmost floor, offering stunning day and night views of Osaka's cityscape 147 metres above ground. The Modern European all-day dining outlet brings the community of gourmands and culture seekers, local producers and artisans.
THE LOUNGE
The Lounge offers a comfortable and contemporary environment in which you can enjoy light meals, our unique afternoon tea sets, homemade cakes and desserts and a selection of international coffee and tea specialties, champagne, cocktails and more.
Your meetings and events
In a convenient location right above Nankai Railway's Namba station, hold events of all shapes and sizes at Swissôtel Nankai. Its 18 banquet & meeting rooms, including the newly refurbished Grand Ballroom, can host anywhere from 10 to 1,400 people. Alongside the latest conferencing technology and audiovisual equipment, our Swiss Meeting Specialists make sure your event, whether it be a business seminar, a product launch or a lavish wedding, runs smoothly. Add a special grandeur to your event with sweeping city views at the 35th Sky Banquet Floor, and hold the wedding of your dreams with 3 chapels to host both traditional Japanese and Western ceremonies.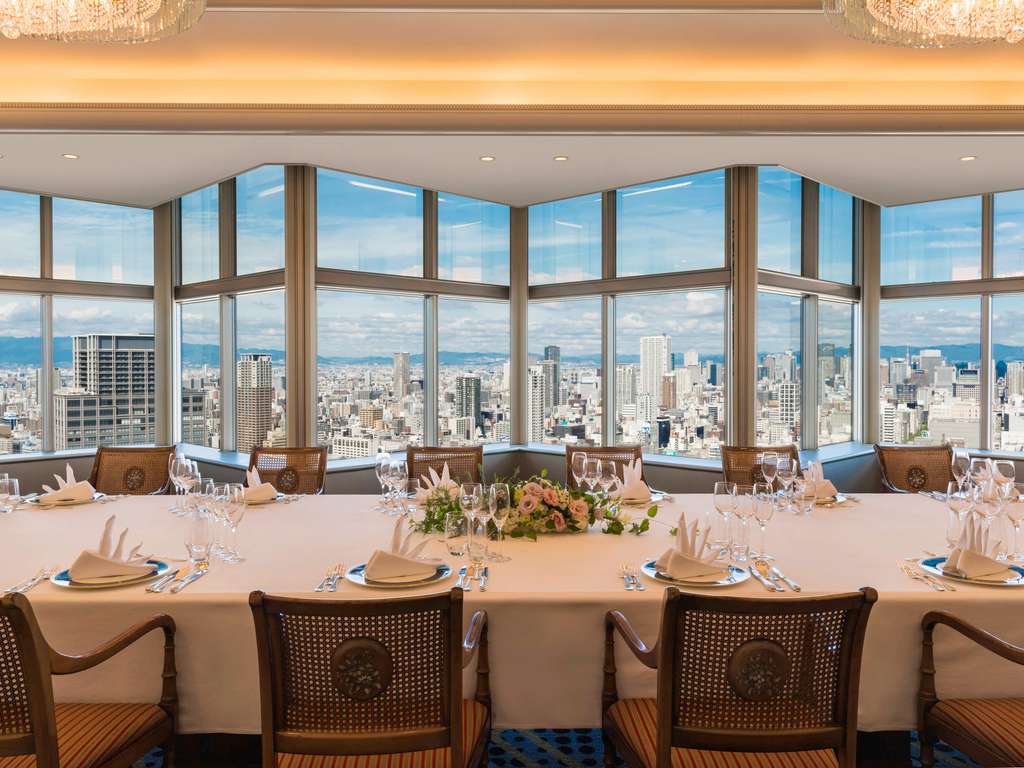 Room descriptions and layouts
From 1 to 1,400
attendees
Configuration is not available for these requirements
Unsure of the capacity needed for your event?

Convert different units of measurement and make organising your events easier.
Our accommodation(s)
Relax and revitalise in rooms that evoke both Osaka and Switzerland. Our 546 contemporary rooms and suites bring you modern comforts combined with cutting-edge technology in serene surroundings. Book a Swiss Executive room for Executive Lounge access.
Our guest reviews
Our guest reviews
100% genuine reviews from our guests
Find out more
Good loacation, great bed
Customer review rating 5.0/5
Anonymous Families - Confirmed reviews ALL
Great location for food and shopping.
TripAdvisor rating 5.0/5
Syam60 Couples - TripAdvisor review
Stayed a week, great to be back in my favourite hotel in Osaka. Was upgraded to a suite, enjoyed my diamond status at the club too. It is in a great location for food and shopping. The staff are very helpful . Special mention for Yuki at the club house, he handled my reservations very well and he remembered my birthday. I received a lovely birthday cake. It is great staff like that who go the extra mile that makes our stay really memorable. In Osaka, this is the place to stay. Looking forward to be back.
Dear Syam60, Thank you very much for making the Swissôtel Nankai Osaka your home away from home and your positive feedback provided. We are thrilled to learn that you have enjoyed your stay and that especially you liked our Swiss Hospitality and our great location. Your praise of the service is very much appreciated, and we already have shared these encouraging words to our team, most especially to Mr. Yuki who made sure that you will have a memorable experience on your special day. I wish to reassure you that we will remain steadfast in our pursuit towards ensuring exceptional service standards. We sincerely look forward to serving you again. Sincerely, Kazunori Tanaka Hotel Manager Swissôtel Nankai Osaka
Great stay
Customer review rating 4.0/5
Nadya Couples - Confirmed reviews ALL
Everything is great. Great location near Namba and Nankai. Great experience for ALL Platinum member. Room upgrades, executive lounges access, platinum hour, room upgrades, late checkout, welcome amenities, also bath salt, chamomile tea and firm pillow as requested before check in. I just don't really like the bathroom with glass in the bathtub that only cover partially, which cause water flooding the floor. Also there's problem in the lamp that can't be turn off and blinking. Pajamas size not fit my size.
Dear Valued Guest, Thank you very much for the detailed feedback and we appreciate your loyalty towards our hotel very much thrilled to learn that we exceeded your expectations with our hotel location, services and products. We are delighted to know that you feel valued by enjoying your privileges as our ALL-Platinum member. Guest satisfaction and creating memorable experiences are amongst our highest priorities, and it is always gratifying to receive such praise. Indeed, we have been focusing immensely on our service culture with dedicated training to all staff members and it is good to understand you have noticed that. We are also very pleased to know that Ms. Soejima, have given you an outstanding service. On the other hand, we feel sorry to read about the inconvenience you encountered with the bed lamp and wardrobe. As we are providing various sizes of wardrobes and are all available upon requests, it is unfortunate that we were not able to provide you with a wardrobe which fits you. Comments like yours are very important as they help us to identify opportunities to increase guest satisfaction. Please rest assured that we will keep making efforts to fulfill requirements of guests and making sure that all the furniture inside the room is working in a perfect condition so we can make guests stay more pleasant. We are grateful for your support and do hope that we may have the pleasure of your company at Swissôtel Nankai Osaka in the near future again. Sincerely, Kazunori Tanaka Hotel Manager Swissôtel Nankai Osaka
Convenient location
Customer review rating 4.0/5
Lyc Couples - Confirmed reviews ALL
Comfortable and convenience
Dear Valued Guest, Thank you for sharing your feedback following your recent experience at the Swissôtel Nankai Osaka. It is encouraging to learn that you loved your recent stay with us and enjoyed our hospitality. We have taken note of your remark pertaining to the lighting equipment and it is unfortunate that you contended with a discomfort. Please be assured that we are following up with the respective department as part of our drive for continuous improvement. Thank you for your highlight and recommendation, The convenient location of the Swissôtel Nankai Osaka allows our guests the opportunity to fully explore the Namba area and take advantage of all the wonderful dining, shopping and other attractions that make our city so great. We're so glad to see you had that chance and welcome you to return in the near future. Sincerely, Kazunori Tanaka Hotel Manager Swissôtel Nankai Osaka
Fair stay
Customer review rating 3.0/5
Angela T. Couples - Confirmed reviews ALL
When my husband and I went back to Hotel about 10pm on 24 Nov 2022, we found that the bedroom door was opened and a gap was found between the security padlock buckle. I do think that the cleaning team forgot to release the padlock buckle after cleaning the room. Please remind your colleague to close the bedroom door after cleaning in every single time. Luckily that we had not lost anything in our room. Anyway, we felt good in these few days staying in your hotel and satisfied the breakfast and service in the restaurant at 36/F.
Dear Valued Guest, Thank you for sharing your feedback following your recent experience at our top floor restaurant Table36. It is encouraging to learn that our breakfast buffet exceeded your expectations and that you have enjoyed the selection of food products we offer. We are also thrilled to hear that our service level was to your liking. We have taken note of your remarks in regard to your feeling towards safety when you returned back to your room. Our Housekeeping team has been strictly reminded on this and to properly close the door after room cleaning, please accept our sincere apology for this hiccups. Please rest assured that our security team keeps on monitoring all the public spaces including elevators and corridors to make sure that securities of our guests are protected. Thank you very much for sharing your concern. And your comment is very important to us, as it helps identifying opportunities to enhance the guest experience. We are grateful for your support and do hope that we may have the pleasure of your company at Swissôtel Nankai Osaka in the near future again. Sincerely, Kazunori Tanaka Hotel Manager
In partnership with TripAdvisor