Fairmont Nile City

5 stars
Customer review rating 4.5/5
4,061 reviews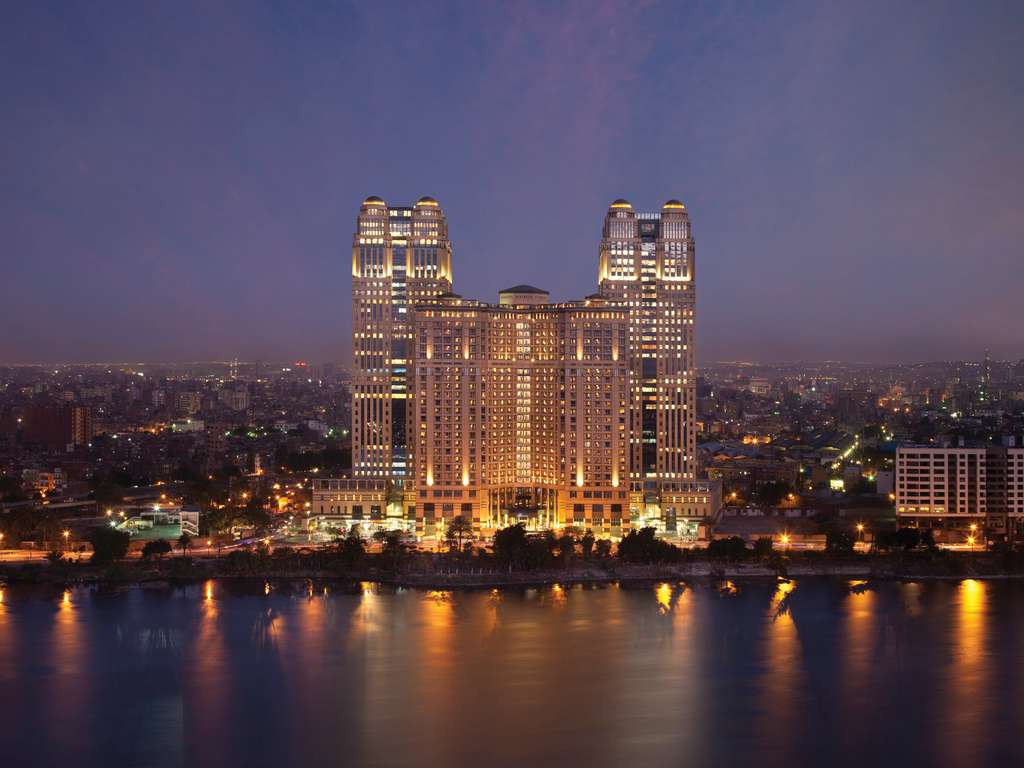 Hotel extras
Executive Floors

Nile Views

Rooftop Sky Pool

Accessible Rooms

Willow Stream Spa & Fitness Center
Services in the hotel and nearby
Hotel location
Fairmont Nile City
Nile City Towers 2005 B
Corniche El Nil
Ramlet Beaulac
2466
cairo
egypt
Tel:
+20224619494
Fax: (+20)224619595
Contact email :
nilecity@fairmont.com
FAIRMONT NILE CITY : Cairo Airport Bu Nile Bus Station
By plane

CAIRO INTERNATIONAL AIRPORT At 21km / 13 miles
GPS :30.072166, 31.227868
Your meetings and events
Fairmont Nile City offers a broad range of function rooms ranging from elegant boardrooms to chic banquet halls, all featuring state-of-the-art technology and premium services.Conveniently located as part of the prestigious Nile City complex, our luxury hotel is the ideal location for business events.Our five-star hotel offers a space of 845 square meters (9,100 square feet) in addition to 450 square meters (3,800 square feet) of outdoor meeting space comprising of eleven state-of-the-art function rooms including a ballroom, to meet your every need.

Unsure of the capacity needed for your event?

Convert different units of measurement and make organising your events easier.
Our accommodations
Art Deco and contemporary style come together to provide timeless elegance and sophistication as reflected throughout the 542 guest rooms and suites. All luxury accommodations offer generous comfort and are complemented by stunning views of the river Nile or the city.
Fairmont King NS
Max. number of persons:

2

Area:

From 33 m² / 355 sq ft

Views:

City side *
* Subject to availability
High speed internet
Bathrobe
Slippers
Coffee/tea making facilities
Direct dial telephone(...)
Fairmont King SK
Max. number of persons:

2

Area:

From 33 m² / 355 sq ft

Views:

City side *
* Subject to availability
High speed internet
Bathrobe
Slippers
Coffee/tea making facilities
Direct dial telephone(...)
Fairmont Double Dbl NS
Max. number of persons:

2

Area:

From 33 m² / 355 sq ft

Views:

City side *
* Subject to availability
High speed internet
Bathrobe
Slippers
Coffee/tea making facilities
Direct dial telephone(...)
Fairmont Double Dbl SM
Max. number of persons:

2

Area:

From 33 m² / 355 sq ft

Views:

City side *
* Subject to availability
High speed internet
Bathrobe
Slippers
Coffee/tea making facilities
Direct dial telephone(...)
Deluxe King NS
Max. number of persons:

2

Area:

From 33 m² / 355 sq ft
High speed internet
Bathrobe
Slippers
Coffee/tea making facilities
Direct dial telephone(...)
Deluxe King SM
Max. number of persons:

2

Area:

From 33 m² / 355 sq ft
High speed internet
Bathrobe
Slippers
Coffee/tea making facilities
Direct dial telephone(...)
Deluxe Double Dbl NS
Max. number of persons:

2

Area:

From 33 m² / 355 sq ft
High speed internet
Bathrobe
Slippers
Coffee/tea making facilities
Direct dial telephone(...)
Deluxe Double Dbl SM
Max. number of persons:

2

Area:

From 33 m² / 355 sq ft
High speed internet
Bathrobe
Slippers
Coffee/tea making facilities
Direct dial telephone(...)
Deluxe Premier Dbl NS
Max. number of persons:

2

Area:

From 33 m² / 355 sq ft
High speed internet
Bathrobe
Slippers
Coffee/tea making facilities
Direct dial telephone(...)
Deluxe Premier Dbl SM
Max. number of persons:

2

Area:

From 33 m² / 355 sq ft
High speed internet
Bathrobe
Slippers
Coffee/tea making facilities
Direct dial telephone(...)
Deluxe Premier King NS
Max. number of persons:

2

Area:

From 33 m² / 355 sq ft
High speed internet
Bathrobe
Slippers
Coffee/tea making facilities
Direct dial telephone(...)
Deluxe Premier King SM
Max. number of persons:

2

Area:

From 33 m² / 355 sq ft
High speed internet
Bathrobe
Slippers
Coffee/tea making facilities
Direct dial telephone(...)
Deluxe Nile King NS
Max. number of persons:

2

Area:

From 33 m² / 355 sq ft

Views:

River side *
* Subject to availability
High speed internet
Bathrobe
Slippers
Coffee/tea making facilities
Direct dial telephone(...)
Deluxe Nile King SM
Max. number of persons:

2

Area:

From 33 m² / 355 sq ft
High speed internet
Bathrobe
Slippers
Coffee/tea making facilities
Direct dial telephone(...)
Deluxe Nile Double Dbl NS
Max. number of persons:

2

Area:

From 33 m² / 355 sq ft

Views:

River side *
* Subject to availability
High speed internet
Bathrobe
Slippers
Coffee/tea making facilities
Direct dial telephone(...)
Deluxe Nile Double Dbl SM
Max. number of persons:

2

Area:

From 33 m² / 355 sq ft

Views:

River side *
* Subject to availability
High speed internet
Bathrobe
Slippers
Coffee/tea making facilities
Direct dial telephone(...)
Deluxe Nile Premier Dbl NS
Max. number of persons:

2

Area:

From 33 m² / 355 sq ft

Views:

River side *
* Subject to availability
High speed internet
Bathrobe
Slippers
Coffee/tea making facilities
Direct dial telephone(...)
Deluxe Nile Premier Dbl SM
Max. number of persons:

2

Area:

From 33 m² / 355 sq ft

Views:

River side *
* Subject to availability
High speed internet
Bathrobe
Slippers
Coffee/tea making facilities
Direct dial telephone(...)
Deluxe Nile Premier King NS
Max. number of persons:

2

Area:

From 33 m² / 355 sq ft

Views:

River side *
* Subject to availability
High speed internet
Bathrobe
Slippers
Coffee/tea making facilities
Direct dial telephone(...)
Deluxe Nile Premier King SM
Max. number of persons:

2

Area:

From 33 m² / 355 sq ft

Views:

River side *
* Subject to availability
High speed internet
Bathrobe
Slippers
Coffee/tea making facilities
Direct dial telephone(...)
Fairmont Gold Signature King NS
Max. number of persons:

3

Area:

From 56 m² / 603 sq ft

Views:

River side *
* Subject to availability
High speed internet
Bathrobe
Slippers
Coffee/tea making facilities
Direct dial telephone(...)
Fairmont Gold Signature King SM
Max. number of persons:

3

Area:

From 56 m² / 603 sq ft

Views:

River side *
* Subject to availability
High speed internet
Bathrobe
Slippers
Coffee/tea making facilities
Direct dial telephone(...)
Fairmont Gold Signature Double Dbl NS
Max. number of persons:

3

Area:

From 56 m² / 603 sq ft

Views:

River side *
* Subject to availability
High speed internet
Bathrobe
Slippers
Coffee/tea making facilities
Direct dial telephone(...)
Fairmont Gold Signature Kg NS Parlour
Max. number of persons:

3

Area:

From 56 m² / 603 sq ft

Views:

River side *

Most of the accommodation:

Terrace *
* Subject to availability
High speed internet
Bathrobe
Slippers
Coffee/tea making facilities
Direct dial telephone(...)
Fairmont Gold Signature Double Dbl SK
Max. number of persons:

3

Area:

From 56 m² / 603 sq ft

Views:

River side *
* Subject to availability
High speed internet
Bathrobe
Slippers
Coffee/tea making facilities
Direct dial telephone(...)
Fairmont Gold King NS
Max. number of persons:

2

Area:

From 33 m² / 355 sq ft

Views:

City side *
* Subject to availability
High speed internet
Bathrobe
Slippers
Coffee/tea making facilities
Direct dial telephone(...)
Fairmont Gold King SM
Max. number of persons:

2

Area:

From 33 m² / 355 sq ft

Views:

City side *
* Subject to availability
High speed internet
Bathrobe
Slippers
Coffee/tea making facilities
Direct dial telephone(...)
Fairmont Gold Double Dbl NS
Max. number of persons:

2

Area:

From 33 m² / 355 sq ft

Views:

City side *
* Subject to availability
High speed internet
Bathrobe
Slippers
Coffee/tea making facilities
Direct dial telephone(...)
Fairmont Gold Dbl SM
Max. number of persons:

2

Area:

From 33 m² / 355 sq ft

Views:

City side *
* Subject to availability
High speed internet
Bathrobe
Slippers
Coffee/tea making facilities
Direct dial telephone(...)
Fairmont Gold Nile King NS
Max. number of persons:

2

Area:

From 33 m² / 355 sq ft

Views:

River side *
* Subject to availability
High speed internet
Bathrobe
Slippers
Coffee/tea making facilities
Direct dial telephone(...)
Fairmont Gold Nile King SM
Max. number of persons:

2

Area:

From 33 m² / 355 sq ft

Views:

River side *
* Subject to availability
High speed internet
Bathrobe
Slippers
Coffee/tea making facilities
Direct dial telephone(...)
Fairmont Gold Nile Dbl Dbl NS
Max. number of persons:

2

Area:

From 33 m² / 355 sq ft

Views:

River side *
* Subject to availability
High speed internet
Bathrobe
Slippers
Coffee/tea making facilities
Direct dial telephone(...)
Fairmont Gold Nile Dbl Dbl SK
Max. number of persons:

2

Area:

From 33 m² / 355 sq ft

Views:

River side *
* Subject to availability
High speed internet
Bathrobe
Slippers
Coffee/tea making facilities
Direct dial telephone(...)
Fairmont Gold Signature King NS Floor 14-16
Max. number of persons:

3

Area:

From 56 m² / 603 sq ft

Views:

River side *

Most of the accommodation:

Terrace *
* Subject to availability
High speed internet
Bathrobe
Slippers
Coffee/tea making facilities
Direct dial telephone(...)
Fairmont Gold Signature Dbl Dbl NS Floor 14-16
Max. number of persons:

3

Area:

From 56 m² / 603 sq ft

Views:

River side *

Most of the accommodation:

Terrace *
* Subject to availability
High speed internet
Bathrobe
Slippers
Coffee/tea making facilities
Direct dial telephone(...)
Rooms
Our guest reviews for
Fairmont Nile City
100% genuine reviews from our guests

Find out more

Good

Customer review rating 4.5/5

Rami J. Families - 21/02/2020 Confirmed reviews ALL

The parking is not free and the price for the room is expensive

Dear Rami J., Thank you for taking the time to tell us about your experience at the Fairmont Nile City. I am sorry that your experience did not meet your expectations; please allow me to express my sincerest apologies. At Fairmont, we strive to provide a superior service experience for every customer; therefore your feedback is very important to us. Please rest assured that we are taking the appropriate measures to address the problem and prevent future occurrence. We appreciate your sharing your concerns, and it is our hope that you will give us the opportunity to better serve you in the near future. Sincerely,

it's get stars on all sides

Customer review rating 4.5/5

Bandar A. Solo - 15/02/2020 Confirmed reviews ALL

it was nice, every thing is comfort , reception the room and all facility was great

Dear Bandar A., We very much appreciate your comments regarding your stay at the Fairmont Nile City. It is always a pleasure to receive positive feedback. I will share your comments with our team. I am sure that this feedback will serve as an encouragement to all of our staff as we strive to continuously improve the quality of our services. Thank you again for sharing your experience, and we hope your next visit will be as pleasant as the previous one. Sincerely,

by no means a five star premise

Customer review rating 4.5/5

Tamer M. Business - 30/01/2020 Confirmed reviews ALL

in a non smoke room, cigarette smoke fro neighbors is overwhelming plus incense lit on fire which would be a hazard anywhere but here. cleaners in the corridors are loudly calling on each other. joking and even insulting as if no one can hear them. emergency exit doors are mostly left wide open where you can clearly see back areas with stored items which not only doesn't look good but show that in case of emergency there would be not enough place for evacuation. security guy didn't check the bags of two good looking women. security from mall to hotel is worthless, every single person passing the metal detector beeps loudly and yet no one is stopped, it's just routine. Indoor smoking is a trend of the past and has been banned in most countries, yet here where ever you go smoking is a norm, the ballroom is none smoking yet on breaks, 300 people would be smoking in the foyer which is just next door, overwhelming the place with smoke. food ordered in the room looked not fresh, greasy, and anything but mouth watering. for some reason be it in the ballroom, in the foyer or at the mall there are always uncontrolled air currents for to make anyone sick. the mall that used to be an elite outing just a few years ago has turned into a can of smoking and aggressive cold air currents and random cheap kiosks scattered in the least appealing way. other than that people are polite.

Dear Tamer M., Thank you for taking the time to tell us about your experience at the Fairmont Nile City. I am sorry that your experience did not meet your expectations; please allow me to express my sincerest apologies. At Fairmont, we strive to provide a superior service experience for every customer; therefore your feedback is very important to us. Please rest assured that we are taking the appropriate measures to address the problem and prevent future occurrence. We appreciate your sharing your concerns, and it is our hope that you will give us the opportunity to better serve you in the near future. Sincerely,

Well located

Customer review rating 4.5/5

Hadi A. H. Solo - 23/01/2020 Confirmed reviews ALL

It was very pleasure staying in this luxury hotel with such spacious rooms and nice services. However, two things need to be looked at, the first one is the waiting time for baggage after check in. It took longer time than normal and I was forced to come down myself to pick up my baggage. The other thing is the lobby which is narrow to some extent. I hope they look into those two things which could really put this hotel one of the best hotels worldwide. Thanks

Dear Hadi A., We very much appreciate your comments regarding your stay at the Fairmont Nile City. It is always a pleasure to receive positive feedback. I will share your comments with our team. I am sure that this feedback will serve as an encouragement to all of our staff as we strive to continuously improve the quality of our services. Thank you again for sharing your experience, and we hope your next visit will be as pleasant as the previous one. Sincerely,

Lounge floor breakfast was amazing

Customer review rating 4.5/5

Anonymous Friends - 09/01/2020 Confirmed reviews ALL

Very clean hotel that U would recommend. However, I would not recommend eating at the restaurant on the 1st floor. The mushroom risotto was terrific but the non smoking section is surrounded by smoking sections

Dear Darlene S., We very much appreciate your comments regarding your stay at the Fairmont Nile City. It is always a pleasure to receive positive feedback. I will share your comments with our team. I am sure that this feedback will serve as an encouragement to all of our staff as we strive to continuously improve the quality of our services. Thank you again for sharing your experience, and we hope your next visit will be as pleasant as the previous one. Sincerely,

Our most recent 20 reviews

In partnership with TripAdvisor