Fairmont The Palm

5 stars
Customer review rating 4.6/5
7,031 reviews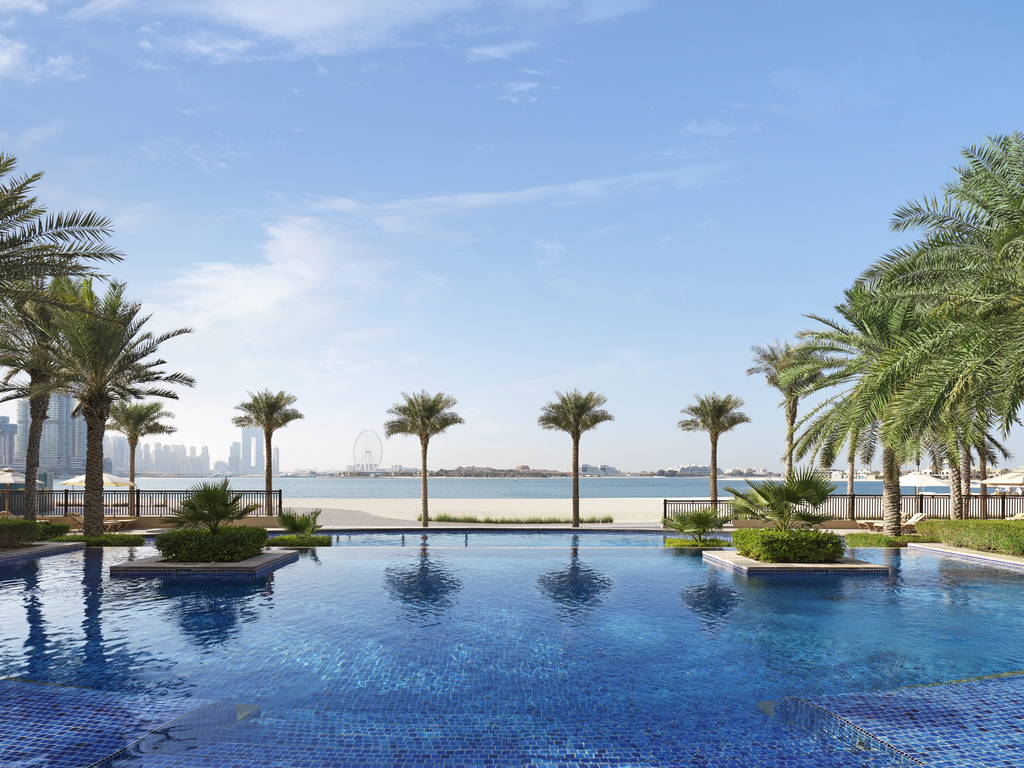 Hotel extras
Free Wi-Fi

Easy access to the city, 5 minutes away from our resort

Complimentary shuttle to Dubai's best malls, Mall of the Emirates and Dubai Mall

All day Kids' Club access available to Suites, Fairmont Gold and Heritage Place guests

Award winning restaurants
Services in the hotel and nearby
Information message
Welcoming, safeguarding and taking care of guests is at the heart of everything we do. We have taken extensive actions complying with UAE government's COVID-19 regulations to ensure the safety of our guests and employees.
Hotel location
Fairmont The Palm
Palm Jumeirah
72413
dubai
united arab emirates
INTERNET CITY : Red & Green Internet City
By plane

ABU DHABI INTERNATIONAL AIRPORT At 105km / 65.24 miles

By plane

AL MAKTOUM INTERNATIONAL AIRPORT At 39km / 24.23 miles

By plane

DUBAI INTERNATIONAL AIRPORT At 35km / 21.75 miles
GPS :25.1101522, 55.1388451
Your meetings and events
Fairmont The Palm Dubai features a meeting facility covering over 3000 square metres that can host a range of events from corporate meetings press conferences incentive.And team building activities to outdoor receptions, weddings and bespoke social events.Eight versatile rooms almost all flooded with natural light include a ballroom that can accommodate upwards to 700 guests and outdoor venues including a courtyard and sea facing terraces all with comprehensive audio visual technology.

Unsure of the capacity needed for your event?

Convert different units of measurement and make organising your events easier.
Our accommodations
Luxury with an Arabian accent is the hallmark of a stay in any one of our 381 stylish and contemporary guest rooms and suites with tailor-made accommodation options for romantic getaways through to family vacations.
Fairmont Room King (Non-Smoking).
Max. number of persons:

3

Area:

From 48 m² / 517 sq ft

Most of the accommodation:

Balcony *
* Subject to availability
High speed internet
Bathrobe
Slippers
Direct dial telephone
Fairmont Room 2 Queen (Non Smoking)
Max. number of persons:

4

Area:

From 52 m² / 560 sq ft

Most of the accommodation:

Balcony *
* Subject to availability
High speed internet
Bathrobe
Slippers
Direct dial telephone
Fairmont Room King (Smoking)
Max. number of persons:

3

Area:

From 48 m² / 517 sq ft

Most of the accommodation:

Balcony *
* Subject to availability
High speed internet
Bathrobe
Slippers
Direct dial telephone
Fairmont Room 2 Queen (Smoking)
Max. number of persons:

4

Area:

From 52 m² / 560 sq ft

Most of the accommodation:

Balcony *
* Subject to availability
High speed internet
Bathrobe
Slippers
Direct dial telephone
Fairmont View Room King (Non Smoking)
Max. number of persons:

3

Area:

From 48 m² / 517 sq ft

Most of the accommodation:

Balcony *
* Subject to availability
High speed internet
Bathrobe
Slippers
Direct dial telephone
Fairmont View Room 2 Queen (Non Smoking)
Max. number of persons:

4

Area:

From 52 m² / 560 sq ft

Most of the accommodation:

Balcony *
* Subject to availability
High speed internet
Bathrobe
Slippers
Direct dial telephone
Fairmont View Room King (Smoking)
Max. number of persons:

3

Area:

From 48 m² / 517 sq ft

Most of the accommodation:

Balcony *
* Subject to availability
High speed internet
Bathrobe
Slippers
Direct dial telephone
Fairmont View Room 2 Queen (Smoking)
Max. number of persons:

4

Area:

From 52 m² / 560 sq ft

Most of the accommodation:

Balcony *
* Subject to availability
High speed internet
Bathrobe
Slippers
Direct dial telephone
Deluxe Room King (Non Smoking)
Max. number of persons:

3

Area:

From 48 m² / 517 sq ft

Views:

Ocean/Sea view *

Most of the accommodation:

Balcony *
* Subject to availability
High speed internet
Bathrobe
Slippers
Direct dial telephone
Deluxe Room 2 Queen (Non Smoking)
Max. number of persons:

4

Area:

From 52 m² / 560 sq ft

Views:

Ocean/Sea view *

Most of the accommodation:

Balcony *
* Subject to availability
High speed internet
Bathrobe
Slippers
Direct dial telephone
Deluxe Room King (Smoking)
Max. number of persons:

3

Area:

From 48 m² / 517 sq ft

Views:

Ocean/Sea view *

Most of the accommodation:

Balcony *
* Subject to availability
High speed internet
Bathrobe
Slippers
Direct dial telephone
Deluxe Room 2 Queen (Smoking)
Max. number of persons:

4

Area:

From 52 m² / 560 sq ft

Most of the accommodation:

Balcony *
* Subject to availability
High speed internet
Bathrobe
Slippers
Direct dial telephone
Fairmont Gold Room King (Non Smoking)
Max. number of persons:

3

Area:

From 48 m² / 517 sq ft

Most of the accommodation:

Balcony *
* Subject to availability
High speed internet
Bathrobe
Slippers
Direct dial telephone
Fairmont Gold Room 2 Queen (Non Smoking)
Max. number of persons:

3

Area:

From 52 m² / 560 sq ft

Most of the accommodation:

Balcony *
* Subject to availability
High speed internet
Bathrobe
Slippers
Direct dial telephone
Fairmont Gold View Room King (Non Smoking)
Max. number of persons:

3

Area:

From 48 m² / 517 sq ft

Views:

Ocean/Sea view *

Most of the accommodation:

Balcony *
* Subject to availability
High speed internet
Bathrobe
Slippers
Direct dial telephone
Fairmont Gold View Room 2 Queen (Non Smoking)
Max. number of persons:

4

Area:

From 52 m² / 560 sq ft

Views:

Ocean/Sea view *

Most of the accommodation:

Balcony *
* Subject to availability
High speed internet
Bathrobe
Slippers
Direct dial telephone
Rooms
Our guest reviews for
Fairmont The Palm
100% genuine reviews from our guests

Find out more

Perfection

Customer review rating 4.6/5

Culturevulture Couples - 30/03/2020 Confirmed reviews ALL

Having travelled for our anniversary to dubai just before the current pandemic got worse. Our trip entailed a few day stay at downtown following which we spent the remaining period at fairmont palm. Upon arrival and tgroughout our stay the staff were very courteous, very approachable, very helpful. Excellent clean facilities, great for families and couples alike. The location is great to explore the palm and nearby attractions, like medina jumeirah souk, the marina, miracle gardens, global food village. Also they have a small mall opposite called nakheel mall and a shuttle bus to both emirates mall and dubai mall. From dubai mall places like city walk or jumeriah beach are a short taxi ride away. Some of the onsite facilities include pool and sunbathing area for adults, seperate one for children, beach facing the palm, onsite spa, gym, and restaurants. The buffet restaurant was great at breakfast and lunch/dinner had variety of options daily, the other restaurants to try are "little miss india" the best curries in dubai. But our favourite of all was the "BA" restaurant, great romantic atmosphere, excellant food and ambience. We will definately use Fairmont hotels in the future.

Dear Naveed A., We very much appreciate your comments regarding your stay at the Fairmont The Palm. It is always a pleasure to receive positive feedback. I will share your comments with our team. I am sure that this feedback will serve as an encouragement to all of our staff as we strive to continuously improve the quality of our services. Thank you again for sharing your experience, and we hope your next visit will be as pleasant as the previous one. Sincerely, Best Regards, SHERIF AHMED DIRECTOR, FRONT OFFICE

Enjoyable Stay

Customer review rating 4.6/5

Graeme G. Couples - 29/03/2020 Confirmed reviews ALL

Despite our early arrival, we were allocated our room immediately and additionally given an upgrade. This was very much appreciated. The facilities both in the room and the hotel were excellent and we really appreciated the free shuttle bus service to the Dubai Mall. All the staff were attentive and extremely helpful and made for a very enjoyable stay.

Dear Graeme G., We very much appreciate your comments regarding your stay at the Fairmont The Palm. It is always a pleasure to receive positive feedback. I will share your comments with our team. I am sure that this feedback will serve as an encouragement to all of our staff as we strive to continuously improve the quality of our services. Thank you again for sharing your experience, and we hope your next visit will be as pleasant as the previous one. Sincerely, SHERIF AHMED DIRECTOR, FRONT OFFICE

Customer review rating 4.6/5

Sandra T. Families - 28/03/2020 Confirmed reviews ALL

Had a fab time the staff are all really helpful nothing was too much trouble. Thankyou to the kitchen staff for helping out with the babies food. We really appreciated this. The only negative comment was the location of the room I don't think it is a good idea to put families with babies at the front of the hotel it got a little noisy at times with the traffic We will definitely be returning to this hotel the food was amazing. Thank you for a wonderful holiday.

Dear Greetings from Fairmont The Palm, and we hope you had a safe and pleasant journey home. First may we thank you for selecting Fairmont The Palm as your chosen holiday destination, and for taking the time to fill in the online survey about your recent stay. It is only through guest feedback we are able to improve on our services, and the complimentary feedback you have provided has been shared with the senior leaders of the hotel, and has been cascaded to the relevant teams and colleagues. Your feedback is invaluable and we appreciate the time you have taken to write this, and it will definitely act as further encouragement to our teams to deliver on our service promise with a smile. We hope to welcome you back in the near future and extend our warm hospitality to you again. Should I be of any assistance in the future, please do not hesitate to contact me personally. Warm regards, SHERIF AHMED DIRECTOR, FRONT OFFICE

Experts in relaxation

Customer review rating 4.6/5

J. C. Families - 24/03/2020 Confirmed reviews ALL

For our family was a very relaxing time

Dear C. J., Greetings from Fairmont The Palm, and we hope you had a safe and pleasant journey home. First may we thank you for selecting Fairmont The Palm as your chosen holiday destination, and for taking the time to fill in the online survey about your recent stay. It is only through guest feedback we are able to improve on our services, and the complimentary feedback you have provided has been shared with the senior leaders of the hotel, and has been cascaded to the relevant teams and colleagues. Your feedback is invaluable and we appreciate the time you have taken to write this, and it will definitely act as further encouragement to our teams to deliver on our service promise with a smile. We hope to welcome you back in the near future and extend our warm hospitality to you again. Should I be of any assistance in the future, please do not hesitate to contact me personally. Warm regards, SHERIF AHMED DIRECTOR, FRONT OFFICE

Understanding we would have to wait for our room, we were delightfully upgraded. Thank you.

Customer review rating 4.6/5

Scott A. W. Couples - 23/03/2020 Confirmed reviews ALL

Dear Scott W., Greetings from Fairmont The Palm, and we hope you had a safe and pleasant journey home. First may we thank you for selecting Fairmont The Palm as your chosen holiday destination, and for taking the time to fill in the online survey about your recent stay. It is only through guest feedback we are able to improve on our services, and the complimentary feedback you have provided has been shared with the senior leaders of the hotel, and has been cascaded to the relevant teams and colleagues. Your feedback is invaluable and we appreciate the time you have taken to write this, and it will definitely act as further encouragement to our teams to deliver on our service promise with a smile. We hope to welcome you back in the near future and extend our warm hospitality to you again. Should I be of any assistance in the future, please do not hesitate to contact me personally. Warm regards, Olga Nianchuk Assistant Front Office Manager

Our most recent 20 reviews