Novotel Ambassador Seoul Dongdaemun Hotels & Residences Hotel

5 stars
Customer review rating
4.5/5
2,121 reviews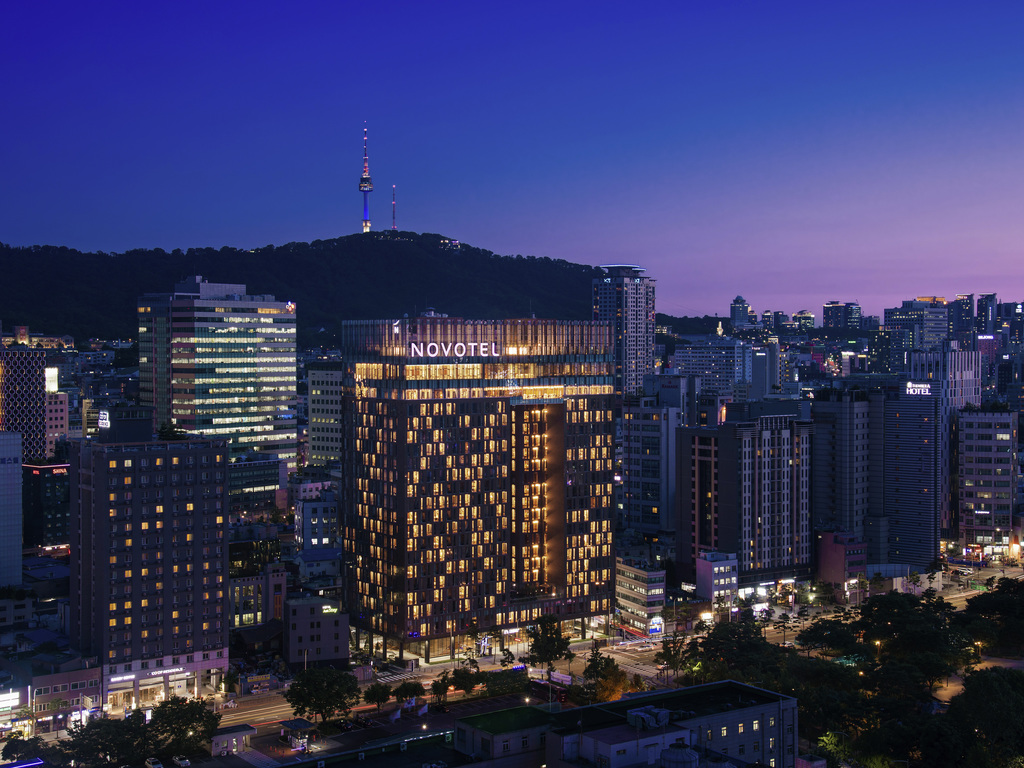 Hotel extras
Enrich your trip with Genie Phone! Try our hotel smart concierge service phone which provides free international calls and data, lists of fine restaurants, tour sites information and so on, while you stay in our hotel.
Services in the hotel and nearby
Information message
Our fitness centre(except for swimming pool) is temporarily closed until April 5, 2020 according to the government's strong guidelines. We look forward to welcome you soon. If you have any inquiries, please contact us: +82 (0) 2 3425 8000
Hotel location
Novotel Ambassador Seoul Dongdaemun Hotels & Residences
238 Euljiro
Jung Gu
04561
seoul
korea, republic of
DONGDAEMUN H&C PARK STATION : LINE 2 4 5 EXIT 12
By plane

GIMPO INT AIRPORT At 29.48km / 18.32 miles

By plane

INCHEON At 68km / 42.25 miles - Shuttle paying

By train

DONGDAEMUN DDP STA At 0.4km / 0.25 miles

By train

SEOUL STATION At 5.5km / 3.42 miles
GPS :37.566388, 127.004313
Companies and event centres nearby
Companies
AREVA KOREA
3.0 km / 1.86 mi
BMW KOREA
3.0 km / 1.86 mi
BOEHRINGR INGEKHEM
3.0 km / 1.86 mi
MH POWER SYSTEMS
1.5 km / 0.93 mi
SPECIALIZED KOREA
3.0 km / 1.86 mi
SSANGYONG CEMENT
1.5 km / 0.93 mi
VOLVO KOREA
3.0 km / 1.86 mi
Exhibition and convention centre
Your meetings and events

Unsure of the capacity needed for your event?

Convert different units of measurement and make organising your events easier.
Our accommodations
Enjoy work and quietness. Our superior room mixes modern decor, ergonomic comfort and high end facilities: 1 Queen bed with ensuite shower, large work area, 55" LED TV, WiFi, minibar, hair dryer, iron, safe. Up to 2 adults and 1 child. Choose comfort and space for short-term and extended stay. The modern, spacious Residence room features a comfortable bed with en-suite bath/shower, work area, 55" TV, WiFi, washer, dryer and kitchen facilities. Up to 2 adults and 1 child.
Standard Room with 1 queensize bed
Max. number of persons:

3

Area:

From 23m²

Views:

City side *
* Subject to availability
Wireless internet in your room
High speed internet
Free in Room Mineral Water
Coffee/tea making facilities
Satellite/cable colour TV(...)
Superior Room with 2 single beds
Max. number of persons:

2

Area:

From 29m²

Views:

City side *
* Subject to availability
Wireless internet in your room
High speed internet
Free in Room Mineral Water
Coffee/tea making facilities
Satellite/cable colour TV(...)
Superior Room with 1 queensize bed
Max. number of persons:

3

Area:

From 29m²

Views:

City side *
* Subject to availability
Wireless internet in your room
High speed internet
Free in Room Mineral Water
Coffee/tea making facilities
Satellite/cable colour TV(...)
Superior Room with 3 single beds
Max. number of persons:

4

Area:

From 29m²

Views:

City side *
* Subject to availability
Wireless internet in your room
High speed internet
Free in Room Mineral Water
Coffee/tea making facilities
Satellite/cable colour TV(...)
Superior Family Twin Room with 1 queensize bed and 1 single bed
Max. number of persons:

4

Area:

From 29m²

Views:

City side *
* Subject to availability
Wireless internet in your room
High speed internet
Free in Room Mineral Water
Coffee/tea making facilities
Satellite/cable colour TV(...)
Residence Deluxe Room with 1 kingsize bed
Max. number of persons:

3

Area:

From 53m²

Views:

City side *
* Subject to availability
Wireless internet in your room
High speed internet
Free in Room Mineral Water
Coffee/tea making facilities
Satellite/cable colour TV(...)
Residence Deluxe Room with 3 single beds
Max. number of persons:

4

Area:

From 53m²

Views:

City side *
* Subject to availability
Wireless internet in your room
High speed internet
Free in Room Mineral Water
Coffee/tea making facilities
Satellite/cable colour TV(...)
Executive Room with 1 queensize bed
Max. number of persons:

3

Area:

From 29m²

Views:

City side *
* Subject to availability
Wireless internet in your room
High speed internet
Free in Room Mineral Water
Coffee/tea making facilities
Satellite/cable colour TV(...)
Executive Room with 2 single beds
Max. number of persons:

3

Area:

From 29m²

Views:

City side *
* Subject to availability
Wireless internet in your room
High speed internet
Free in Room Mineral Water
Coffee/tea making facilities
Satellite/cable colour TV(...)
Residence Premier 1 Bedroom with 1 Kingsize bed
Max. number of persons:

3

Area:

From 81m²

Views:

City side *
* Subject to availability
Wireless internet in your room
High speed internet
Free in Room Mineral Water
Coffee/tea making facilities
Satellite/cable colour TV(...)
Premier Suite with 1 kingsize bed
Max. number of persons:

3

Area:

From 44m²

Views:

City side *
* Subject to availability
Wireless internet in your room
High speed internet
Free in Room Mineral Water
Coffee/tea making facilities
Satellite/cable colour TV(...)
Residence Studio with 1 kingsize bed
Max. number of persons:

3

Area:

From 26m²

Views:

City side *
* Subject to availability
Wireless internet in your room
High speed internet
Free in Room Mineral Water
Coffee/tea making facilities
Satellite/cable colour TV(...)
Our guest reviews for
Novotel Ambassador Seoul Dongdaemun Hotels & Residences
100% genuine reviews from our guests

Find out more

best novotel in Seoul

Customer review rating 4.5/5

James Couples - 11/03/2020 Confirmed reviews ALL

great stay, this was my first time in Novotel dongdaemun and it was surprisingly better than Novotel Yongsan.

Dear Hwang H., We very much appreciate your comments regarding your stay at the Novotel Ambassador Seoul Dongdaemun Hotels & Residences. It is always a pleasure to receive positive feedback. I will share your comments with our team. I am sure that this feedback will serve as an encouragement to all of our staff as we strive to continuously improve the quality of our services. Thank you again for sharing your experience, and we hope your next visit will be as pleasant as the previous one. Sincerely, Duty Manager Paul Sohn

Good stay

Customer review rating 4.5/5

Jin Families - 01/03/2020 Confirmed reviews ALL

Kind and well trained staff

Dear Jin P., We very much appreciate your comments regarding your stay at the Novotel Ambassador Seoul Dongdaemun Hotels & Residences. It is always a pleasure to receive positive feedback. I will share your comments with our team. I am sure that this feedback will serve as an encouragement to all of our staff as we strive to continuously improve the quality of our services. Thank you again for sharing your experience, and we hope your next visit will be as pleasant as the previous one. Sincerely, Front office Supervisor Aiden Kim

Very comfortable and well placed hotel. Friendly staff

Customer review rating 4.5/5

Franck Families - 22/02/2020 Confirmed reviews ALL

Staying for few days , very good experience in this nice hotel. Did not experience restaurant.

Dear Franck G., We very much appreciate your comments regarding your stay at the Novotel Ambassador Seoul Dongdaemun Hotels & Residences. It is always a pleasure to receive positive feedback. I will share your comments with our team. I am sure that this feedback will serve as an encouragement to all of our staff as we strive to continuously improve the quality of our services. Thank you again for sharing your experience, and we hope your next visit will be as pleasant as the previous one. Sincerely, Front office Supervisor Aiden Kim

Good Attentive Staff

Customer review rating 4.5/5

Angeline Families - 18/02/2020 Confirmed reviews ALL

I visited the Hotel with family and upon my arrival, the hotel front desk is expecting me and arrange same floor room for my family to stay close and also bring us to the lounge for check in. They are attentive with Jennifer is also very helpful with recommendations of places to visit. Overall is a good experience with the Hotel.

Dear Angeline Lai Yong T., We very much appreciate your comments regarding your stay at the Novotel Ambassador Seoul Dongdaemun Hotels & Residences. It is always a pleasure to receive positive feedback. I will share your comments with our team. I am sure that this feedback will serve as an encouragement to all of our staff as we strive to continuously improve the quality of our services. Thank you again for sharing your experience, and we hope your next visit will be as pleasant as the previous one. Sincerely, Front office supervisor Aiden Kim

Well located

Customer review rating 4.5/5

Young I. P. Families - 18/02/2020 Confirmed reviews ALL

Location was great. Ppl work there were kind and nice.

Dear Young Iee P., We very much appreciate your comments regarding your stay at the Novotel Ambassador Seoul Dongdaemun Hotels & Residences. It is always a pleasure to receive positive feedback. I will share your comments with our team. I am sure that this feedback will serve as an encouragement to all of our staff as we strive to continuously improve the quality of our services. Furthermore, we will keep try to improve the quality of foods at our main restaurant, Food Exchange. Thank you again for sharing your experience, and we hope your next visit will be as pleasant as the previous one. Sincerely yours, Noah Kim Duty Manager

Our most recent 20 reviews

In partnership with TripAdvisor