Fairmont Amman
5 stars
Customer review rating 4.7/5
1,334 reviews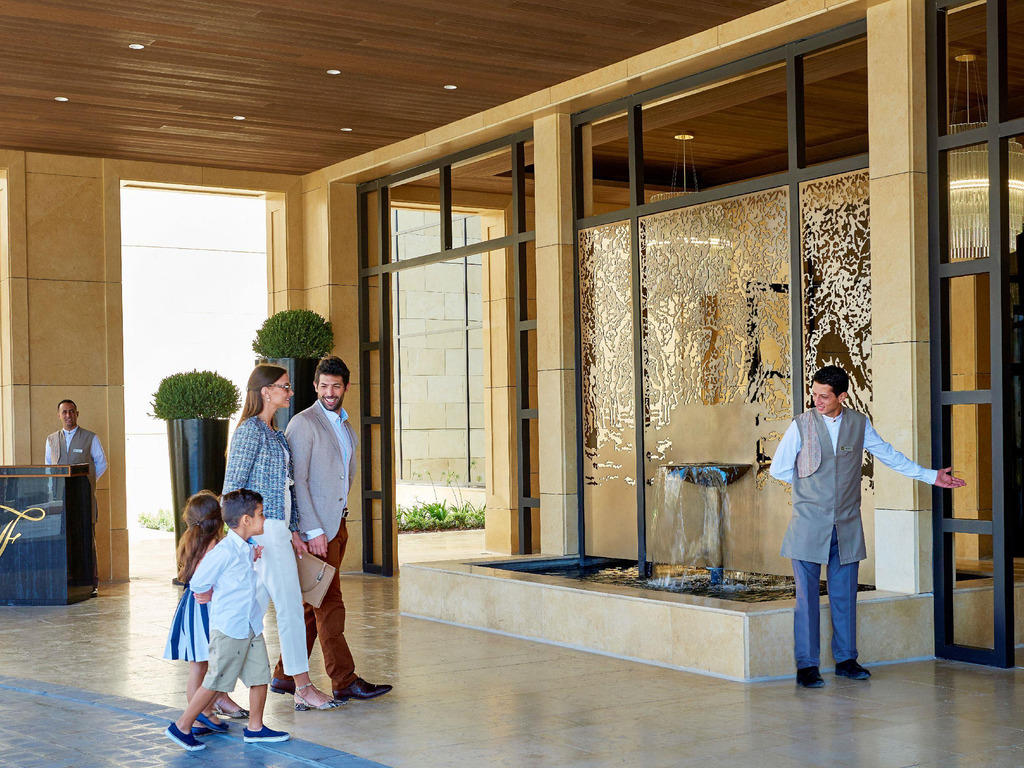 Hotel extras
Our pillow menu features unique types of pillows for a perfect night's sleep.

Spacious rooms and suites with breathtaking views of the stunning hills of Amman.

Exceptional dining experiences from authentic Jordanian to true Japanese flavors.
Services in the hotel and nearby
Hotel location
Fairmont Amman
6 Beirut Street 5th Circle
Abdoun
PO Box 831370, Amman 11183 JO
11183
amman
jordan
Tel:
+96265106000
Fax: (+962)6/5106001
Contact email :
fairmont.amman@fairmont.com
FROM AIRPORT TAKE B5 OR B7 : B5 OR B7 5TH OR MECCA ST
By plane

QUEEN ALIA At 33.5km / 20.82 miles - Shuttle paying

By train

BASMA BRT STATION At 0.5km / 0.31 miles
GPS :31.95987, 35.881184
Your meetings and events
The Ruby room is the premier meeting room in the hotel with over 249 m² (2,680 sq.ft.), and a seating capacity of 290 people in theater style. This is the perfect meeting room for those large corporate functions.Diamond is one of our larger meetings rooms with a gorgeous 84" TV. With a seating capacity of 116 people in theater style, the Diamond Room is the perfect place to finalize that key business deal or host the company annual team-building exercise.For any of our business events, we have 10 meeting rooms which you can book. From corporate meetings, to important business gatherings, to an assortment of professional gatherings, our different sized rooms fit around your events and your guests.

Unsure of the capacity needed for your event?

Convert different units of measurement and make organising your events easier.
Our accommodations
Featuring a range of room categories and residences for all your needs, you will be surrounded by contemporary amenities, plush bedding, elegant bathrooms and spacious luxury to put you at your best for discovering Amman. Choose from Fairmont Room, Deluxe Room, 1 Bedroom or 2 Bedroom Suite. Our specialty suites are Signature Suite, Amman Suite, and the Fairmont Penthouse Suite. For long term guests, we have Fairmont Residences, including 1 or 2 bedrooms, and executive.
Fairmont King Non Smoking
Max. number of persons:

3

Area:

From 42 m² / 452 sq ft

Views:

City side *
* Subject to availability
Bathrobe
Coffee/tea making facilities
Ironing board and flat-iron
Shoe polisher
Mini Bar
Fairmont King Smoking
Max. number of persons:

3

Area:

From 42 m² / 452 sq ft

Views:

City side *
* Subject to availability
Bathrobe
Coffee/tea making facilities
Shoe polisher
Mini Bar
Fairmont 2 Queens Non Smoking
Max. number of persons:

2

Area:

From 42 m² / 452 sq ft

Views:

City side, Hills view *
* Subject to availability
Bathrobe
Coffee/tea making facilities
Shoe polisher
Mini Bar
The Fairmont Deluxe Room, King Size Bed, Non-Smoking
Max. number of persons:

3

Area:

From 42 m² / 452 sq ft

Views:

City side, Hills view *
* Subject to availability
Bathrobe
Coffee/tea making facilities
Shoe polisher
Mini Bar
Deluxe King Smoking
Max. number of persons:

3

Area:

From 42 m² / 452 sq ft

Views:

City side, Hills view *
* Subject to availability
Bathrobe
Coffee/tea making facilities
Shoe polisher
Mini Bar
Deluxe 2 Queens Non Smoking
Max. number of persons:

2

Area:

From 42 m² / 452 sq ft

Views:

City side, Hills view *
* Subject to availability
Bathrobe
Coffee/tea making facilities
Shoe polisher
Mini Bar
Fairmont Gold King Non Smoking
Max. number of persons:

3

Area:

From 42 m² / 452 sq ft

Views:

City side, Hills view *
* Subject to availability
Bathrobe
Coffee/tea making facilities
Shoe polisher
Mini Bar
Fairmont Gold King Smoking
Max. number of persons:

3

Area:

From 42 m² / 452 sq ft

Views:

City side, Hills view *
* Subject to availability
Bathrobe
Coffee/tea making facilities
Shoe polisher
Mini Bar
Fairmont 2 Queens Smoking
Max. number of persons:

2

Area:

From 42 m² / 452 sq ft

Views:

City side, Hills view *
* Subject to availability
Bathrobe
Coffee/tea making facilities
Shoe polisher
Mini Bar
Deluxe 2 Queens Smoking
Max. number of persons:

2

Area:

From 42 m² / 452 sq ft

Views:

City side, Hills view *
* Subject to availability
Bathrobe
Coffee/tea making facilities
Shoe polisher
Mini Bar
Fairmont Gold 2 Queens NS
Max. number of persons:

2

Area:

From 42 m² / 452 sq ft

Views:

City side, Hills view *
* Subject to availability
Bathrobe
Coffee/tea making facilities
Shoe polisher
Mini Bar
Fairmont Gold 2 Queens Smoking
Max. number of persons:

2

Area:

From 42 m² / 452 sq ft

Views:

Hills view *
* Subject to availability
Bathrobe
Coffee/tea making facilities
Shoe polisher
Mini Bar
Fairmont King NS Accessible
Max. number of persons:

3

Area:

From 42 m² / 452 sq ft

Views:

City side, Hills view *
* Subject to availability
Bathrobe
Coffee/tea making facilities
Shoe polisher
Mini Bar
Fairmont King Smoking Accessible
Max. number of persons:

3

Area:

From 42 m² / 452 sq ft

Views:

City side, Hills view *
* Subject to availability
Bathrobe
Coffee/tea making facilities
Shoe polisher
Mini Bar
Rooms
Our guest reviews for
Fairmont Amman
100% genuine reviews from our guests

Find out more

Perfect hotel and perfect service

Customer review rating 4.7/5

Jo Business - 18/03/2020 Confirmed reviews ALL

Great service, excellent breakfast, perfect room and top location in Amman. Very flexible in cancelation of several nights due to Corona crisis. I wll absolutely return to the Fairmont next time.

Dear Jozef K., We very much appreciate your comments regarding your stay at the Fairmont Amman. It is always a pleasure to receive positive feedback. I will share your comments with our team. I am sure that this feedback will serve as an encouragement to all of our staff as we strive to continuously improve the quality of our services. Thank you again for sharing your experience, and we hope your next visit will be as pleasant as the previous one. Sincerely, Fairmont Amman Executive Office

wonderful staff !

Customer review rating 4.7/5

Isabelle P. Couples - 18/03/2020 Confirmed reviews ALL

This has been one of our most enjoyable stays in a luxury hotel, staff is wonderful throughout the hotel, thanks so much for making our stay such a great holiday

Dear Vincent P., We very much appreciate your comments regarding your stay at the Fairmont Amman. It is always a pleasure to receive positive feedback. I will share your comments with our team. I am sure that this feedback will serve as an encouragement to all of our staff as we strive to continuously improve the quality of our services. Thank you again for sharing your experience, and we hope your next visit will be as pleasant as the previous one. Sincerely, Fairmont Amman Executive Office

Excellence in Amman

Customer review rating 4.7/5

James G. Business - 17/03/2020 Confirmed reviews ALL

I just spent one week at the Fairmont Amman while on a business trip in Jordan. The property is outstanding and the staff provides exemplary hospitality service. I highly recommend the Fairmont Amman for business or holiday trips.

Dear James Thomas G., We very much appreciate your comments regarding your stay at the Fairmont Amman. It is always a pleasure to receive positive feedback. I will share your comments with our team. I am sure that this feedback will serve as an encouragement to all of our staff as we strive to continuously improve the quality of our services. Thank you again for sharing your experience, and we hope your next visit will be as pleasant as the previous one. Sincerely, Fairmont Amman Executive Office

Great Hotel, excellent service, a real treat! One of the best hotels I had so far!

Customer review rating 4.7/5

Anonymous Friends - 17/03/2020 Confirmed reviews ALL

I found the room very luxurious, cosy and well maintained. Excellent beds! Very nice breakfast buffet and very friendly personnel!

Dear Annemie V., We very much appreciate your comments regarding your stay at the Fairmont Amman. It is always a pleasure to receive positive feedback. I will share your comments with our team. I am sure that this feedback will serve as an encouragement to all of our staff as we strive to continuously improve the quality of our services. Thank you again for sharing your experience, and we hope your next visit will be as pleasant as the previous one. Sincerely, Fairmont Amman Executive Office

Luxury experience with kindness

Customer review rating 4.7/5

Hala B. Business - 09/03/2020 Confirmed reviews ALL

Dear Hala B., We very much appreciate your comments regarding your stay at the Fairmont Amman. It is always a pleasure to receive positive feedback. I will share your comments with our team. I am sure that this feedback will serve as an encouragement to all of our staff as we strive to continuously improve the quality of our services. Thank you again for sharing your experience, and we hope your next visit will be as pleasant as the previous one. Sincerely, Fairmont Amman Executive Office

Our most recent 20 reviews
Our other hotels nearby