ibis Styles Boleslawiec
ibis Styles Boleslawiec
Customer review rating (ALL Rating) 4.7/5
475 reviews
Hotel location
ibis Styles Boleslawiec
Plac Ksiedza Jerzego Popieluszki
59700 BOLESŁAWIEC
Poland
GPS:51.261321, 15.572183
Access and transport
DWORZEC KOL B C
Railway station
Access: 800 m / 0.5 mi 10 min walk / 3 min drive
Shuttle

Shuttle scheduled
ZJAZD BOLESLAWIEC
Highway exit
Access: 5.8 km / 3.6 mi 10 min drive
PORT LOT WROCLAW
Domestic airport 1 - full name
Access: 116 km / 72.08 mi 1 hrs drive
PORT LOT WROCLAW
Int. airport 1 - full name
Access: 116 km / 72.08 mi 1 hrs drive
WRO
Int. airport 1 - IATA code
Access: 116 km / 72.08 mi 1 hrs drive
Hotel services
Check-in from - Check out up to
In summary
On site
Swimming pool

Car park

Shuttle

Restaurant

Wheelchair accessible hotel

Air conditioning

Wi-Fi

Breakfast

Bar

Meeting rooms
WINESTONE
On Fridays and Saturdays, the restaurant is open until 23:00
WINESTONE
Non contractual photo
WINESTONE RESTAURANT RUN ACCORDING TO THE BRAND STANDARDS
Your meetings and events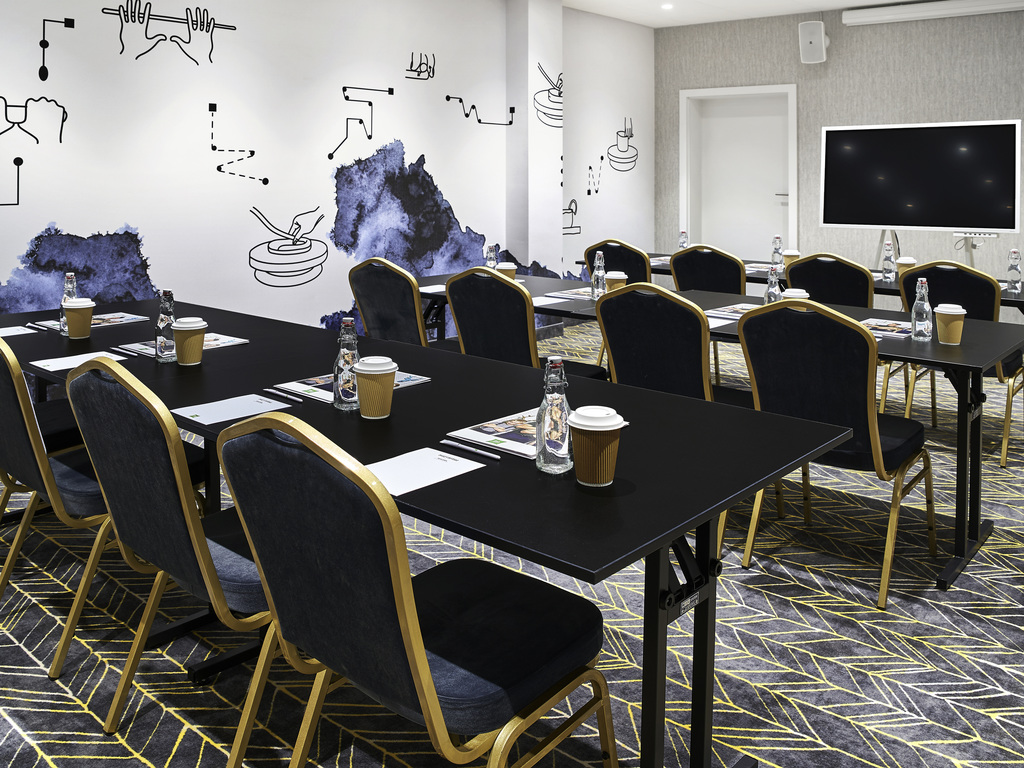 Room descriptions and layouts
Configuration is not available for these requirements
Unsure of the capacity needed for your event?

Convert different units of measurement and make organising your events easier.
Our accommodation(s)
Warm, welcoming and modern, with a comfortable bed and a practical bathroom, our rooms offer everything you need for an enjoyable stay.
Our guest reviews
Our guest reviews
100% genuine reviews from our guests
Find out more
I'm so comfortable here!
Customer review rating 5.0/5
Alexander C. Business - Confirmed reviews ALL
Everything about this hotel is comfortable; from the parking to the check-in, to the room, to the local area I always feel so clean, safe and comfortable when staying at the ibis Styles Boleslawiec.
Dear ALEXANDER, thank you for the fantastic review, it is so great to know that you enjoyed so much another stay in our hotel! See you next time. Best Regards Pawel Kostrubiec - Front Office Manager
Good location for a stay in Boleslawiec for little money
Customer review rating 4.5/5
I C. S. M. D. O. B. Business - Confirmed reviews ALL
Overall was very good. No issues with the room or facilities. The buffet was a little weak but I suppose one cannot expect too much at this price. If the buffet had exceede my expectations, the score may have been a ten.
Hot!
Customer review rating 3.5/5
Friends T. Friends - Confirmed reviews ALL
Room temp was too warm. Not having autonomous control over room temp was not ideal.
good stay
Customer review rating 5.0/5
Dorota Families - Confirmed reviews ALL
Clean rooms, very comfortable beds, nice stuff, good restaurant, rich breakfast. Good value for money
Pleasant stay
Customer review rating 3.5/5
Radim Families - Confirmed reviews ALL
Very good hotel, clean, comfy, good breakfast. The reason why I got hotel rating only 7 is that at check out the hotel try to charge us something like 2.000 CZK for some beers in restaurant which we did not have. And the women at reception let us to wait until she find a bill in computer. This should not happend and this did never happend to me before. If the hotel can not control room numbers in restaurant, the guests should pay in the restaurant and the should not write the bill on a room number. The same with parking spaces outside. The hotel charge you for parking, but nobody controls if all cars on the parking are from hotel. The parking is mostly used by locals without paying anything. And again, the hotel does not control it and the parking spaces are crowded with local people parking for free and the hotel guests can hardly find any space. So very good hotel with little week management in some points.
Dear RADIM V., We very much appreciate your comments regarding your stay at the ibis Styles Boleslawiec. At the beginning I would like to apologize for inconvenience you occur during the check out, it shouldn't happened because there are procedures which should be in action to avoid situation like this, but as we are all only humans mistakes happen sometimes but we fully understand your stand. I am sure that situation will not happen again and you will have chance to fully enjoy your stay with us in future as many of our guests are doing on daily basis. Regarding the parking i would like to say that all people are obligated to pay, there is a parking machine ( parkomat) which is using to pay for all parking spaces. I always advise to our guests to use our underground garage which is always available and there is no problem with parking places. We are also very happy that in all you were also satisfied with the comfort, breakfast and cleanest of our hotel. I hope to see you again, just to prove that some situations are not standard in ibis Styles Bolesławiec, feel very welcome next time. Best Regards Pawel Kostrubiec - Front Office Manager