Peppers Noosa Resort & Villas
Peppers Noosa Resort & Villas
Customer review rating (ALL Rating) 4.2/5
2,938 reviews
Hotel location
Peppers Noosa Resort & Villas
33A Viewland Drive
4567 NOOSA HEADS
Australia
GPS:-26.3912903, 153.0907428
Access and transport
MAROOCHYDORE AIRPORT
Int. airport 1 - full name
Access: 31.4 km / 19.51 mi 31 min drive
MCY
Int. airport 1 - IATA code
Access: 31.4 km / 19.51 mi 31 min drive
Hotel services
Check-in from - Check out up to
In summary
On site
Shuttle

Restaurant

Wheelchair accessible hotel

Air conditioning

Wi-Fi

Breakfast

Bar

Meeting rooms
VIEW RESTAURANT
Admire the breathtaking views across Noosa National Park, situated right above Peppers Noosa Resort & Villas. View Restaurant is one of the best breakfast, lunch, dinner and event experiences in Noosa.
Your meetings and events
Peppers Noosa Resort & Villas is home to one of the region's largest conference and event venues, and features meeting spaces designed to appeal to individual needs. All rooms have access to state of the art audio visual equipment, climate control, and adjacent alfresco dining spaces.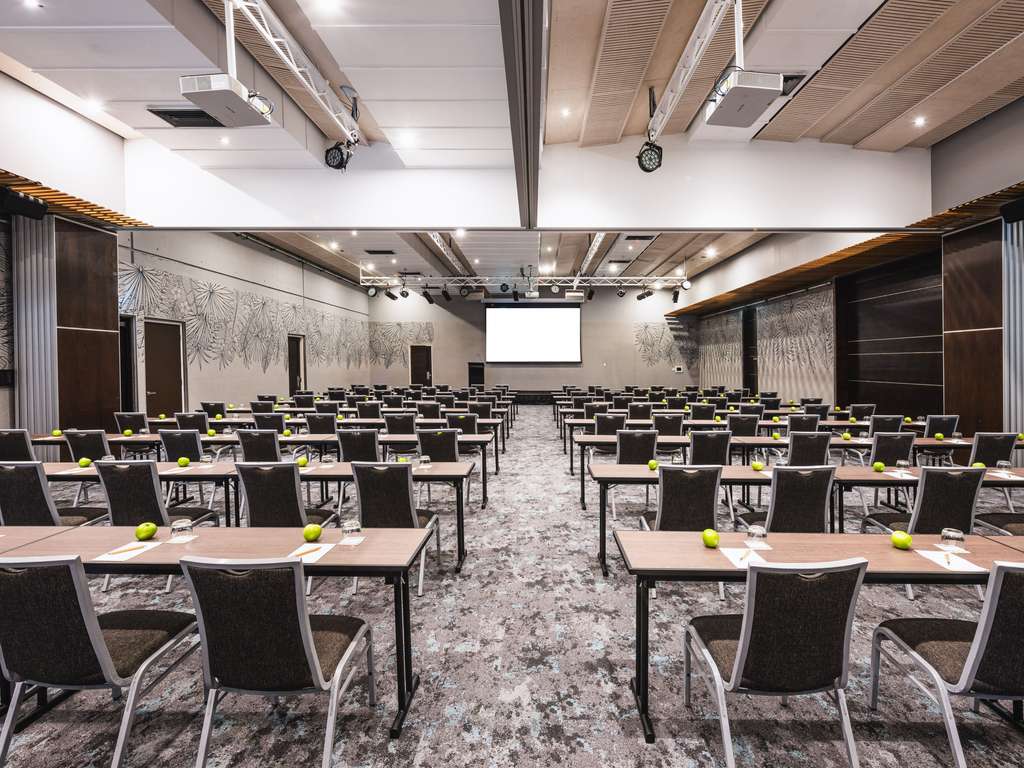 Room descriptions and layouts
Configuration is not available for these requirements
Unsure of the capacity needed for your event?

Convert different units of measurement and make organising your events easier.
Our accommodation(s)
Designed with two unique and beautiful accommodation concepts, there is the resort, where you're located right in the heart of it all. In a beautiful, airy penthouse or apartment you will be accommodated in style. Featuring fully-equipped kitchens, a laundry room, and dining areas, you are spoiled with all the conveniences you could desire. Beautifully set in the Noosa National Park only minutes walk away from the famed Hasting Street and Noosa main beach.
Studio
Studio
Max. number of persons:

3

Area:

From

40

m² /

430

sq ft

Most of the accommodation:

Balcony
Wireless internet in your room
High speed internet
Coffee/tea making facilities
Ironing board and flat-iron
Direct dial telephone
Our guest reviews
Our guest reviews
100% genuine reviews from our guests
Find out more
Relaxing 😌 in the rain forest
Customer review rating 4.0/5
Tony M. Couples - Confirmed reviews ALL
Great stay, but maintenance not good. Cracked glass in lift, lift button not working on floor 3, microwave on its last legs, ants in the kitchen when we arrived. We were in 8504.
Dear Anthony, Just wanted to let you know how much your review means to us here at Peppers Noosa Resort and Villas. We do all we can to provide our customers with the best service, and it always makes our day when a customer appreciates it. We are aware of the cracked mirror, and it is being repaired, as well as the lift button. Thanks again, and we hope to make your next visit just as positive. Have an amazing day! Kind Regards Jon Coppola Front Office Manager Peppers Noosa Resort and Villas
Great stay
Customer review rating 4.5/5
David L. Couples - Confirmed reviews ALL
Room was clean and tidy, and staff were prompt and helpfull
Dear David , We very much appreciate your comments regarding your stay at the Peppers Noosa Resort & Villas. It is always a pleasure to receive positive feedback. I will share your comments in regards to greeting guests with our team. I am sure that this feedback will serve as an encouragement to all of our staff as we strive to continuously improve the quality of our services. Thank you again for sharing your experience, and we hope your next visit will be as pleasant as the previous one. Sincerely, Joshua Fleming Assistant Manager
run down and neglected
Customer review rating 2.5/5
Del M. H. Families - Confirmed reviews ALL
First room had mould explosion in carpet and SMELT BAD - and SADLY right next to pool and main road NOISE!!!!!!!!! - I have photos - complained and moved to QUIETER room. Was half the size - no oven - no working coffee machine. Cobwebs everywhere on balcony. Husband woke at 3.00 am to massive cockroach crawling across his face. We left that day. Food uninspiring,and despite online status of renowned chef not true at all. Staff disinterested, DON'T SEEM TO CARE, there are massive problems at this 200 room resort. It's in a brilliant position but seems too big to manage effectively. Buggy service effective. GET BETTER AT WHAT YOU ADVERTISE - A GREAT HOLIDAY EXPERIENCE.
Dear Mr M., Thank you for taking the time to tell us about your experience at the Peppers Noosa Resort & Villas. I would to truly apologise on behalf of the entire team for your experience and not meeting your expectations. Details like these are vitally important to us so we know what we can do to correct in areas where we need improvement, and this gives us the opportunity to do just that. We truly appreciate your feedback and very grateful for the time you have taken to share them with us. Sincerely, Jon Coppola Front Office Manager Peppers Noosa Resort & Villas
A great stay
Customer review rating 4.5/5
L B. Couples - Confirmed reviews ALL
For a first time stay, a spectacular experience.. A welcomed check-in, beautiful room, great breakfast in The View and a perfect location for explore Noosa..
Dear Leah, Thank you so much for taking the time to leave us a review! We are so glad that you had a wonderful stay with us & we hope to welcome you back to the resort again in the near future. Kind Regards, Emma Parrella - Front Desk Assistant Manager
Superb location, lovely stay
Customer review rating 4.5/5
Marsha Business - Confirmed reviews ALL
5 night stay (with partner), for a conference. The reservations staff were extremely helpful in managing the booking. Beautiful room amongst the trees, very peaceful. Breakfasts were fantastic. Room was lovely, clean, great bed and spa bath. Location just a few minutes walk into Noosa national park / to restaurants was excellent. We were sad to leave!
Dear Kim H., We very much appreciate your comments regarding your stay at the Peppers Noosa Resort & Villas. It is always a pleasure to receive positive feedback. I will share your comments with our team in regards to the WIFI connectivity and housekeeping. We greatly appreciate your feedback and it will serve as an encouragement to all of our staff as we strive to continuously improve the quality of our services. I see that you stayed with us for a total of 5 nights and that daily housekeeping was included in the conference rate booked. Generally we only do linen changes during a guests stay when they are with us for 8 or more nights. However, if this is something that you would like to be implemented for your next stay that can be arranged for you. When booking for your next stay please do not hesitate to reach out to either myself or our lovely reservations team and we will make sure that your next time with us is a truly VIP experience! Thank you again for sharing your experience, and we hope your next visit will be as pleasant as the previous one. Sincerely, Joshua Fleming Assistant manager
In partnership with TripAdvisor