Pearl Valley Hotel by Mantis
Pearl Valley Hotel by Mantis 4 stars
TripAdvisor rating 4.5/5
67 reviews
Hotel location
Pearl Valley Hotel by Mantis
R301 Wemmershoek Road
7646 PAARL
South Africa
GPS:-33.82301, 18.987702
Access and transport
CPT
Int. airport 1 - IATA code
Access: 65.6 km / 40.76 mi 45 min drive
Shuttle

1500 ZAR 1500 ZAR
CAPE TOWN INTERNATIONAL AIRPORT
Int. airport 1 - full name
Access: 65.6 km / 40.76 mi 45 min drive
Shuttle

1500 ZAR 1500 ZAR
Hotel services
Check-in from - Check out up to
In summary
On site
Swimming pool

Car park

Shuttle

Restaurant

Wheelchair accessible hotel

Well-being

Air conditioning

Wi-Fi

Breakfast

Bar

Meeting rooms
THE VALLEY
Our carefully crafted menu offers the freshest regional and imported produce. Large windows leading onto sprawling terraces, the venue is renowned for spectacular views over the Jack Nicklaus Signature golf course and the towering Simonsberg Mountain.
THE POLO CLUB
"Overlooking the pristine polo fields, lies the renownedPolo Club Restaurant and Black Bar. With exceptional views of the mountains and the estate, this relaxed bistro-style restaurant offers a unique dining experience"
Backs Restaurant & Deli
The Backs Restaurant & Deli, open 7 days a week, serves breakfast, pool snacks, lunch and dinner along with an assortment of items that are readily available to in-house guests.
Your meetings and events
Clubhouse Conference Room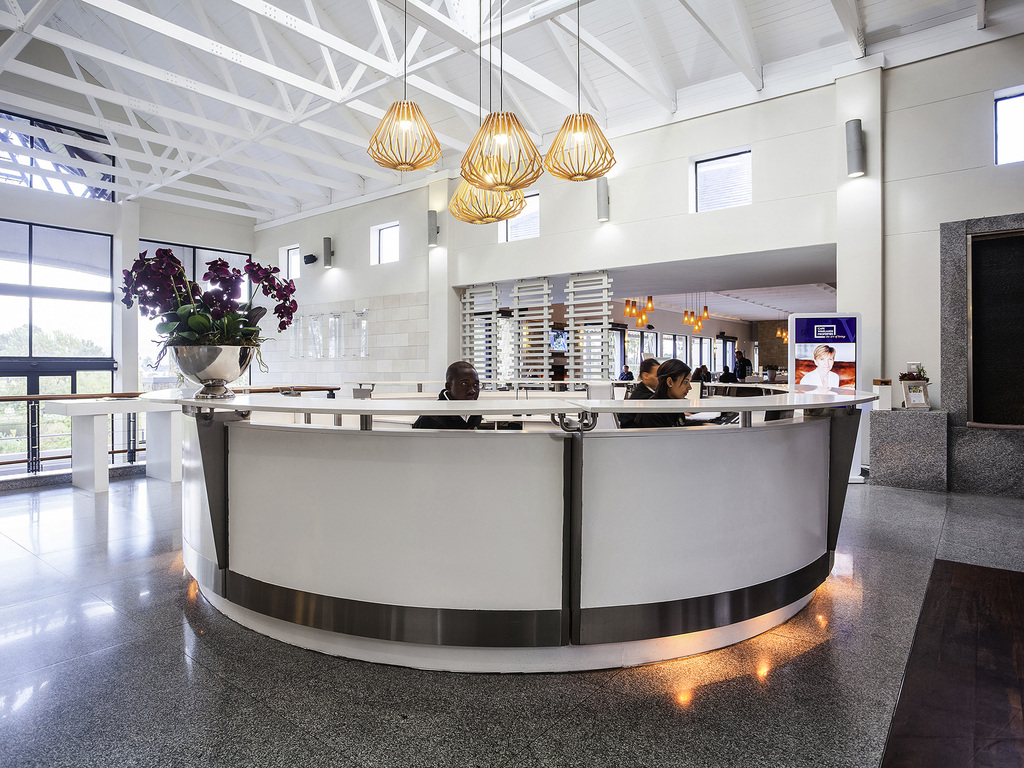 Room descriptions and layouts
Configuration is not available for these requirements
Unsure of the capacity needed for your event?

Convert different units of measurement and make organising your events easier.
Our accommodation(s)
The hotel includes 71 fully equipped suites with all the classic comforts and conveniences expected of a luxury hotel. Suites overlook the lake or driving range and first tee. The Suites are conveniently located only 150 meters from the Pearl Valley Jack Nicklaus Signature Golf Course and guests are transferred between the hotel and golf course on golf carts.
Suite
One Bedroom Suites
Max. number of persons:

3

Area:

From

45

m² /

484

sq ft

Views:

Mountain view or Garden View or Golf view or Lake View
Wireless internet in your room
Bathrobe
Slippers
Coffee/tea making facilities
Ironing board and flat-iron(...)
Suite
Two Bedroom Suites
Max. number of persons:

5

Area:

From

78

m² /

839

sq ft

Views:

Golf view or Lake View or Mountain view or Garden View
Wireless internet in your room
Bathrobe
Slippers
Coffee/tea making facilities
Ironing board and flat-iron(...)
Our guest reviews
Our guest reviews
100% genuine reviews from our guests
Find out more
Beautiful location and lovely accommodation
TripAdvisor rating 5.0/5
965KarenR TripAdvisor review
Visited here as part of an organised tour. Accommodation was spacious and comfortable. Beautiful location and scenery. One night was an organised Cape Malay dinner for the tour party. It was basically a curry night and I don't like curry. When the restaurant manager was told that I was not eating she very kindly arranged an alternative meal for me. This was much appreciated and showed the level of customer care we experienced.
Dear 965KarenR Thank you so much for your kind words and taking valuable time to write a review We were grateful to have personally met everyone on your tour. It was a delightful experience to have a group of guests on Pearl Valley Hotel by Mantis. Glad to hear that the restaurant did their best to ensure all our guests are happy Hope to one day have another opportunity to welcome you back to Cape Town Travel safely Kind regards Mynhardt de Jongh General Manager
Stunning views and rooms
TripAdvisor rating 5.0/5
Helen s Couples - TripAdvisor review
Absolutely stunning estate with huge studio bedrooms and jaw dropping views. It is a bit of a walk from the rooms to the main building but you can get a buggy ride if you don't want to walk. Food is stunning and reasonable. Food in a similar place in the UK would be twice the price, at least. We had a curry evening one night and when I mentioned I didn't eat spicy food the chef went and made me a delicious non-spicy chicken curry. They couldn't do enough for you. Breakfast was buffet style but plenty of choice and well presented.
Dear Helen 2 We are delighted to hear that you have had a memorable stay at Pearl Valley Hotel by Mantis. We are glad to hear that all my team members looked after your every need and judging on the content of your review I can now call you a loyal Mantis ambassador. We hope that we will, one day very soon, have another opportunity to showcase our beautiful property and assist in making more memorable experiences Be blessed Mynhardt de Jongh General Manager
Wonderful stay
TripAdvisor rating 5.0/5
aseeaa0e Families - TripAdvisor review
We had a really wonderful stay. room and services were very excellent. Staff were great with very easy check in and check out. Free Breakfast was more than excellent, We enjoyed the carts that ferry you and your luggage to/from your room, because it can be a distance, but a walk around is recommended. It's very serene if you want to get away.
Dear aseeaa0e I am delighted to hear that your stay at Pearl Valley Hotel was wonderful and my team together with the serene environment made your stay memorable. We sincerely hope to be able to welcome you back soon Keep travelling safely Kind regards Mynhardt de Jongh General Manager
Serene winelands location
TripAdvisor rating 4.0/5
DebbieW876 Couples - TripAdvisor review
Beautiful surroundings, lovely spacious rooms. Can up the ante on housekeeping. Great service and food. Long walk to some of the rooms if it is raining. Great gold course. Stunning walkways and gardens.
Dear DebbieW876 Thank you for taking the time to write a review and provide us with valuable additional information. I am delighted to hear that your room, staff service and quality of food exceeded your expectation. I will ensure we do additional training in order for my team to fully understand the standards and the expectations of our valuable guests Keep travelling safely Kind regards Mynhardt de Jongh General Manager
Superb setting and wonderful staff make this the perfect escape!
TripAdvisor rating 5.0/5
luckybear6 Families - TripAdvisor review
My husband and I stayed here with 3 older teenage boys in Feb 22. We booked two rooms and had the most amazing week. We were trying to choose a location where the boys had freedom but access to activities and Pearl Valley was spot on there! Massive early mention to the superb STAFF team, particularly Monique who communicated so well with me prior to the trip and helped me book everything. Peter and Lisa on the reception desk were also so helpful, happy and engaging! The lady in the golf shop was very patient with my booking for the boys and last but not least, the wonderful lady who runs Backs deli by the hotel pool (sorry, trying to remember your name!) - super friendly and always willing to serve the best food and drink to the 5 of us! And the golf buggy shuttle drivers, they love their job, always waving and smiling! Activities: we all had access to the fitness centre and the choice of two pools to relax beside, the boys played football and rugby on the field, we could walk/jog around the beautiful estate and then we also arranged golf lessons for the boys. Huge thanks to James Wade for his communication with me and patience coaching the boys! Food: we could choose between the main Clubhouse restaurant and Backs Deli near our room. There were plenty of staff and a varied menu with specials each day. Easy food by the pool was a bonus, especially for the boys if we'd been out for the day. Backs also offer take out food and bakery items. If we were heading off early, the boys would grab a fresh smoothie and a pastry to keep them going in the car! All staff in both restaurants were happy and eager to please, delicious food and well priced. Rooms: very well designed, consisted of a double bed (or twin), spacious bathroom, patio/balcony, small sofa in front of the TV, desk and then the selling point for me, a small kitchenette area where we could make hot drinks, throw a deli pizza in the oven and chill our drinks in the fridge. Anything we required never seemed a problem for the team at all. ACCESS: this would be our only complaint - utterly ridiculous entry and exit procedures. Security needs to be tight, agreed, but the routine and rules changed daily and the staff at the gate blamed everyone else for the issues. The amount of time wasted trying to exit and enter was not acceptable and we can't understand why there is not a more efficient system in place. Other than that point - we would highly recommend this hotel and would like to return next time we are in the area. Great for families, singles and couples alike!
Dear luckybear6 I am delighted to have received such a great comprehensive guest review. How can one not be proud of such a fantastic team that lives to exceeded guests expectations. Thank you for telling the world and now officially becoming the newest ambassador for Pearl Valley Hotel by Mantis. The security procedures, might seem extreme, but I would rather have all guests visiting the hotel and estate, to know that their are safeguarded than not. We truly hope that we will have another opportunity in the near future to welcome you back. Travel safely Kind regards Mynhardt de Jongh General Manager
In partnership with TripAdvisor