Mövenpick Hotel Stuttgart Airport
Mövenpick Hotel Stuttgart Airport 4.5 stars
Customer review rating (ALL Rating) 4.5/5
378 reviews
Hotel location
Mövenpick Hotel Stuttgart Airport
Flughafenstrasse 50
70629 STUTTGART
Germany
GPS:48.691352, 9.193349
Access and transport
Bus Terminal Stuttgart Airport
Bus stop
Access: 100 m / 0.06 mi
Stuttgart Main Station
Railway station
STR
Int. airport 1 - IATA code
Stuttgart Airport
Int. airport 1 - full name
Hotel services
Check-in from - Check out up to
In summary
On site
Car park

Restaurant

Wheelchair accessible hotel

Well-being

Air conditioning

Wi-Fi

Breakfast

Bar

Meeting rooms
RESTAURANT TROLLINGER
The Trollinger offers seasonal specialities in a relaxed atmosphere. The exclusive dining room with fireplace and cozy ambience can accommodate up to 24 guests.
Your meetings and events
A total of sixteen multi-functional conference, event and boardrooms, including a ballroom measuring 564 sqm with a capacity of up to 500 guests, are designed with plenty of natural daylight and state-of-the-art technology. We are happy to advise you, plan your event from A to Z and take care of your guests professionally and efficiently. In Short: You concentrate on doing business. Let us take care of the rest.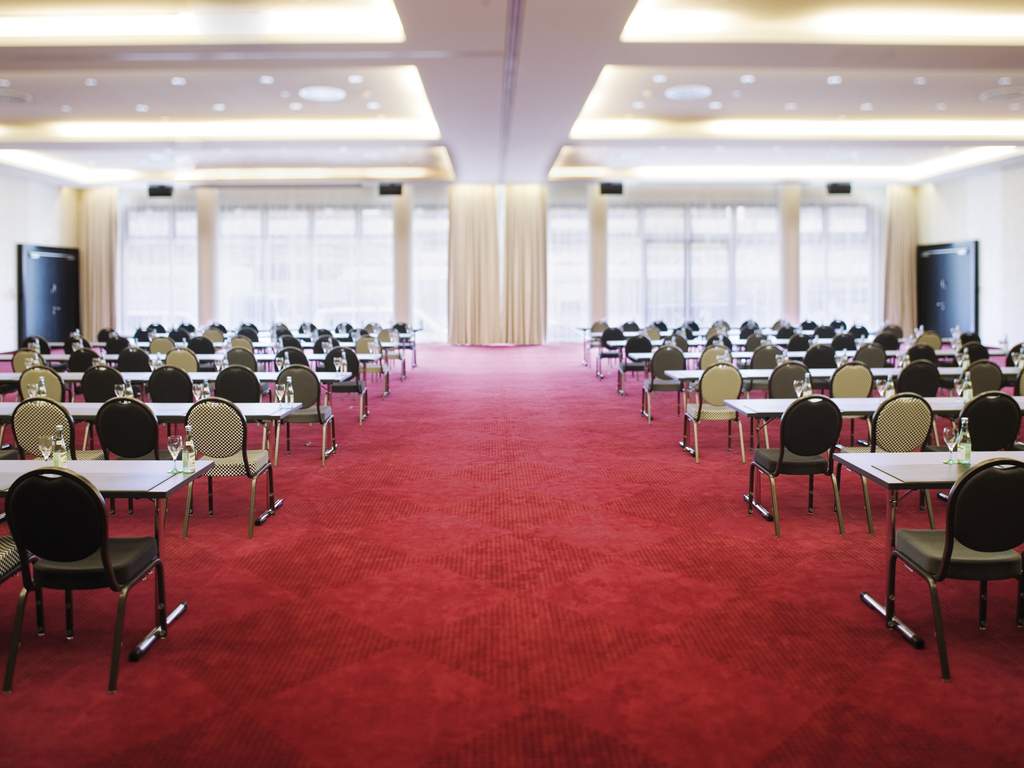 Room descriptions and layouts
Configuration is not available for these requirements
Unsure of the capacity needed for your event?

Convert different units of measurement and make organising your events easier.
Our accommodation(s)
Modern luxury, clear lines and simple elegance distinguish the Mövenpick hotel´s 326 rooms. The sophisticated combination of hand-polished walnut, finest poercelain, mosaic tiles, crystal and fresh colours give a fabulous feel-good atmosphere. In addition to the Superior area, Premium rooms are available on the fifth and sixth floors, offering enhanced services. The spacious design of the 12 Junior Suites and two Suites on the 6th floor invites guests to relax and enjoy the comfort.
Our guest reviews
Our guest reviews
100% genuine reviews from our guests
Find out more
well located
Customer review rating 5.0/5
Anonymous Solo - Confirmed reviews ALL
Stayed one night in the hotel prior to an early morning flight
Dear Ms. G., We very much appreciate your appreciative feedback. THANK YOu! We hope you had a good flight and your next visit will be as pleasant as the previous one. Kind regards, Nadine Heringhaus, Cluster Front Office Manager - Mövenpick Hotels Stuttgart
Relaxed stay after all the work
Customer review rating 4.5/5
Jeh Business - Confirmed reviews ALL
Love my few days here to calm down from all the travel and activities. And when I'm ready to fly, I'm all ready there!!!!
Dear Ms. H., It is always a pleasure to receive positive feedback. I will share your comments with our team. I am sure that this feedback will serve as an encouragement to all of our staff as we strive to continuously improve the quality of our services. Thank you again for sharing your experience, and we hope your next visit will be as pleasant as the previous one. Sincerely, Nadine Heringhaus, Cluster Front Office Manager - Mövenpick Hotels Stuttgart
Nice Room Terrible Food Service
Customer review rating 2.5/5
Clayton W. Business - Confirmed reviews ALL
Hello the Rooms and locations are very nice however service was lacking. The employees on staff were amazing however overworked. -My shower was broke for two days and never fixed -Breakfast was amazing however the dinner buffet was terrible and overpriced -The bar team was very professional however the lacking of food service was disappointing. Furthermore due to the lack of availability in the buffet and no offering in the bar I walked to the airport for a small plate of cheese and meat which I was informed was not allowed in the bar area where I was buying drinks. Your food service lacked capacity and quality to feed your guest, yet you had enough capacity to enforce rules on guest brining in food while spending money in your bar.. Opportunities for improvement, or acceptance of your capacity and changing of rules.
Dear Mr. W., First of all we thank you very much for your stay with us and your detailed feedback. Suggestions and critics always help us to improve ourselves in order to meet our guest´s expectations. We are pleased to read that you enjoyed our convenient location and that we have met your taste with our rooms. Even more we apologize for the situation regarding the service and the gastronomic offer. We deeply regret that you had these inconveniences during your stay and we apologize for the inconveniences. Due to the special events in the past, we are at the same time in an extraordinary phase, which is also characterized by challenges in our industry. We assure you that our entire team is doing its best every day to make sure you have a great stay. Please be assured that we have also discussed your feedback with the team. Dear Mr. W., we certainly hope that you will consider visiting with us again in the future to convince you from our high service standard. Kind regards from Stuttgart Airport Nadine Heringhaus, Cluster Front Office Manager – Mövenpick Hotels Stuttgart
good value for money
TripAdvisor rating 5.0/5
manutdcr7 Families - TripAdvisor review
the hotel is within walking distance from the airport. The room we stayed at had decent bedding and shower, noise/light insulation. Check-in/out was quick, staff was friendly and helpful, would stay here again
Not what it once was
TripAdvisor rating 2.0/5
crm632 Business - TripAdvisor review
I have stayed at this property many times over the past 12 or so years - the location is perfect to catch an early morning flight and the people and hotel have always been top notch. This stay did not reflect this history. When we walked in we were greeted by a stench that must have originated somewhere in the sewage system. When we asked about it, we were told that there was a burst pipe somewhere. Stuff happens, so far so good. We booked a connecting family room for this stay - the air conditioning in one of the two rooms blew nothing but warm air. When I called the front desk, they sent this poor kid - a page of some sort - who tried to convince me that the A/C was indeed working. When I presented him with the air in the other room, he agreed that it was indeed broken. He informed me that no technician was on staff and that he would speak to the front desk. I called the front desk about 30 minutes later, but nobody answered. After about an hour or so I was able to reach a live human being who said we cloudless move to a different room. By then my wife and daughter had unpacked already and that really wasn't an option. The rooms themselves were comfortable as always, but based on non-working A/C sleep quality was poor at best. One of my favorite places to unwind after a week of business in Germany has always been the bar, which apparently didn't have enough staff to open. This seems to be emblematic for this property as for the past two or three trips staff have shared with me that they were completely understaffed and that the working climate was so bad that long time employees were leaving in droves. The remaining people are great, they try hard, but there just aren't enough of them. I sincerely hope that this property will staff up and get back to what it once was.
In partnership with TripAdvisor