Bachleda Luxury Hotel Kraków - MGallery
Bachleda Luxury Hotel Kraków - MGallery 5 stars
Customer review rating (ALL Rating) 4.8/5
446 reviews
Hotel location
Bachleda Luxury Hotel Kraków - MGallery
Plac Kossaka 6
31106 Krakow
Poland
GPS:50.0566, 19.9284
Access and transport
KRAKOW GLOWNY
Railway station
Access: 2.8 km / 1.74 mi 30 min walk / 15 min drive
Shuttle

Additional charge

Shuttle on call
A4
Highway exit
Access: 12 km / 7.46 mi 25 min drive
KRK
Domestic airport 1 - full name
Access: 14 km / 8.7 mi 25 min drive
Shuttle

Additional charge

Shuttle on call
KRK
Int. airport 1 - IATA code
Access: 14 km / 8.7 mi 25 min drive
Shuttle

Additional charge

Shuttle on call
KRAKOW BALICE
Int. airport 1 - full name
Access: 14 km / 8.7 mi 25 min drive
Shuttle

Additional charge

Shuttle on call
KRAKOW AIRPORT
Int. airport 2 - full name
Access: 14 km / 8.7 mi 25 min drive
Shuttle

Additional charge

Shuttle on call
KRK
Int. airport 2 - IATA code
Access: 14 km / 8.7 mi 25 min drive
Shuttle

Additional charge

Shuttle on call
Hotel services
Check-in from - Check out up to
In summary
On site
Swimming pool

Shuttle

Restaurant

Wheelchair accessible hotel

Well-being

Air conditioning

Wi-Fi

Breakfast

Bar

Meeting rooms
GAVI
Taste the elegance of the GAVI restaurant with its richly decorated interiors, taking you on a culinary journey in the Fine Dining style. Enjoy the unforgettable textures, fragrances and colors.
Your meetings and events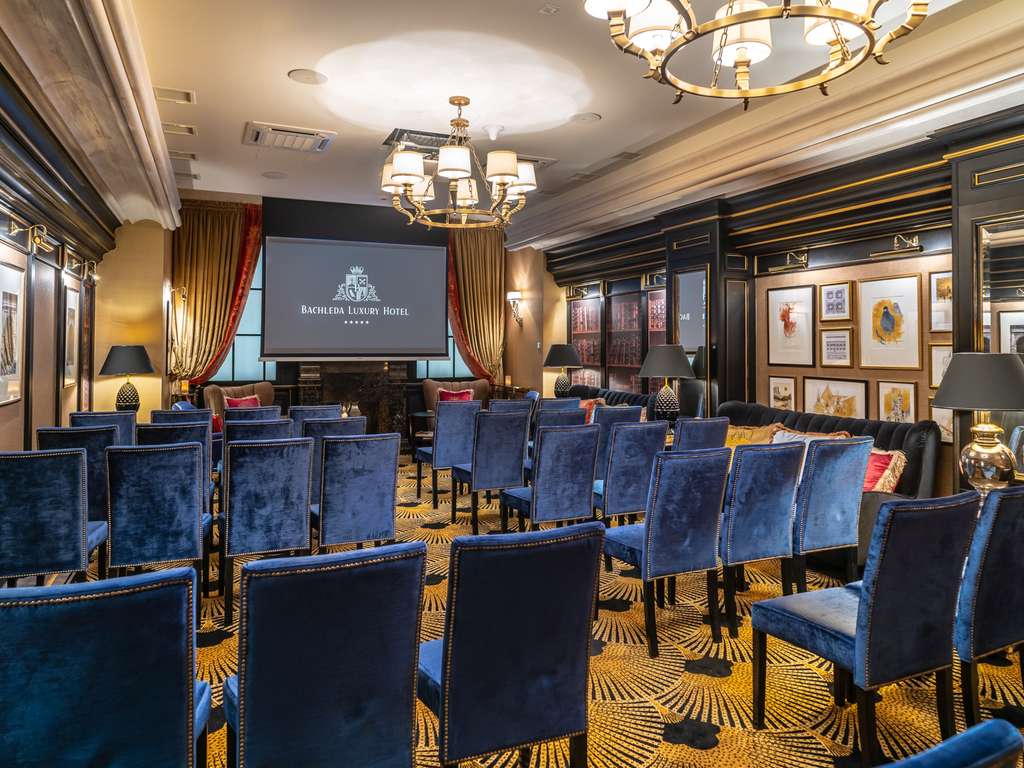 Room descriptions and layouts
Configuration is not available for these requirements
Unsure of the capacity needed for your event?

Convert different units of measurement and make organising your events easier.
Our guest reviews
Our guest reviews
100% genuine reviews from our guests
Find out more
Perfect
Customer review rating 5.0/5
P. Families - Confirmed reviews ALL
Great luxury hôtel, great staff.
Dear Antoine, Thank you for taking time to share your opinion. We really appreciate your feedback and compliments for our team. It is always a pleasure to receive positive feedback. I will share your comments with our team. I am sure that this feedback will serve as an encouragement to all of our staff as we strive to continuously improve the quality of our services. Thank you again for sharing your experience, and we hope your next visit will be as pleasant as the previous one. Kind regards, Marta Palmąka PR & Marketing
Good stay
Customer review rating 4.0/5
James Couples - Confirmed reviews ALL
Nice hotel good atmosphere but room was small.
Dear James Thank you for taking the time to complete a survey following your recent stay at Bachleda Luxury Hotel. We are glad that you have enjoyed atmosphere we create at our hotel. In the same time we are sorry that you have not been fully satisfied with the size of your room. During your next visit we suggest you to choose one of our Executive Suite that was presented to you. We are look forward to warmly welcoming you again to Bachleda Luxury Hotel in the near future. Yours sincerely, Marta Palmąka PR & Marketing
Luxurious hotel excellent spa and bar
TripAdvisor rating 4.0/5
Steve222_11 Couples - TripAdvisor review
We like this hotel because it is very luxurious and they present you with very nice welcome drink. The restaurant has very nice food and the bar makes fantastic cocktails. The spa area is to die for, it is very relaxing and do not miss this. The overall ambience is very luxurious and comfortable. The only challenge is the Junior Suite rooms are small to be classified as a suite. They don't have separate seating area. They are more like executive rooms. The bed is very comfortable and you have a choice of pillows. Overall I think this is the best hotel in Krakow to stay in.
hank you for choosing Bachleda Luxury Hotel and sharing your opinion. We are pleased to read that you think it is the best hotel in Krakow. We are glad that the hotel itself like the Gavi Restaurant and Opus Lounge Bar met your expectations. We are sorry that you were not fully satisfied with your choice of room. On your next visit, we suggest you choose one of our executive suites, which have a separate living space according to your requirements. We look forward to seeing you again! Kinde regards, Marta Palmąka PR & Marketing
Customer review rating 5.0/5
Anonymous Business - Confirmed reviews ALL
Excellent, especially the Gavi Restaurant!
Dear Luca, We very much appreciate your comments regarding your stay at the Bachleda Luxury Hotel Kraków - MGallery. It is always a pleasure to receive positive feedback from our Guests. Especially we would like to thank you for appreciating Gavi Restaurant cuisine and compliments for Weronika. Thank you again for sharing your experience, and we hope your next visit will be as pleasant as the previous one. Kind regards, Marta Palmąka PR & Marketing
Comfortable & well located hotel
TripAdvisor rating 4.0/5
IntlTraveller21stc Couples - TripAdvisor review
For me, modern luxury is about bespoke service, flexibility and all those good things that make the customer feel like the hotel fits around them rather than the other way around. Given my experience here, it is safe to say that their school of management are still rooted in the latter decades of the last century. Their attitude is very much that they deliver only what the customer pays for, absolutely nothing more, and in the way that they wish to deliver it. The original room that we were allocated had an issue with a particularly irritating reverberating/gurgling noise that appeared to be something to do with the air conditioning system (even though it was turned off for the winter). After having shown me about half a dozen potential replacement rooms all of which had the same issue - to varying degrees - or were not as pleasant in their aspects as the original one, we hit a bit of a dead end. I could either take a room that avoided this issue but didn't have a bathtub or have a bathtub and endure this noise. It did not even dawn upon them that as they weren't full they could perhaps try to see if other (higher) category rooms would help to avoid the issue. They were firmly of the mindset that if a guest books a room in a particular category, that category is unchangeable, irrevocable, unless the guest pays to unlock a higher level. Funnily enough, having come from a hotel in the same group in the same country - more of a distant cousin than a sister property per se - where we were upgraded, it was additionally curious to see how adamant they were that this was an impossibility. Indeed, interestingly as it turned out, the higher category room that I was shown also had the noise issue, so wouldn't have solved the problem anyway. We ended up in the room without a bathtub. The "luxury" that exists here is the "bling" interpretation of the word. Lots of gold everywhere in a variety of styles ranging from renaissance forms to more contemporary Far Eastern shapes; any surface that could be gilded was gilded. There is also gold in the carpets but here on the floor it is offset by splashes of pale blue, little Lord Fauntleroy meets Versace, if you will. If you do not enjoy refined, elegant, stylish and somewhat understated decor then fear not, as you will have to look very hard to find any trace of that here. That said, the rooms are comfortable and very functional. The toiletries used here are certainly not what I would consider a "luxury" brand, and rather disappointingly are still in individual bottles whereas even the very best hotels nowadays use high-end products in large format dispensers to make some concession to reducing their impact on the environment. The pillows were past their prime with a couple of them in need of immediate replacement. The double-double glazing means the rooms are very well insulated from street noise, and the housekeeping is very thorough. Although interestingly, there is no second service (turndown) in the evening... surprising for a hotel with "luxury" in its name. Whilst this hotel is officially five star, it is from a more international perspective, effectively a higher end 4 star hotel. The spa area during our stay was always very quiet and the oversized "jacuzzi" and sauna were a great amenity after a day spent exploring the wonderful city of Krakow. The decor in this area is particularly "opulent", with overly liberal usage of lots and lots of gold mosaic tiles to create the effect of heavy hanging drapes (not a typo) so much so that one wonders if it was originally designed to be able to double up as a certain type of Gentlemen's club. The breakfast here had a broad selection of hot and cold items, although the quality of some of them was very basic. The cheeses for instance were what I'd call basic supermarket, almost plasticky in quality, rather than local and artisan. In fact, I suppose given the decor, local and artisan is clearly not part of their ethos. There is a wide selection of fruit juices which are all freshly squeezed which is a nice touch especially when there is quite a bit more variety than just the standard orange juice. At this supposed level, I'd prefer that the hot items were a la minute as fried eggs sat in a chafing dish for hours on end are always going to be sub-optimal when they end up on the diner's plate, and at the end of the day doing it this way increases the amount of food waste. All in all, other than for the convenience of it, you can do a lot better and have something fresh and local in a nearby cafe or bakery. At the end of the day, a hotel provides temporary accommodation, so one does not need to live with the decor. Even though the decor here is at the Liberace end of the spectrum of kitsch, the rooms were comfortable, the amenities were good and the location meant that you could easily walk to pretty much anywhere in the (admittedly relatively small) city. I suppose if I'd have come here expecting a 4 star hotel, my expectations would have pretty much been more than met. With its 5 star (I appreciate that this is independently appointed and not self-designated) classification and self-appointed "luxury" moniker it is simply setting itself up to be judged against higher expectations. Would I return here? Given the lack of higher end choices in Krakow and the good comfort levels of the rooms combined with the spa amenities then yes I would, and a second stay here would be far better as I now know exactly what to expect. In fact, I'd go as far as recommending it here as long as you aren't anticipating world class luxury; all in all it's a pretty good little local boutique hotel.
Thank you for taking the time to share with us such detailed thoughts on your visit to our hotel. The opinion of our guests is the most valuable source of information for us about the services we provide, so we appreciate all comments. We regret to say that not all aspects fully met your expectations. We wanted to emphasize that dissatisfaction with the room, is not a basis for complimentary room upgrade. Since our team (which is often emphasized by other guests) makes every effort to make everyone feel fully taken care of, one of our employees was delegated to your disposal to show variety of available rooms. The tour lasted for almost an hour We are confident that this confirm the highest standard of our services and patience of our employees. At this point we would also like to point out that if our Guests are not satisfied with the pillows that come standard on the bed, we offer variety of other choices from our pillow menu available in each room. We also offer a turn down service on request (information can be found in our room directory). As you had some comments regarding breakfasts we serve, we encourage you to notify our staff of your desire for eggs cooked to order during your next visit. They will be happy to help. In the same time we assure you that all products we serve are of the highest quality. Despite all above, we are glad that you admit, that our hotel is the best one to choose in Kraków. We look forward seeing during your next visit. Kind regards, Marta Palmąka PR & Marketing
In partnership with TripAdvisor