Mercure Birmingham West Hotel
Mercure Birmingham West Hotel 4 stars
Customer review rating (ALL Rating) 4.0/5
405 reviews
Hotel location
Mercure Birmingham West Hotel
Birmingham Road
B70 6TU WEST BROMWICH
United Kingdom
GPS:52.513438, -1.976012
Access and transport
M5 JUNCTION 1
Highway exit
Access: 480 m / 0.3 mi 5 min walk / 2 min drive
HAWTHORNS
Railway station
Access: 1.61 km / 1 mi 20 min walk / 5 min drive
SANDWELL AND DUDLEY
Railway station
Access: 3.54 km / 2.2 mi 10 min drive
BHX
Int. airport 1 - IATA code
Access: 32.19 km / 20 mi 25 min drive
BIRMINGHAM
Int. airport 1 - full name
Access: 32.19 km / 20 mi 25 min drive
Hotel services
Check-in from - Check out up to
In summary
On site
Swimming pool

Car park

Restaurant

Wheelchair accessible hotel

Well-being

Air conditioning

Wi-Fi

Breakfast

Bar

Meeting rooms
HOTEL RESTAURANT
Our restaurant's welcoming atmosphere is the perfect place for all your culinary needs. Start your day off right with a breakfast buffet, offering a wide variety of hot and cold options or retire your day with our range of local and international dishes.
Your meetings and events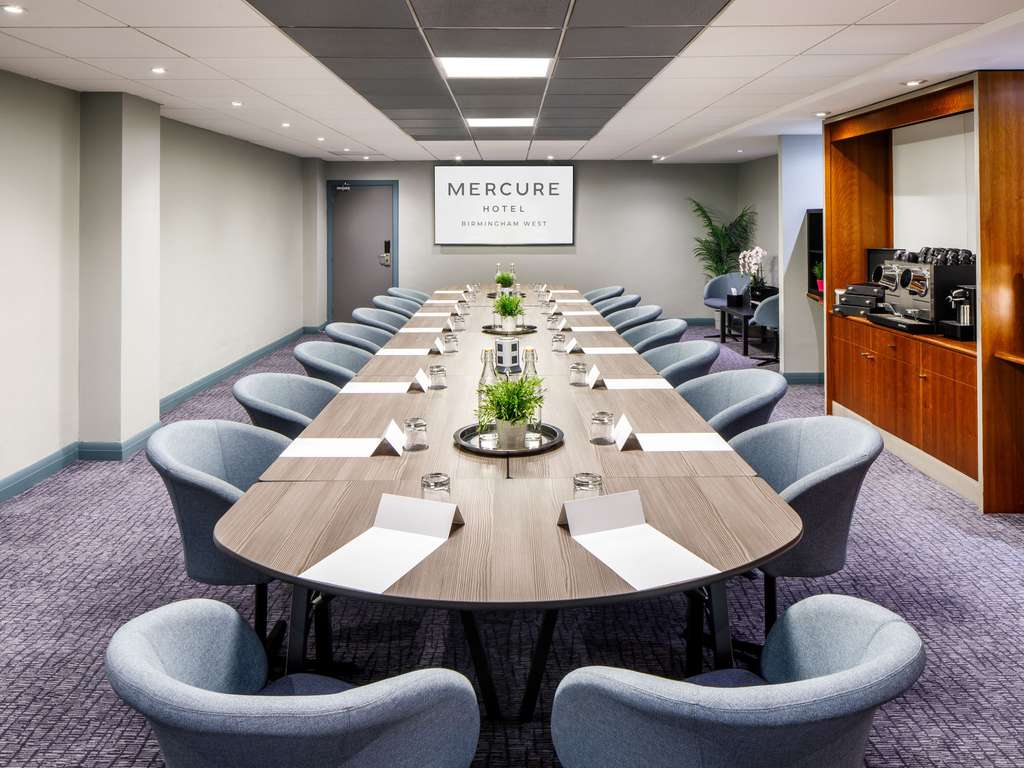 Room descriptions and layouts
Configuration is not available for these requirements
Unsure of the capacity needed for your event?

Convert different units of measurement and make organising your events easier.
Our guest reviews
Our guest reviews
100% genuine reviews from our guests
Find out more
Work event- very comfortable stay
TripAdvisor rating 4.0/5
Andiec921 TripAdvisor review
Staff were friendly, very accommodating and the service throughout my stay was excellent. Bed very comfortable, plenty of pillows, nice fluffy towels and very nice toiletries. Security on each floor were very pleasant, and unlike a previous review that said it was off-putting, it was actually quite re- assuring. Breakfast was great, hot buffet, plenty of choice. We also had an evening meal, as a corporate event. Service on each table was slightly slow, bit it was a relaxed evening so no detriment. Service staff were very efficient, food was hot and tasty when it arrived.
Bad experience
Customer review rating 1.5/5
Anonymous Couples - Confirmed reviews ALL
shower was not good at all - first the water would get extremely boiling and then 2 seconds later it would be freezing, alternating every few seconds.
Good Stay
Customer review rating 4.0/5
David Families - Confirmed reviews ALL
I initially had trouble making my reservation as I wanted to book both my rooms on staff rate due to me working for Mercure, I initially emailed the Front Office and enquired about the reservation to be told that I was unable to make the reservation this way, after numerous emails with Arita the FOM, I was advised to book it on the Heartist website which I did. We arrived at the hotel at 1pm on the Saturday and asked if there was any possibility of early check in, this wasn't possible but the young gentleman and lady on reception then were absolutely lovely and they assisted us with travel plans and maps of how to get to the Christmas market, we then arrived back at the hotel at about 7pm to check in and a young gentleman started dealing with us, the older lady on Reception overheard me mentioning that I'd booked it via the Heartist website and asked me if I had my Heartist card with me, sadly I didn't. She was adamant that I needed my Heartist card with me to receive the rate which I had received online, after discussing this with the lady for 5 minutes and showing all my confirmation emails to the young gentleman, we was finally allowed to check in. I completely understand that she was just doing her job but I was unaware that I needed my Heartist card with me as at no time during the booking of the room or in the email chain was I informed of this. Sadly this slightly tarnished my experience, however, all other staff we encountered were lovely and the room was spectacular. Side-notes: Room 250' central heating did not work, my in-laws attempted to turn it on to no avail, luckily there was a space-heater in the room which kept them warm. May I also suggest putting some bathmats into the showers as my mother in-law had to put a towel down in the shower whilst using it as a bathmat was not provided and she didn't want to risk slipping.
Water and guest issues
Customer review rating 1.5/5
Tom Couples - Confirmed reviews ALL
The communal areas of the hotel were well kept and modern. Food was good although slightly expensive for what it was. The bedrooms were of a good size but looked slightly tired, especially the bathrooms. Leisure facilities are available but nothing special. Two main issues with our stay: (1) We experienced a very dangerous issue with the water in our room. While taking a shower, the mixer tap that feeds the shower head suddenly did not have any cold water coming out of it. This caused the water running from the shower to suddenly spike in temperature to a boiling temperature. My partner taking a shower at the time was forced to jump out of the shower suddenly to avoid being burnt - the water was dangerously hot. Whilst dripping wet, we were left to wait for it to 'fix itself' with the only bit of advice provided by hotel staff being "try running the water for a bit". The problem did fix itself after some time but this is not something I expect from a hotel. It is not only ridiculous complaining about 'hot water' but frankly it was dangerous. Hotel staff could offer not explanation if the reasons why, despite knowing it has happened before. Avoid this hotel if you have children as the water temperature is not staff. (2) While making a booking at this hotel, at no point were we notified that this hotel is currently part of the Home Office's temporary refugee housing programme. The issue is not that refugees are present, it is more of the fact that no one made us aware at any point while booking or throughout the trip (we discovered this ourselves) and the number of security guards and personnel present in the hotel was a rather nerving and unpleasant experience. Walking to the leisure facilities passed 3 security guards posted at the ends of corridors is not a pleasant experience. Upon checking out, we provided our feedback to hotel reception to pass on however we have not heard anything since. Overall, I would not stay in this hotel again which is a same as Mecure hotels are normally pretty good.
Lovely room
Customer review rating 4.0/5
Elisha C. Business - Confirmed reviews ALL
The room looked really nice, comfy bed, lovely staff, however there was hair in the bathroom and on the bed and bogey on the bedside table. But was the only issues I has.
In partnership with TripAdvisor